In a month or so, Green thumb Gardener is doing a Gardening Fall giveaway. We want to ​make it massive to celebrate crossing 2500 Youtube subscribers & 1000 email subscribers.
We want to giveaway $2500 + worth of prizes to a lucky gardener.
I am not going to tell you much more for now but if you want to sponsor you will get many links back to your website from this website and from other blogs posting about this contest (plus a warm giddy feeling that you are donating).
To Sponsor
To sponsor a prize please email me (jeremy [AT] gardnerthumb [DOT] com) with the prize you are kindly willing to donate along with a link to your website so I can link back to your site and the value in $ of your prize.
Exciting, huh!
Green thumb Gardener occasionally links to product and/or services offered by vendors to assist you with all your gardening needs. Some of these may be affiliate links, meaning we earn a small commission if items are purchased.
Want to Download a ​Garden Hack Guide​ for FREE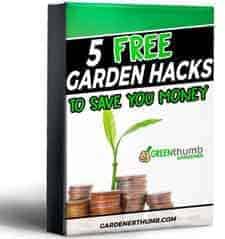 Enter your email below and we will send you a guide to help you SAVE money in your garden.