Best Garden Tractor Under $3000
Getting the right tractor for your groundwork can be a tasking thing, especially if you're just getting started with your gardening needs.
If you're working on a budget, this means that you need a list of affordable products. In this guide, I discuss the most affordable and quality garden tractors under $3000.
This way, you can get excellent tractors without having to break your finances.
Below are the best mowing machines under the $3000 price range.
Best Garden Tractor Under $3000
Green thumb Gardener occasionally links to product and/or services offered by vendors to assist you with all your gardening needs. Some of these may be affiliate links, meaning we earn a small commission if items are purchased. Check our terms here.
Best Garden Tractors Under $3000 Reviews
This tractor is easy to start, which makes it efficient to use. With its V-twin engines, it provides high performance, which allows it to deliver excellent results.
It is one of the best in the market that makes for comfort and convenience during your field engagements. It has a comfortable seat that makes the operator convenient.
It comes with easily adjustable settings that make its handling and operation easy. You can conveniently adjust the speed to suit your mowing needs.
Even when it's in rough terrain, the cruise control feature allows it to maintain speed and balance across your property. Its well-balanced steering wheels and rear wheels also ensures this.
Another key feature is its electric cutting arrangement, making it possible for it to work in tight spaces and deliver the right pressure results. The electric setting also allows the operator to navigate it conveniently.
When this is combined with the triple-blade, the tractor is excellent and sells below $3000. If you are working on a budget and need to get a mowing machine, this is one of the right ones.
It has a compact size, and this adds to the efficiency of the tractor. With this, it doesn't consume much space. The design also features an air induction technology through which the mowing machine delivers clean, quick, and precise cuts making chores completion efficient.
With its combination of features, the tractor is excellent for your garden.
PROS
It has cruise control that inclines towards a balanced speed due to its hydrostatic transmission feature
It is easy to handle and takes little space due to its compact nature. It is perfect for gardens
Highly efficient due to the triple-blade feature and the anti-scalp tech. Its engine is great, and its components are made of quality materials
CONS
Users complain that the belt might break too easily
Users complain about the warranty package
CHECK CURRENT PRICE: Husqvarna YTH24V48 48 in. 24 HP Riding Mower
---
This goes for an amount below the $3000 range. This makes it attractive to those working on a budget and trying to get excellent ones simultaneously.
It has high-powered engines, which allows it to cut through for a long period, and at an efficient rate. It also comes with extra features that make for ease and convenience.
With its great handling, it is convenient for the operator to maneuver and navigate the tractor without
It comes with an impressive design and engine that make the controls easily accessible. Its comfortable seat makes it convenient to handle and work with without fear of pain from long use.
It is equally versatile and works effectively with different sizes of lawns. This improves the efficiency of the mowing machine. If you need one of the best you can work with, this is a good fit. It is also compact and takes very little space. So, it's something you can park up in your compound.
The product also has various speed settings. In turn, the difference ensures you can adjust to different speeds that match your mowing needs.
The quality makes it efficient and allows it to deliver effective results on gardens. It also makes it highly compatible with gardens.
PROS
The product comes with a great design making the controls easily accessible
With hydrostatic transmissions, it has up to 5-speed settings, thereby making it compatible with different mowing needs
Highly versatile and fit for different lawns
Compact design and has a top-notch engine that is suitable for gardens
CONS
This unit is not designed for heavy duties
Users complain about friction in the disc drive
CHECK CURRENT PRICE: Snapper 2911525BVE Classic RER 28 inch 11.5 HP 344cc Rear Engine Riding Mower
---
If you are looking for one of the best quality products that can serve your needs for a long period, this Husqvarna tractor is one of the most affordable.
You can get it at less than $3000, making better deals almost impossible. It is easy to operate with its deck lever that has loads of springs for assistance. This tractor also horsepower engines, which ensures it can deliver excellent cuts while you're working on your gardens.
This makes it highly efficient and suitable for your gardening purposes. It is also designed with air induction technology that lets the machine cut at a precise rate. Excellent precision makes this mower a right fit for gardens.
The warranty package is bumper impressive. This gives customers a higher level of confidence in the tractor for a long period of time. It has a ten-year cutting deck warranty.
The tractor also works across different lawn sizes, thereby making it versatile and adequate for use over a wide range.
In turn, as one of its advantages, it saves expenses and makes it a go-to tool for your gardening needs. The tractor also has impressive speed settings that make it possible to adjust the speeds to meet the immediate cutting demands.
This makes the process easier and more efficient. This combination of features makes an attractive experience a reality.
PROS
The tractor is easy to handle, as the controls are within reach and accessible.
It makes use of impressive technology and quality components such as the speed adjustment tech. This makes it adequate for gardens.
It has a smart auto transmission that makes for improved maintenance and enhances service life.
Its Impressive engine enables it to work across different lawn shapes. You can also adjust the speeds.
CONS
Users complain that the transmission can be a bit tasking
Users also complain about the warranty package
CHECK CURRENT PRICE: Husqvarna YTA24V48 24V Fast Continuously Variable Transmission Pedal Tractor Mower
---
If you need a mowing machine that can give you value for your money, this Ariens Edge is good for you. Asides from saving you money, the tractor has impressive power that charges it to deliver efficient results. It draws its power from its 726cc engine.
The engine supplies the tractor with the needed power that makes it suitable for your garden needs. You can cover acres in little or no time.
This machine is also built with an impressive design that makes the controls easily accessible. This way, an operator has the relevant autonomy to move the tractor to serve the essential needs.
With a great mobility level, you can adequately cut through tight spaces and meet the cutting demands.
You can also adjust the speed settings of this mower to meet the demands of your gardens. The speed setting also makes it possible for the tractor to be useful for different lawn sizes.
If you do not want to break the bank and yet get an excellent one, this is a good place to start.
PROS
Impressive construction and seat design and that make the tractor comfortable for use. Feature zero-turn-radius performance.
It comes with the adjustable settings feature. This saves time and makes it suitable for gardens.
The design also makes it easily accessible. It comes with top-notch engines and high durability level.
CONS
It is not designed to serve heavy-duty needs. The steel isn't of the best quality.
CHECK CURRENT PRICE: Ariens Edge 52 in. 726 cc Zero-Turn-Radius Lawn Tractor
---
This Craftsman's product comes with an impressive design that accommodates different controls. The design makes the controls conveniently accessible such that the operator is able to reach all controls while working.
This makes it all poised to provide the best experience while improving the efficiency rate of the tractor.
It features a 46-inch steel cutting deck, which allows it to deliver excellent and precise cuts on gardens. It also ensures reduced human effort and mowing time. There are convenient deck adjustments, as against manual deck adjustments.
If you are looking for an affordable option with super-efficient controls that make the working process interesting, this is a good fit.
The mower has the 360 feature that enables an operator to switch the direction of the tractor instantly. The machine also comes with high-quality seats that make the work rather convenient.
This affords the operator with an impressive level of comfort and convenience.
PROS
It has a 360 feature through which the direction and tires of the tractor can be changed instantly.
The engine power makes the tractor good for large-sized yard works. It will perform well across larger lawns. It also covers many inches at a go.
Great seat for comfort and convenience.
An operator can mow even when in a reverse direction. This is perfect for gardens.
CONS
Users complain about the accessibility of the controls.
Users complain about the warranty package.
CHECK CURRENT PRICE: Craftsman Z525 Zero Turn Gas Powered Lawn Mower
---
With its 20hp Briggs superior performance engine, this is in the market for a price less than $3000. It comes with a high level of power that enables the tractor to work across a wide range of lawns and different sizes as well.
It comes with amazing features that add to its efficiency and make the overall work easier.
There is greater autonomy on the machine owing to the electric clutch deck. This affords the operator a higher level of control, and that makes it rather convenient to work on gardens and deliver results. You can also count on its dual-blade design.
It has a compact design that makes it smart-looking. This way, it makes for great mobility and also takes little space for storage. It also has different speed settings that allow an operator to adjust the speeds to suit the cutting application's demands.
If there's a need to go slower, this can be conveniently adjusted. This way, the results are improved, and an operator can navigate more efficiently. It is also built with impressive and long-lasting components, making it durable and lasting for a long period.
PROS
The compact body makes it easy to use and navigate, which adds to its efficiency.
The engine is particularly great and provides high performance and fuel efficiency.
It comes with a 46-inch steel cutter deck of two blades.
It works across a variety of lawns. This makes it adequate for gardens.
CONS
It has not garnered reviews from lawn holders
It might not be suitable for heavy duties
CHECK CURRENT PRICE: Husqvarna Z246 46″ 20HP Briggs and Stratton Zero
---
The 18.5hp engine is an innovative model that offers a great deal of power to enable the tractor to move fast, precise, and deliver excellent results across the lawns.
The engine is built to offer excellent power that will serve the needs of various cutting applications.
It is designed with a foot-based hydrostatic transmission, which allows for a change in direction without having to leave the steering. This allows the operator to remain balanced on the wheel even while switching between levels of speed.
It is designed to work effectively in tighter spaces. Its excellent turning radius supports mowing in such difficult places conveniently. It also allows the tractor to deliver results even in areas with obstacles.
The ergonomic design makes it easy to handle. The steering has a great grip, and all other controls are equally easily accessible. Even when the mower is in a reverse form, it can continue to mow.
With the air induction technology, it has an impressive level of precision while offering crisp cuts. This technology improves the efficiency of this product and enables it to deliver effective results at a fast rate.
PROS
It has a great maneuverability level, and this makes it easy to handle.
It comes with an ergonomic design, which makes it more efficient and convenient to use. It has a seat with armrests.
Its air induction technology makes it deliver excellent results at a fast rate.
The engine delivers high power and lasts for a long period of time.
CONS
Users complain that the warranty is limited.
It is not ideal for heavy duties.
The spindles are not so strong as they should be.
CHECK CURRENT PRICE: Husqvarna YTH18542 42 in 18.5 HP Briggs & Stratton
---
All You Need To Know About Getting The Right Tractors Under $3000
For people who maintain heavy-duty gardens/lawns that require a lot of heavy-duty tasks, the importance of a good garden tractor cannot be overstated. The ones with excellent engines will deliver effective results.
However, as with almost every other product on the market, finding the best garden tractors or models for you could prove more difficult than expected.
Here are valuable things to know when purchasing a garden tractor.
Choosing The Best Garden Tractor Under $3000
There are a lot of machines out there, from different manufacturers, at different price points, and with different qualities. One needs to navigate all of these to choose the best garden tractor.
In this part, I discuss all you need to about choosing a garden tractor and why a tractor is even essential.
Continue reading to learn of all the requirements.
Identify Your Need For A Garden Tractor
Having a clear picture of what you need a garden tractor for would go a long way in guiding your purchase.
You should identify precisely the kind of tasks you would probably use your garden tractor to perform. These tasks' nature and intensity would help determine what qualities should be present in your ideal garden tractor.
Check For Important Qualities and Key Features
After deriving the qualities you require in your ideal garden tractor, you could look through some of the products on the market.
This effectively narrows your search as you would only need to pay attention to the products that check your boxes—the qualities to examine span across power, size, durability, transmission as well as price.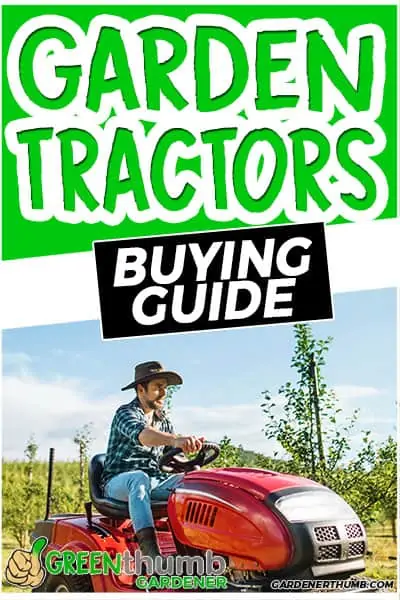 Make Extensive Comparison
You would likely settle on a couple of options to purchase. At this point, it is necessary to compare the options meticulously.
Check Out Pros And Cons Of Each Garden Tractor
This exercise would enable you to make a highly informed choice when you finally make a decision. Consider the engines.
This is because, when you compare, you basically gain the knowledge of which are more aligned to your intended use than others.
Benefits Of A Garden Tractor
When you own a yard or garden, there are a number of machines you could possibly use to cut trees and perform other tasks. The ones with great engines are fast and durable.
So why then should you go for a garden tractor over something like a regular lawn tractor or a walk-behind mower?
The answer to this is quite simple; there are a number of valuable benefits you could derive.
So what are some of those strengths you could gain from purchasing a garden tractor?
Here are a few:
Ease of Use
There is no gainsaying the fact that maintaining a garden and constantly keeping it in perfect shape is not an easy task. It is a job that requires a lot of energy-draining activities and could easily get frustrating.
This is one particular area where the purchase of a garden tractor could be of immense value.
They do a great job removing the operator's considerable burden, thereby reducing fatigue and improving overall productivity and efficiency.
Unlike walk-behind mowers, you only need to ride garden tractors rather than push them while walking. This feature alone significantly helps with reducing strain.
With garden tractors, people with certain conditions that restrict their physical activity level can still engage in garden work without jeopardizing productivity.
Performance
They are incredibly powerful, provide stability and can effectively handle most of the garden tasks you could possibly throw at them. Most of them have powerful engines with impressive horsepower.
This kind of power makes them suitable for your heavy-duty tasks without having you strain as much. Also, they get the job done faster, allowing for better productivity.
If you are an owner of a large garden or lawn, this benefit would definitely come in handy as the job of maintenance becomes much more bearable.
Garden tractors come with a wide cutting deck, which greatly improves cutting performance. This cutting deck can be lifted or lowered via the drive panel to achieve optimal performance, depending on the grass.
With this, you can easily cut various kinds of grasses.
Versatility
This perhaps the most distinctive advantage you gain from owning a garden tractor as opposed to other machines. They are very versatile and could prove quite useful in several situations that other machines would struggle with.
A major factor behind their versatility is that they are compatible with a variety of attachments.
This means that all you might need to enable your tractor to perform a particular task is an attachment. Such attachments could be a drum roller, a tow-behind rake, a snowblower, or even a cultivator.
These attachments greatly widen the range of activities you could use your garden tractor for.
Having this kind of versatile tool saves you some cost. For instance, you might ordinarily need to rent out certain tools to carry out jobs like excavation or landscaping.
With a garden tractor, those expenses are removed as you can simply attach the appropriate attachments and carry out the task with no fuss.
Factors To Consider When Purchasing A Garden Tractor
You should pay serious attention to certain important qualities when determining what garden tractor to buy. When you consider these factors, you'll be able to make informed choices concerning the purchase of your tractor.
Here are the key things to look out for.
Size Of The Deck
This one of the most important features of a garden tractor that you should examine. Compared to regular mowers, they are usually much wider cutting decks.
This means that you can cover a larger area in fewer passes and ultimately less time. Depending on the size of your lawn/garden, a bigger or smaller deck might be ideal.
You should be careful not to choose a garden tractor with a deck wider than what you actually need.
It is important to note that the width of the deck is proportional to the size of the entire tractor. This means that getting a tractor with a wide deck would have you dealing with issues like access, storage, and maneuverability.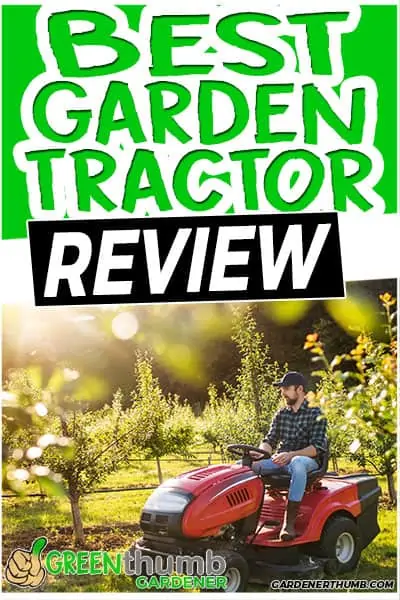 Attachments
Some are more versatile than others. The versatility of a garden tractor is usually determined by how many attachments are supported by the tractor, which, in turn, determines the variety of tasks it will be able to perform.
These attachments could be bought separately, while some are offered with the tractor during the initial purchase.
Naturally, it is better to go for a garden tractor that supports more attachments and has a wider range of use.
However, if you have more limited use in mind for your garden tractor, you could simply ensure it supports all the attachments you would need for your use.
Transmission
The transmission of a garden tractor is also one area you should be careful not to overlook. You could choose between a garden tractor with an automatic/hydrostatic transmission or one with a manual transmission.
Generally, the ones fitted with automatic/hydrostatic transmission are more maneuverable and provide smoother shifts between gears.
On the other hand, the ones that have a manual transmission often have to contend with maneuverability issues as the tractor would have to come to a complete stop for the transmission to change gears.
The distinction between these types of transmission becomes more important when you are operating your tractor in a landscape that requires more gear-shifting.
A vast majority of the modern ones are with an automatic transmission, so they are not difficult to find. In addition to smooth gear -shifting, automatic transmissions are usually more durable and can also deliver more torque to the wheels.
Horsepower
A garden tractor's horsepower directly affects how strong it is and how much power it can deliver when functioning. A garden tractor with higher horsepower is more powerful and would not struggle with cutting thick grass over large areas.
This is, however, not the case with the ones that have the lower horsepower. You could consider the horsepower of the tractor you want to purchase in relation to the tasks you would be using it for.
In addition, bigger ones generally require more horsepower to operate optimally. You should be mindful of this if you are purchasing a tractor with a huge deck.
The mowing speed of a tractor is determined by the horsepower, which means that more powerful tractors would mow faster and enable complete more work in less time.
Overall, horsepower is an important consideration if you want a faster and more powerful garden tractor or if you are purchasing the tractor for purposes like grading land and tilling.
Getting a tractor with an impressive horsepower level will ensure that you get excellent mowing results. In cases like this, the engine will be able to deliver the needed power to work across various inches of lawns.
This improves your efficiency level and makes the process faster.
Download ​our FREE
Garden Hack Guide
Enter your email below and we will send you a guide to help you SAVE money in your garden.
Final Thoughts
A garden tractor is by no means cheap; it might be challenging to get the ideal one for you under $3000.
However, with the guide above, the task of getting a budget-friendly garden tractor should become less challenging. You should clearly note your purpose for a garden tractor, as this would help guide your search.
There are several factors to consider, such as horsepower, deck size, transmission, versatility, and so on. Doing this would definitely go a long way in helping you make an informed decision about what garden tractor to purchase.
From my garden tractor reviews, the Husqvarna YTH24V48 48 is the Green thumb choice.
This is due to the engine's cutting power and impressive features such as horsepower, deck size, service life for a long time, and transmission, among others, making for ease, convenience, power, and precision. This makes it the Green thumb choice.