Best Compost Aerators
Composting is essential because it generates organic materials that improve soil fertility and create a condition conducive to microbial health.
It can also improve soil quality that can help plants produce delicious fruits and beautiful flowers.
Compost Aerators are a big help since they speed up the distribution of oxygen and moisture in compost piles, which hastens beneficial bacteria's decomposition and growth.
Quietest Inline Fan
Green thumb Gardener occasionally links to product and/or services offered by vendors to assist you with all your gardening needs. Some of these may be affiliate links, meaning we earn a small commission if items are purchased. Check our terms here.
Top Compost Aerators Reviews
Not all products are created equal, and it's best to look around and see their features to find the best product that will fit your needs and budget.
Please read our reviews in the following section and check out the features and pros and cons of each type of compost aerator.
The Bosmere Compost Aerator is manufactured by Bosmere, a reliable supplier of quality tools and garden accessories since 1979.
It is designed to activate heaps of compost materials from all directions, which help in faster decomposition.
It is made from sturdy non-rust steel and designed with two sets of activating wings that can be folded to push into compost.
The activation wings feature can open-up to aerate the soil without getting your hands dirty.
PROS
Its handles are adjustable, so both right-handed or left-handed users can use it
It is made from tough non-rust steel and has comfortable vinyl plastic handles
It can activate the compost heap at different levels, which helps in the decomposition of organic matter
CONS
The shaft is too thick, which makes it hard to penetrate compacted piles in the desired depth.
The blades and plunger are not sharp enough, which will make it difficult to poke and turn.
The tool is short and may not reach all the spaces in the compost heaps.
CHECK CURRENT PRICE: Bosmere Compost Aerator
---
The Gardener's Compost Aerator has durable steel construction and can be used by both right or left-handed users.
It's 3 feet (0.91 meters) long and 8 inches (20.32 cm) wide and requires minimal assembly.
You cannot find features in this aerator from other compost aerator models. Some of these features are the two sets of wings that can be folded back to penetrate deep inside the compost.
PROS
It is straightforward, lightweight, easy to use, and very effective in aerating different compost types inside your compost bins.
It has comfortable padded leverage handles that provide great handling
It works so much better than a garden fork
CONS
It needs a longer blade so it can be easier to stir around the compost
It can fall apart quickly, especially the handle that will not hold up to constant usage
Leaves would sometimes get stuck when the retractable blades are in a folded-up position.
CHECK CURRENT PRICE: Gardener's Compost Aerator
---
The Lotech Products Compost Crank Twist Compost Aerator is a highly durable compost crank made from solid 3/8-inch stainless steel handcrafted from Tucson, Arizona.
The compost crank is comfortable to use with its free-spinning handles and stainless steel washers.
You will not have sore muscles because it is easy to use. Just crank clockwise into the compost pile and then lift without turning.
Its corkscrew pulls the compost materials up and aerates the compost bin reliably.
PROS
It is simple, elegant, and has a solid steel shaft that makes the aerator very durable
It is a very effective product, and at 45 inches (1.14 m) tall, it has a long shaft that can easily reach areas that need aeration of the compost
It has a lifetime limited warranty
CONS
Sometimes it does not work and is a bit overpriced
It can be difficult to pull out from the compost pile, especially if you inserted them to deeply
CHECK CURRENT PRICE: Lotech Products Compost Crank Compost Aerator
---
The FreeGarden FORK Enviro World Compost Turner has its specially designed wing tip that helps enhance the aeration of compost and speeds up the decomposition process.
It makes the mixing of compost easier.
It has a durable powder-coated steel frame and solid steel winged aerator to distribute air and moisture content in the composting pile. It weighs around 1.28 pounds (0.58 kg) and 32 inches (0.81 m) long.
PROS
It is heavy-duty, and its wing blades are made from solid steel, which makes them very tough
It is simple, easy to use, and a very effective tool
It is a cheap and value for money gardening tool
CONS
It is necessary to clean the wing blades often because sometimes it does not open and gets stuck
The rivets that hold the blades together gets deformed
CHECK CURRENT PRICE: FreeGarden FORK Enviro World Compost Turner
---
The Yard Butler Twist Tiller Heavy Duty Manual Compost Aeration has solid steel construction and an ergonomically designed 12 inches (30.48 cm) T-bar handle that helps reduce the effort of twisting.
It has specially designed sharp-angled claw tines that can get through a hard compacted top layer of compost. It turns, tills, loosens, and aerates the soil promoting the influx of oxygen, water, and fertilizer.
It works great on flower boxes, raised beds, brushes, and other hard-to-reach places.
PROS
It is tough and made from solid 1/2-inch powder coated steel shaft
It has extra-wide handles and a middle step plate foot placement, which adds extra leverage when using the twist tiller in hard ground
It has a full no-risk 30-day satisfaction guarantee
CONS
The rubber in the padded handles sometimes slips off
The metal prongs will bends when used in hard ground
The grips on handles can become uncomfortable after long use.
CHECK CURRENT PRICE: Yard Butler Twist Tiller Heavy Duty Manual Compost Aeration
---
The LoTech Products Compost Crank Twist Compost Aerator is made from durable solid 3/8-inch stainless steel material. It has a comfortable non-slip curled handle.
This handle can add leverage, especially when you twist it clockwise into the compost. It is a high-quality composting tool that can mix and aerate compost from top to bottom of your compost mix.
PROS
It can easily go through vines and other troublesome ingredients with its 32 inches (0.81 m) of height
It is simple, elegant, and has a solid steel shaft that makes the aerator very durable
It has a limited lifetime warranty
CONS
It can only pull a small amount of compost, so you have to use the crank twist compost aerator repeatedly
It sometimes difficult to use and takes time to twist, especially on hard ground
The rubber sleeve slides off or will come off while using the Aerator
CHECK CURRENT PRICE: LoTech Products Compost Crank Twist Compost Aerator
---
The Redmon Green Culture 8016 Green Culture Compost Turning Tool is made of galvanized steel. It is an essential gardening tool that can make aerating easier.
You can use it by poking the winged digger into the composting pile and then pulling it up. You can use its padded handle for leverage.
PROS
Can make neatly arranges holes and allow the compost piles to be aerated
The galvanized steel construction is sturdy and can resist rust
Cheap and value for money
CONS
There are cases when the winged digger does not retract after pulling from the ground
It is sometimes difficult to use and does not reach very far into the compost pile
CHECK CURRENT PRICE: Redmon Green Culture 8016 Green Culture Compost Turning Tool
---
Why Do You need a Compost Aerator?
Aerobic organisms need oxygen to survive which is why they need proper aeration. Aeration helps in reducing the high moisture content in composting materials.
The main reason for using aerators is to get the best compost in the fastest possible time. To ensure good quality compost, you need to physically turn your compost pile using a fork or any of the tools mentioned in our review.
Turning your compost pile will aerate it, creating air pockets between the different layers. You have to have a constant supply of oxygen.
With enough oxygen, aerobic organisms can decompose the different organic materials such as food waste, green waste, and other organic waste.
Turning also minimizes the odor in compost.
The lack of critical oxygen supply can create an anaerobic decomposition which releases a very foul odor. So it's essential to use an aerator to go to the deepest part of the pile where decomposition is slower and introduce oxygen to hasten decomposition.
Farmers use poles and pitchforks to turn their pile and expose the bottom part. But now there are many aerators in the market that can do this more efficiently.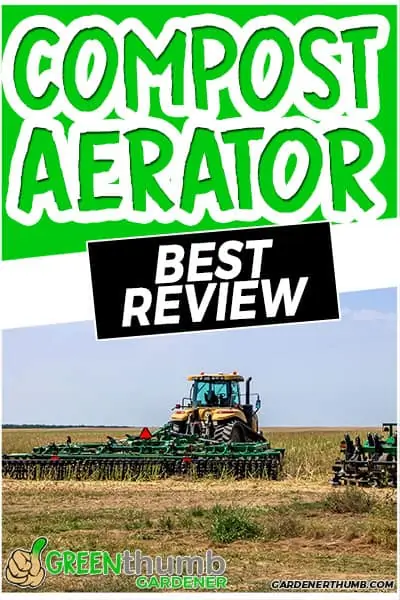 What is Composting?
Recycling food waste and other organic materials have many benefits. All organic matter like food scraps, leaves, and organic matter will eventually be decomposed.
We can turn this waste into organic fertilizers that can improve the soil nutrients and grow healthy plants through decomposition.
There are two types of backyard composting:
1.Cold Composting
It is slower since you have to let mother nature do its course and let the aerobic bacteria decompose the organic matter with minimal intervention.
It may be slow, but the advantage is required less effort, work, and maintenance.
It usually works well in a small home where organic waste comes from consumed food and vegetables. But there is also risk like the development of fungi, worms, bacteria, and other organisms that will be a health risk.
2. Hot Composting
It is more labor extensive but is faster and can produce compost for your garden plants and vegetables in s shorter time. Hot composting becomes successful when you balance brown waste, green waste, air, and water.
Green waste is usually food scraps, coffee grounds, and fresh grass clippings or fresh leaves. On the other hand, brown waste is branches, paper, dead leaves, and twigs.
Hot composting also needs constant aeration to maintain the air supply for aerobic decomposition.
Benefits of Composting
Reduces waste
Reduced methane Gas emissions
Reduce food Waste
Improve the health of the soil
Lessens soil erosion
Different Types of Soil and Compost Aerators
Tool manufacturers have created soil aerators that come in many types, prices, and sizes depending on your needs and the design that fits your style and requirements.
Some compost aerator tools are manufactured using an all-steel construction, while others use composite materials.
But they have the same objective, which is to enhanced aeration.
Many of these aerator types have been discussed above in our review.
Hand Aerators
they are the cheapest and simplest form of soil aerators. They are hand-held devices used for turning compost materials. They are used to move the top portions to expose the deeper part of the compost pile to the air. They are handy, simple, and good for aerating different types of compost. Modern versions have comfortable grip handles, while others like a rake have wood handles.
Plug or Plunger Aerator
These are designed to be plunged into the soils to remove chunks of soils and create holes. They are one of the best aerators since the holes are created to let the oxygen inside without compacting the soil.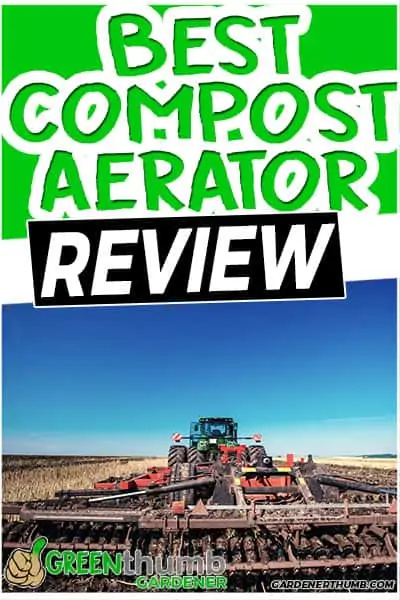 Spike Aerators
These are handheld aerators with sharp long spikes that are pushed into the soil to improve air circulation.
They often have padded handles with tines or sharp points at the end of the shaft used to penetrate the maximum depth of
Rolling Aerators
It is basically a metal drum with spikes attached to its rolling surface. You only need to roll the drum over the ground and aerate large portions of land.
Rolling aerators can come in many sizes, from portable ones for average-size compost piles to large pieces of machinery for farms with a huge compost pile.
Aerator Shoes
They are shoes designed with several long spikes attached. They are designed to be worn by the owner and used to walk around to puncture the ground and improve the amount of air in the soil or compost pile.
Hand-cranked Aerators
These are aerators designed to breakdown hard and compact soil for air to come and aerate the soil.
They are often made from rust-resistant steel material and designed with an easy-crank handle and uses a spiral turn action to disturb the soil and create pockets of air between the composed pit or soil.
Perforated Pipe Aerators
These are horizontal pipes with holes placed around them. The perforated pipes are placed between layers of composed and then pumped with fresh air that will aerate and hasten aerobic decomposition.
They are great for large-scale aeration since they can cover large areas of compost heaps.
Things to Consider When Choosing the Best Aerator for Your Compost
Aeration is critical to have the best possible compost for your plants. But choosing among the compost aerator list can be difficult.
Are you going the buy the best and most expensive item on the list or choose the most value-for-money option.
Here are some things to consider before buying your compost aerator.
1. Budget
How much are you willing to spend on your compost aerator? Your budget will determine the kind and quality of aerator that you will purchase.
You can consider a lot of budget-friendly options in the review. If you are a little low on budget, choose a cost-effective alternative.
There is a list of products in our reviews that you can choose from.
2. Size of the Area or Compost Pile
If you will use the aerator in a small area, I suggest choosing the smaller and cheaper hand aerators. They are practical, easy to use and are very cheap.
For medium size areas or farms, you can try using perforated pipe aerators.
They can easily do DIY, just buy all the needed materials such as pipes and air compressors and assemble them on location.
For larger areas, you can consider rolling aerators because they can cover large areas with less time.
3. Soil or Compost Type
The type of soil or compost can help you determine which aerator is best for you. Do you have dense compost piles?
What type of soil are you using? Is it soft loam soil or a little rocky?
Look at the different products on review or products posted on Amazon and see which aerator matches your needs.
Download ​our FREE
Garden Hack Guide
Enter your email below and we will send you a guide to help you SAVE money in your garden.
Final Thoughts
Choosing the right aerator is important you don't want to buy something and then later find out that it has no use. All the aerators reviewed in this article had many strong points and features.
But our Green Thumb Choice is the Bosmere Compost Aerator. It works great, has many great features such as the activating wing, and has a fair price. It is a real value for money aerator.