Best Fertilizer For Herbs Buying Guide & 6 Tips For Growing Herbs
When it comes to flavor and freshness, nothing compares to herbs grown in your vegetable garden. Fortunately, herbs are easier to grow than vegetables.
Fresh herbs can be grown indoors, in pots, or directly in the ground, depending on the soil in your area and your preferences.
Most herb species can only grow to their maximum capacity if they have access to the right nutrients in the soil.
However, without proper care, herbs can become stunted or even dead whether in the ground or potted plants.
By fertilizing your herbs, you can make sure they don't become weak and unhealthy, and they can also become stronger and produce more delicious results.
Are you ready to grow a bountiful herb garden?
Best Weed and Feed
Green thumb Gardener occasionally links to product and/or services offered by vendors to assist you with all your gardening needs. Some of these may be affiliate links, meaning we earn a small commission if items are purchased. Check our terms here.
Best Fertilizer For Herbs Reviews
Soil is a rich source of micro nutrients, including vitamins and minerals. However, once plants absorb them, you must replenish them in the soil especially if you have a potted herb garden. The easiest way to replenish the soil's nutrients is with fertilizers.
Knowing what you're putting in your herbs' soil is critical to getting the best results. We evaluated a broad range of herb fertilizers and found that the ones on this list are among the best available to fertilize herbs for healthy plant growth.
Gren thumb Favorite
NPK- 4-6-3
Covers 6,000 sq ft
Produce more nutritious and flavorful vegetables using DR Earth 704P tomato vegetable garden fertilizer. It is designed for fertilizing herbs in vegetable gardens, container gardens, in your potting mix, and natural backyard soil.
It is an organically grown and sourced natural fertilizer. It eliminates the need for chemical fertilizers by naturally providing optimal quantities of critical plant nutrients.
This mix has eight different types of ecto- and endo-mycorrhizae, which helps the plants resist drought, boost nutrient availability, and improve overall plant performance without too many nutrients for your garden soil. Yes too many or more fertilizer is not always best.
PROS
The 100 percent organic formula ensures the highest possible quantities of essential plant nutrients
There are no GMOs, poultry dung, or sewage sludge present.
It's pet-friendly, making it an absolute must for any home with children or pets
CONS
This product has an incredible foul aroma, primarily when used indoors
Calcium and Humic Acids are found in amounts lower than advertised
CHECK CURRENT PRICE: Dr. Earth Organic 5 Tomato, Vegetable & Herb Fertilizer Poly Bag
---
Efficient Liquid Option
NPK -2-4-1
Coverage ~ 2000 sq ft
Neptune's Harvest Fish Fertilizer is a natural organic plant fertilizer prepared from fresh fish. This all-natural and organic product is made from a variety of freshly caught seafood from the North Atlantic that was sourced from the local fisherman in the area.
Unique cold processing ensures that the nutrients in the product, including vitamins and amino acids, are preserved. In addition, it has all of the micro-and macronutrients found in fish and unlike, granular fertilizers, are available for the roots of your plants immediately.
With Neptune's Harvest, you get all of the fish's protein and oil with no disagreeable odor or taste.
PROS
Fish emulsion with a slight odor compared to other fertilizers of the same type
It is simple to apply, produces the desired results, and won't burn plants
Beneficial to use on seedlings and young plants that are just getting started
CONS
Leaky packaging may cause the contents to leak out
It is slightly diluted compared to other thicker emulsions
CHECK CURRENT PRICE: Neptune's Harvest Fish Fertilizer 2-4-1, 36 Ounce
---
Best Choice
NPK – 3-4-5
Coverage 5280 sq ft
EcoScraps for Organic Gardening Herbs and Leafy Greens Plant Food is a specially formulated fertilizer that caters to the requirements of herb and leafy green plant growth, such as lettuce, spinach, and kale. It's produced from a variety of components, including food-processing waste material.
Because of its unique "all-in-one" particle, the application is smooth, uniform, and straightforward.
In addition, each particle is ensured to have the complete guaranteed analysis in place so that the feeding process may be maintained consistently.
PROS
Suitable for several varieties of lettuce as well as herbs
High quality and it also encourages the growth of herbs
CONS
Can attract the attention of pets that would want to eat the fertilizer
This product has a very foul odor to it
CHECK CURRENT PRICE: EcoScraps for Organic Gardening Herbs and Leafy Greens Plant Food
---
Container Option
NPK – 4-3-3
Coverage: 500 sq ft
Use Jobe's Organics Herb Plant Food Spikes with Biozome on all your homegrown herbs. Jobe's Organics Herb Fertilizer Spikes cultivate herbs naturally.It improves the soil's quality, encourages plants' growth, and increases the root mass.
It offers long-term advantages without the use of chemicals which many vegetable and herb gardeners may like.
It stimulates herb roots with pre-measured nutrients. Jobe's Biozome is a unique and proprietary blend of beneficial microorganisms Archaea, Mycorrhizal fungi, and healthy bacteria.
Herbs thrive with Jobe's Organics Herb Plant Food Spikes. Herbs can reach their full potential when given Jobe's Organics Herb Plant Food Spikes.
PROS
Safe for pets and children
The small sticks can be pushed into virtually any surface, and the results are better than granular fertilizer
Easy to use, there's no mess, and the odor isn't overpowering
CONS
If you use too many sticks or spikes, your plant will die, so be sure to follow the instruction
Mold can grow on the sticks, and then it can spread to the plant
CHECK CURRENT PRICE: Jobe's Organics Herb Fertilizer Spikes
---
Best Choice
NPK-11-11-40
Coverage: 1300 sq ft
Greenway Biotech is specially developed to offer a healthy proportion of the nutrients necessary for pepper plant growth. This package has enough ingredients to produce up to two hundred gallons of liquid pepper & herb 11-11-40 Plus Trace Minerals fertilizer.
Grow your hydroponic pepper and herb crops to their full potential with Greenway Biotech's specially-formulated pepper and herb fertilizer. It's blended to provide a balanced nitrogen, potassium, and phosphorous ratio.
They also incorporated chelated micronutrients in our specialty fertilizers so that your plants are always stunning, healthy, and delicious.
PROS
It's natural and free of heavy metals
Its water-soluble plant fertilizer mixes well with water and provides instructions for soil-based and soil-less systems.
It is ideal for both hydroponics and soil cultivation
CONS
A little bit on the expensive side
Can sometimes burn plants
CHECK CURRENT PRICE: Pepper and Herb Fertilizer 11-11-40 Powder
---
Which Kinds of Nutrients Are Needed by Herbs?
Herbs are not heavy feeders, so you don't need too much fertilizer, although container plants require more maintenance and good quality potting soil. Different fertilizers, such as granular, liquid, and slow-release, can help indoor herbs.
Wait for 4-6 weeks after potting herbs to begin fertilizing. Herb plants require sufficient nitrogen, phosphorus, and potassium for healthy growth.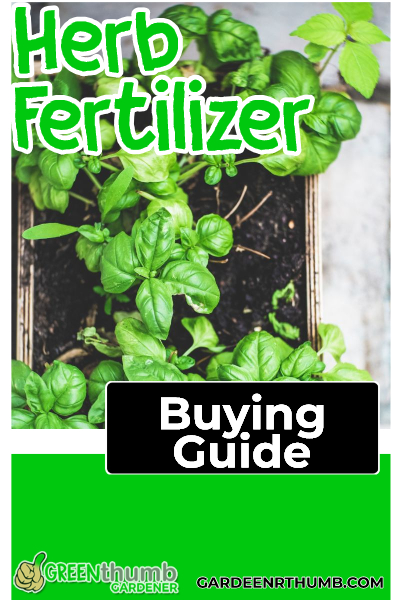 As a result, the flavor of fresh herbs is less concentrated because of their rapid growth.
Fertilizer should not be applied directly to leaves because it may result in leaf burns.
A favorite of ours is using worm castings, but fish emulsions are readily available.
Fish emulsion with an N-P-K ratio of 4-1-1 or 5-1-1 can be applied to fast-growing herbs that you frequently harvest to give them an extra boost.
6 Tips on Growing Your Herbs
Growing herbs in pots and containers is also a great option for those with limited space. Many people are planting herbs in their garden or pots, but if you want to get the most out of your herbs, you may want to take a look at your soil first.
Here are 6 other tips for growing herbs successfully.
1. Know What Is Best for Herbs
Herbs usually get their nutrients from the soil and do not need significant amounts of fertilizer. But if required, it has to be fed with the correct fertilizer.
Organic fertilizers are preferable to synthetic ones because they don't include a lot of salts, which can build up in potting soil over time.
2. Get A Head Start
Fertilize the soil before planting the seeds. Slow-release fertilizers are the best fertilizers for herbs.
Fish emulsions, bone meal, feather meal, earthworm castings, cottonseed meal, animal manure, and blood meal are the best type of fertilizer since they promote the development of essential oils.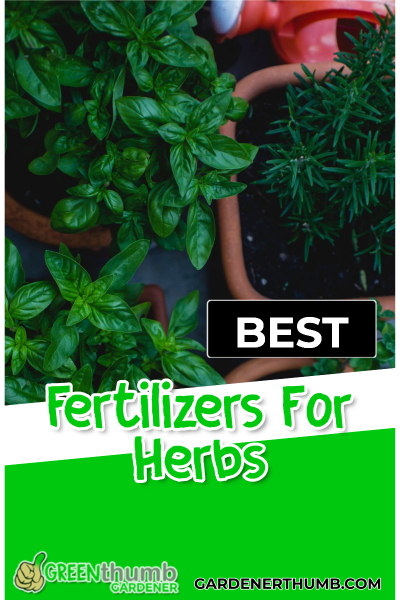 3. Give Them a Boost
The herbs should be fertilized when necessary. For example, If your herbs are wilting or shrinking after a couple of weeks of growth, you can help them grow by giving them a boost of nutrients from organic fertilizer.
If your herb wilts after a few weeks, adding a modest amount of 5-10-5 fertilizer mix every three to six months can help encourage consistent herb growth.
4. Avoid Soggy Roots
It is essential to plant herbs on good drainage soil since they do not like soggy soil. Herbs do best when grown in garden beds that are either elevated or mounded because it allows for optimal drainage.
5. Outdoor Herbs Means Success
Herbs grown outdoors, such as sage, chamomile, and lavender typically do not need a significant amount of fertilizers as long as they receive consistent watering and are exposed to plenty of sunlight.
6. Herbs Love Light
It is also a good idea to move container locations, especially your indoor plants, because the quantity of sunlight available varies throughout the year.
For example, herbs such as parsley, mint, chives, tarragon, and coriander, which thrive with plenty of sunlight, can become stunted or rough if the environment is too dry and hot.
Download ​our FREE
Garden Hack Guide
Enter your email below and we will send you a guide to help you SAVE money in your garden.
Final Thoughts
Micronutrients such as nitrogen, potassium, and phosphorous are essential nutrients for herbs and are usually available naturally in the soil. However, it can become depleted and needs to be supplemented.
Although commercial synthetic fertilizers are available, it is still best to use natural fertilizers for herbs planted outdoors and container-grown herbs.
The herb fertilizers that were tested had a wide range of good attributes. However, our Green Thumb Choice award goes to Dr. Earth Organic 5 Tomato, Vegetable & Herb Fertilizer Poly Bag.