Best Garden Arbors
Last updated: 03/22/21
If you are into gardening, you have also looked for ways to improve your garden. Over the years, I have received questions on how much of an effect a garden arbor can have on your garden.
You will love it; anyone visiting the garden will admire it, and if you have climbing plants, they too will love it.We put togetehr a guide towards the end to help you pick the perfect outdoor garden lawn backyard.
Here are seven of the best garden arbors you can get.
Best Garden Arbors
Green thumb Gardener occasionally links to product and/or services offered by vendors to assist you with all your gardening needs. Some of these may be affiliate links, meaning we earn a small commission if items are purchased. Check our terms here.
7 Best Garden Arbors
Here's a list of seven of the best garden arbors for your backyard & outdoor spaces.
I couldn't have picked another beautiful garden pergola arbors ahead of this one. It is everything you could be looking for in a backyard garden arbor, and what makes it even better is that it is multifunctional.
You can put this natural wood arbor in many other places besides the garden
It sits pretty in the balcony or yard, and you can also use it to plant vegetables, herbs, and flowers in the garden. That is not all.
If you plan an event like a party or wedding, the arbor can be the wedding arches to the event by just filling it up with flowers.
Fir wood is used in making this arbor which gives it a solid look and extra durability. This means you have nothing to worry about in terms of damage, unlike other styles of arbors made with metal which exposes them to rust.
The beautiful garden arbor design structure makes it capable of holding various items, and you can rely on it to serve you for a long time.
The mastery in this attractive archway design is due to exceptional workmanship. The carve procedure is excellent, and it has an elegant and delicate look.
PROS
It is easy to assemble because it comes with pre-assembled panels, detailed instruction, and an illustration of how to do the rest
It is made of fir wood which cannot rust and will not harm the flowers and plants
It is a multipurpose arbor useful for gardens and events
CONS
Some consumers complained about few broken pieces on the delivery
CHECK CURRENT PRICE: GYMAX Wood Arbor Arch, 85" Garden Archway
---
Next on the list is this amazing and affordable arch. If you want an arbor that puts your plants in the spotlight, this is something you should consider getting.
This arch's design is perfect, and it looks like it was modeled after the Tudor arches with which it shares the same elegance.
However, it is much simpler, and the design is understated with more focus on practicality.
One of the sole reasons you will need an arbor is to support your climbing roses or plants. This one offers all the support that your climbing plants could ever need.
Not only that, but it also gives them a place to grow to their fullest potential. The 4 inches lattice in the arbor is plenty of space for clematis, morning glories, and roses to twine and plant vines.
In terms of strength, this arch is capable of supporting a wisteria. With the Jardin Rose Arch, any style you want goes. It can stand alone if you want to use it for a statement piece.
If your approach is to have multiple arches lined up, this arch fits seamlessly too. This may not be the most decorative one to use as a metal wedding arch unless you have plants already growing up it.
PROS
It has a unique powder-coated finish that gives it the look of rusty weathered metal
The width is wide enough to serve as an entryway
It is easy to assemble, and you don't need tools for that
It can be easily broken apart for storage
CONS
Some consumers claim the paint job is splotchy up close even though it looks great from a distance
CHECK CURRENT PRICE: Jardin Rose Arch
---
Next on my list of great arbors is this one that is Italian-inspired. It is made from iron, and the mastery of the ironwork provides an elegant arbor and classic gently-curved top design that will support climbers.
It can be used anywhere in the garden, including the entrance as well as on over paths. The wide archway is enough room for passage.
This arbor comes with its ground stakes for keeping it firmly in the ground, and assembling it is a very simple process as you don't even need tools to do it.
It is made with rough iron, and to ensure that it has complete protection against hot weather, harshest weather, and inclement weather, it is coated with Roman bronze powde that gives it its rustic charms.
This is a weather-resistant material that protects your metal arbors for your garden spaces.
The graceful curve of these arched arbors can also be combined with Ferro Firenze Trellises, which the same manufacturer produces.
Such a combination will produce a traditional look for your outdoor garden lawn backyard that can remind one of an older period that included decorative elements.
Give your garden an elegant entrance with this arch designed to be tall enough to provide the space needed for entry.
PROS
It is available in various intricate scrollwork and sizes depending on what works best for your garden
It is protected from rusting with a bronze powder coating
It is stylish yet has good structural integrity & durable construction
CONS
The bronze coating finish can get spoilt with abrasion
Some consumers complain about having problems with stability
CHECK CURRENT PRICE: Achla Designs ARB-27 Ferro Firenze Wrought Iron Garden Trellis
---
Here is a vinyl arbor made of PVC vinyl and perhaps the most durable on this list. This white arbor has a 20-year warranty which is quite a lot for a product of its nature, but it will not apply if you choose to pain, coat, or varnish the material.
The manufacturers are very confident in this simple arbor design they made, and there is a good reason for that confidence. The PVC vinyl material used to make this arbor does crack, peel, fade, or discolor.
This means you are going to enjoy it a great deal. It is completely maintenance-free. So, once you install this lattice design, you have nothing else to worry about.
Speaking of installation, this is very easy to do too. The garden arbor comes with 16-inch ground anchors, which are all you need to install; the assembling is very simple, too, requiring the littlest effort from you.
All the holes are pre-drilled and precut, and the bolts and nut and other hardware needed to assemble it are also added to the mix.
This trellis-like design has 78 inches high by 50 inches wide by 28-inch-deep walkthrough dimensions, which provides enough passageway for you. It also has 2 x 2 posts with arbor tops that are pergola-styled for a more traditional form.
PROS
It requires no maintenance at all thanks to its material type
It is made with PVC material that has a UV stabilizer
It comes with a 20-year warranty
CONS
Some consumers complain about the complexities of the instruction manual
Some consumers complain of the inaccurate measurement in some parts
CHECK CURRENT PRICE: Dura-Trel 11179 Wellington Arbor, White
---
This arched garden arbor is truly amazing and gives your garden that stunning look that everyone admires. This flowering display is the way to go if you wish to make your garden look more beautiful and draw attention to certain parts.
It is a decorative archway that can serve multiple purposes. From using it to support your climbing vines and frame of plants to using it for flowers and balloons at events such as weddings, it is ideal for anything you have in mind.
A distinct feature of this arch is its side planter boxes. You can add any kind of liner to the boxes and use it to grow more flowers or plants.
This allows you to decorate a trellis to match your taste and have a more elegant display.
The arch is built to last the elements of weather, and you never have to worry about it collapsing under the weight of the climbers.
This freestanding arbor kit comes with steel tubing to protect it from extreme weather conditions and ensure that it serves its purpose outdoors; the steel has been coated with weather-resistant black epoxy.
You have nothing to worry about when it comes to using this steel garden arbor outdoors. It is 82.7 inches in length by 81.1 inches in height by 19.7 inches width.
PROS
It comes with side planters, which means more decorative options
Its steel tubing material is coated in black epoxy
It is very sturdy and can carry heavyweight
CONS
Some consumers complained about the strength of the metal
CHECK CURRENT PRICE: Outsunny Decorative Metal Backyard Garden Arch
---
Next on the list is this standard arbor which you can go for if you are looking for something that will last you for decades.
This is one of the best vinyl arbor products out there for your backyard space. Unlike most types of arbors, the manufacturer offers a 20-year warranty on their product. In turn, this says a lot about the quality of the arbor trellises.
It doesn't require any maintenance, and after installation, all you will probably have to do is sprinkle some water on it while watering your plants.
It is made from PVC material which is what makes it very reliable. The material is crack resistant, peel resistant, and fade resistant. So, you don't have to worry about any form of weather issues affecting this type of arbor.
The post size is 1.5 by 1.5 inches, which means it is sturdy without being too obtrusive. It is a very attractive arbor, and assembling it is quite easy too.
The design of this arbor thrives on elegance and simplicity. For instance, it has a side spindle design that makes it perfect as an entranceway for your garden, pathway, or yard.
The warranty on this product covers cracking, rotting, warping, and yellowing. With all these protections, you have nothing to worry about when using them, and they are ideal for outdoor use.
PROS
It is very easy to assemble as it requires only a few tools to do it
It has posts that you will use to install it
It is a lightweight and weather-resistant
It offers you full value for the money spent
CONS
Some consumers complain it is costly for the basic frame it has
Some consumers reported that it warped
CHECK CURRENT PRICE: Dublin 45 "W x 85 "H Vinyl Arbor
---
This arch is quite large, giving you that stately entrance to your yard or garden. If you are looking for a large and wide arch, this is one you should go for.
Installing it anywhere in your landscape will make it stand, and you can put that to very good use.
It has an understated design that enables your plant to be at the center of attention. This arch's size is not for nothing, as this makes it capable of being extra strong and capable of supporting larger plants effortlessly.
It is very durable and can serve as the backdrop for plants such as roses, scarlet runner beans, and clematis. You can use it solo or line up many of them to create an alee.
It is made with steel tubing and polyethylene. If you are using it in areas with high winds or you have heavy vines on it, it is best to use concrete to keep the stakes more firmly rooted in the ground.
Setting up and assembling the arch is also quite easy, and one man can handle the whole process easily without any worry. If your garden is a small one, getting this arch allows you to have more vertical space.
PROS
Very sturdy capable of supporting heavy vines
Offers you full value on the money spent
CONS
Its size means it cannot be used in just any space.
CHECK CURRENT PRICE: Titan Arch
---
All You Need to Know About Setting Up A Garden Arbor
So far, you've learned about the best options if you're looking to get a garden arbor. However, that's not all you'll need to know about if you're looking to enjoy the best experience.
You'll need to keep various things in mind to ensure that you choose, thanks to a thorough understanding of your needs.
What is a Garden Arbor?
An arbor is often a feature of a garden to shield gardeners and visitors from the harsh conditions of the weather. It is often vertical and serves other purposes such as privacy and accommodation.
It may either blend with the garden terrain or serve as a partition for different gardens.
Benefits of a Garden Arbor
Apart from the general use of a garden arbor as a shade, it offers numerous benefits. Some of these benefits include: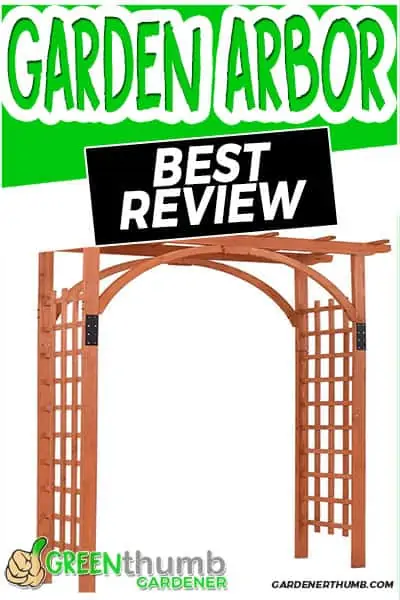 Functionality
People add arbors to gardens to improve their general outlook and appearance, hence increasing their functionality. Rather than leave your garden plain, you should spice it up with appealing arbor designs.
It Boosts Interaction
Imagine how you would feel when you take a walk in a garden with another but exposed to the harsh rays of sunlight. To avoid such an occurrence, it is best to invest in a garden arbor, and then you can freely chat about the gardens or other things and dine with your guest.
Comfort
The shade surely brings comfort by shielding you from the scorching sun, rain, or other harsh weather conditions.
Plant-Support
If you grow climbing plants in your gardens, an arbor will enhance your growth. They also serve as a tool for hanging plants.
Value
It adds value to your property and protects your outer space from trespassers.
Different Styles of Garden Arbors
Garden arbors are in different styles based on the materials and designs that make them up. Hence, it is pertinent to know the different styles of an arbor to complement your garden's landscape choice.
For instance, if you are designing a contemporary landscape, it is best to go with a rusty look structure to make it alluring.
If you have a different look other than a contemporary design, you should consider the following arbor options' pros and cons and decide which best suits your demands.
Local Arbor
It is also known as the traditional arbor and offers you a simple design. It shows a clear path for your garden entrance with vine vegetables developing atop and has a flat roof.
It is best suited when you are dealing with a wide landscape. Also, you don't have to break the bank to put this classic structure in place. However, where it is made of wood, it is volatile and prone to destruction sooner or later.
Garble Arbor
Garble styles are one of the commonest types of shade structures in gardens. If you are looking out for a sharp-angled structure with a high-pitched roof, you might consider this option.
What Materials Are Best For An Arbor
Whether local or garble, you can construct arbors from wood, metal, or plastic. You need to understand each material's pros and cons to weigh your options, especially based on durability.
Wood
The most important element you are most likely to love about wood is its affordability. Also, it offers a classic design look.
On the other hand, it is prone to damage and may not last long to your expectations. It is advisable to consider other options if you are considering a long-term goal.
Metal
Metal is the strongest of all the materials. It lasts longer and looks sturdier than plastic. If you desire a flawless addition to your garden or a design that won't look out of place, metal should be your priority material.
Vinyl Plastic
Although plastic is stronger and durable than wood, it fades easily except for UV protected design. Plastic is your best material for selecting from various sizes, shapes, and designs.
The material is within reach and very common. It is advisable to go for this if you wish to set up a durable structure without spending much.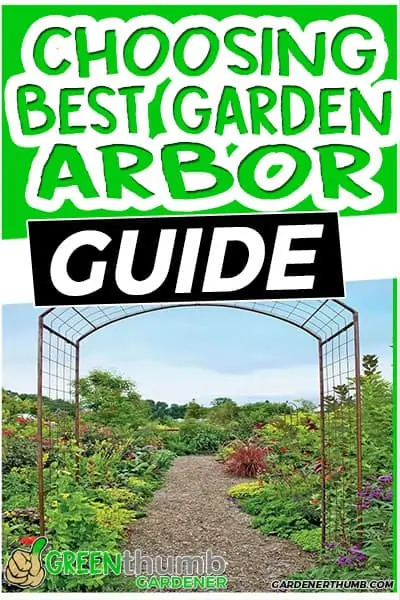 Factors to Consider During A Garden Arbor
Every step requires planning so also is the set-up of your garden. You should consider these major factors before adding an arbor to your gardens, especially if you desire one that fits perfectly. These factors are:
Purpose
The purpose for which you are adding an arbor is important. Generally, arbors are used as shades in the garden. It is meant to protect you from harsh weather conditions.
However, you may want one for other purposes, such as a display window for plants or as a guest space.
Budget
Your budget determines to a certain extent the materials you will use for your construction. It influences most of your decisions on design, style, shape, and size.
For instance, the lowest budget can only accommodate wood construction.
Choice of Materials
Usually, your budget and purpose of constructing a shed will inform your choice of materials. The common materials often used are metal, plastic, and wood.
The cheapest and least durable is wood, although it gives classic outcomes.
Also, the best resource to use is wood if you are building for a short-term purpose. On the other hand, metal is the most useful for long-term usage, while plastic offers a wide range of designs, shapes, and sizes.
However, you can also erect a structure from a combination of two-element often, wood and metal.
Size and Shapes
You need to define the size and shape of your desired arbor in the earliest stage of construction. For flexible designs and shapes, you are restricted to plastic-made arbors.
The size and shape also determine where they are erected. Arched arbors are the best to consider for smaller gardens, while any type of style would fit a larger garden.
Location
The location refers to where you plan to erect your arbor structure. It is influenced by the intended space design and the use of such space. The location is one of the determinants of the arbor's durability.
For instance, if it is directly exposed to the weather (sun), a plastic arbor would fade easily. A metal-made arbor would most likely get rust by constant beatings by the rain.
Arbors and Similar Terms
At some point in your research, you may have come across terms such as Pergola that offer similar definitions to Arbors. Here, we have provided explanations that would enable you to differentiate between these closely-related concepts.
Arbor vs. Pergola
They are both structures erected for outdoor purposes, but Pergola uses more wood for construction. Their differences can be discussed in terms of:
Location
One of the differences between an arbor and a pergola is their location. Usually, you will only find arbors on pathways, entrances, and roads. When used in these locations, they are mostly for beautification purposes.
In turn, arbors look smaller than pergolas and, therefore, provide a little shelter. They merely boost the functionality of a garden.
On the other hand, pergola arbors offer bigger benefits and accommodate more people. It can be used for events such as Barbecues.
Appearance
While pergolas are built with a minimum of four posts and a flat top, an arbor is made up of at least two posts with an arched or slatted roof. An arbor is covered on the side with trellis or lattice, but pergolas are left open.
Also, arbors can be made from more materials than pergolas, although they mostly use woods.
Plants
Although both structures support plants and enhance their growth, the difference is in the weight and size each can support. Usually, pergolas support heavier plants such as grapevines and wisteria.
Installation
Whether arbor or pergolas, their installation depends on several factors, including the nature of the material, size, design, or shape.
During installation, a hole is dug for the structures to be buried in and then, other features are mounted on such stand.
You can identify the difference in this respect based on the duration of the installation. Pergolas take longer because they are bigger.
Costs
It is easy to guess that a pergola will cost more than an arbor because it is bigger and often involves more materials. For pergolas, there is a premade kit, and their prices vary based on the material utilized.
Arbor vs. Gazebo
Gazebos like arbors can be found in gardens and serve the similar goal of providing shelter. However, a gazebo is slightly larger and open, although it has an overhead.
Gazebos offer more privacy than an arbor because of their curtain feature. You may also differentiate a gazebo with its freestanding nature. Like arbors, it can be made from wood, but its scope of materials extends to wicker and vinyl.
Furthermore, a gazebo relates more to a pergola, especially because of the large space it covers. While an arbor only measures about an ordinary doorway, a gazebo is more spacious and can accommodate more people at a time.
Simply, an arbor is designed as an entrance to outer space, while a gazebo is often situated on the garden or yard's exterior side.
Download ​our FREE
Garden Hack Guide
Enter your email below and we will send you a guide to help you SAVE money in your garden.
Final Thoughts
Getting a garden arbor can go a long way in making your landscape look better and give our climbers more growing space. However, you need to get the best one to enjoy the full benefits of having a garden arbor.
With the seven arbors that I have listed above, you have enough options to choose the most suitable one for you.
But if it all comes down to choosing the one arbor, that is above all others. The obvious choice is the GYMAX Wood Arbor Arch, 85" Garden Archway.
It is multifunctional and has a sturdy design of fir wood which means that it is environmentally beneficial for your flowers and plants. The design and workmanship are incredible too.
So, if you only have one option to make, go ahead and make it this one.