Best Weed Puller
Having a reliable weed puller is the first step to having a beautiful lawn and vegetable garden. Unfortunately, not all weed pullers are made the same, which means that the shopping process can be quite daunting. You wouldn't want to go home with a dud, after all. So, how do you know that you've purchased the best weed puller? Skip ahead if you want our best tips on selecting the right weed puller.
Best Weed Puller
Green thumb Gardener occasionally links to product and/or services offered by vendors to assist you with all your gardening needs. Some of these may be affiliate links, meaning we earn a small commission if items are purchased. Check our terms here.
Top 8 Best Weed Pullers
Sold by Fiskars, this stand-up weed puller is a versatile tool for removing all sorts of weeds including dandelions, crabgrass, and thistles. It's made of durable metal materials and features a set of four claws that pluck weeds form hard-to-reach spaces with great efficiency.
The tool's long shaft is designed to reduce back and arm fatigue, eradicating the need to bend down during the weeding process while the foot pedal serves as an aid to help you penetrate tough, dry soil.
To get rid of the weeds that are removed, the weeder comes equipped with an easy-eject mechanism that requires nothing more than the simple slide of the mechanism along the shaft of the tool.
PROS
Picks up and removes more weeds than a shovel or hand tools
Easily removes weeds with long, extensive root systems
Durable, hard-to-break shaft
CONS
Susceptible to damage if used incorrectly
Claws are attached to plastic base
CHECK CURRENT PRICE: Fiskars 4-Claw Weeder
---
The Wallensee weed puller is a stand-up weed remover that makes for a better gardening experience. It has an extra-long, 39-inch handle that works to reduce back strain and help you remove unsightly weeds without any discomfort or bending over.
The weed removal end consists of three durable claws, each with a sharp point at the end to penetrate and grip stubborn weeds that are rooted up to 2.75-inches below ground.
This feature makes the weeder ideal for a variety of different types of soil and invasive weeds including deep-rooted grass, dandelions, bushes, and thistles.
Each Walensee weed puller is made of durable stainless steel that resists bending, warping, and rust. When stored properly, the tool can prove useful for years.
PROS
Ideal for removing tough weeds from a variety of different types of soil
Removes weeds from the roots to prevent regrowth
Makes quick work of large yards and oversized areas that are full of weeds
CONS
The metal prongs are mounted in plastic, making them prone to bending
Removes a large dirt plug alongside weed, leaving holes in ground
Some weeds prove to be too large for one plunge of the puller and require multiple for complete removal
CHECK CURRENT PRICE: Walensee Weed Puller
---
The Edward Tools weeding tool is a hand-held weed pulling tool that targets and removes a variety of unwanted plants and weeds. It features a deep V-nose design that allows it to securely grab onto deep, stubborn weeds directly at the root and pull them out with ease. The wooden handle is paired with stainless steel and soft rubber cushioning that all work together to provide an ergonomic design and the ultimate comfort. Thanks to these features, working with the weeding tool causes minimal wrist strain and discomfort, making it ideal for long-term use. In addition, it comes with a guaranteed lifetime warranty so if anything goes wrong with the product, you can return it for a full refund with no questions asked.
PROS
Handy lifetime warranty that covers a range of problems and defects
Durable wooden handle with enhanced ergonomics
Leveraged metal base
CONS
Requires users to kneel or bend to pull weeds
Not ideal for users with back or mobility issues
CHECK CURRENT PRICE: Edward Tools Weeding Tool
---
The AMES 2917300 steel stand-up weeder is a lightweight option for gardeners of all skill levels. It boasts a durable, T-grip plastic handle that is resistant to cracking and warping, as well as a foot pedal made of the same quality materials.
The length of the weeder is crafted from stainless steel, preventing the tool from rusting or bowing and bending under pressure. Included on the body of the tool is a slide ejection feature that makes for easy weed release, simply dropping the discarded weed with the press of a button.
When you use the AMES 2917300 weeder, you can simultaneously remove all types of weeds and aerate the soil.
Stubborn weeds such as thistles and dead crabgrass can be removed with ease within just one pass of the tool, leaving well-aerated soil in its wake thanks to the unique shape of the tool's plunger.
PROS
Easy-slide ejection handle for quick, effortless release of entire weeds
Benefit of added soil aeration with minimal effort
Long, durable handle that won't bend or flex
CONS
May be difficult for particularly short or tall users to operate
CHECK CURRENT PRICE: ORIENTOOLS Garden Stand-up Weeder
---
The Lawn Jaws Sharktooth weed puller is a simple but effective removal tool for the toughest weeds. It has a compact design that resembles that of basic needle-nose pliers, making it easy to store in the tool box or garden shed.
Unlike pliers, however, the tool features carefully angled back grippers that are ideal for grasping and removing unwanted plant life.
The Lawn Jaws' teeth are 4x deeper than those of other handheld weeders and are slotted to prevent the buildup of dirt and aid in the removal of larger weeds and stubborn crabgrass clumps.
When it comes to handling the tool, the process is easy and comfortable thanks to the rounded plastic handles that have been designed to be easy to hold and to reduce the friction that so commonly causes gardeners blisters and discomfort.
PROS
Angled, shark tooth-style grips with extra depth and slotting
Fits easily into a toolbox, bucket, or storage shed
Removes weeds directly from the root
CONS
Very similar to a basic pair of all-purpose pliers
Grips might be too sharp to remove sensitive root systems
CHECK CURRENT PRICE: The Original Lawn Jaws Sharktooth Weed Puller
---
Number six on our list of the best weed pullers is the Betus manual hand weeder. Incredibly durable, this weed puller tool is perfect for removing dead weeds and unwanted plant life. It's a handy tool for use in small areas or those that have delicate, easy-to-destroy plant life.
It has a durable steel blade and a thick, comfortable handle that has been carefully crafted from smooth pine wood. To ensure that deep-rooted weeds are removed in one piece, the steel blade portion features a unique leveraging feature that can be used to bolster the power of the weed puller.
In addition, the fork-like weed gripping portion features a deep V design that allows the tool to get down into tight spaces and to the most distal, soil-covered part of the weed for seamless removal.
PROS
Easy to use leveraging feature for easy weed removal
Ideal for use on both small and medium-sized weeds
Performs well in areas with a range of soil types and textures
CONS
Requires users to be very accurate with placement of the tool in the ground
Prolonged use can cause arm and shoulder fatigue
CHECK CURRENT PRICE: Beetus Manual Hand Weeder
---
The HEART JOURNEY weed puller tool is a stylish but easy-to-use weed removal solution. It's a stand-up weed remover that can be used season after season thanks to its durable construction, which consists of aluminum alloy and lightweight plastic.
It has a long handle that effectively mitigates the need for bending and crouching, saving both your back and knees from irritation and joint pain. The tool is designed to remove even the toughest of weeds with just one try and then easily do away with them using the push-release mechanism.
Moreover, each HEART JOURNEY weed puller has an ergonomic handle with built-in ridges for grip and stability.
PROS
Ergonomically designed handle for enhanced grip and stability
Extra-long aluminum alloy handle
3-claw design for removing weeds at the root
CONS
Not fit to be used in areas with hard soil
Poor instructions
CHECK CURRENT PRICE: HEART JOURNEY Weed Puller Tool
---
If you're looking for a chemical-free method of weeding, the Garden Weasel step and twist weeder is a great option. It features an ergonomic handle that has been padded with comfortable, textured foam to provide both ultimate comfort and slip-free grip as well as a stylish red and silver steel body.
The durable body material ensures that the tool doesn't bend, warp, or otherwise fail structurally with regular use. The tool's tines are made of the same sturdy material.
In addition, the weeding tool is simple and efficient to use, with users simply pushing the stainless steel claws into the center of the root and twisting to wrench it free. The weed can then be released from the tool's grip using the thumb release mechanism.
PROS
Convenient thumb release for easy discarding of removed weeds
Ideal for use in dry, rocky soil
Heavy duty steel construction that resists warping
CONS
Horizontally creeping weeds are not always removed on the first try
Leaves noticeable holes in dirt
CHECK CURRENT PRICE: Garden Weasel Step and Twist Hand Weeder
---
How to Choose the Best Weed Pulling Tool
When it comes to choosing your first weed puller or a replacement for one that has seen better days, it's important not to buy the first one you see just because it's convenient. There are a number of factors that need to be considered first.
Here are a few of the most valuable to consider and guide you.
Durable Materials
Before you run out and purchase the first weeding tool that you see on the shelf, stop and read the fine print. Pay attention to what the tool is made from, as you'll want to find one that is made of steel so that it's resistant to rust and corrosion.
You'll also want to ensure that this steel won't bend or flex with use, since removing weeds often requires a great amount of force.
The claws of the tool should also be made of a high quality metal, which will ensure that they're able to penetrate hard soil and navigate around underground rocks. After all, the last thing you want is to push your weed remover into the dirt only to have the claws pop out!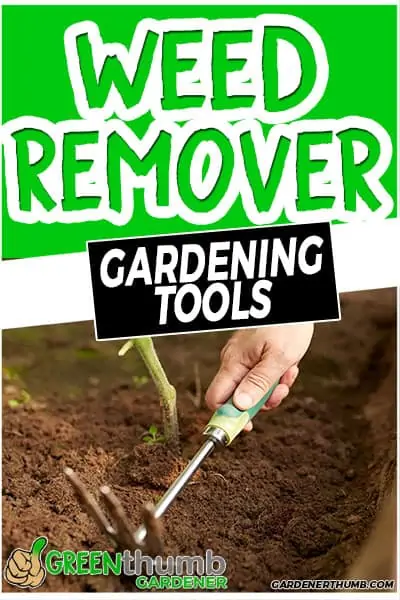 Some weed pullers are made using mostly stainless steel material with the addition of various plastic components, which are usually located within the claw area of the tool.
These kinds of weeders can be efficient and work well, it's just important that you realize that since they have plastic parts, they may not be able to withstand quite as much force.
Handle Length
When you're browsing the aisles, handle length is one of the essential features that you should always consider.
It determines the ease of use and comfort of the tool but it also affects the reach of it, meaning that the longer the handle is, the less likely you are to have to bend down to get close enough to remove any given weed.
A good rule of thumb is that a handle should be 35 to 40 inches, with stand-up weed pullers being slightly longer. If the stand-up puller that you're interested in has a handle that is less than 40 inches long, you'll probably have to hunch over a little bit to use it.
Some stand-up weeders come with a telescopic handle that can be adjusted and, in our opinion, those are the cream of the crop when it comes to handles.
In the case of hand weeders, almost all of them -regardless of handle length- will require you to bend or kneel down. This is what makes this factor so important to think about — especially if you have movement restrictions.
Stand Up vs Manual
It goes without saying that something to keep in mind is whether you want a stand-up model or a manual, handheld model. Both types have their own pros and cons, but it's generally thought that the right stand-up weeder is the best option for most people.
Stand-up weeders are ideal if you have mobility problems or are uncomfortable having to kneel or bend to remove weeds, while handheld models are a great option for tight spaces and for anyone on a budget.
Type of Soil
The type of soil you're intending to use your weeder on will play into what weeder you get. Sometimes, soil quality and type will be the most important factor.
If your soil is especially hard, forked and clawed weeders will serve you well. If your soil is sticky or clay-like, it can easily get caught in the tines and cause problems, which makes a design with a single-tipped sharp edges better suited for the job.
It's also a good idea to keep in mind that the harder your soil is, the more force you'll have to put on your weeder to effectively remove the offending weed, which will help dictate which kind of weeder you purchase.
Weed Type
Unfortunately, not all gardening tools are the same. Some are better suited for certain types of weeds, which is where this factor comes in.
You have to have a good understanding of what types of weeds you have before you can figure out which kind of weed puller you need to remove them.
For example, deep-rooted weeds require a weed puller that has a longer blade, while shallow-rooted weeds can have shorter blades of 4.5-inches to 6-inches.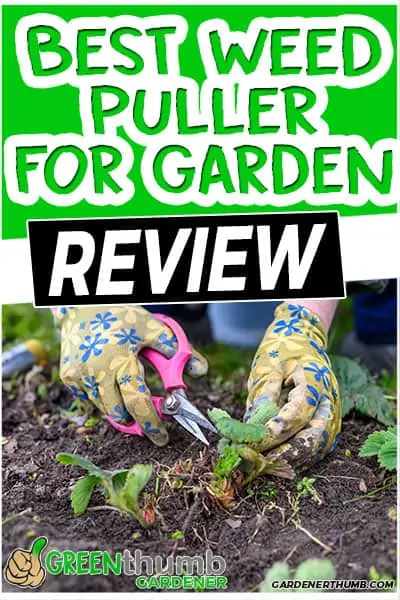 Stand-Up Weeders: Pros and Cons
Pros
Of course, one of the most glaringly obvious benefits of having a stand-up weeder is that there is no need to bend, crouch, or sit down to remove the weeds in question.
Most of these weeders work using the idea that the user wields a long pole with the weeding claws on the end — one that can be operated from an upright position.
Diving into that benefit a bit more, you'll also find that because user's can stand to complete their weeding, there are less back and joint injuries related to yard work. When you think of it this way, the stand-up weed removal tool is king for anyone with mobility issues or chronic pain.
They also benefit users when it comes to completing strenuous tasks since the users can use the weight of their body to push the tool into the ground when extra force is required. Surprisingly, this is an occurrence that pops up quite often.
After all, how often have you found yourself wishing you were just a bit stronger when dealing with compacted dirt?
Thanks to the added force at your disposal when using a stand-up weeder, this is no longer a concern.
Cons
Unfortunately, these weeders do have their own set of drawbacks, though. One being that the long handle on these tools makes it hard to be precise when removing small or delicate weeds.
Thanks to this, more topsoil is removed than would be if you were using a handheld tool, which can disrupt plants in the area.
Handheld Weeders: Pros and Cons
Pros
Handheld weeders are some of the most basic weeding tools. For this reason, they are also some of the least expensive, which is our first pro.
Since they are basic in their design and very small, they cost less to make and ship and, of course, are then sold for a lot cheaper. They are ideal for people who don't do a ton of gardening and who don't mind getting a little dirty.
Those who have small, cramped spaces to weed can also find benefit as these small tools are great for getting into tight cracks and crevices.
Cons
Sadly, the modest price tag reflects the functionality of these garden tools. There are some variations among handheld weeding tool models, but in general, most handheld weeders are relatively difficult to use simply because they lack any kind of hooks or blades at the end.
Tips for Using Weeder Tools
Using weeder tools is more complicated than simply inserting them into the ground. There are things that can make the process easier to rid you of that stubborn weed or, as we like to call them, tips for using weeder tools.
Tip #1: Get to The Root
While removing the part of the weed that you can see will make your lawn or garden look better, it won't solve the problem. Removing the top portion leaves the rest of the weed, its roots, planted firmly in the ground.
This gives the weed an opportunity to grow back, which you can be certain that it will.
So, when using your weeder, be sure to remove the entire weed — root and all. If you have to use your weeder in the same spot more than once to get to the root of the weed, don't be afraid to do so! Do what you have to do to get the job done and inhibit weed growth.
Tip #2: Use the Appropriate Type of Weeder
When tackling challenging weeding tasks, make sure that you're using the right type of weeder for your specific job. We say this because we've seen countless gardeners try to use a stand-up weeder in small spaces and a handheld weeder for large areas only to find themselves with a sore back.
Be sure that you're using the weeder that will most efficiently get the task done while simultaneously causing the least amount of discomfort to your person.
Tip #3: Keep Up With Cleaning
We don't expect you to disinfect or sterilize your weeding tools. However, we would recommend that you be mindful of debris build up — especially when you're using tools that have claws. Claws are prone to collecting a build-up of dirt and debris, which not only clogs your tool and renders it less effective but can also compromise the result of your weeding efforts by leaving pieces of weeds behind.
Tip #4: Maximize Personal Comfort
If you've ever used a tool with a wooden handle for too long, you know how uncomfortable it can be to have your hands break out in blisters. Caused by friction, these blisters are the result of your hands rubbing against the uneven surface of the wood for long periods of time.
Unfortunately, you're more prone to blisters and irritation if you don't use tools often or if you're using them incorrectly.
'Luckily, you can and should maximize your personal comfort when use garden tools such as handheld weeders. To do this, wear gardening gloves to protect your hands.
You might also consider wearing knee pads, a bucket hat to provide your head with shade, and comfortable, somewhat loosing clothing that allows your skin to breath. When you're comfortable, you're more likely to do a good job and be thorough, whereas when you're uncomfortable, it's not uncommon for gardeners to start to slack and slap-dash their gardening tasks.
Download ​our FREE
Garden Hack Guide
Enter your email below and we will send you a guide to help you SAVE money in your garden.
Final Thoughts
At the end of the day, any of the weed removal tools mentioned above are solid choices. However, our Green Thumb pick today is the Fiskars 4-Claw Weeder. With its premium quality claws, adjustable handle, and total weed-removal capabilities, this tool stands out as one of the best. It knocks out its competitors in terms of comfort and handle length, and ticks all the boxes when it comes to being made of quality material and being versatile since it can be used in a range of different soil conditions and to remove an impressive array of weed types.