Growing Vegetables in Containers on Your Balcony
Last updated: 01/11/21
I picked an interest in growing veggies in pots at a young age. I grew up in a place where I didn't have a large space for my plants & greens. So, I knew I had to improvise to solve space problems, and that was how I came about growing vegetables in pots on my balcony.
I have gained a ton of experience with container gardening over the years, and my several stages of trials and error before becoming an expert. This has armed me with sufficient knowledge to discuss all there is to know about container plants.
To successfully grow your vegetables in pots, you'll need to know the best plant varieties or herbs for that purpose, and also have a good understanding of your environment. In this piece, I share with you all you should know about a balcony container garden.
Green thumb Gardener occasionally links to product and/or services offered by vendors to assist you with all your gardening needs. Some of these may be affiliate links, meaning we earn a small commission if items are purchased.
Want to Download a ​Garden Hack Guide​ for FREE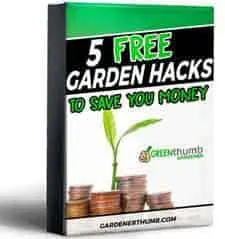 Enter your email below and we will send you a guide to help you SAVE money in your garden.
Listen to this post on the Green thumb Gardener Podcast
Subscribe to the Green Thumb Gardener Podcast on iTunes, Spotify, Or Google Podcast HERE
What Can Your Balcony Garden Grow?
There are different foods you can grow on your balcony, mostly vegetables & leafy greens. You can grow a variety of vegetables on your balcony, depending on how rich your patio is and how much support it provides.
To know what your balcony garden can grow, you will need to understand your balcony and consider the level of support it can offer. This is crucial to know the right kinds of veggies to grow for your container gardening.
Understand the amount of sunlight it provides and the amount of shade it offers. This will help you make informed decisions when you choose the veggies to grow in your balcony vegetable garden.
If your balcony vegetable garden doesn't have much sunlight access, you know you cannot grow productive vegetables that need sunlight, unless you address the sunlight issues.
Know How Much Sun Your Balcony Gets
It is essential that you understand the sun in your environment, and how much sun your balcony gets. This goes a long way in helping you to determine the best ways to place your pot.
It also determines what kind of vegetable you plant, because some vegetables need sunlight to blossom while others are not in need of so much sunlight.
Things like tall trees in your yard mean that different parts of your yard will have access to varying degrees of light.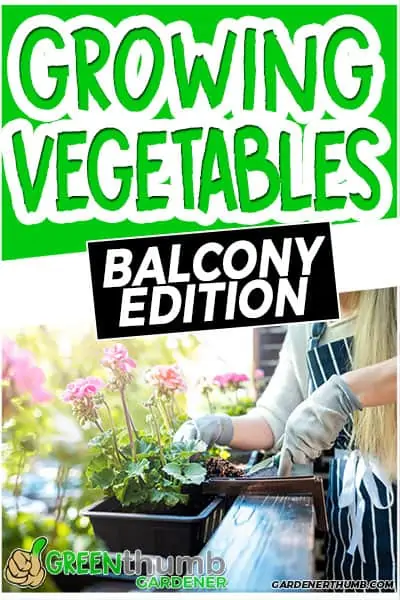 Examine The Sunlight Level In Your Yard
You will have to examine the sunlight level in your yard to determine the best area to place your veggies. Getting this done is not a difficult thing to do. You will have to monitor your yard when the sunlight comes on and determine the amount of sunlight the yard gets during this period.
This can take monitoring the yard for up to two hours.
During this process, you should get a piece of paper upon which you would sketch your yard. After doing so, allot a number to each section of the yard that you can place your vegetables.
The number you give to each section allows you to adequately keep a tab on the sunlight level that each section receives.
Note the sunlight level that each of these sections receives during the period while you monitor the sunlight.
Partial Shade Or Full Sun
You also would have to determine the amount of sunlight each area receives to know the area that enjoys full sun and the area with partial shade. This helps you to make informed decisions based on the area you want to place your pot.
For full sun areas, you'll have to monitor the areas that enjoy direct sunlight beyond six hours. For areas that fall in this category, they are referred to as the full sun areas. But with areas that do not enjoy as much sunlight, they're often called a partial shade.
Partial shade means that the area moderately enjoys sunlight while full shade means minimal contact with sunlight. By examining your yard carefully, you can note all the areas.
Understand that if you have tall trees, you definitely will have areas that are shaded. By knowing the full sun, partial shade, and full shade, you know where to place each vegetable that will match the vegetable's needs.
Addressing Sunlight Issues
If you need more sunlight or need to regulate the one that comes in, you have a few options. You can thin out trees if you need to get access to more sunlight.
You can also plant shade trees where you need to regulate the sunlight. You could also get the crown of the trees heightened where you need sunlight to cut through.
Lettuces and salad leaves can tolerate partial shade, but will take longer to grow in partial sunlight conditions.
Which Vegetable Grow Best On Your Balcony
There are various vegetables you can grow in your balcony. For many of these vegetables, all you need is to know the pot modifications that best suit their needs and the amount of access to sunlight they require to blossom.
Once you know this, you are good to go. However, the fact that there are many veggies to grow doesn't mean there aren't some that are best for you to grow on your balcony. I shall take you through the best veggies you can grow here.
Tomatoes
Growing tomatoes in pots on your balcony is not a difficult thing to do. Tomatoes is one of the veggies you can successfully grow on your balcony, and reap the results within a reasonable period.
Once you have adequately placed it to get the sunlight it needs and you give it the proper care it deserves, you're good to go.
Consider the size the tomatoes will be when they become ripe and match this size to that of the container you're using to house the tomatoes. For example, you can perfectly place small varieties in smaller pots, while larger tomatoes varieties will need a much bigger pot.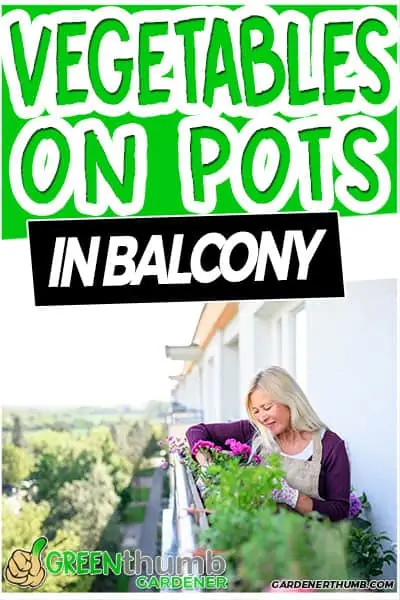 Ensure that the pot you are using is deep enough for the roots of the tomatoes. Ensure that the pot aligns with the standard 12-inch depth.
You can grow your tomatoes with any bucket from half barrels to being as large as 5 gallon containers. Also, ensure that the pot has an adequate drainage system.
Eggplant
Eggplants are versatile, and they grow rather easily just like tomatoes. They also are a part of the nightshade family. They are a perfect fit to be grown in a small space like your balcony, and they develop really fast.
You need to grow them in pots that are large enough to support their roots, and you also have to properly place them on your balcony. A 5-gallon bucket would be an excellent fit to grow this plant. You can either choose glazed or unglazed pots.
If you are the type, who may forget to water the veggies, choose the glazed pots. But if you're mindful, you can choose the unglazed. This is because the unglazed pots are quicker to dry out.
Peppers
Peppers are vegetables that you can plant on your balcony, and get impressive results. Pepper plants are quite decorative, and they are some of the best you can plan on your balcony. Growing pepper is not a difficult thing to do if you understand the basics.
There are two key things you should know. One, you need to ensure that your pepper gets access to about 5 hours of sunlight. Secondly, you have to constantly water your pepper.
Ensure that you grow your pepper with potting soil, as against the normal garden soil that is used with many other veggies. This will ensure the pepper grows adequately and quickly.
Green Onions
If you want to grow one of the best veggies on your balcony, the green onions are one you can grow. It doesn't take much to yield results. All you need to do is ensure it is grown with adequate fertilizer and soil.
Ensure it gets access to sufficient sunlight, and you properly take care of it. Growing your green onions is much the same as growing onions.
Radishes
Radishes are root vegetables you can grow in a wide container on your balcony. They are cool vegetables that come both early and late seasons. Growing them in pots helps keep them free of pests and speeds up their growth process.
Ensure you grow it with sufficient and rich fertilizers. Ensure that the pot you use has an adequate drainage system to ensure it grows appropriately. They grow fast and provide sweet and attractive fruits.
Tips For Growing Vegetable Successfully
Growing vegetables successfully is an easy thing to do. All you need is to learn the basics and know the right things to take care of your veggies.
Consider The Sunlight
You need to understand the sunlight needs of your vegetables and provide it accordingly. If you are growing veggies that require much sunlight, you will have to place it in a spot where it gets it.
Grow With Rich Soil
Whether you are using garden soil or organic potting soil, you have to ensure you grow your veggies with rich soil. This hastens the growth of the vegetables by supplying them with the needed nutrients.
Water Adequately
It is essential that you water your veggies adequately when you have smaller gallon containers. You can choose glazed or unglazed pots based on how mindful you're concerned about plant watering.
Veggies like pepper need consistent watering & moist soil, so using larger gallon containers or self-watering type of containers is suggested.
Download ​our FREE
Garden Hack Guide
Enter your email below and we will send you a guide to help you SAVE money in your garden.
Final Thoughts
Balcony vegetable gardening is easy to produce the best veggies including miniature varieties of tomato plants or climbing varieties of green beans.
I have grown different kinds of plants & herbs in my balcony vegetable garden. Nothing is stopping you from doing the same. You should not have to go to the market every time for things you can grow and have unhindered access to.
You deserve some straight-from-the-garden veggies as well.