Quietest Inline Fan Buying Guide
Many people believe that sacrificing some quiet is a necessary evil while enjoying great ventilation from the use of inline fans and this is a wrong assumption.
Inline fans do not have to be noisy at all and several brands offer the quietest inline fans in the market.
This article will not only introduce you to 8 of the quietest inline duct fans on the market but also give you tips on what to consider while choosing an inline duct fan for your grow room or grow tent.
Quietest Inline Fan
Green thumb Gardener occasionally links to product and/or services offered by vendors to assist you with all your gardening needs. Some of these may be affiliate links, meaning we earn a small commission if items are purchased. Check our terms here.
Quiestest Inline Fan Reviews
With an airflow rate of about 190 cubic feet per minute, speed of 2300 RPM, and most importantly a decibel rating of <31dB, this 4-inch duct fan with a sturdy design remains one of the best on the market.
This fan is a great option when you want to enhance the air circulation in your grow space, can serve as an inline exhaust fan, and is also a great humidity controller.
The product comes with a 12-month warranty when purchased and has less ambient noise than most inline fans.
PROS
The product is very easy to install, this saves costs of hiring a professional while attempting to install it
Fan speed is completely adjustable which is great when you need to occasionally change its set-up
It is sold at a completely reasonable price and likely the cheapest quiet inline duct fan you will find in the market
CONS
Noise increases with an increase in speed, so while the lowest fan speed gives a low hum of about 31dB, a higher speed can produce noise levels as high as 70dB
Many buyers complained defective models
CHECK CURRENT PRICE: VIVOSUN 4 Inch Inline Duct Fan
---
This slick 4-inch duct fan is equipped with smart programming, a quiet PWM motor, and a mixed airflow compact design.
These features enable the device to achieve a higher airflow of 205 CFM, a lower noise level of 28dBA, and higher energy efficiency.
The device which has a stylish design can be used for many ventilation projects especially those that need enhanced airflow and exhaust.
It can also serve as a cooling device in equipment rooms and closets.
PROS
It comes with a programmable controller that allows the fan to maintain a steady configured temperature
It has a nice, stylish design
The product is more energy efficient
CONS
Controllers are a little complex to operate and has been said to fail after a few years
Some customers complained about incorrect calibration for temperature and humidity
The product is quite expensive to purchase
CHECK CURRENT PRICE: AC Infinity CLOUDLINE T4, Quiet 4" Inline Duct Fan
---
This improved version of the previous selection comes with a much higher air circulation rate of 402 CFM which makes it a better option for those who need to ventilate a larger space.
It has a 6-inch duct size, a quiet operation with a minimum noise of about 32dB, and consumes only about 38 watts of power.
PROS
The product has a lightweight design and is especially much lighter when compared to its counterparts
Parts of the device reek of high-quality material
The device has an easy-to-use controller
The device is easy to install with a comprehensive manual
CONS
The product does not function properly with high-powered lights such as MH or HPS
Some customers complained of inaccurate calibration for temperature and humidity
CHECK CURRENT PRICE: AC Infinity CLOUDLINE T6
---
This 6-inch inline fan has an airflow rate of 440CFM, a fan speed of 2450RPM and produces a noise level of 50dB. The product comes equipped with a superior carbon filter, study ducting, and 2 stainless duct clamps.
These features make it the quietest available inline fan for those looking to eliminate undesirable and pungent odors from grow tents or grow rooms.
PROS
Highly rated as one of the most durable quiet inline duct fan on the market
The product comes with an adjustable fan speed
Great for air circulation
CONS
Consumes much more watts of power when compared to its counterparts
May vibrate loudly when on maximum fan speed
CHECK CURRENT PRICE: VIVOSUN 6 inch 440 CFM Inline Duct Fan
---
This 6-inch inline duct fan with an airflow of 340 cubic feet per minute is designed to offer multiple ventilations.
With just one fan, multiple inlets can be placed in different parts of the house to enable air circulation and the elimination of pollutants and odors.
All parts of this product have a fantastic 3-year warranty from the manufacturer.
PROS
It comes with a bathroom fan and thus can be used as a bathroom exhaust
The product is much more powerful than equivalents from other brands
It has an excellent suction power
The product is made from high-quality alloy steel which ensures a longer product life
CONS
The product does not come with a power cord and needs to be hardwired
It consumes a bit of power
CHECK CURRENT PRICE: Panasonic FV-30NF1 WhisperLine Remote Mount In-Line Spot Ventilation Fan
---
This 4-inch quiet inline duct fan is most suitable for people looking to install a quiet inline fan for HVAC and other lighter applications such as your grow tent.
It has a lower airflow of 199 CFM and a noise level <31dB.
PROS
The product is very easy to install and maintain
It comes with a variable speed controller and a power cord
It can be used as a dryer vent as it is not easily destroyed by wet lint
The product is sold at a decent price
CONS
The product is made from plastic and many buyers complained defective models
Has a high noise level especially when you consider its low airflow rating.
CHECK CURRENT PRICE: VIVOHOME 4 Inch 188 CFM Inline Duct Fan
---
This product has a 6-inch inline duct fan that can be used for ventilation through HVAC ducts, grow tents, or bathroom exhaust.
It has an airflow rate of 350CFM, a noise level of 31dB, and an EC motor with a 0-100% variable control speed. It however consumes about 40 watts of power at the highest speed. The product has a rating of 4.7 out of 5.
PROS
The product comes with an easy to operate a remote control
It is easy to assemble and install
It can be purchased at a very reasonable price
CONS
Many customers criticized it for having a much louder noise than advertised
It comes with a very short power cable
CHECK CURRENT PRICE: TerraBloom 6" Silent Inline Duct Fan
---
This commercial-grade inline centrifugal fan comes with a 4-inch inline duct fan, has an airflow rate of 171 CFM, and a fan speed of 2910 RPM. It is a beginner's choice when looking to buy a reliable inline duct fan for ventilation and exhaust projects.
The product has a current price of about US$76.88 and a 5-year factory warranty.
PROS
The product comes with 8 feet, 120-volt power cord
It is very easy to install
The hurricane inline centrifugal fan is made of steel and coated with a durable powder finish which allows it to have a longer product life
CONS
Product has a higher energy consumption rate
It does not come with a variable fan speed controller
CHECK CURRENT PRICE: Hurricane Inline Centrifugal Fan
---
Everything You Need to Know Before Purchasing an Inline Duct Fan
Inline duct fans are amazing with several benefits; they help to circulate air, can serve as part of the HVAC system, and can be high-powered.
Unlike standard fans, Inline duct fans are not attached to the ceilings or walls, rather, they are attached to ductwork inside the ceiling and are located further away from the room.
This allows the fans to give off much lesser noise, serve as an exhaust and be a part of the venting system.
Before going ahead to purchase an inline duct fan, here are some important points to note to help you make the best decision.
What Do You Need?
Inline duct fans require some important parts before they can be installed. Some of these parts include the following.
An External Vent
An external vent can be attached to the wall or the eaves, where the roof of the house connects to the external wall. It is a very essential as it provides an outlet for air circulation. External vents come in different types; examples include the ridge vent, turbine vent, and box vent.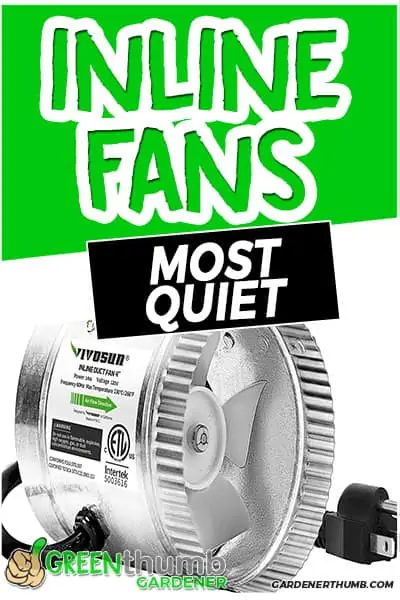 Intake Vent
The intake vent is located inside the house and can be attached to the wall or the ceiling. It is responsible for bringing air into a room and very essential when trying to install an inline duct fan.
It comes in various sizes and styles and most homeowners prefer to pick one which will complement the interior décor.
However, for easy duct connection, it is very important to consider the duct size before choosing an intake vent.
Ducting
Ducts are conduits through which the air flows in the venting system. Duct size is also important when picking a fan. The fan is a vital part of the set-up, thus, it is important to buy a fan that is the same size as the ductwork.
To get the best results while installing a duct system, the ductwork needs to be as straight as possible. There are 3 types of ductworks to pick from; rigid, flexible, or semi-rigid ductworks.
Flexible ductwork is best for complicated spaces where it is impossible to install rigid ductwork. It however requires careful installation and must be well secured with very minimal bends and kinks.
Rigid ductwork, on the other hand, is more reliable and efficient than its flexible option. It can be made of metal sheets, fiberglass, or fiberboard.
Other items such as duct clamps, remote control, power cords, and so on, may also be required for some inline fans.
DIY or Professional Installation?
Another important question to consider before picking out an inline duct fan is whether you will be hiring the help of a professional. Many homeowners prefer to install equipment and devices around the homes on their own, usually to save the cost of hiring a professional.
If you are one of these, then you will have to carefully consider the type of inline duct fan to buy.
While some inline duct fans come with an adequately long power cord and a power inlet, others do not. A long power cord and an inlet make installation much easier than there will be no need for hard wiring. Hard wiring is very complex and requires the skill of a professional to avoid fire outbreaks.
Some Inline fans may also come with very complex manuals and will require the help of an experienced professional to conduct the installation.
Proper research before purchasing an inline fan will help you make the best decision depending on your situation.
Key Factors to Consider when Purchasing an Inline Duct Fan
The next step after deciding to buy an inline duct fan is to know exactly what specifications you should be looking for.
There are several types of specifications and brands in the market and the size of the space or spaces, the location, and the reason for ventilation will usually determine, to a large extent, the size and type of inline duct fan you will need to purchase.
Other important factors to consider include the following.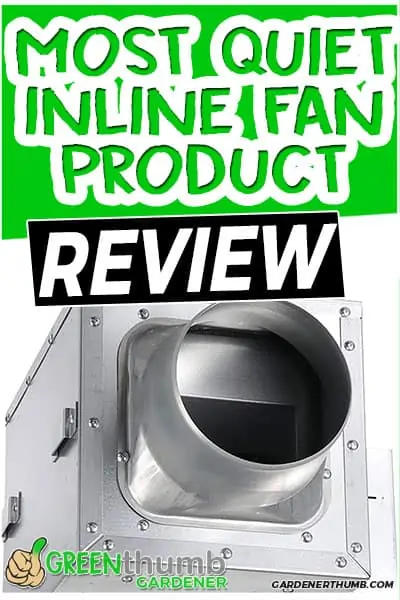 Material
The fans can be made from either plastic or metal. Most people prefer the metal options since they tend to be more durable and can withstand vibrations from dropping.
On the other hand, plastic blades move faster and can withstand rust.
Usually, the plastic option is practical if your fan could come in contact with moisture. This is common if the fan is used to ventilate an outdoor grow tent.
Airflow Rate
The airflow rate of an inline duct fan determines the amount of air that can be moved through a room while operating at the highest fan speed. The amount of airflow needed is dependent on the size.
The general rule of thumb is that for every 1sqft of a room, you need at least 1 Cubic foot per minute of airflow. This rule is usually adequate for common rooms in the house.
For a grow room, on the other hand, you need a ventilation system that will exchange air once every three minutes. To determine how much airflow you need, simply divide the volume of the room by three.
You must also consider other factors when picking an inline fan for a grow room, some of which include:
The presence of HID lights increases the amount of ventilation needed by 5% for each light
The presence of filters increases the amount of airflow rate required by 20% and
Hot and humid climates increase the amount of ventilation required by 25%-40%
Programmable Controller
A programmable controller is important to enabling a user to keep the temperature of a room at a preferred level without having to manually change it with changes in external temperature and humidity.
For a grow room or grow tent, this feature is very important to enable a user to control the temperature and humidity of the room even without being present. Only some inline fans however come with this feature.
Noise Level
A large portion of this article addressed the best types of quiet inline duct fans on the market. A noisy fan could be very irritating in the long run and thus many people prefer to get the quietest options available.
For an outdoor grow tent, however, most people do not see the need for a quiet fan but it is still important to avoid disturbing the neighbors.
Precautions to Note while Working with an Inline Duct Fan
Working with electrical appliances can be dangerous and particularly, working with an electronic fan could pose hazards, especially when handled by a non-professional. It is important to take the following precautions before and while installing an Inline duct fan:
Before installing, ensure that its electrical switch is locked in on "OFF" to prevent being switched on accidentally
If a power cord is too short to reach a power source, it should be hardwired not connected to an extension cord
Do not attempt to hard wire your device on your own unless you are a professional electrical engineer
The use of an insulated duct is recommended
Avoid placing a switch where it can be reached from a tub or a shower
Never re-establish the power supply until the fan and the activation device have been installed.
Take proper care not to damage any electrical or plumbing works while cutting into the walls and ceilings
After installing ensure that the fan undergoes maintenance every few years to ensure a prolonged product life.
Download ​our FREE
Garden Hack Guide
Enter your email below and we will send you a guide to help you SAVE money in your garden.
Final Thoughts
Inline duct fans have become crucial in homes and offices today. Besides, it is almost impossible to own a grow room or grow tent without using the equipment.
One of the most important features most users look for one when purchasing an inline duct fan is a quiet operation but many people do not want to sacrifice quality for quiet operation.
Getting the best possible quiet option is thus a challenge as they do not know what they should be looking for. This article has helped to list out all the best and quiet inline duct fans, listing out their pros and cons to help you make a decision.
Of all the listed devices in this article, however, my top pick will be the VIVOSUN 4 inch Inline Duct Fan. The reason for this is that the product is made of durable material, easy to install, very affordable, and has an adjustable fan speed.
All of these features are very crucial for those looking to save cost without sacrificing value.