When To Transplant Broccoli The Easy Way
Last updated: 03/26/21
As a kid, I always dreaded when broccoli made its way onto the dinner plate. Today, it happens to be one of my favorite additions.
From stir-fry to casserole to a fresh broccoli snack, its versatility and nutritional value make it a top-tier vegetable.
So in an attempt to fulfill my newfound enjoyment of the small tree vegetable I decided to start growing it in my garden.
Unlike many of my other garden plants, it turns out you have to start broccoli from seed and there are two harvest times allowing for a more continuous supply of broccoli.
Green thumb Gardener occasionally links to product and/or services offered by vendors to assist you with all your gardening needs. Some of these may be affiliate links, meaning we earn a small commission if items are purchased.
Want to Download a ​Garden Hack Guide​ for FREE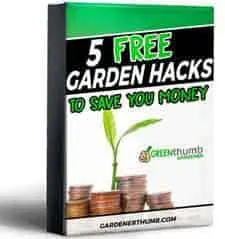 Enter your email below and we will send you a guide to help you SAVE money in your garden.
When to Plant Broccoli Seeds
Spring-Planted Broccoli
Broccoli is a cool-season crop which means it is best to start the broccoli from seed indoors about two months before the last frost in spring.
Keep an eye on the weather of spring to estimate when the last frost may be. You'll want fertile, well-drained soil for your indoor vegetable garden containers.
As a cold-season vegetable, the seeds can germinate in soil temperatures as low as about 40 degrees Fahrenheit (4.44 °C), but slightly warmer soil is optimal for fast-growing broccoli.
By planting your broccoli seedlings in the spring, you'll yield a summer crop for all of your stir-fry, grilling, and garden salad needs.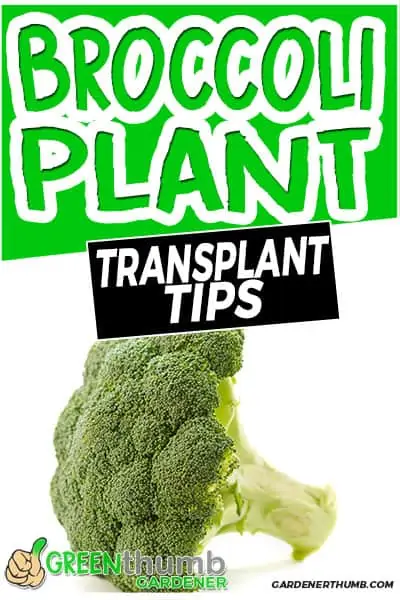 Fall-Planted Broccoli
Because of the cool crop feature of broccoli, you can also plant broccoli in the autumn for a winter crop.
If you plant your broccoli from seed in the fall, you will end up with early winter harvest crops perfect for everything from thanksgiving dinner to a cozy autumn soup.
Fun Fact: Broccoli, Cabbage, and Cauliflower are all cool-season crops and can be planted about the same way!
In this case, you'll want to start your broccoli from seed a little less than two months before the last frost date (about 6 to 8 weeks is a good timeline to follow). You can aim for late summer for most areas in zones 3-8.
When you plant your broccoli seeds indoors, your lightweight potting soil should be supplemented with a balanced fertilizer or a nitrogen fertilizer.
Seedling Broccoli Tips
Using nitrogen-rich soil you can make sure your baby broccoli seedlings can start strong with healthy root growth.
You'll see the seeds germinate in about 10 to 14 days and shortly after that you'll have small shoots of broccoli, no matter the types of varieties you choose to include in your vegetable garden.
You'll also want to make sure you have a watering schedule for your indoor plants. If you're not sure if your plants need water, check the soil moisture.
If there is none, you'll want to give them enough water to get down to the roots with soil. Broccoli likes to almost always be moist, but not quite saturated.
Once the seeds germinate, you'll want to start providing air circulation to the container-planted broccoli while also making sure that you're giving them enough access to light.
If your indoor growing space does not receive enough natural light, you can always add fluorescent lights or a grow light to make sure your plants get the needs met.
Broccoli is a sun-loving, cool-season crop, so you'll want a light that doesn't give off too much heat.
Hardening-Off" Your Seeds
So it's been a while since you've started your broccoli from seed and you see your broccoli has a few inches of stem showing, perhaps a small head, and some true leaves!
It's time to harden off your broccoli and begin the transplant process.
If this is springtime, you'll be planting around the time you start the rest of your vegetable garden, and if you're planning a winter harvest, you'll be doing this in late spring.
Your vegetable seedlings are used to safe indoor environments and you'll want to toughen them up before leaving them out in the great outdoors prior to the last frost in spring.
You'll want to start by placing them in their pots under a shady spot for a couple of hours before bringing them back indoors. Each day you'll repeat this process, but leaving them out for more hours per day.
Eventually, you'll start moving them to an area with more direct sunlight. Even though your broccoli was exposed to a grow light, your baby plants are not yet used to the effects of direct sunlight.
Keep an eye on the leaves of your broccoli seedlings. If they start to get sun damage you'll know that they've had too much sun that day and you'll have to adjust for tomorrow.
The hardening process should take about 4-6 days before you transplant broccoli seedlings shortly after the last frost in spring or prior to the first frost in the fall.
Planting Dates for Broccoli
After choosing a rich, moist, well-drained soil you'll start by creating broccoli rows where you'd like to plant every single broccoli.
The rows for broccoli should be dug a bit deeper than the container that your broccoli seedling currently lives in. The leaves should remain above ground when planted but make sure all the roots are covered in soil.
Note: If you live in a warmer climate, there are different varieties of broccoli that are more heat-tolerant than others.
If the spot where you've chosen to plant does not have great soil composition, you can always add an organic soil amendment to act as a fertilizer for your new plants.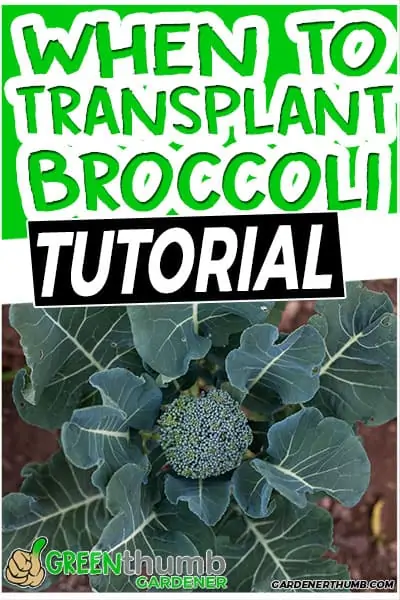 When planting, you can also add a balanced, slow-release fertilizer to your routine to make sure there is healthy, fast, and successful plant growth.
Keep an eye on the leaves of your broccoli plants. If they are wilting, they may need water, if they yellow, they might not be getting enough nutrients from the soil!
From seed to harvest you should expect about 70 to 100 days for full growth, so take that into consideration when you'd like your harvest.
When Should You Plant Broccoli?
When planting in the spring, your broccoli transplants should be ready to be planted outdoors around the time of the last frost.
You'll want to keep an eye on the weather forecast so you can make sure you're not planting them too early prior to the last frost in spring.
Generally, broccoli plants do best in temperatures between 65 degrees and 80 degrees Fahrenheit (26.67 °C). If you plant in too cold of temperatures the head of the plant may grow too quickly and the flavor and texture will be compromised.
Your broccoli seedlings should be about 4 to 6 weeks old when you plant them outdoors.
This gives them enough time to have at a minimum of 2 leaves, but an optimal amount of 4 or 5 leaves. If your seedling is a bit leggy and tall when you plant you can bury it up to the first set of leaves.
Spring Broccoli
The earliest you'll want to plant your broccoli seedlings is in April. If you plant in April or May, you'll have June and July harvest times.
Fall Broccoli
You can transplant your broccoli to your outdoor garden in mid to late August for a fall harvest crop. Then you'll be harvesting between mid-September to the end of October depending on the varieties you've decided to put in your vegetable garden.
Download ​our FREE
Garden Hack Guide
Enter your email below and we will send you a guide to help you SAVE money in your garden.
Final Thoughts
Broccoli isn't that picky!
Although it seems like an intimidating vegetable to add to your garden (especially starting broccoli from seed), once you get the timing down, you'll have a great harvest each year.
Depending on where you're located, you may want to look into what types of varieties of broccoli work best in your growing environment.
In summary, plant indoors, move outside when it's basically nice out, and make sure they're watered and have great soil to mature in. Then harvest your broccoli head and enjoy.
Related Questions
How big should broccoli seedlings be before transplanting?
Your broccoli should be about 6 inches (15.24 cm) tall with a minimum of 2 leaves before you transplant them outdoors. You'll also want to make sure you harden off the baby plant before transplanting.
What happens if you plant your broccoli too close together?
Less space = Less to harvest! Without enough space to grow (about 18 inches (45.72 cm) apart or so) your broccoli will grow a smaller head yielding less for you to harvest.
Keep your plants no less than 18 inches (45.72 cm) away from one another and keep your rows of broccoli about 3 feet (0.91 m) apart.