7 Tips on How to Grow Lettuce Like A Boss
Last updated: 02/15/19
You might be thinking of how to grow lettuce is too difficult. You might see all the plants in your local garden center. Sure, they have tomatoes, peppers, and every kind of herb ready to be planted for your home garden or container.
Where are the lettuce plants that you could just stick in your garden found? Chances are there will be no selection or a very limited choice of lettuce plants. You don't need to get those plants from there.
Just walk over to the other section where the seeds are kept and pick yourself up a packet of lettuce seeds.
You will learn some easy tips to help you grow lettuce from seed. You might even learn how to grow lettuce like a boss.
Green thumb Gardener occasionally links to product and/or services offered by vendors to assist you with all your gardening needs. Some of these may be affiliate links, meaning we earn a small commission if items are purchased.
Want to Download a ​Garden Hack Guide​ for FREE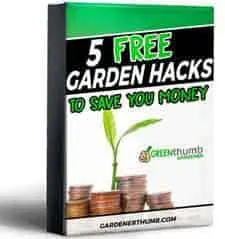 Enter your email below and we will send you a guide to help you SAVE money in your garden.
1- Lettuce Growing Facts
First, you have to start with the facts of growing lettuce. By fact, I mean all the detail that you might find on the back of your lettuce seed packet. We will first point out a couple of different types of lettuce so you know what to expect.
The different types of lettuce include:
Leaf Lettuce– This lettuce is just like the name says. Bundles of leafy lettuce. A good variety of this type is the Black Simpson Seeded lettuce.
Romaine Lettuce– Yout typical lettuce that you might find at the market. Densely compact lettuce leaves in a cylindrical shape. Check out Red Romaine for a flavorful type
Butterhead & Bibb Lettuce– Small round shaped lettuce type. Summer Crisp is a favorite of many gardeners
Iceberg (Crisphead) – These are the common iceberg lettuces you find all over the local market. Summertime is a good crisphead variety if you want to try something new
Check out our mega lettuce guide if you want more planting facts. Check it out here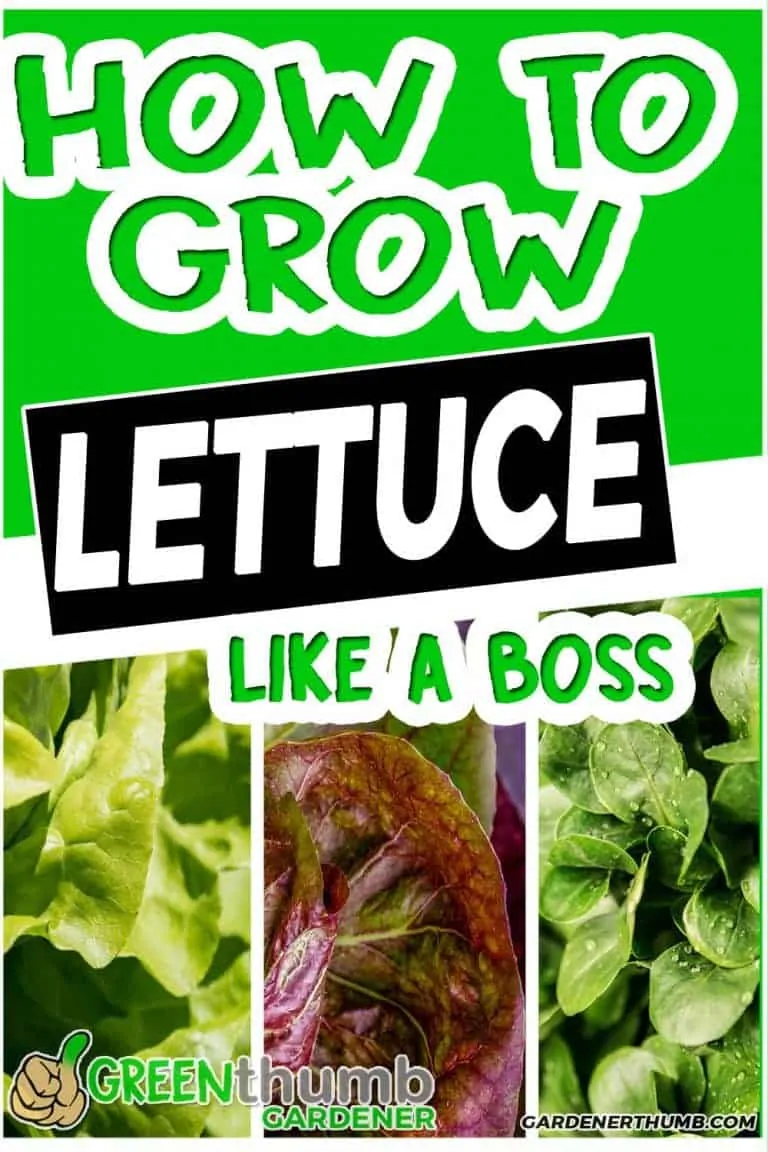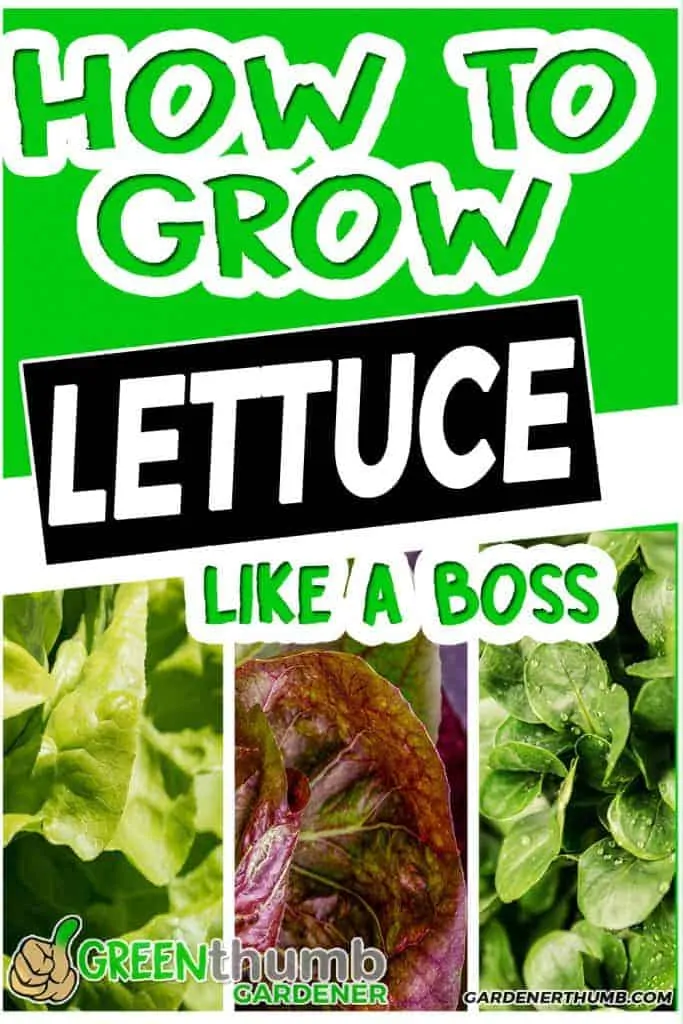 2- Sow Lettuce seeds Directly or Transplant
Alright, you figured out that you want to grow some kick-ass romaine lettuce that you can throw on the grill. Now you just got to figure out what the heck do you do with all these lettuce seeds that you purchased.
In case, you are wondering sowing means to place the seeds in the dirt. Just thought you might need to know how to sow. Say that 10 times fast.
You have a few different options on what you want to do with your seeds and it depends on the types that were mentioned in the 1st tip. Most lettuce types that you find can be fully grown out or harvested as baby greens. Check on your seed packet. You will see salad type or mix variety for the type of lettuce that might be the best for sprinkling in a confined area.
The 2 main methods to sow lettuce are:
Transplanting method – 1 lettuce plant that you start in its own container. The container could be a seed starting tray like this or perhaps a small pot like this.

This method is usually reserved for the bibb or romaine types of lettuce. Most of these types of lettuce are grown until fully mature

Direct Seed Broadcast style – Lettuce seeds are broadcast over a defined area of soil. You can do this in your garden or container.

This method is best for the "cut and comes again" types of lettuce. This method is perfect if you want to continually harvest lettuce.
Green thumb Gardener really likes a mix of different varieties of lettuce. This particular one is lettuce lover collection of 8 different seeds. Who knew they had a lettuce lover?
Check it out here.
3- Growing Lettuce in a Container
Mastering the fine art and skill of how to grow lettuce certainly enables you to adapt to whatever situation you may have in your garden. "Who am I kidding?" Growing lettuce is so simple and easy to do, even for young children.
You may not have the biggest area to grow a garden, so that is when you can turn to grow lettuce in a container. We won't go into the detailed steps of how to grow lettuce in a container. You can check out the guide for that here.
Container gardening has several advantages and a few disadvantages. Growing lettuce in your container will have huge advantages. Lettuce is the perfect vegetable to be grown in a container. In fact, you should grow lettuce in a container even if you have a traditional garden bed.
Here are some more reasons to learn how to grow lettuce in a container:
Portability- This is really helpful during the early spring days when it is still cold out during the nighttime hours, yet warms up when the sun is out. You can easily move a small to a medium-sized container in and out of the cold if needed.
Proximity- Having lettuce growing right next to your door will give you the best access to use it. Combined with the portability reason and you can start growing lettuce in a sunny area and move to a less sunny area that could be located next to your kitchen.
Less work- Most of you love getting your hands dirty, but sometimes you may not have the time to manage a big garden area. A container full of lettuce can literally be a task that takes 5-10 minutes of prep. Stick your watering can next to the container and keep it moist as needed. How easy could that be?
Hopefully, you get the drift. Growing lettuce in a container is so simple, so just do it. For detailed steps on how to grow lettuce in a container, check this post here.
4- Best time to Grow Lettuce Year-round
You might be asking when can I grow lettuce. Well, lettuce can be grown any time of the year if you really want to. It is really true. There's nothing like picking fresh lettuce leaves for your Christmas meal or preparing a creative salad for your love on Valentines with your red romaine.
Let's keep it simple for the purpose of these tips because you might not be into indoor gardening. You can check out my series on growing indoors if you wanted to know more found here.
Here are some tips growing lettuce during the 4 different seasons in the Northern Hemisphere:
Spring– Start planting early if you can. You can start some lettuce in seed trays or plant in a container that is tucked away from the cold weather to ensure they germinate.
Summer– Make sure that you find lettuce that is resistant to bolting. Lettuce does not like long, hot, sunny & humid days. Keep it shaded and coll to prolong its life cycle.
Fall– Start planting a batch in the late summertime to enjoy some lettuce by the end of September or sooner. Best time of the year to grow lettuce outdoors.
Winter– Be daring and sneak in a crop of lettuce in October. Maybe throw up a simple covering if snow is in the forecast Check out our post about winter gardening if you want to know more. You can find it here.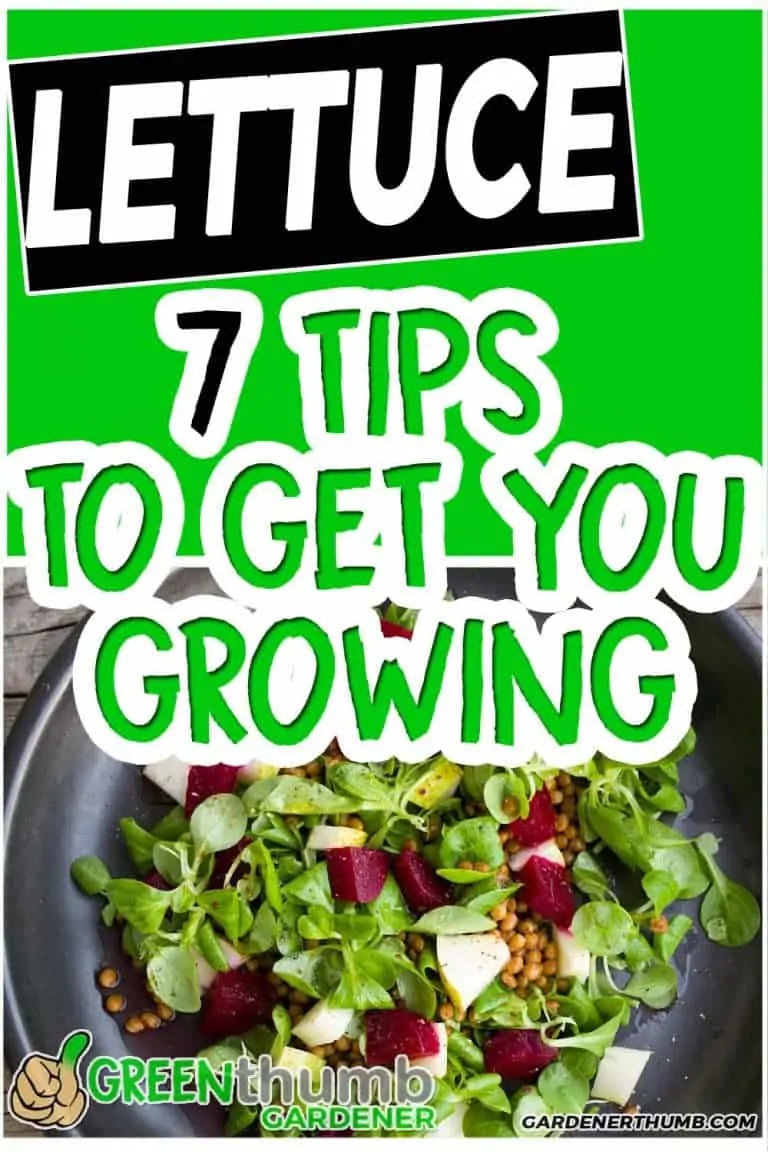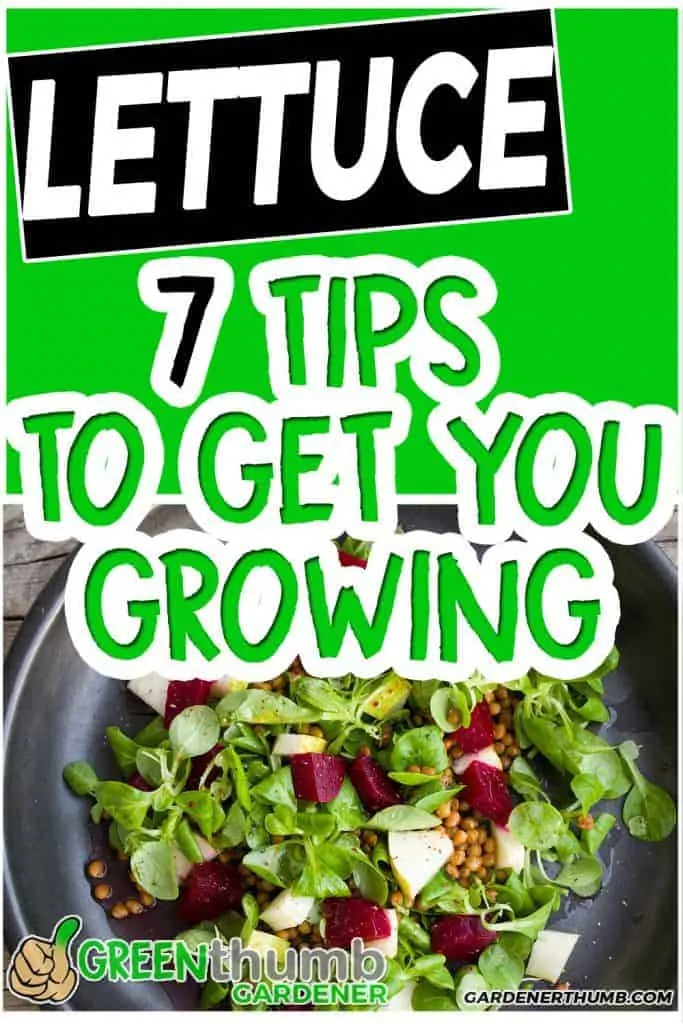 You may have guessed that learn how to grow lettuce is a needed skill because it pretty grows year-round. Well..except for the dog days of summer.
5- Growing Lettuce Tips Technical Style
Whew, you made it this far or perhaps just skipped to this tip. Thanks for reading and supporting us if you found it. This tip is really going to focus on the technical side of things. Sometimes, you need to know certain details to help learn how to grow lettuce.
Keep in mind that these tips are here to give you a starting place. Most of these tips can be bent, but not broken. For instance, you may have lettuce grow if your depth is 3/4 inch, but it probably won't germinate if you plant seeds 2 inches deep. Get the drift.
Here are a few lettuce growing technical tips:
Planting Depth– Keep it between 1/4″-1/2″ (6-13 mm). The seeds are so small, so we like to broadcast and then sprinkle on some sifted soil medium on top of it.
Germination– Typically germination occurs in about 7-14 days. Most likely it will be sooner if it is warmer out, so don't be surprised if you see them sprouting in 3-4 days
Watering– It is best to make sure that your lettuce is always moist. Soil that is not moist can cause the lettuce plant to bolt if this goes on for extended periods of time. Just do overdo it.
Nutrients– Growing lettuce successfully requires a good amount of NPK. Start off with soil that has a balanced fertilizer or compost added to it. Supplement feedings with some fish fertilizer much like this one here to keep it growing.
Learning how to grow lettuce is full of technical details, but it really is not that hard. Dialing in the water, sun, and soil is really all it comes down to.
6- Harvesting Lettuce Tips
Holy batman. you actually planted and grew some lettuce. Hopefully, you made it to this tip. You are in for a real treat if you just started growing lettuce. Tasting those greens for the first time is so satisfying.
Growing lettuce will get you a variety of lettuce for your salads, but when is the right time to harvest lettuce. Harvest too early and you may not get a much regrowth. Harvest too late and lettuce may bolt.
Here are a few things to keep in mind:
Adult or Baby Lettuce Greens – The different varieties of lettuce can be grown as cut and come or single plants. See tip# 1. Check the dates of maturity for good guidance on how long it takes to mature. You can still harvest before it for most salad bowl seeds and towards the end of that for the romaine lettuce types
Cut or Pull – It is best to cut the cut and come type varieties of lettuce. This will ensure they continue to grow. Yank those bigger varieties of lettuce like bibb to keep it intact and you want to get dirty. You can still cut these if you have a few, but pull them if you got a bunch and clean elsewhere.
Regrow or Die – Lettuce can be regrown if you leave it in the ground once you cut it. Try to keep some of the leaves intact as you cut. This will allow the lettuce plant to continue to provide more lettuce bounty for you
Growing lettuce is super sweet, but harvesting it is the best part. Get out there and get your hands dirty now.

7- Lettuce Storage Tips
Getting to this tip shows you made it. Give yourself a pat on the back and hold your Green thumb up for everyone to see. You might need to know the best way to store the greens.
Please do yourself a favor and try not to harvest your lettuce until you need it if you can. Obviously, the lettuce will eventually bolt, so keep that in mind. Having a constant supply of lettuce as you need it is the best way to store it.
Here are some other ways to help you store lettuce:
Clean your Greens – You need to make sure that your lettuce is properly cleaned after you harvest to keep it from spoiling. Invest in a salad spinner. Maybe something as simple as this one found here.
Wrap it up baby – Laying out the lettuce on paper towels will help to keep the moisture at bay. You want it moist but not drenched & damp.
Store & Crisp – Tuck those lettuce leaves in a plastic container or ziplock bags after you wrap them in paper towels. Keep it out of the light too will also help keep it longer in your crisp refrigerator doors.
You can tell that learning how to grow lettuce will be one of those skills you should adopt today. You can grow it year-round and enjoy it every day if you plan accordingly.
The best way to really learn how to grow lettuce is to just get started in your garden whether it is a small patch or a small container. Growing lettuce is by far the easiest plant to grow and probably one of the first ones you should try. Let me know your tips for growing lettuce in the comments below.
Download ​our FREE
Garden Hack Guide
Enter your email below and we will send you a guide to help you SAVE money in your garden.
Related Questions
How to grow Romaine Lettuce?– It is best to grow romaine lettuce by starting them from seed in individual seed flats and transplant the seedlings once they have matured.
What is the easiest lettuce to grow? – The easiest lettuce to grow is the salad bowl variety like this one found here. Sprinkle the seeds, cover with soil, water and watch it grow.