12 Best Led Grow Lights for Vegetables
Last updated: 1/22/23
Today, we are going to examine in detail the 12 best led grow lights for vegetables.
You do know that, generally, plants inevitably need light right?!
I'm sure you also know it's the energy gotten from it that's, in fact, necessary for their survival and healthy growth.
Best LED Grow Light For Vegetables
Green thumb Gardener occasionally links to product and/or services offered by vendors to assist you with all your gardening needs. Some of these may be affiliate links, meaning we earn a small commission if items are purchased. Check our terms here.
What can be sometimes challenging is providing them with that energy they need, and just as much as they need it.
Thanks to new and emerging grow lights that have made things relatively easier than they used to be in the past!
You can now grow virtually any plant you like under your roof.
You know, at times, the direct energy derived from the sun might not just be sufficient for them.
This may be as a result of the seasonably cool weather or the location you're breeding your veggies.
But whatever the challenge may be, ensuring your plants get adequate oomph to keep them growing — till they flourish and are ready for harvest — is vitally important.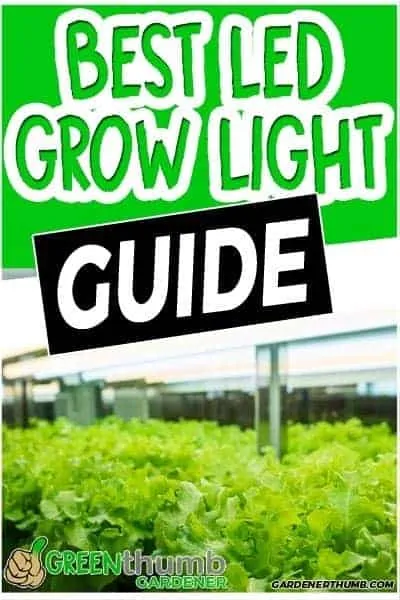 Growing your plants indoors will definitely require you to set up artificial lights that will play the same role the sunlight would in their survival.
However, a more difficult challenge may be choosing the best LED lights for vegetables.
You should know that unlike many other plants, vegetables don't need any special kind of lamps like many people usually seem to think.
They can be grown under any type you choose to buy.
LEDs are actually okay too. The major things you might just have to consider before purchasing one are:
Quality
Intensity
Spectrum
Efficiency
Affordability
There are a lot of them out there that it may make it quite tough for you to make the right decision.
We have carefully compiled a list of the best LED lights you can find in the market to ease the stress of searching for the best.
So, gardeners! Let's not waste your time…
Best LED Grow Lights For Vegetables Review
Mieemclux LED Grow Light's a highly powerful LED grow light with some amazing features that you'd really like. It has a very high PAR value and triple-chip LEDs.
These features make it more efficient than the single and double chip LEDs.
The reflector offers a more concentrated beam, at a discharging angle of 90°. It displays twice the PAR value of a lamp without the reflector and also has the ability to withstand temperature as high as 120°.
Mieemclux has two different channels; the VEG and BLOOM Channel, which can either be used one at a time or simultaneously.
The VEG Channel consumes power at 140W while BLOOM Channel consumes at 125W. When used simultaneously, they have a power consumption of 260W, which means Mieemclux uses less the power of a regular grow lamp.
With this, you can expect to save up to 80% on your electricity bills.
Mieemclux also comes with a daisy chain design that is built to connect with the series of LEDs. The fans are not noisy too.
LEDs normally generate a fairly intense heat that may even increase depending on the humidity level in your grow room. The fans are rather effective in keeping it cool. So, you can rest assured that it will last long.
PROS
Reduced power consumption
Uses triple-chip LEDs
Includes a 36-month warranty
Includes a 90-day money-back guarantee
Lightweight
CONS
Relatively expensive
May need consistent cooling to reduce heat
Non Dimmable
CHECK CURRENT PRICE: Mieemclux 1500w LED Grow Light with Reflector
---
Most Popular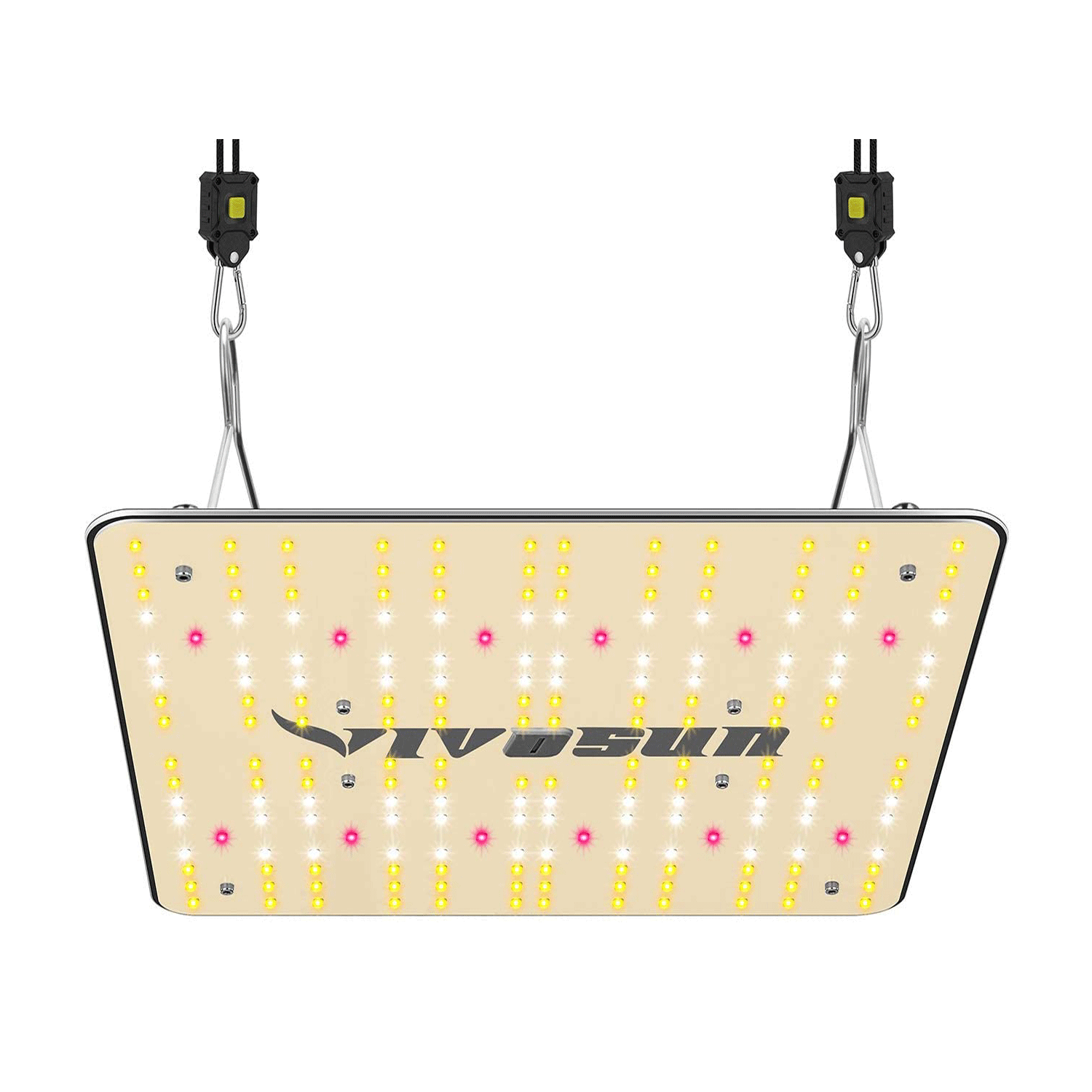 The Latest LED Plant Light Technology – Samsung LM301H Diodes
High-energy efficiency for 2.75 umol/J consumes 100W of electricity
VS1000 full-spectrum LED delivers optimal light-spectrum coverage
Vivosun's VS1000 is your best bet if you want a lamp that is highly affordable and easy to set up.
You don't need help or any strange tools to install. All you'd just need to do is arrange, clip and then hang, and your grow lamp is installed.
Vivosun's VS1000 LED Grow Lamp's highly efficient with pretty low power consumption.
The Vivosun is a full-spectrum LED that delivers optimal light-spectrum coverage. More power for your blooms and maximum PAR output at various distances.
This LED plant lamp has a dimming knob that makes it adaptable to different growing periods for your plants.
LEDs don't really generate much heat. But, this particular lamp ,the heat is low enough, that you can place the lamp directly above your plants to give them all the light they could possibly want.
One of the things you may find unsatisfactory is that it really can only be used for the vegetation stage.
The Samsung LM301H Diode that is used for this has an extremely high output. The good piece is that it only consumes 100W of electricity which is really good for efficiency that most traditional HID lamps out there.
This lamp is also water-resistant. Just don't submerge it in water if you actually want it to last.
Nevertheless, the Vivosun VS1000 LED is a good fit for all vegetable types.
PROS
Easy to set up
Very affordable
Highly efficient
Low power consumption
Noiseless
CONS
Not The Best Light For Flowering Stage
Transformer may have quality issues
Not quite long-lasting
CHECK CURRENT PRICE: VIVOSUN Latest VS1000 LED Grow Lights
---
Three of the major features many of us should consider before purchasing our grow lamps are high performance, low energy consumption, and a healthy lifespan.
These things are vital and ANTLUX 4FT LED offers them all.
This lamp only consumes a power of about 50w; a wide gap from what the old-fashioned LEDs generally consume.
ANTLUX 4FT LED has a durable structure.
It also has an average lifespan of 50,000 hours, with highly efficient performance to last all day long.
This lamp comes with a daisy chain plug that allows for great lighting for your veggies.
The installation's quite easy too. That you don't have to worry about!
The fascinating design also offers an integrated reflector that ensures no energy wasted.
However, ANTLUX 4FT LED mightn't be generating just enough heat as a 4FT would.
But aside from this, it's definitely worth its weight in gold. You're sure going to get a full spectrum for your veggies.
PROS
Durable and long-lasting
Lightweight
Easy installation
Offers a full spectrum
CHECK CURRENT PRICE: ANTLUX 4FT LED Grow Lights 50W
---
Up DayDay LED Grow lamps can give you the rapid germination you want for your vegetables.
With its 200 pieces of power-packed LEDs, you can be sure to get a full spectrum similar to that of the sunlight.
Up DayDay has a rather unique design that allows you to easily adjust to the illumination angle you prefer.
Instead of having to mount higher and higher every time your veggies grow taller, you can just easily adjust and re-adjust the lights.
It can actually go as far as 30° upwards or downwards.
Up DayDay comes with an integrated timer for flexible lighting duration for your plants.
Too much light can also be also bad for your plant. It can scorch and burn your veggie, which is why an LED grow lamp like the Up DayDay will be quite useful for optimizing your plants' lighting time for survival.
You have 24 different programmable timing functions to adopt for your plants' light circle.
In comparison with other lamps in the same range, Up DayDay fans usually make noise. But they actually work well in keeping it cool all the time.
The best thing about this lamp is that it saves you power, thereby reducing the electricity expenses incurred using a traditional lamp.
PROS
Durable and long-lasting
Lightweight
Easy installation
Offers a full spectrum
CHECK CURRENT PRICE: Up DayDay LED Grow Light 1000W Full Spectrum Indoor Plants LED Growing Lamp
---
This is a really powerful LED Grow light. It has a whooping wattage measurement of 2000w.
The are various settings such as bloom and veg that implements different wavelengths that are needed at different stages of growth. The just like sunlight and are very good for sprouting plants.
With the really wide spectrum, this indoor growing lamp emits, you can be rest assured your vegetables will invariably have a successful process of generating the energy they need for their survival.
This grow light also has 4 cooling fans & a heat sink that always dissipate the heat it generates to keep it cool all the time.
The light it offers is so bright that you're advised not to look directly into it. It comes with some other hardware to suspend it and check the temperature.
PROS
1-year money-back guarantee & 36 month warranty
Low-noise fan
Long-lasting
CHECK CURRENT PRICE: TMLAPY 2000W LED Plant Grow Light – Full Spectrum LED Plant Growing Lamp
---
Phlizon CREE COB is bright, stable, and long-lasting. It has various light beads reflecting a really wide spectrum.
The grow lamp also has about the highest PPFD (Photosynthetic Photon Flux Density) quality. This feature helps in facilitating the development of your plants from seedlings to full-blown flowery plants.
Other important features include reduced thermal resistance and attenuation for less light.
To considerable save up on energy, Phlizon CREE COB might be the best lamp for vegetables. It is technically energy-efficient than the MH, HID and HPS lamps
This grow light is quite powerful. This is why it gives off more heat than necessary.
The bad news is that it may not last as long as you'd want it too. Many of its bulbs may damage quickly too. The fans are the most annoying part.
They let out some pretty annoying noise.​
PROS
Provides a super bright spectrum
Affordable
Energy-efficient
CHECK CURRENT PRICE: Phlizon CREE COB 3000W LED Plant Grow Light
---
Hytekgro provides a full spectrum and a wavelength like that your plant would normally get from sunlight.
The lamp holds various series of LEDs that make it a pretty good option for the different developmental stages of your plants.
The interesting thing about this lamp is that it's easy to set-up. Although installing might take up some time. But, the only serious job is hanging them.
Afterwards, there's nothing more than to start it up.
Hytekgro has a sturdy frame and that LEDs are lightweight.
It has an effective heat control that allows it to run cool and calm always. So, your plants are in no danger of bleaching or burning.
It is highly efficient too. You don't have to keep wasting your money to pay exorbitant electricity bills every now and then.
Discouraging info about this lamp is that the wattages might be entirely accurate as presented in the product description.
They do not also offer direct concentration and spectrum that would be enough to cover your veggies canopies well.
PROS
Relatively full spectrum
Easy to assemble
Inexpensive
Doesn't consume too much electricity
CHECK CURRENT PRICE: Hytekgro LED Grow Light 45W Plant Lights (2-pack)
---
A grow lamp with a full spectrum, low heat emission, and energy-saving capacity is quite difficult to find these days.
There are so many different types available in the market. However, the usually low quality of many of these products can be really discouraging.
Even among all these products, there are still reliable products like the Roleadro LED.
This lamp is definitely a better option than many of those with doubtful specs and descriptions.
In addition, Roleadro also has a high level of PAR. What, however, makes it even better is its balanced lumen output that it gives.
Plants germination will be sped up when you use this lamp, which is why is perfect for sprouting plants.
What many of want in our lights are usually high-intensity and maximum coverage. The bright light Roleadro LED provides gives your plant the adequate nutrients they need to get, day in, day out.
The combination of the blue and red LEDs also works effectively in facilitating the photosynthesis processes in your veggies until they are ready for harvest.
Because of the 2 high-speed cooling fans, an inbuilt aluminum heat sink, and a preinstalled temperature regulator, the cooling system is more efficient.
The LED board is well-protected, and the lifespan of your lamp is also maintained this way.
The lamp's eco-friendly and uniquely designed Beed and zeener. It is also highly resistant to extreme temperatures.
The only discouraging thing about this lamp is the timer that can be unreliable.
PROS
Eco-friendly
Low heat generation
Full-spectrum
Saves energy
CHECK CURRENT PRICE: Roleadro LED Grow Light, 1500W Grow Light
---
King Plus only consumes about 243w and is a really energy-efficient lamp indeed!
King Plus has two different switches similar to Mieemclux 1500w LED Grow Light above.
They are the VEG and BLOOM switches. The first is especially good for growing vegetables, sprouting and grooming your young plants.
The second has red and white LEDs and is quite good for flowering.
They can also be used together for maximum results.
The IR UV LEDs are essential in strengthening the defence mechanism of your veggies. They also provide a full-spectrum that looks like that of sunlight.
The three inbuilt fan systems work in cooling it and extending its lifespan.
The lamps heat up a little more than normal. This is why users are advised to keep their grow room temperature below 40° to reduce heat.
Sadly, this lamp doesn't also come with a quality timer. Which is not so great if you think of the lighting cycle your plants would regularly need to survive.​
PROS
Energy-efficient
Long-lasting
Full-spectrum
Affordable
CONS
Gives off too much heat
Comes with no timers
CHECK CURRENT PRICE: King Plus 1200w LED Grow Light Full Spectrum
---
A plant needs sufficient energy it can get from sunlight to ensure its continuous growth and survival.
Without an adequate supply of this light, your plants may wither and die after some time.
"But I'm growing indoors, how do I get the sunlight my plants need?"
Well, that's what techs like ASIGN LED Grow Light have been designed to do.
This lamp offers the same natural energy your veggies would get normally from sunlight.
Its wavelength is just what your plant will need to build a strong and healthy structure.
Like many other lamps, it is also energy efficient. It consumes only about 220 wattages thereby saving you power.
Compared to most HPS/HID lights, ASIGN LED has better reflectors that allow for a wider coverage on your plants.
The lamp has a relatively strong cooling system too. You don't have to worry about it overheating.
They sure will also last longer too.​
PROS
Strong Lamps
Long-lasting
CHECK CURRENT PRICE: ASIGN LED Grow Light 2000w Full Spectrum for Indoor Planting
---
Likesuns LED is a very affordable grow light. There are 3 different types depending on the wattage range you can afford.
They all come fully packed with amazing features that you and your plants will definitely enjoy.
The LED also has two different channels, and they both offer a balanced proportion of full, concentrated spectrum that will help your veggies through all the different stages of their development.
This lamp also has a very efficient cooling system that dissipates heat easily and circulates air needed to cool the LED board.
This will also help in keeping them in good condition all the time.
It'd be the best option if you're looking to replace your low heat resistant traditional lamps with another that keeps the temperature in your room to a reasonably low level.
With its double-chip LED, you're sure to get rapid development on the life cycle of your plants.​
PROS
Long-lasting
Fuller and more concentrated spectrum
Affordable
Effective cooling system
Weatherproof
Energy-saving
CHECK CURRENT PRICE: Likesuns LED Grow Plant Light Full Spectrum Grow Light
---
People often complain of the durability and long-lasting nature of many lights.
Many lamps usually presented and described by manufacturers describe to be the best don't normally stand the test of time. They start to damage a few months after their purchase.
COB LED Ultralight is actually good a lamp you can choose if you want your money's worth on durability and a lasting lifespan.
This LED is particularly good for the cultivation of vegetables and fruits, which is why it has made his list.
It comes with a daisy chain system that controls the heat it radiates. So you don't have to worry about it malfunctioning as a result of overheating.
The COB chips of this lamp offer brightness and wavelength similar to the rays gotten directly from the sun. And, this provides your veggies with sufficient energy for a balanced growth.
The chips used in building are completely original American made CREE chips. These high-intensity chips usually produce highly-efficient rays to cover your veggies.
The structural design is also an amazing fit for your grow room.
It's sufficient energy. And, it comes with reflectors built to effectively illuminate and brighten the canopies of your veggies.​
PROS
Effective reflectors
Durable
Long-lasting
Original American CREE chip
CONS
Not waterproof
Limited timing cycle
CHECK CURRENT PRICE: Niello COB LED Ultralight Mute 600W Dual Reflector LED Grow Lamp
---
Final Thoughts
Yes, outdoor farming is actually overrated!
Your veggies don't necessarily need direct sunlight to develop well and blossom.
All you just need are the best lamps for vegetables to facilitate the photosynthesis process of your plants.
And that's what we've provided you with: 12 of the best LED grow lights for vegetables.
Before purchasing any of these lights, be certain it is just the right one for your plants.
Other important factors outside products specifications you might want to consider are:
Surrounding temperature
Price
Yield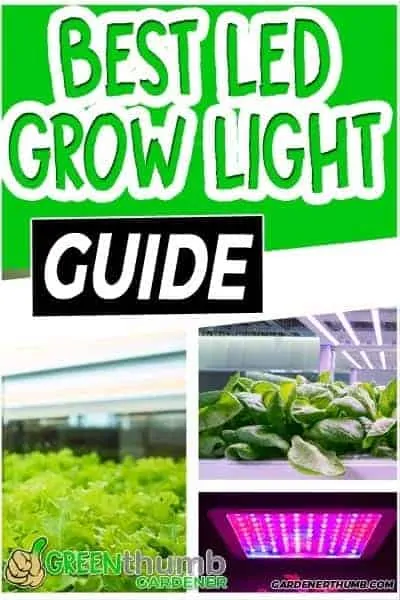 These three things also determine the lamp you'll be getting; particularly one that your plants will greatly benefit from.
The products on this list are also not arranged in any order. They are only just a guide for you.
Download ​our FREE
Garden Hack Guide
Enter your email below and we will send you a guide to help you SAVE money in your garden.
Related Questions
What types of LED are perfect for vegetable cultivation?
Just any type will be perfect. Important things to be sure before ordering are the spectrum range, performance, lifespan, warranty, energy efficiency and some other important factors.
This is really essential for your plant's speedy growth and also the high yield you'll get at the end of the day.
Why LED?
LED grow lamps are not just ordinary light. Why they are so useful for growing indoors is because they give infra-red and UV radiations that your plants need.
In fact, every cultivator will confirm to you how important the illumination LED offers is for your plants to grow and blossom.
So, yes, LED is actually good for your vegetables.