CMH Grow Light [Beginner Guide] | Best Ceramic Metal Halide Lights for Growers
Last updated: 02/17/21
Ceramic Metal Halide Lights or CMH Grow Lights are fitting for most indoor growers, indoor vegetable gardeners, or other plant enthusiasts who have a grow room. We will tackle educating you on how these metal halide grow lights work and which is the best CMH grow lights.
Basic science tells us that plants cannot grow without sunlight. The process, as most refer to it, is photosynthesis.
Best CMH Grow Light
Green thumb Gardener occasionally links to product and/or services offered by vendors to assist you with all your gardening needs. Some of these may be affiliate links, meaning we earn a small commission if items are purchased. Check our terms here.
What is the Best CMH Grow Light?
We will show you a quick review of several products of CMH light that are available in the online and offline markets today.
Keep in mind that these products are not listed in any particular order or Bbyprice.
The Sun System CMH bulb tops our list because it is the most popular Ceramic Metal Halide available in the market today.
It comes with all of its parts ready for coupling and use.
This cmh product has an all in one reflector with vertically hanging bulbs.
The reflective material used here is German aluminum which has 98% reflection.
The bulb has a coverage area of 4×4. This design ensures uniform lighting for your crops making it the perfect choice for the vegetative and flowering stages of your crops.
What's more? It comes with a one year's warranty.
PROS
Long lifespan of 20,000 hours
Low heat emission
German aluminum reflective material for even light distribution
CONS
More expensive than most other Ceramic Metal Halide bulbs
Possible overheating of crops at close range
CHECK CURRENT PRICE: Sun System Grow Lights – LEC 315W Light Emitting Metal Halide
---
This light uses Italian VEGA Aluminium hoods which gives it a 98% reflection rate.
The ballast is built into the reflector and uses Square-Wave technology.
Although VIVOSUN does not rank so high among users, compared to Sun Systems, they are a worthy competitor and have quite a considerable market share.
PROS
Long lifespan of 24,000 hours on average
Comes with a 3-year warranty
Italian VEGA Aluminium hoods provide a more even distribution of light
CONS
It does not come with a bulb. Users will have to buy theirs instead.
More expensive than most other bulbs
CHECK CURRENT PRICE: VIVOSUN 315W Ceramic Metal Halide CMH Grow Light Kit
---
These products comes from one of the most trusted brands in the grow lights market.
The Grow Co. system grow light is equipped with a 3100K full spectrum Phillips CMH bulb which runs on between 120 to 240 volts.
Its low heat production means that you have less to worry about overheating your crops.
PROS
Energy efficiency and low heat emission
It comes with a 240 volts power cord
Comes with a two-year warranty
CONS
Danger to eyes and skin due to heavy UV radiation. It requires protective eyeglasses and gloves.
It has no timer
CHECK CURRENT PRICE: Grow Co. 315-Watt CMH System Grow Light Bulb
---
This cmh model boasts of high photo delivery that makes it almost similar to natural sunlight.
It is better than hid systems when it comes to light discharge.
With a coverage area of 4×4, users are guaranteed high-quality yield at harvest.
When delivered, a TopoGrow light comes with a reflector, a power cord, a 315W ballast, cmh lamps, a heavy-duty 1/8 inches rope hanger, and metal hooks.
PROS
Low power consumption and high efficiency.
The product comes with a rope hanger.
Low cost and affordable price.
CONS
Shorter lifespan compared to other grow lights
It comes with no warranty
CHECK CURRENT PRICE: TopoGrow 315W CMH CDM Grow Light
---
So far, the Hydro Crunch grow light is considered one of the best for the flowering stages of crops.
It emits less heat compared to HPS. Its coverage area of 3×3 gives you a better harvest at relatively low costs.
When delivered, users will find a ballast, an adjustable light ratchet hanger, and a reflector.
PROS
It comes with a two-year warranty, for the ballast only
Affordable, with high energy efficiency
CONS
None, but the price is right.
CHECK CURRENT PRICE: Hydro Crunch CMH 315-Watt Rope Ceramic Metal Halide Grow Light
---
A series of microscopic activities triggered by the rays of the sun on plants that enable them to grow healthily enough to produce food.
What if that much-needed sunlight is not available?
What do plant growers in regions without much sunlight get to do? Abandon their trade altogether?
Relocate to areas with more sunlight; particularly the Middle East or Africa?
The truth is, these may be the viable options about a few decades ago.
But not anymore.
These ceramic metal halide grow light bulbs have come to the rescue of many farmers and gardeners in sunlight-starved regions of the world.
These lights serve as an alternative to sunlight and provide lighting for plants grown indoors.
But with too many CMH light flooding the offline and online market (such as amazon) today, this article will be your tour guide, showing you the Best Ceramic Metal Halide Lights available.
We will also show you details about them just so you make the choice that fits your needs.
Ready?
What Are CMH Grow Lights?
You may have heard the terms Light Emitting Ceramic (LEC), Ceramic Metal Halide (CMH) and Ceramic Discharge Metal Halide (CDM).
Truth is, they are all referring to the one item; the Ceramic Metal Halide grow lights (CMH) technology.
However, the LEC is a term for a particular ceramic metal halide CMH brand.
Just like Head and Shoulders is to shampoo.
Just so we do not confuse or bug you down with too many terms, we will stick with the most commonly used term, ceramic metal halide (CMH), or just plain old CMH throughout this article.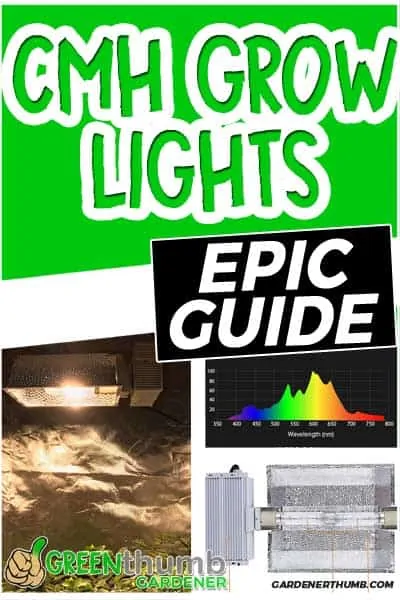 And if we do otherwise, we will let you know.
Is that okay?
Now we continue. CMHs are only a type of Metal Halide (MH) grow lights with some amount of HPS mixed with it.
The "C" simply refers to the Ceramic arc tube used in manufacturing HPS grow lights, as opposed to the quartz material used in manufacturing the conventional MH bulbs products.
The reason for using ceramics is not far fetched.
From studies and observation, the ceramic arc tubes are designed to function at greater pressures compared to the quartz glass tubes.
One advantage this provides is that it allows grow light product manufacturers to make more accurate variations on the light spectrum.
This is not obtainable with former designs.
These CMH bulbs are really a full-on sun system offering many color temperature spectrums for your planting needs
Before we reel out the reviews for the several grow lights available in the market today, let's show you why this grow light is your best pick.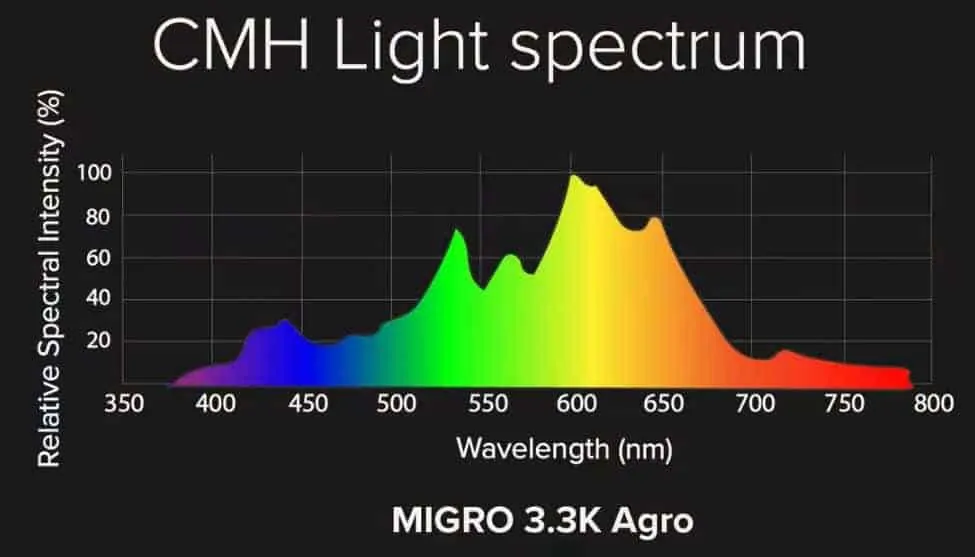 Superior PAR Efficiency | Only The Best
These grow lights have first-rate Photosynthetically Active Radiation (PAR) efficiency.
This puts them on a higher pedestal compared to other types of grow lights such as MH and HPS which are known for their high energy consumption.
Wider Spectrum
CMH has a full spectrum coverage unique to them. This is only possible because of the super-efficient ceramic arc tube used in the design.
For one, ceramic arc tubes are known to do well under high temperatures.
Plus, their design allows for a balanced distribution of light rays across all the crops.
Long Life
Because they perform so well under heat, CMHs are immune to damages that shorten the lifespan of other types of lights for growing.
On average, they run for 24,000 hours.
Sufficient UV lighting
Any alternative to sunlight must also provide as much, or enough UV light for plants to grow.
CMH lights tend to offer more UV light compared to other light brands. The CMH bulbs are sufficient to grow many different plants.
Less Heat Consumption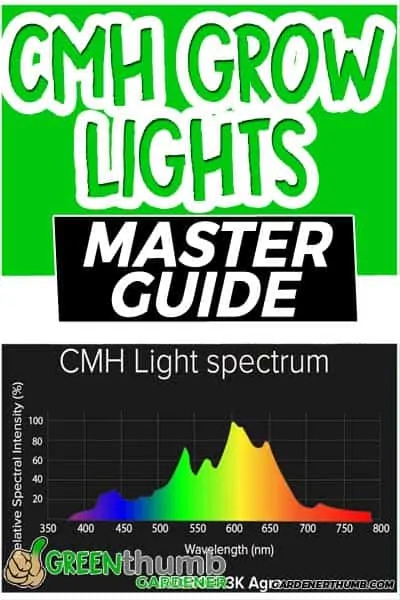 Although they run at high temperatures, CMH lights are known to emit less amount of heat compared to other grow light products.
This ensures that plant leaves do not get burned.
Natural CRI | Close to Sunlight
Most grow lights tend to alter the color of the plants when seen through the human eye.
A Color Rendering Index (CRI) simply measures is how realistic an object looks under the light.
Most lights cast color shades that make a realistic view impossible. Not so for CMH lights.
A higher number of CRI, CMHs allows for a more realistic view. Sunlight usually gives off 100 CRI.
A grow light gives the closest possible range of 80 to 96 CRI. That way, your plants won't look purple when they are actually green.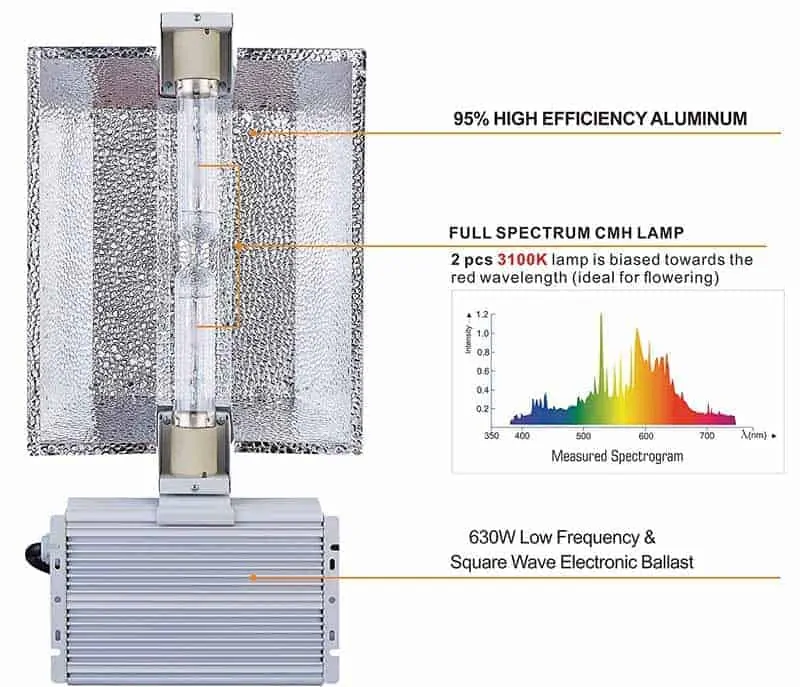 Disadvantages: What to Expect When Using CMH Lights
Harmful Brightness
Since they emit UV A, UV B, and UV C. It becomes necessary to minimize excessive exposure.
Why?
While the UV brightness is good for plant growth, UV C brightness may inflict harm to the human eyes.
Therefore, a protective pair of eyeglasses and full-sleeved clothing is needed.
Higher Cost But More Efficiency
Higher efficiency could sometimes mean higher prices.
While their long-life span saves you money in the long run, they cost a lot higher than most HPS grow light upfront.
Selective Ballasts
Ceramic metal halide lights do not support the use of just any ballast. So far, users can only be sure of the magnetic ballast. Any other type is a gamble. Also, maneuverability is out of the question.
Most CMH grow lights only stay horizontally or vertically. No other angle is available.
CMH Lamps vs. MH Grow Lights
Although most gardeners believe that ceramic metal halide (CMH) and MH are one and the same, nothing can be farther from the truth.
While they run on similar technology, their constructions put them in separate classes.
As we have shown you earlier, it is not possible to fix a CMH lamp bulb into an MH ballast and vice versa. This is because MH ballasts are shorter in length. Let us see more differences.
While CMH grow light has a better light spectrum, MH does not. CMH bulbs offer a wider and a spectrum that is more consistent.
They have a lower heat output compared to an MH light.
CMH grow light has longer lifespans of over 24,000 hours compared to MH light.
A CMH bulb is a lot more expensive than most MH grow light products.
The price can certainly be an important deciding factor when choosing the right light products.
CMH Grow Lights Vs LED Products
Ceramic Metal Halide grow lights and LEDs have the following differences.
Light Emitting Diodes (LED) are more energy-efficient compared to CMH light.
LEDs emit a lesser amount of heat compared to CMH lights. That simply means, while you can position LED lights close to your crops without any fear of burns and overheating, you cannot do the same for Ceramic Metal Halide (CMH) grow lights. A healthy distance is required.
LEDs have longer lifespans. However, LEDs cost a lot higher if price is a concern.
LEDs have greater light coverage than CMH grow lights and can be used for all the growth phases of your crops.
CMH vs. HPS Lamp Bulb Products
Though the CMH grow light and High-Pressure Sodium (HPS) lights could fall into the same category for their similar bulb designs they are different.
Most user ratings put HPS ahead of CMH grow light in terms of effectiveness.
While a great amount of Photosynthetically Active Radiation (PAR) from HPS light is emitted by the red light, CMH light is known to provide a more balanced PAR for your crops at the flowering and vegetative phases of their growth.
In any case, the term "better" would depend on the point of use and the outcomes you want as a gardener.
Across the board, however, HPS rank higher.
Are CMH Bulb Light Products Safe?
First, these are not normal light rays. The bulb products are meant to mimic the properties of sun rays, at best, for plant growth.
Overexposure to the sun puts you at risk of sunburn and UV absorption.
The same is true of CMH grow light as it is essentially a sun system. When using them, growers are advised to wear protective gear including, a pair of sunglasses and a long sleeve shirt or pair of gloves.
With the right protection, the answer to the above question is a "yes". Without protective gear, the answer is "no".
While Ceramic Metal Halide grow lights will continue to be relevant, gardeners must shield themselves from radiation as through avoiding natural sunburn.
The eyes are the most affected parts of the body when exposed for too long.
This is because there have been more customers complaining about itchy and teary eyes as opposed to those complaining of UV burns.
In any case, stay safe when watering your plants.
Always call the attention of a technician in the event of a malfunction.
Do not repair a faulty grow light yourself. Except of course if you are a technician too.
We hope the above reviews and advice would help you make better buying decisions when you go shopping or carting online for your next CMH grow light or grow kit.
Ensure to look out for features such as energy efficiency, heat per watt, light spread or coverage and of course, the warranty.
When you go shopping, also remember to buy the required tools for protecting yourself.
Besides a pair of protective glasses and arm-length hand gloves, see to it that you also have boots on.
And don't forget to protect yourself.
What is the Best 315w CMH Bulb For Growers?
There are specific bulbs to go with the Ceramic Metal Halide grow light, depending on which.
However, one bulb type has received the most customer reviews and positive feedback yet.
It is the Protopia Ceramic Metal Halide Grow Light bulb.
This product is a lot more available and affordable compared to competing products such as Phillips.
However, it has one major flaw. With just 15,000 hours of active time, the Protopia bulb has a much shorter life span than Protopia which has 20,000 hours.
That simply means users must be ready to replace it more often than they would a Philips product. Moreover, it has a lower Color Rendering Index (CRI) of 90.
The lamp bulb mostly comes in 315 Watts and 630 Watts. It is also available in 3100K and 4200K, depending on your specs or choice of use.
For most growers who still consider cost as an issue, this product will prove to be a low-cost option.
If, however, the price is not a factor, consider purchasing Philips.
Download ​our FREE
Garden Hack Guide
Enter your email below and we will send you a guide to help you SAVE money in your garden.
Final Thoughts
There are so many choices out there for grow lights for your indoor garden. Sometimes cheaper is not always better, so be aware of that when you check the price.
You certainly get what you pay for. Ensuring the success of your growing plants is really what you need to take in mind whether you choose LED or CMH grow lights.
Drop a comment below and let us know if this was helpful.