Garden Tower Review 2020 | Complete Growing System
Last updated: 05/14/20
Maybe you want to grow more fresh food for your family, but you are challenged with space. Maybe you wanted an easy solution to garden with.
You finally found the Garden Tower 2 and this Garden Tower Review will serve to justify and cement your choice regardless of which gardening system you choose later on.
We give you the scoop to help you make your decision on this garden investment.
Green thumb Gardener occasionally links to products and/or services offered by vendors to assist you with all your gardening needs. Some of these may be affiliate links, meaning we earn a small commission if items are purchased.
Meet The Garden Tower
The most appropriate product category to discuss here is the Garden Tower 2 shown above which is the latest model but you can access its earlier development history here.
This Garden Tower 2 category promises growth to a bounty of healthy and fresh vegetables and fruits.
As the template design model, it possesses all the features of earlier versions that were built before its construction with add-ons to later versions.
It has been touted as the most brilliant or all previous versions.
Every level can be rotated a full 360° so that all plants can fall under direct sunlight.
The tower generates its own compost inside a central tube that contains soil, kitchen scraps and soil. Worms deliver water, air and nutrients to the roots for virile plant growth.
All the compost is channeled through holes perforated on the sides of the tube in the center which provides access to plant roots that are sprawled in front of the advancing compost nutrient material.
Material for the compost building will again be added into the center core hole and be devoured again by worms already in the tube.
The water percolating through the system is also collected and recycled by being poured through the soil at the top level.
A very interesting event from the tube is that liquid material formed by worm activity will also drain into the collecting container at the bottom which enriches the water already collected into rich fertilizer.
Check out this video of how it works:
CHECK CURRENT PRICE: Garden Tower 2: 50-Plant Composting Container Garden
---
Things to Consider Before Buying A Garden Tower
The Garden Tower project consists of 5 professionally built units each honed to address different issues faced by potential users.
The Garden Tower Project Starter Bundle for instance provides everything that a newbie planter would need.
This is perfect if you are a new starter at planting your own food.
Sunlight is a priority for any growing venture so you need a plant container that's adjustable & mobile to facilitate exposure of plants to sunlight.
Ingenuity in design enables this container to rotate for plant exposure to sunlight no matter where the sun is in the sky.
Added to this feature is an extremely solid vase for stability and sturdiness that guards against unexpected accidents.
This Tower comes with its own bag of fertilizer from Dr. Earth Plant Food.
It is a completely organic mixture that will boost the growing vitality of your soil and kick start your newly transplanted young plants into life.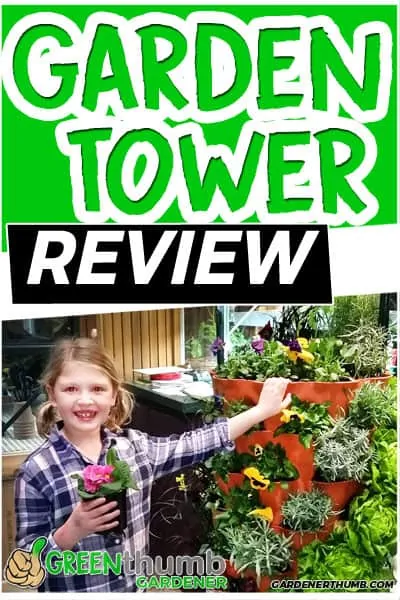 You can eliminate the problem of remembering what you planted with the use of labels which can be easily written and erased with changes in your planting intentions.
You'd need a nursery for planting your seeds and allow them to germinate in serene and clean surroundings.
Again this starter category wins hands down with its Jump Start 72 Seed Starting Greenhouse.
The Tower comes with this miniature greenhouse seed planting tray where your seeds can germinate in peace and be transferred to the Tower when they're ready.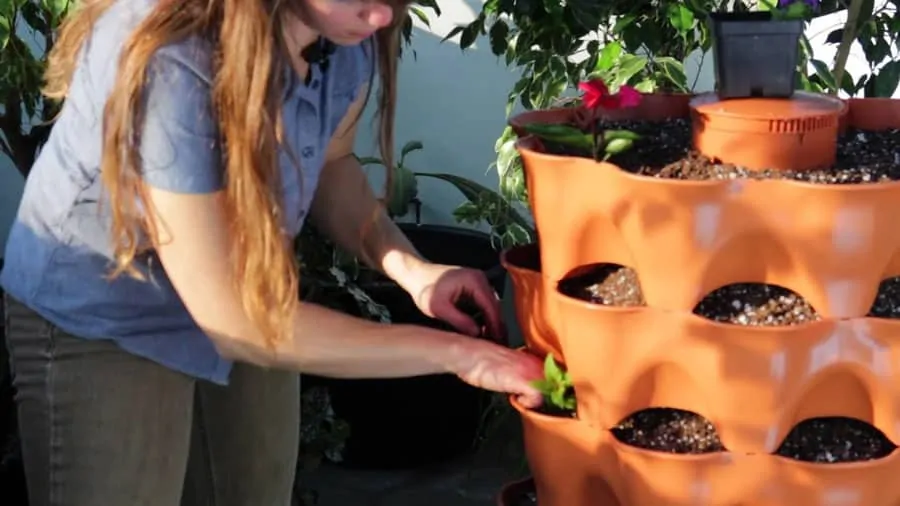 Soil to start your seeds growing fast would be another requirement that needs to be addressed.
Luckily, this planter will also provide you with the right kind of soil to allow your seeds to be planted & germinate.
It quickly transforms from the miniature nursery to the Garden Tower where they can be given proper treatment and care for rapid growth to maturity.
Even more amazing is that for starters you will also be provided with a gift card of the exact type of seeds to propel your planting from the very start.
All these kick start initiatives are bound to spell nothing but success for your planting venture.
Garden Tower's Best Details
The most difficult and perhaps the most annoying task is maintaining your patch of garden to keep it clean and presentable.
Somehow you believe that the maintenance work you spend.
You know you have to weed, dig, hoe, prune, & transfer seedlings and other tasks.
Does this give you the bounty you hope for?
Maybe or maybe not.
This is not always the case but here is a better way to get a bounty of vegetables and fruits with the Garden Tower Project with lesser time and backaches.
They offer 5 versions of professionally built Garden Tower apparatus for growing as many as 10 of your favorite veggies and fruits not to mention the other 40 which you can also grow at the same time!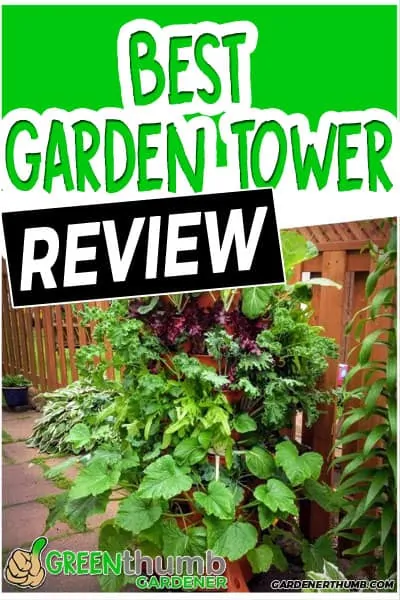 And here are the features and benefits that lend weight to my argument to change your gardening style:
Standout Features
Indoor Gardening
One outstanding feature of a garden tower is your ability to locate it indoors. This saves time and effort in moving to and from your plants for watering, depositing scraps and compost material and it also provides décor to your home.
Fitted Wheels
Three widely spaced ball-bearing wheels can be fixed on your tower's three stands to help relocate the tower to a preferred sport for the good of your plants.
Longevity
Your tower has been constructed to last a minimum of 7 and a maximum of 12 years. This is a very long time to be planting without stopping year in and year out.
Award Winner
Garden Tower Project has been given recognition for the uniqueness of its innovative creation and the design of their product.
Minimal Maintenance
Apart from the inflicting or damage, there is absolutely no need for maintaining the tower once it has been acquired and used during the warranty period
No Weeding Needed
There's very little chance of weeds developing within the garden tower given the continual attention of filling the compost tube and watering using fresh water or used water that collect in the tray at the bottom of the garden tower.
Fertilizer from Kitchen Scraps
The compost tube located in the center of the garden tower acts as an efficient space for the production of compost from leftover scraps with an addition of some grass clippings the compost material travels down the tube and is delivered to the roots by gravity.
Conditions and Revitalizes Soil
Another great feature of the garden tower is its ability to maintain a steady flow of nutrients to plants.
This comes from the use of compost materials made inside the center tube and the controlled watering to keep water levels at the desired amount.
In doing so it continually reinvigorates the soil.
Accessible & Senior Friendly
Owing a garden tower would be sheer delight for elderly grandpas and grandmas.
At this age, serenity and watching growing plants holds a special attraction for their attention and occupation simply by viewing and perhaps fondling the leaves and fruits here and there. It reminds them of their youth.
Less Watering, Less Nutrient Lost
Growing veggies in a garden tower doesn't need too much watering. It's well known that plants sitting in too much water can kill them outright.
Another downside of too much watering washes valuable nutrients before plants can use them which is a waste. So less watering means that nutrients are not wasted.
No Extra Costs Added
You may need electricity for your washing machine and drier but not for your garden tower. It's fully functional with your manual assistance so you don't have to worry about paying extra for electricity consumption or anything else.
All you do is assist by providing both fresh and used water and scraps that you don't need for your compost and let the worms channel the water, air and compost to the roots of your plants.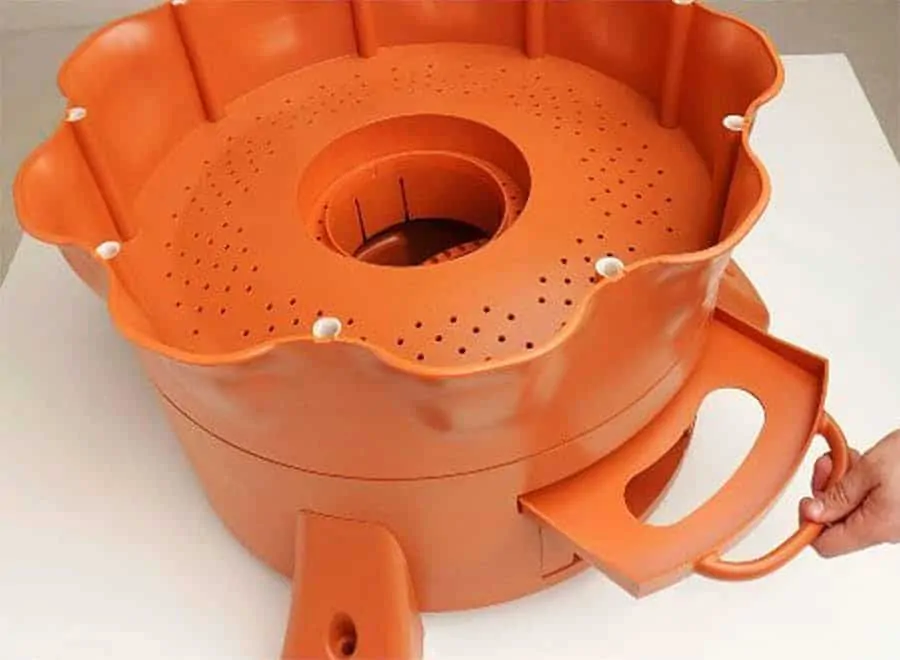 Garden Tower Best Benefits
So what are the benefits of your garden tower?
The list below will give you some idea of how you benefit from this four foot square and four foot tall garden:
Organic Growing
Fresh and succulent veggies grown with organic nutrients like compost and used water that has percolated through compost material is the best sustenance for your vegetable plants which you grow at home.
There is no substitute for organic grown food.
Simple to Assemble
You couldn't find an easier and more exciting growing container than a garden tower.
It has to be easy given the many videos provided for a DIY assembling task if you actually need them. Garden Tower Project offers these videos on their YouTube channel
Assistance from Other Videos
Other detailed video sets that help you grasp the technique of setting up your tower and how to use it for planting are available.
They show how to actually assemble your vertical planting container, fill it up with soil, the composting process. Nothing is left out.
These complete assembly and use videos are especially beneficial who are new to growing their own veggies and fruits.
Available Space
Availability of space is no issue because your tower only needs a four square area on which to stand and that's it!
That's your gardening area four feet square and about 4 feet high. Your patio, verandah will be sufficient space where you can use the 50 growing slots for a sustained supply of vegetables and fruits.
A Bountiful Variety of Vegetables
It's amazing to visualize you can grow so many vegetables and fruits from such a limited area but that's all you need simply because you have 50 slots in your garden tower that delivers that much food.
Add Extra Rings
And it doesn't stop there but continues on especially if you have a big appetite for home grown vegetables or there are more mouths to feed.
Simply buy more plastic rings and attach to the existing structure and make it higher!
Rotating for Sunlight and Harvesting
Your tower levels have the ability to pivot completely around for a full 360°, a maneuver that allows sunlight to fall directly on each of the plants.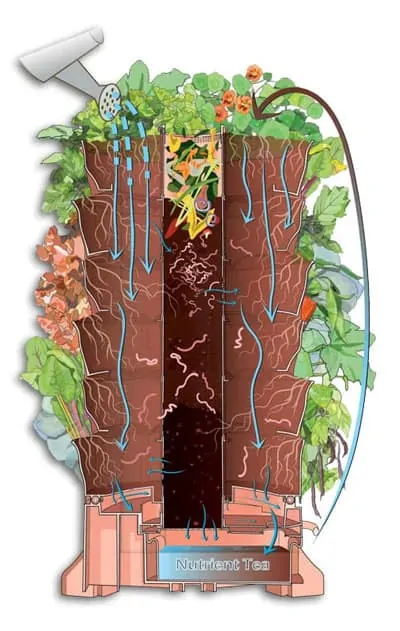 Rotating is especially needed when the sun is rising in the morning and setting in the late afternoon.
When you harvest you simply turn the levels holding the veggies you want to pick to be right in front of you. .
Relocating Made Easy
If you find a perfect permanent spot to place your garden tower either because of good sunlight and/or proximity to the kitchen and for watering purposes.
For successful relocation, you need to acquire a set of three wheels. These are very simple to attach to the three stubby stands of your tower.
Once in place, you are free to relocate your garden tower to the spot you identified as its permanent location .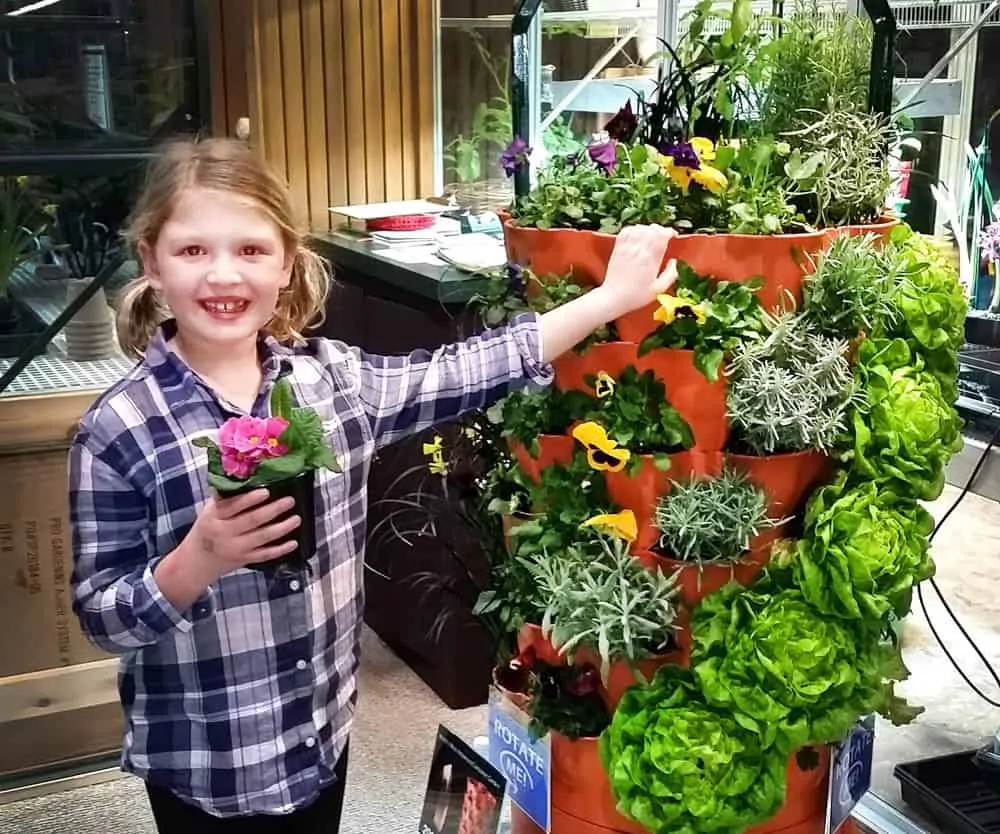 Ideal Compost Formation and Delivery
Your garden tower is a perfect machinery for the production of compost and we all know that compost is an integral part of the system.
Without it, the garden tower would be dysfunctional and of no purpose. This is why it's critical for you not to deposit the compost makers, or the worms in the middle tube.
You should rather place them in with the soil so that they are distributed throughout the tower from top to bottom including the rotund sides and the central tube as shown in the diagram below.
Compost or Nutrient Tea
This consists of the fresh water that was poured through the soil material and after percolating down is captured in a tray at the bottom of the central tube.
This "Nutrient Tea" or "Compost Tea" can be recycled by pouring it into the soil again at the top of the system.
Don't Take Our Word On It
In order to properly ascertain the responses of actual users of the products from the Garden Tower Project, I did conduct an extensive search.
It was not unusual to find rave comments and positive comments from all the customer reviews I read. I included a few critical ones as well.
In support of my findings I took snapshots of some of the testimonials and these were typical of the comments that actual users had on the Garden Towers project.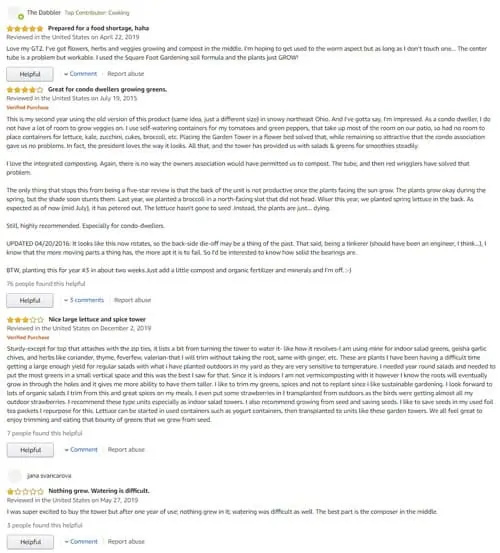 The gist of the testimonials indicated that some who had only just heard about the garden towers containers were nevertheless very enthusiastic.
While others posed questions they were also in favor of the innovation.
One very interesting finding was that nearly everything was covered from the three wheels right up to the compost and while questions were raised, I couldn't find a negative remark about the garden towers.
Finally, while reading through the testimonial the Garden Tower 2 often got a mention.
Alternatives To The Garden Tower
Alternatives now available to the Garden Tower Project models including indoor systems include the Tower Garden, the 5 Tier Vertical Garden Planter and the Aerospring Indoor Hydroponic System.
There are some interesting similarities and differences.
Garden Tower vs Tower Garden (Juice Plus)
Earlier on in this review, it was pointed out that Garden Tower uses soil, water, scraps, and worms placed in the soil which attack both soil and scraps to produce compost.
Instead of these, the Tower Garden uses a substance called rockwool which it claims provides plant roots with oxygen and moisture to promote fast and vibrant plant growth.
A reservoir at the base of the system stores a rich mineral blend with water added as nutrients for plants.
In contrast, the Garden Tower depends solely on the interaction of worms, kitchen scraps and recycled used water for the production of compost as plant nutrient.
For the Tower Garden, the stored nutrients are pumped from the reservoir below into a perforated dish at the top allowing water to cascade down onto the plant roots.
For the Garden Tower, manual watering is supported by gravity as water is poured into the soil at the top level tier. The gravity takes over distributing the water downwards onto the plant roots.
The Garden Tower system automatically repeats the process about every 15 minutes to deliver oxygen, water and nutrients at the needed time to the plants.
The process of delivering nutrients for the Garden Tower is different depending only on the periodic watering, the rate of compost making and the dousing of the roots by the recycled used water collected at the bottom of the system.
Another note worth mentioning is the Garden Tower cost much less than the Tower Garden at the time of writing this.
Garden Tower vs 5 Tier Vertical Garden Planter
Green thumb Gardener occasionally links to product and/or services offered by vendors to assist you with all your gardening needs. Some of these may be affiliate links, meaning we earn a small commission if items are purchased. Check our terms here.
Both systems are made of plastic but different types. The "Green Stalk" watering method is used by Tier Vertical Planter which involves using gravity to fill the structure to the top tier.
The need to apply water is indicated by the level of water in the top tier level and as with Garden Tower soil is also used in the Tier Vertical Planter.
Also like the Garden Tower, a variety of vegetables can be grown in it including:
Vegetables
Herbs
Strawberries
Potatoes
Lettuce
Corn
Tomatoes
And Much more
The Tier Vertical Planter occupies less space than that occupied by the Garden Tower.
Yet it's able to grow 90 plants, 40 more than the number grown by the Garden Tower..
There's no mention of revolving levels for the Tier Vertical Planter, so the Garden Tower wins a point.
Both systems don't use weeding or tilling, no pests, add color and height to their location. A difference is the Tier Vertical Planter has no dish at the bottom to collect water percolating from the tip tier.
Garden Tower Project v. Aerospring Indoor Hydroponic System
Green thumb Gardener occasionally links to product and/or services offered by vendors to assist you with all your gardening needs. Some of these may be affiliate links, meaning we earn a small commission if items are purchased. Check our terms here.
Similar to the Garden Tower, the Aerospring System for indoor planting can grow a variety of 27 edible plants. This is exactly 23 less plants grown in the Garden Tower system.
The Aerospring System actually occupies more space than the Garden Tower requiring an area of 10 square feet. This is compared to the Garden Tower's 4 square feet of space.
No animal by-products are used for planting in the Aerospring System and while none is used in the Garden Tower system, food scraps and worms are used.
Both systems are environment friendly and both have also been tested as sound outdoor gardening systems.
They both perform as an indoor gardening system with LED grow lights, managed airflow and tents for plants to grow all year round.
Taken overall, the pros and cons of both systems seem to balance out in the end.
However, the Aerospring does have a large upfront cost.
Download ​our FREE
Garden Hack Guide
Enter your email below and we will send you a guide to help you SAVE money in your garden.
Final Thoughts
The Garden Tower models provide a myriad of solutions to a plethora of issues that have enveloped people in our times.
Thank goodness that they've appeared when they are really needed. There's a lack everywhere you turn, food, space, money, depression, loneliness and so many more that can't be written but these 5 will suffice for they are at the epicenter.
Food is becoming scarce and Garden Tower can generate freshly grown food virtually non-stop.
Congestion from population growth has slowly squeezed space but for tons of food, Garden Tower 2 only needs 4 square feet of space.
Even without money you can still enjoy freshly grown vegetables and fruits. Colossal don't you think?