Harvesting Sunflower Seeds | Saving Sunflower Seeds the Easy Way
Harvesting Sunflower Seeds – Saving Sunflower Seeds – We show you an easy way to harvest the sunflower seeds that you can plant or eat. Saving sunflower seeds is a great way to learn some seed saving techniques. Best seeds saving envelopes can be found here
In this video, Jeremy Starke from Green Thumb Gardener shows you how to harvest sunflower seeds for saving. Saving sunflower seeds will allow you to replant sunflowers for next year or you can eat certain varieties.
These techniques can be applied for the giant mammoth sunflowers or the small & medium sized sunflowers. Get your kids involved in harvesting sunflower seeds. It one of the easier ways to save seeds.
You can harvest the sunflower seeds either 2 different ways:
Cut off the sunflower head after the flower dies back and then scrape off the sunflower seeds. You would need to let the sunflower seeds dry out a bit after you harvest them.
Cut the sunflower head off and let it dry out in the sun. This is the lazy way to harvest sunflower seeds. The sunflower seeds will easily pop out once it is completely dried.
QUESTION- Have a question about harvesting sunflower seeds or saving sunflower seeds to plant next year? Post in the comments section below! Saving sunflower seeds could not be easier to do.
Green thumb Gardener occasionally links to product and/or services offered by vendors to assist you with all your gardening needs. Some of these may be affiliate links, meaning we earn a small commission if items are purchased.
Want to Download a ​Garden Hack Guide​ for FREE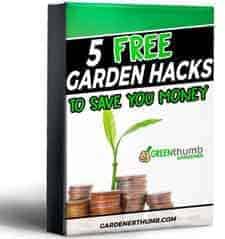 Enter your email below and we will send you a guide to help you SAVE money in your garden.