How Often To Water Pepper Plants
Last updated: 03/16/21
From the common pepper plants that give you snacks and fajita ingredients to the spicier chili peppers that compliment your homemade salsa, all varieties of pepper plants need water.
Unfortunately for me, I had yet to figure out the science behind exactly how often to water pepper plants, and the fruits of my garden shriveled up before my eyes.
I knew there had to be a trick to successfully growing pepper plants, so I did some digging and here's what I found.
Green thumb Gardener occasionally links to product and/or services offered by vendors to assist you with all your gardening needs. Some of these may be affiliate links, meaning we earn a small commission if items are purchased.
Want to Download a ​Garden Hack Guide​ for FREE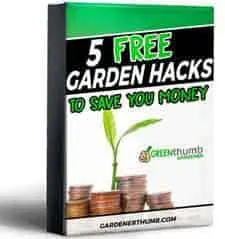 Enter your email below and we will send you a guide to help you SAVE money in your garden.
Watering Pepper Plants: The Important Stuff
I knew that the plants in my garden needed water, but I didn't realize how vital the watering frequency was when dealing with my bell pepper plants and hot peppers.
Did you know the water you provide can affect the quality of the fruit that your plant produces? Because I had no idea.
There is SO MUCH to know about watering pepper plants and I am always learning and leveling up my garden game, so thought would share some water knowledge.
Ground-Planted Peppers
As a general rule of thumb, you should water your ground-planted pepper plants with about an inch of water once a week.
That being said, it's essential to consider any rainfall, dry weather, or hotter than average temperatures, but many pros advise to not water your outdoor pepper plants more than 3 times a week.
Basically—if it rains, don't water your plant that day. If there is a heat wave, maybe give a little extra water, or an additional watering session may be necessary.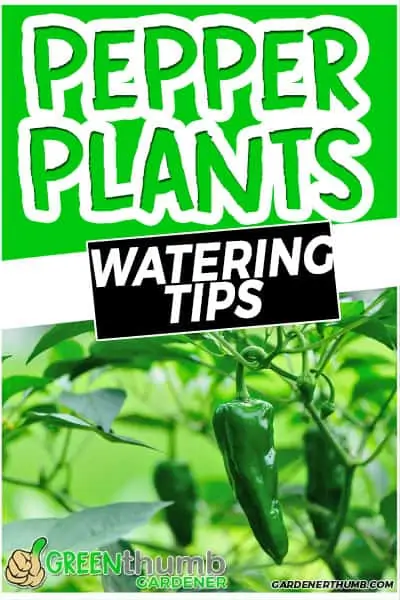 Easy, right?
Additionally, it's better to give your outdoor peppers MORE water in less frequent intervals rather than less water in a much higher frequency.
By watering your pepper plants this way, you can avoid root rot and have a happier, healthier plant.
Does the watering schedule for peppers seem overwhelming or you're going out of town? Maybe you won't be home a the usual time of day you like to water your outdoor pepper plants?
Use a drip-irrigation method to water your plants!
What is Drip Irrigation?
Long story short, drip irrigation is just super slow watering at the base of your plant. Think of it as almost a leaky faucet.
An easy way to integrate drip irrigation involves using a water jug. Punch a few holes in the top or lid of your jug and lay it next to the base of your plant on the surface of the soil allowing it to slowly drip water right down to the pepper plant roots!
The benefits of drip irrigation include things like enough time for your varieties of pepper plants to absorb the water over a longer period of time.
This prevents quick overwatering mistakes and allows for maximum water absorption.
Mulch & Your Pepper Plants
Some gardeners find benefits in adding mulch to the top of the soil of their garden. By doing so you can lock in moisture and other nutrients that is key to the product of your plant.
Additionally, much allows for less frequent watering and prevents pest plants (weeds) from growing.
There are different types of mulch which range from black plastic mulch to recycled wood chips. If you choose to mulch your pepper garden pick what one works best for you!
Container-Grown Peppers
Just because you do not have space in your yard for a garden doesn't mean you cannot have pepper plants.
You can feature indoor pepper plants or patio pepper plants when you choose to plant in a container.
Pepper plants can grow successfully in the pots or other containers of your choice just as long as you make sure there are drainage holes in the bottom of the pot.
Green Thumb Tip: You can use pepper seeds indoors to start your own pepper plants before you move the seedlings outside.
Drainage Holes
Drainage holes are basically just open slots or circles in the bottom of your planter. Their purpose is to make sure that excess water isn't retained in the base of your planter.
Without these holes, your container peppers are susceptible to root rot and other diseases which result in a fruitless or even dead pepper plant.
If you're planning on planting your pepper plant in a container, you also have an additional method of watering your plant– bottom watering!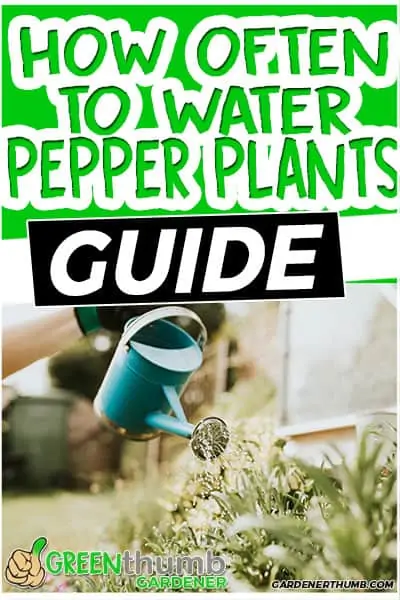 Bottom Watering
Bottom watering is a method of giving your pepper plants water from the bottom – UP! It involves setting your plant in a larger flat container (I use sheet pans), bathtub, or kitty pool with rain or tap water.
By doing so, your plant absorbs UP the water it's sitting in.
Bottom watering your pepper plants allows the plants to decide how much water it needs and it strengthens the root system while doing so.
Just be sure to leave your plant in the water for about 30 minutes each time.
Also, you may want to wait until your seedlings grow a bit before you try bottom watering. The baby plants may not have a strong enough root system to absorb the water and other nutrients from the base of your planter.
Dos and Don'ts of Watering Pepper Plants
DO
Check the soil moisture before watering. If you stick your finger 1-2 inches down and find the soil is damp, WAIT to water— if it's dry it's time to water!
Check the leaves

Yellow Pepper Leaves = overwatered plant
Wilted Pepper Leaves = underwatered plant

Water plants in the morning before the high sun or in the evening after high sun. The light can be a disaster for pepper plants
Make sure there is drainage when planting in containers or raised beds
Pay attention to the season! If temperatures vary at night your pepper may need more or less water as it grows.
DON'T
Water with high sun. The water drops amplify the sun's intensity and burn the leaves of your pepper plant, and the leaves may naturally wilt a bit in the heat and recover overnight.
Use aggressive spray settings on your hose nozzle; it may damage the leaves or flowers on your plant or completely destroy weak pepper seedlings.
Don't water the tops of the plants, pepper plants like the base of the plant and the roots wet, not the upper stems and leaves.
Does Watering Affect the Heat of Peppers?
Long story short, YES!
While many things may influence your peppers' heat, water is one of them. If you over-water your pepper plants, there are lower capsaicin levels (the chemical in peppers that gives you heat and flavor).
This means that your pepper will be less flavorful and more mild. So if you'd like hotter peppers or more flavourful peppers pay special attention to your watering habits.
Rule of thumb: overwatered peppers = watered-down flavor and lower heat level.
Hot pepper growers often see additional effects of overwatered peppers. Even the hottest peppers will decrease in intensity if over-watering is a habit of their gardener.
Download ​our FREE
Garden Hack Guide
Enter your email below and we will send you a guide to help you SAVE money in your garden.
Final Thoughts
All in all, just PAY ATTENTION to your pepper plant and it will tell you when it needs water (I know it sounds silly!).
Many pepper plant issues come from the methods, frequency, and quantity of watering peppers!
If your pepper plant is a bit wilted and sad-looking, it needs water!
And if your pepper plant is yellowing- cut back on the frequency of your watering.
If your pepper plant looks happy and healthy and is producing fruit- you're doing things right!
Related Questions
Why are my pepper plant leaves turning yellow and falling off?
Yellow leaves can mean two things: not enough nutrients or too much water. Try adjusting your fertilizing regimen or watering schedule and see how your plant responds.
When do you stop watering pepper plants?
If you are bottom watering a container plant it should only take about 30 minutes or so.
If you're watering a ground-planted pepper plant you'll want to make sure the soil is flushed with enough water to get at the roots but not enough that it causes soil and water to run and erode. (Think of a gravel driveway after a storm).