Best AeroGarden Review & Guide
Last updated: 05/09/20
Are you thinking of the coolest and easiest way to grow your own beautiful garden?
Well, AeroGarden's indoor garden devices might be just the perfect solution to all the damning difficulties you might encounter or have might have encountered with growing your own indoor garden.
This is why, in this article, I am going to be leading you through everything you need to know to find the best Aerogarden led grow light system.
I'm also going to be suggesting some of the Aero Garden indoor garden products I think are the best in the market today.
Best AeroGarden
Green thumb Gardener occasionally links to product and/or services offered by vendors to assist you with all your gardening needs. Some of these may be affiliate links, meaning we earn a small commission if items are purchased. Check our terms here.
AeroGarden Review | Which AeroGarden Is The Best
AeroGarden Farm Plus is a fully-contained hydroponic indoor garden device that could provide the same natural benefits your plants might need to grow. No sun or dirt would be even required. Simply add water to grow plants for this indoor garden.
Do you want a full spectrum similar to that derived from the sun from your plants?
This product comes with automatically adjustable grow lights that could provide the right glow your plants need to properly process their nutrients and grow quickly.
Are you always busy and wouldn't have the luxury of time to dim, turn the LED lights off and on by a control panel, and also add water or the patent food they need to grow?
Don't fret!
This product also has a timer on the control panel that could be automatically set for that purpose.
The thing I feel is the best part of this device is the automatic control system that could allow you to control it with your smartphone.
Your plants could even grow way faster than soil and still under the right conditions.
The AeroGarden Farm Plus is the ideal choice if you want to cultivate flowers, herbs, and vegetables.
With a lot less stress, you could even grow these simultaneously with a balanced circulation of patent nutrients among the plants.
One hardline about this product might be the difficulty that you might encounter while operating the automatic system.
Without fully understanding its settings, you might not be able to successfully operate them and this could be really dangerous to your plants.
Some buyers have complained about the ineffective control support of this led lighting product.
Replacing the parts could also be a bit difficult too, which is why, before purchasing, it's advisable to ensure that you set up the appropriate support facility that's needed for operating the software.
PROS
Sizeable. It has enough space for more plants.
It could be used to grow different types of plants at the same time.
The wifi connectivity might make it possible for you to easily control the device without having to move an inch.
CONS
It takes up more than enough space.
The machine might be a little bit difficult to operate using the wifi.
CHECK CURRENT PRICE: AeroGarden Farm Plus
---
You want to grow more than enough fresh and organic greens, right in your own home, for your family meals? Then, the AeroGarden Bounty might be something you'd want to purchase.
Gardening doesn't necessarily require hard digging, heavy sweating, and dirt-stained hands. It could be easy and at the same time flourishing for you if you used just the right device, like the AeroGarden Bounty.
With this, you could grow anything you want, whether lettuce, pepper, herbs, vegetables, or tomatoes. Just add water!
I think for an indoor gardener like me, the most important thing to get out of the way before eventually purchasing an indoor garden system would be the capacity of the grow lights as these provide the necessary spectrum needed for your plants to thrive indoors.
Interestingly, however, the pretty efficient light of the AeroGarden Bounty could facilitate your plants' growth five times faster than their normal growth if you use soil.
A full controllable control panel makes it a breeze to operate.
This machine could also support bountiful yields. They have more than enough space you can use to grow tall plants like vegetables, sweet ball peppers, and full-size tomatoes.
However, if you're not so used to cleaning this device, it could be a bit difficult to handle, especially when you need to clean the water channels.
Some buyers have also complained about the slight difficulty usually experienced when touching or navigating the screen due to its small size.
Another downside of the AeroGarden Bounty some people have observed is the way this product seems to swallow water way more than usual.
You might have to regularly replace the water every now and then if you don't want your plants to wither and die.
The AeroGarden Bounty might be best that you don't use this product If you intend growing thyme and chives.
This is because these plants might seem not to sprout well like vegetables, herbs, and tomatoes.
PROS
It offers huge plants
It could enhance the growth of your plants
The pump is quiet and more efficient
It has tall LED lights that allow for tall growths
It could also offer a brighter spectrum your plants would need to properly thrive
CONS
It takes up a lot of space
It has a high upfront cost
CHECK CURRENT PRICE: AeroGarden Bounty
---
Are you completely tired of the stress dirtiness of always having to dip your hands into the soil? The AeroGarden Harvest Elite might be the most suitable choice for you at the moment.
You're not going to be around in a while to tend your plants? Take a hike!
With the AeroGarden Harvest Elite, your plants could still do well without you for some time. The vacation mode feature on the device could allow you to keep your plant growing while you're on the road or busy doing other important things.
Operating Harvest Elite could also be very easy. Most times, you might not even have to waste all the time in the world to get yourself acquainted with the product's system settings.
I'm sure you'd love to locally grow some organic tomatoes in the dead of the winter, this amazing machine might be very useful for that purpose. You could also grow some bright petunias and stop making regular visits to your florist to get some for yourself or for someone.
One of the things you might find rather discouraging about the AeroGarden Harvest is the limited grow space it might offer.
Because of this, it might become something close to impossible for you to grow multiple plants at the same time.
For ultimate plant growth, the best advice would be that you dedicate the product to growing one or two greens, depending on the possible height of your plants.
In the case of tomato gardening or some other similar plants, self-pollination might be frequently required.
As a result of the limited seed pods space of the product, automatic pollination might also become inefficient and could cause your plants to rot rather than ripen like they normally should.
Growth in some tall plants might be relatively slower than usual too, which is why Harvest Elite is most ideal for growing small veggies.
The height of the LED lights are also way too low. And, this doesn't give tall plants enough space to thrive and flourish properly.
PROS
It might afford a continuous and more bountiful harvest
It could enhance fast growth in your plants
CONS
The grow lights are low and could hinder the growth of tall plants
It could be somewhat difficult to maintain.
CHECK CURRENT PRICE: AeroGarden Harvest Elite
---
Do you believe successful gardening activities shouldn't be a strenuous fit to accomplish?! Well, I totally agree with you.
I personally love a device that can quickly grow different plants in a limited period. I know you'd love that too, which is why I'm suggesting Harvest 360 machine to you.
What thing I like to believe about gardening is that it should be quick and easy. Or isn't what makes it fun and more a leisure than a "job" to many of us?
Gladly, the Aerogarden Harvest 360 could make the sport of gardening more fun than many people believe it to be. You could grow different things, from tomatoes to lettuce to herbs to vegetables and so on, all year round.
This device could be the best option for those looking to grow a moderate size garden of plants and vegetables with a generous seed pod.
The fast growth feature of this machine, as enabled by the energy-efficient, full-spectrum grow lights, makes gardening quicker and very much easier than it seems to be.
You could easily grow and regrow your vegetables as much as you like during the course of the year without having to consider the different seasons and weather conditions. Simply add water and turn on the led lighting system to get started.
Harvest 360 can also be a colorful addition to your home, or anywhere you decide to use them. They could be especially attractive when the plants grown in them are fully matured and flourishing.
However, one of the really discouraging things about this product is the fact that not all plants can be grown or easily grown, as the case might be.
For example, tomato plants seem to have slower growth compared to some other veggies or herbs.
Another discouragement is the fact that the LED lights seem to burn out easily. They are not entirely powerful and might require that you replace them regularly.
PROS
It could allow your plants to grow quickly
It doesn't take up much space
It has a quiet and highly efficient pumping system
It also has a stylish design made out of stainless steel that somewhat adds to the beauty of your home
CONS
The height might hinder the tall growth of some plants
It has a lower spectrum required for the strong and healthy growth of your plants
It doesn't offer enough space
CHECK CURRENT PRICE: AeroGarden Harvest 360
---
Why waste your hard-earned money constantly buy vegetables when you could easily grow yours in your own home?
The AeroGarden Sprout might be the most suitable choice for those who are looking to grow a moderately sized garden. It is a simple product that allows you to grow a minimum of 3 plants at once.
For beginner gardeners who are yet to understand the intricacies of the indoor gardening sport, I think you should give this wonderful device a try.
The AeroGarden Sprout is very affordable. It could grow almost all (but definitely not all) the plants you'll love to grow.
It has a see-through water tank that allows you to easily monitor the water level and also replace, to make sure your plants get the required nutrients for healthy growth and also an absolutely full harvest yield.
What many users seem to complain about the AeroGarden Sprout is the loud noise the pump seems to make. If you're someone who likes all-round peace and quiet in your home, then this might make it a somewhat wearisome choice to go for.
People have also complained about the high susceptibility of the pump to get clogged, every now and then.
Aside from these downsides, and the fact that growing some plants might seem pretty impossible because of the small size of the device, the AeroGarden Sprout is a really good product.
PROS
It doesn't take up too much space
It is easy to use compared to other models and might be the best choice for beginners.
It facilitates the fast growth of your plants
CONS
The height of the LED lights is rather too low for tall plants to flourish well.
It also has a less efficient pump that usually clogs every now and then
It has a louder pump
It might not be able to grow some plants due to the low spectrum and limited space.
CHECK CURRENT PRICE: AeroGarden Sprout
---
Why Use an AeroGarden?
Think back to when you so much wanted to grow a garden but your interest was immediately flagged after realizing the tensity and grubbiness of it all.
Now, imagine a nearly flawless and completely dirt-free indoor garden.
One that regularly yields strong, fresh, and healthy plants you can harvest and cook for yourself and your family when they eventually blossom.
Beautiful right? Yes, I know. That's what an AeroGarden led lighting system looks like, and the benefits you could stand to enjoy too.
You might find this quite hard to believe, but it's actually possible to successfully build the garden of your dreams, without soil, sun, or sweat using an AeroGarden LED lights.
Sounds rather unbelievable for an indoor garden but it's actually true.
This might be your first time of ever hearing the word, "aerogarden", but this really efficient hydroponics machine has become so popular amongst gardeners in the past few years.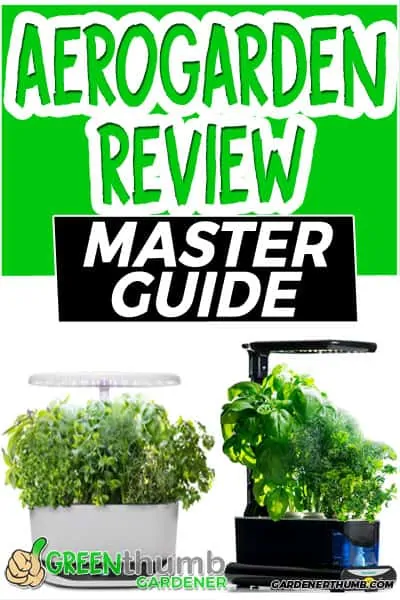 I didn't entirely believe how efficient this led grow product can be too until I tried one of the products myself.
And I can actually tell you I enjoyed many of the benefits the Aerogarden lighting system had to offer, even with some of the disadvantages I experienced with it.
With this product, you could be entitled to so many of the offers I got to enjoy too, whether as a beginner or experienced indoor gardener.
Green thumb Gardener occasionally links to product and/or services offered by vendors to assist you with all your gardening needs. Some of these may be affiliate links, meaning we earn a small commission if items are purchased.
Want to Download a ​Garden Hack Guide​ for FREE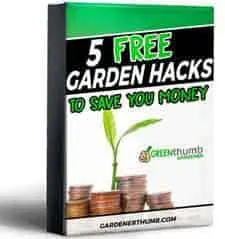 Enter your email below and we will send you a guide to help you SAVE money in your garden.
The indoor garden LED lights machine can make it pretty easy for you to locally grow an organic garden.
Even if you are an inexperienced gardener, you can still easily grow virtually anything and anywhere you like using this machine.
The product comes with its own LED lights. And this is something that I find quite interesting about it.
You don't have to waste your precious god-given time worrying about whether to mount the machine by your east or west window for sunlight.
When you have this led lighting machine, all the thought of what the perfect type of LED lights system would be for your plants could also be eliminated.
And that's not all.
It doesn't only make it easy to grow plants, herbs, vegetables and flowers a relatively easier sport for you as it does for me.
This AeroGarden led grow system could also add a pretty attractive color to your home or office.
I believe this led lighting system has a way of livening and freshening up the atmosphere of the environment they're used in.
Unlike the standard indoor led lighting system, they seem not to take up unnecessary space.
Best Things To Grow in Aerogarden
With the hydroponic gardening machine, you could have every chance of regularly consuming healthier greens if you're ready to purchase yours.
One of the things I think makes them the best choice for indoor gardening is the possibility of actually growing almost anything you like.
However, it's not everything you can cultivate using the beautiful device. As long as you are going to stick to growing some flowers, herbs and fruits, an aerogarden could be the most fitting option for your indoor gardening dream.
It could also be the most appropriate option for growing fresh and tasty vegetables all year round.
From nursing eggplants to the fully cultivating broccoli, you could always expect the best yield at the end of the day.
Have you ever imagined growing exquisite flowers to fill the air in your home or office with a clean and fresh fragrance?
Well, your dream can still come to pass. With aerogarden, you could effectively grow the most beautifully colored flowers you have ever dreamed of.
In situations where flowers only need minimal light to grow, the light could be helluva efficient in making your plants thrive well enough too.
The peculiar design could also allow you to happily cultivate peppers and tomatoes too.
Even though larger indoor gardens are more productive for growing these kinds of crops, you could still also grow these types of peppers:
Chili peppers
Red peppers
Purple peppers
Jalapeno peppers
Poblano peppers
Sweet bell peppers
Would you also love to grow fresh herbs and salads indoors? Then, AeroGarden might certify as one of the most viable and favorable options you can use.
You could even put an end to the regular trips you make to the grocery store to get a salad.
All you might just have to do is to set just the right amount of lighting and you're good to go.
Types Of AeroGarden Options
The led grow light machine has a number of different amazing models, some of which might offer more space for you to grow more plants.
Other ones might offer fewer seed pods and are a perfect option for someone much more interested in a regulated gardening project.
There are some other models that might be better for growing vegetables, herbs, and flowers than tomatoes and pepper.
Regardless of the model you decide to go for, you might still be able to grow pretty much anything you want in your pocket edition garden.
If you're looking for something to sprout your plants before transferring them outdoors, AeroGarden Sprout could also be an excellent option to consider.
The automated light of this device is extended high enough.
It could eliminate any risk of plant burn or death.
The timely reminder to replace nutrients and water could also be really beneficial to beginners who are yet to get used to their daily routines.
There's also AeroGarden Harvest, this model could offer you the option of more seed pots than the Sprout.
And in comparison to Sprout, Harvest allows you to grow taller plants because of its extended light design.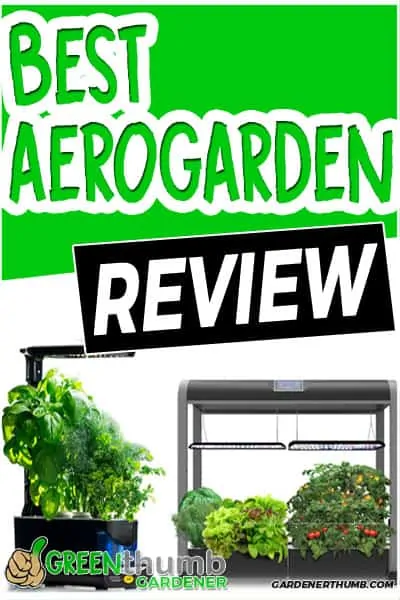 For those who love to grow salads, I'd recommend AeroGarden Classic. It is larger than Harvest with a more elaborate space for wider plants.
AeroGarden Ultra is the express choice to go for if you're considering plants that can sprout really high when they start to blossom.
The grow light model could also offer more light that helps in facilitating the growth of your plants such that, in no time, you're ready to harvest.
Are you interested in growing a garden that is a bit larger than what the models mentioned before can offer?
Then, AeroGarden Bounty might be your next to the best alternative.
This model offers you more seed kits for you to grow more plants with a relatively larger space.
It also has a WIFI control option that might allow you to regulate the light from a distance.
Pretty cool, right?
Download ​our FREE
Garden Hack Guide
Enter your email below and we will send you a guide to help you SAVE money in your garden.
Final Thoughts
You might have already highlighted the specific features you need to pick out the best Aerogarden.
And, that's a completely necessary thing to do as it allows you to select the most suitable model for your gardening options.
But as for me, it is a toss-up between the AeroGarden Farm Plus & The AeroGarden Bounty. I prefer these products because they allow me to grow different vegetables at the same time. I also get to harvest really huge plants at the end of the day.
Things might be totally different for you. It might be a Sprout device you prefer or the Harvest 360, depending on the features that come with them.
However, for whichever product you decide to go for on the list, ensure it's the perfect choice for your gardening needs.
So, get your indoor garden started!