7 Best Backpack Sprayer for Your Garden
Last Updated June 25, 2020
Trying to pick the best backpack sprayer can be quite challenging if you're new to gardening or other agricultural activities.
Even if you're more familiar, you might still have trouble, thanks to a wide array of models and options.
You will find a guide below the reviews for more information on selecting a backpack sprayer.
Thankfully, I've reviewed seven top choices that should guarantee you a great experience. Enjoy!
Best Backpack Sprayer
Green thumb Gardener occasionally links to product and/or services offered by vendors to assist you with all your gardening needs. Some of these may be affiliate links, meaning we earn a small commission if items are purchased. Check our terms here.
​Best Backpack Sprayer Reviews
The backpack sprayer is another excellent product from Chapin that offers an exceptional long-lasting experience.
Also, thanks to its 24V battery, it rids you of the stress of manual pumping. It also saves you valuable time in the process.
Another excellent quality is its 48-inch tube that allows for better reach when spraying.
It is designed with a refillable 4-gallon container. And has a pump with a pressure between 35 and 40 psi that allows you to maximize your liquid content.
This sprayer has a three-stage straining system that efficiently prevents clogging and is resistant to chemicals thanks to its Viton seal

Wearing this sprayer will reduce the strain on your back because it is relatively light and has a padded shoulder strap.

The customer support is also top notch if you run into any issues.
PROS
It has a transparent container that eliminates guesswork and ensures your solution is effective.
It has a wide funnel – 6 inches – that makes it easier to fill the tank.
It has a horizontal spray reach between 25 and 30 feet.
It has a reinforced hose.
CONS
It is somewhat expensive.
It has a short battery life, especially when compared to other options.
It might not be best suited for a large area or extended hours.
It doesn't have a locking system.
CHECK CURRENT PRICE: Chapin 63924 4-Gallon 24-volt Extended Spray Time Battery Backpack Sprayer
---
This is among the best options for a backpack sprayer, thanks to its excellent quality and multipurpose application. It is a piston-powered sprayer that allows average owners to enjoy great perks.
Another great feature of Solo 425 is that it can guarantee pressure reaching 90 psi. And this ensures you can effectively disperse your liquid content to the necessary area.
This sprayer has 4-gallon container retention that allows you to avoid multiple refills and complete your task with ease.
The polyethylene-made tanks are ultraviolet-resistant and has a large opening to make it easy to fill. There is a dual filtration system that prevents materials from getting into your tank.

The 48 inch high-pressure and reinforced hose make application a breeze.
PROS
It comes at a very affordable price.
It provides four different nozzle type that makes it ideal for variation in spraying needs.
It offers reliable performance, thanks to its exceptional quality and compact design.
It's chemical resistant thanks to its Viton seals.
It is user-friendly and has a pump handle that you can switch to your preferred hand.
CONS
It is susceptible to leakage.
Its straps can get tangled and make usage more stressful.
It has a limited warranty of one year.
CHECK CURRENT PRICE: Solo 425 4-Gallon Professional Piston Backpack Sprayer, Wide Pressure Range up to 90 psi
---
This is an exceptional choice that's well suited to medium-sized areas. Thanks to its 4-gallon tank size and up to 150 psi, you can carry out spraying with ease and efficiency.
This choice is also equipped with a pressure regulator. And this enables the sprayer to discharge an uninterrupted 25 psi.
This backpack sprayer has an agitator that is perfect for all forms of liquids, water-soluble, solvents, and powders. The no leak design and single-motioned valve helps to keep all the liquid intact.

The brass components and Viton seals round out a quality sprayer.
PROS
It is affordable.
It provides comfort with its padded and adjustable straps.
It's reasonably easy to assemble with no need for professional help.
You don't need to bother about leakage.
It comes with an internal paddle that ensures you can properly mix the liquids for better performance.
CONS
It can be quite heavy, especially when filled to the brim.
It requires a manual hand-pump.
It doesn't have a lockable sprayer wand.
Instructions on how to operate and assemble it are not so clear.
CHECK CURRENT PRICE: Field King Professional 190328 No Leak Pump Backpack Sprayer for Killing Weeds in Lawns and Gardens
---
The Chapin 61500 is a great choice thanks to its vast application and compatibility with various chemicals and liquid solvents.
It's designed with a 4-gallon storage space that allows you to cover as much as 23 feet. And then, a 20-inch wand that helps you to reach tight spaces.
This backpack sprayer also has a two-stage filtration scheme. One is at the shut-off, and the other is at the top of the container. And this reduces the risk of clogging.
The Viton seals ensure that the tank is less susceptible to leakage. This backpack sprayer is easy to use and is very comfortable with its padded strap.
PROS
It's very light, making it easy to carry.
It has a pump pressure between 40 and 60 psi.
It has a reinforced PVC hose.
It has a wide opening that allows for quick filling and maintenance.
It has a translucent container that allows for proper monitoring of the liquid level.
CONS
Its sprayer handle is not so flexible.
It's not compatible with abrasive liquid solvents.
It has a short warranty length – 1 year.
CHECK CURRENT PRICE: Chapin International 61500 Backpack Sprayer for Fertilizer, 4 gal
---
Another top choice is the motorized M4 that allows you to enjoy almost a day of spray with one full charge. In fact, it comes with an indicator that alerts you when charging is needed.
It's also adaptable to a wide array of spraying needs – suitable for most solutions. And can cover up to 30 feet, which helps you save valuable time.
It also comes with both acid bleach and stainless-steel wand that guarantees the durability of your sprayer.
The battery life lasts longer than other lithium battery that comes with backpack sprayers. It only takes about 8 hours to fully charge it.
This sprayer has an extensive range of nozzles such as a fan tip, cone, and fog & the wand has a locking trigger to prevent unwanted discharge.
PROS
It provides comfort with the triple thick padding of its straps.
It has a transparent tank that allows you to monitor the level of the available liquid.
It has a pressure switch that you can use to control the flow of discharge from 20 to 60 psi.
It allows easy refill with its wide opening.
It maintains a filter over the opening that prevents junk from entering the container.
CONS
It may come off as heavy.
It's a bit difficult to set up.
CHECK CURRENT PRICE: M4 MY4SONS 4-Gallon Battery Powered Backpack Sprayer
---
This backpack sprayer designed by Husqvarna makes this list thanks to its smart design, ease of use, and multipurpose use.
It is a professional sprayer that functions with chemicals, organic tea, and other liquids. As such, it's suitable for both residential and commercial purposes.
Another nice feature is that it supports as much as 150 psi that allows an even and effective release of your liquid content.
This backpack sprayer has a steel and polyline made 25-inch wand that provides durability. This sprayer is compatible with both liquids and water soluble powders.
PROS
It is reasonably affordable.
It comes with Viton seals that provide an extra touch of durability to the sprayer.
It comes with a 50-inch reinforced PVC tube.
It uses a strain support nut that stops the hose from curling.
It has a no-leak design that prevents the pump from leaking.
CONS
There have been complaints about the distance of the pump handle.
CHECK CURRENT PRICE: Husqvarna Sprayers, 4 Gallon Backpack, Orange/Gray
---
What is a Backpack Sprayer?
Back in school, I usually came across a man spraying our field with quite a massive tank on his back. Have you been there?
​Well, that's a backpack sprayer.
It's a piece of portable equipment that provides you with a tank that can retain liquid. And then a pump that can dispel fluid on a surface without fuss.
Although I thought it's only for those interested in agricultural activities, I realized I was wrong.
We can use a backpack sprayer for household, gardening, farming, and homesteading needs, among others.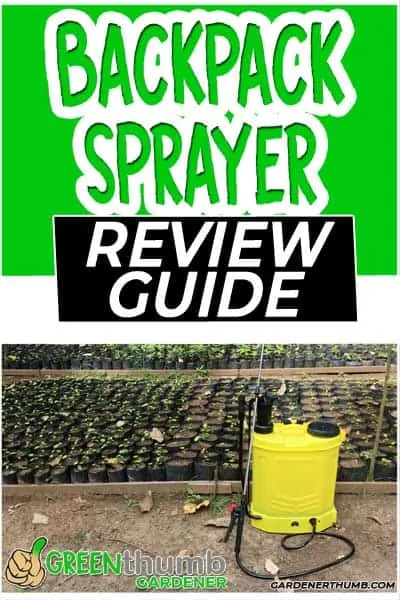 Major Components of a Backpack Sprayer
Just like me, you must have wondered what makes up a backpack sprayer. Usually, it comes with the following parts.
Tank
Nozzles
Nozzle Boom
Straps
Safety cap
Valve plate
O-ring
Pressure chamber
Protective vest
Filters (Strainers).
How Safe is a Backpack Sprayer?
A backpack sprayer is generally safe to use.
However, when used with dangerous chemicals, you might be exposed to specific safety risks, mainly due to leakage. (I'll discuss what leakage is later on).
As such, you might need to rely on protective gear such as goggles, gloves, and body covering.
In case you're spraying a pesticide, you should consider using a respirator or a face mask. Also, avoid spraying in a windy condition.
Always make sure children are far away from the spray area.
Advantages of a Backpack Sprayer
Growing up, I used a spray bottle for the small garden in my house. Luckily, I moved out to a bigger house with a bigger garden a few years back.
As usual, I tried using my go-to spray bottle. This time, in my bigger garden. Unfortunately, it turned out to be a total hassle.
I spent long hours, had to make several refills, and I was exhausted before I finished.
However, when I replaced my spray bottle with a backpack sprayer, I finished faster.
Now, that's the advantage of using a backpack sprayer. It affords us ease and speed, whether we are trying to rid ourselves of pests or fertilize our plants.
So, here's a breakdown of the advantages a backpack sprayer offers.
1. Backpack Sprayers are Easy to Use.
Thanks to the simplicity of its design, you usually don't need any technical knowledge or expertise to use it. You can also survive without extra help.
It's light so you can carry it around without any stress on your body. It's also great as it comes with a soft padded shoulder strap.
2. Durability
It's a total turn off to buy something and find out it didn't last as long as you expected it to. Luckily, you don't have to experience that with a backpack sprayer.
It's reliable and offers a performance you might not get from other professional broad applicators.
They are also reusable and help you avoid additional costs. You also get a warranty for your backpack sprayers.
3. Low Maintenance Requirement.
Primarily due to its design, this tool doesn't require so much attention from you. You won't have to spend long hours as a simple cleaning will do.
Also, its repair is quite easy to achieve. Most manufacturers provide spare parts for their new products. You can also quickly get them from a store.
Even better, you can perform most repairs yourself, so you don't expend extra cash on hiring a professional.
4. Dual Power Option
Another great feature of most backpack sprayer is that it comes with two power options.
You can use it manually for your smaller gardens, trees, or greenhouse. In case you need to cover more ground, you can switch to its battery mode.
This motorized mode saves time and energy. You also enjoy extended use after each charge, so you won't have to stop abruptly.
Nonetheless, it's always best to go for the motorized option.
5. Vast Application
You don't just get a tool that can spray fertilizers or pesticides. You get one that does so much more.
For instance, you can use a backpack sprayer in your home to keep your walls and wooden furniture fungus free.
You can also use it to water your lawn and keep it fresh.
Potential difficulties when using a Backpack Sprayer
There's no doubt that backpack sprayers are a valuable addition to your home or agricultural equipment. Still, backpack sprayers are not exactly perfect.
So, you're aware of what you're getting, here are some of its more apparent downsides.
1. Leakage
Few months after I got my first backpack sprayer, I usually had stains on my legs after use.
Soon, I discovered it was the chemicals dripping on my backside from my sprayer. This is a common problem called leakage.
It might occur where the hose is joined to the tank or in another place around your container.
So, watch out, you don't want to get your clothes ruined or get skin irritation.
2. Limitations
A backpack sprayer might not be a great choice if you intend to cover vast areas.
For example, 4-gallon sprayers weigh between 10 to 18 lbs when filled up. I wouldn't, and you shouldn't try using it to cover something as big as 3 acres.
Not only will it take longer, but it'll also get stressful since you need to carry the weight all through.
Factors to Consider when Purchasing a Backpack Sprayer
Before buying a backpack sprayer, you'll need to ask yourself what exactly you need.
For instance, when I moved from my spray bottle to a backpack sprayer, I needed a bigger tank.
Well, that's not the only thing. From pressure, weight, maintenance feature, and power options, you'll need to make sure they fit into your needs.
​To pick rightly, here are the essential things to consider.
1. Durability
We always want something that can stand the test time, and that's why durability comes first.
You need to ensure that your choice of a backpack sprayer can last at least five years. It's always better to go for a product with a warranty.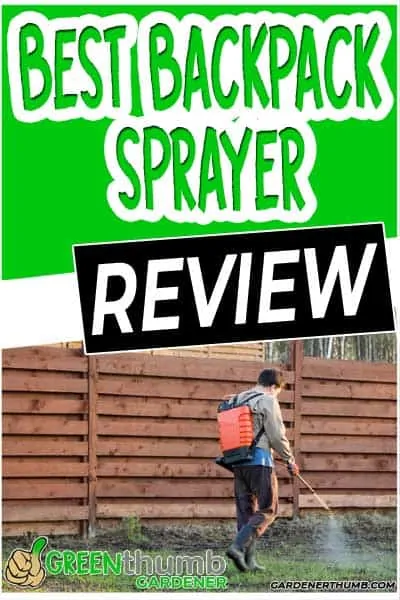 You might also want to ensure that replacement parts are readily purchasable for when the need arises.
2. Tank Capacity
This is another important consideration if you want to get value for your money. You'll need to ensure your tank size can cater for your spraying needs.
Consider how large the area, the number of plants or trees you have, and how regularly you intend to spray before making a decision.
Usually, a 4-gallon tank should do the trick. However, if you have a broader area to cover, you can go for a bigger tank.
3. Tank Design
I'm a great fan of structure and designs. If you're too, then you might want to consider what structure your backpack comes in.
Usually, backpack sprayers come in rectangular, square, and other customized designs. Pick one that you are more comfortable with.
Apart from that, ensure you pick a design that's relatively easy to assemble, especially if you aren't a pro with backpack sprayers.
You should also consider picking a sprayer that's resistant to chemicals. And one that's designed with high-density materials.
4. Pressure Tolerance
You should consider the pressure tolerance of a backpack sprayer before getting it.
Measured as the pounds per square inch (PSI), this is how much pressure your sprayer can propel from its nozzle. And it's vital if your backpack sprayer is to operate effectively.
Naturally, a backpack sprayer with higher pressure is better. On the other hand, lower ones will usually result in an irregular spray that makes the content less effective.
Regardless, a sprayer with a pressure between 40 and 6o psi is a satisfactory choice.
5. Type of Delivery System
You need to consider the liquid delivery system that comes with a backpack sprayer before making a purchase.
Generally, these systems are available in two types, namely, diaphragm pump and piston pump.
The piston pump is more prevalent among homeowners, thanks to its simple design, higher PSI, ease of repair. In this pump, the liquid is drawn into a confined room and then pushed out through a nozzle.
However, it is more suitable for non-abrasive solvents.
Backpack sprayers with diaphragm pumps are usually designed for professionals. It operates a system where liquids are moved from one part of the chamber to another through a diaphragm.
In this process, a part is continuously full, and the other is ever empty. Although it has a lesser PSI than the piston, it is more durable and resistant to chemicals.
So, if you're a pro and more likely to use chemicals, you should go for one with a diaphragm. Contrarily if you stay away from abrasive or ​water -soluble powder, a piston works just fine.
Your best bet is to pick one that has both systems.
6.Other Relevant Features
You should also consider additional features like extra padding of the strap to ensure you're convenient.
A fold-able pump-handle that allows better maintenance is also an additional advantage.
You might also want to get a backpack sprayer with a pressure gauge. This will enable you to measure the pressure of your sprayer while using it.
Green thumb Gardener occasionally links to product and/or services offered by vendors to assist you with all your gardening needs. Some of these may be affiliate links, meaning we earn a small commission if items are purchased.
Want to Download a ​Garden Hack Guide​ for FREE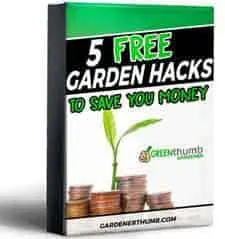 Enter your email below and we will send you a guide to help you SAVE money in your garden.
Final Thoughts
Although all the seven options are exceptional, the ​Chapin 63924 4-Gallon backpack sprayer would rank first if I were to pick.
This is because although it is expensive, it offers excellent perks in return.
It supports a motorized system that guarantees ease of use. Even more, it has a great battery option that charges fast and lasts long.
It's durable and chemical resistant. It also has a transparent and marked tank that allows you to monitor the liquid left.
Petra backpack sprayer comes with a high-pressure pump. ​The 3 stage filtration system is a bonus to keep your sprayer from getting clogged.
I believe it's a great choice that should be worth every dollar paid.