Growing Carrots in Containers | Epic Guide to Make it Easy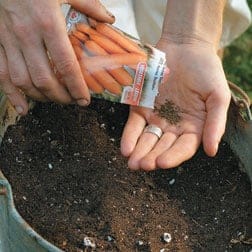 You may be challenged with space in your raised bed space or your garden soil might not be ideal to grow the best carrots.  Growing carrots in containers is a simple way to ensure you get carrots that Bugs Bunny would eat.
One of the other benefits of growing carrots in containers is that you will save some space using a pot to grow a bounty of carrots.  It is also a fun project that most kids would love to take part in.  My girls love to garden and growing carrots is one of their favorite vegetables to grow.
We will go over all the details on how to grow carrots in a container in this guide.  You will learn what is the most ideal soil to grow carrots, how long do carrots take to grow in containers, and what the best type of carrots to grow in a container.Continue reading