Best Hori Hori Knife Buying Guide
When it comes to digging and cutting tasks, no other gardening knife can match the versatility of the Japanese Hori-hori knife.
With this tool, you can do the toughest garden jobs from transplanting, digging, cutting, sowing, etc. The word "Hori" means "to dig" in Japanese; hence the Japanese called it "Hori."
Best Hori Hori Knives Chart
Green thumb Gardener occasionally links to product and/or services offered by vendors to assist you with all your gardening needs. Some of these may be affiliate links, meaning we earn a small commission if items are purchased. Check our terms here.
Review Of The Best Hori Hori Knives
Historically, the hori-hori Japanese knife was known as the "mountain vegetable knife" because of its use in cultivating and caring for vegetables in the region's mountainous terrain.
It's straightforward to use and will quickly become one of the essential gardening tools in your toolbox due to its many uses.
You're going to need a premium Japanese-inspired hori-hori knife if you want to keep up with the high demands of your garden. However, given all of the choices available, it can be tough to settle on the best Hori-hori style knife for your purposes.
We evaluated a variety of quality Japanese Hori knives, and we've determined that the ones on this list are among the best available multipurpose knife.
GREEN THUMB
The word "Quality" is associated with the Nisaku brand. Forged by expert craftsmen from high-quality stainless steel infused with vanadium, this model features an ergonomic grip for the convenience of handling.
It has a concave blade made of Japanese stainless steel that can be used for digging soil with ease. Its beveled sharp edge can be used for slicing, and an opposing side has serrations for cutting tree limbs.
The Nisaku blade is resistant to rust and scratches and does not dull quickly. You can plant and seed at precisely the correct depth thanks to the inch marks carved on the blade.
The knife has been crafted by Japanese artisans who have spent their entire lives ensuring that your tools will be of the highest quality and last for several years and seasons.
PROS
The blade, hardwood handle, and pins are all of high quality
It has a strong blade that won't bend or rust even if left outside for a long time.
Its serrated edge is excellent for loosening plant and tree roots for planting
CONS
It can be dangerous to use this tool for digging because it lacks a protective hand guard
The sheath is made of plastic, and its foul odor permeates the surrounding area
CHECK CURRENT PRICE: Nisaku NJP650 Hori-Hori Weeding & Digging Knife
---
BEST CHOICE
Truly Garden Hori Hori features a 7-inch pre-sharpened 420-grade stainless steel blade and a 5-inch hardwood grip with 3 metal rivets. Having a full-tang construction means that the blade is linked to the handle at every point of contact.
It has a concave trowel-like design and depth measurements to make digging and transplanting easier. The straight and serrated edges have been pre-sharpened for fast and clean cutting.
Weeds don't have a chance against this heavy-duty knife!
PROS
A full tang, rust-proof sturdy blade slices through roots and compacted soil with ease, making it ideal for digging
It comes with a sharpening stone or diamond sharpening rod that can be used to sharpen both straight and serrated edges
It comes with a 5-year warranty
CONS
The finger guard was too small to be of any actual use
The blade can break or snap after a few months of use.
CHECK CURRENT PRICE: Truly Garden Hori Hori Garden Knife with Sharpening Stone
---
EFFICIENT
As with all Black Iron products, quality is everything. A high-quality stainless steel blade expands into a full tang for maximum strength and longevity. In addition, the 7-inch blade and rust-resistant stainless steel design make it perfect for tough gardening work.
It has a beveled edge for slicing and a serrated edge for cutting through thick roots, and a robust ergonomic handle for better grip and ease of use.
You can effortlessly chop, dig, weed, prune, and plant bulbs with this versatile gardening tool. There is a high-quality leather sheath included in the package; however, no belt clip is provided.
PROS
It is more durable because of its full tang construction in which the blade extends all the way to the handle.
It comes with a high-quality genuine leather sheath that is stitched and riveted all the way around
The depth markings on this gardening knife are clearly marked in both millimeters and inches; you will have no trouble measuring the soil.
CONS
Some Handles are made of fairly low-quality wood that sometimes split or splinter
The knife's handle (tang) has metal edges that protrude slightly beyond the wood.
CHECK CURRENT PRICE: Black Iron Hori Hori Garden Knife
---
SIMPLE DESIGN
The Garden Guru Hori Hori Gardening Knife features a full tang rust-resistant stainless steel blade that is robust and less likely to break under stress. Additionally, it features millimeter and inch markers to help with planting depth calculations.
If you're looking for a tool that can be used for everything from cutting to digging to sawing, you can't go wrong with this one!
It has wooden handles made from tropical Rose Hardwood, which provides excellent grip and resistance to decay, perfectly completing this gorgeous knife.
This soil knife is a must-have for any bonsai toolbox, and it also makes a great addition to your camping essentials.
PROS
It is backed by a "no questions asked" lifetime warranty
It is simple to handle owing to its smaller size and lightweight
It has measurements engraved on the blade in both metric measurements and inches to measure soil depth
CONS
Not heavy-duty, and it can break in two when used in more densely packed soils
The blade is loosely held in the handle, and there is some movement in it
CHECK CURRENT PRICE: Garden Guru Hori Hori Gardening Knife
---
EASE OF USE
Gardening, harvesting, or planting with the HAUSHOF Garden Knife can be an enjoyable experience. The 7-inch stainless steel knife blade and full-tang design boost the overall strength of this Japanese garden knife.
You can easily cut through tough roots, thin tree limbs, rope, and animal feed sacks with its saw-like serrated edge. Mirror-polished sheen enhances corrosion resistance and makes it easier to maintain.
In addition, you can easily read the graduations in inches and millimeters on the blade while replanting your favorite seedlings or cuttings at the precise depth.
PROS
It's much more efficient than a hand shovel at cutting through soil or earth
Sheaths constructed of genuine leather fit nicely on the belt, making them ideal for carrying the knife
Three rivets secure the wood handle to the blade, ensuring a stable grip even in tough soil and garden conditions
CONS
The blades have been reported by some users to be constructed of a flimsy metal that can snap in half
The fit and quality of the handles aren't quite up to standard
CHECK CURRENT PRICE: HAUSHOF Hori Hori Garden Knife
---
BEST COMFORT
HOKURU Hori-Hori Knife is a long-lasting garden knife with a rust-proof blade and standard stainless steel full tang design. Ergonomic wooden handles provide control over the blade with gradient indications, as well as a straight and serrated edge for cutting.
Protective handguards keep your hands from slipping while in use. The knife comes with a three-year warranty and a full-leather sheath for storage as a bonus.
This indispensable tool can be used for various tasks, including digging, cutting, harvesting, pruning, and planting.
PROS
It has a worry-free 3-year warranty, 30-day money back satisfaction guarantee
It has a solid construction and serrated edge that can help helped cut through the roots
It is equipped with a metal safety guard for a secure grip to keep your fingers from slipping on the blade.
CONS
The straight edge is sometimes dull
Using the handle for extended periods is difficult because of the handle's square edges
CHECK CURRENT PRICE: HOKURU Hori Hori Knife
---
Barebones' unique interpretation of the Hori Hori should work nicely in your garden. The Hori Hori was developed to be the ideal garden multi-tool. Its high-quality walnut handle and tempered steel blade ensure that this tool can withstand the rigors of gardening.
The knife has a double-sided straight and serrated blade made of 4CR13 stainless steel that extends through the tang.
You can use it for planting, digging, chopping, trenching, and even opening your favorite refreshing beverage drinks. The Barebones Hori Hori will quickly become one of your favorite gardening tools.
PROS
It comes with additional features such as a bottle opener and twine cutter
The blade features a concave shape with inches markings for measuring the correct depth
The smooth edge and the serrated edge of the knife are both extremely sharp
CONS
It is not a full tang and only has a narrow tail attached to the handle, which can cause it to detach easily
Does not include a sheath
CHECK CURRENT PRICE: Sensei Tools Hori-hori Digging Knife
---
ELEGANT DESIGN
Sensei Tools Hori Digging Knife includes mirror polished rust-proof stainless steel blade with a serrated edge and straight edge, making it simple to cut through roots. The metal blade measures 7.5″ in length by 1.7″ in width and has an overall length of 12.5″.
The sensei hori-hori knife is the ideal multipurpose tool for digging, planting, weeding, and dividing. It is excellent for lawns, garden projects and landscaping.
With its ergonomic design and non-slip plastic handle, this knife is easy to hold with either hand. The convenient depth measurements engraved on the tool make planting and digging easier.
However, marks are only in inches, and there are no metric markings.
PROS
Included in the package is a hard-wearing genuine leather sheath that has a belt loop
The concave blade is made of rust-proof stainless steel, and has a sharp cutting edge that can easily slice through thick roots as well as compacted dirt
The polish metal finish makes cleanup a breeze
CONS
The blade tang is only 2.5 inches into the plastic handle
The non-slip handgrip can sometimes rub into the hands, making it comfortable to hold
CHECK CURRENT PRICE: Sensei Tools Hori-hori Digging Knife
---
How To Choose the Best Hori-hori Japanese Gardening Knife
If you have a tiny garden or grow most of your plants in containers, the Japanese Hori Hori knife may be all you need to cut, chop and dig through both soft and denser soil. This is especially true if your garden is small or if most of your plants are grown in pots or other small containers in your home.
Because there are so many Hori Hori knives deciding which one to buy can be a bit of a challenge.
The following are the most significant features to look for in a knife:
1. Blade
Hori-hori knives have a distinctive blade design that allows them to be used in various ways. These are the things you should check for when purchasing a hori-hori knife:
Serrated and Sharp Edges
The serrated edge saws thick foliage, while the smooth, razor-sharp blade edge can be used to slice. You can buy ones with a premium serrated design that slices through weeds and roots like they're nothing.
Concave Shape and Sharp Point
The concave blade of a hori-hori knife makes it possible to scoop soil in the same manner as a trowel or shovel. When digging, the tip of the blade is pointed and sharp so that you can break up any type of soil.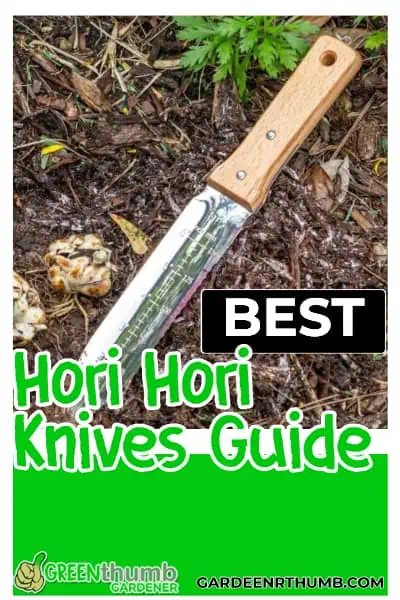 Ruler
A knife with a ruler on the blade is essential. Make sure the measurements are clearly visible on the curved blade edge of the knife. When you're transplanting or seeding, you don't want to be in the dark about how deep you are in the soil.
2. Handle
Your choice of handgrip should be based on durability and comfort. The shape of the handle should allow for a firm and stable grasp, regardless of whether it is constructed of plastic or wood.
You need a handle design that offers a solid grip and is well-balanced for better maneuverability. Look for ergonomic handles since it provides a more stable grip and reduces stress on your arm.
Hardwood and bamboo are ideal for handles since they are resistant to bending or breaking, have a long lifespan, and provide a safe grip with their wooden handle. On the other hand, handles made of rubber or plastic are more ergonomic for your hands.
It would be best if you looked for a model with a metal hilt between the handle and the blade. This will provide protection against hand slippage, which is especially important while working with hard soils.
And lastly, get handles with stainless steel rivets to secure your blade and handles better.
3. Tang
Tang refers to the blade section that extends all the way into the handle section. In most cases, it consists of a strip of metal that runs up to the handle of Japanese gardening knives.
The knife is said to have a "full tang blade" if the blade extends all the way to the handle butt and is usually meant for heavy-duty use. This configuration offers the highest level of durability possible.
Therefore, it's best to buy a knife with a blade made of high-quality stainless steel which extends into a stable, long-lasting full tang handle.
4. Sheat
It would be best to buy a Hori Hori knife with a robust & thick leather sheath with a belt loop. Although genuine leather sheaths are the most robust, synthetic materials such as nylon or plastic can be equally as long-lasting.
If you want to keep your Hori Hori knife secure and rust-free, you must keep it in a sheath. If you don't purchase a knife with a built-in sheath, you must purchase one separately. But finding one that's the perfect fit for your blade might be a challenge.
5. Sharpening Tool
You will need a sharp knife to tackle the toughest garden jobs. So it is critical to have access to sharpening tools to keep your blade sharp.
When shopping, you should always search for products that offer value additions.
For example, if you want to ensure that your Hori Hori knife is always in tip-top shape, it is a good idea to look for items that come with a sharpening tool to keep your knife sharp.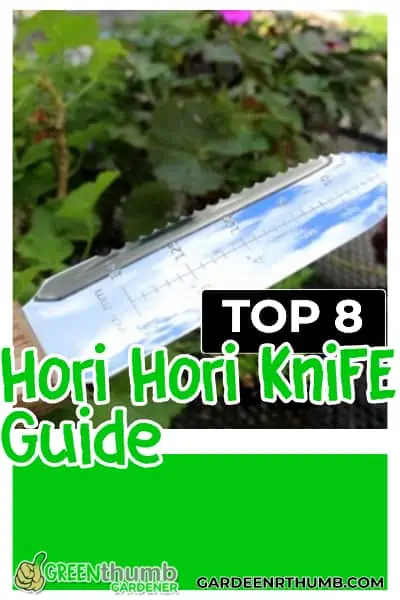 6. Made From Premium Materials
Find customer reviews to determine how the different models fared in actual use. Don't look for cheaper models; try to find Hori-Hori knives made from premium materials and durable construction.
For example, models made from Carbon steel or high-grade 420 stainless steel blade is always a good choice. Thick stainless steel blades have excellent corrosion protection.
Knife blades made from these materials are an ideal choice for heavy-duty digging.
7. Warranty
Selecting the perfect garden knife is easy when you know what to look for. You should not only look for something comfortable to use but also long-lasting.
Check for the warranty; some models offer a 2-year standard warranty while others can have a solid five-year warranty on their knives.
Download ​our FREE
Garden Hack Guide
Enter your email below and we will send you a guide to help you SAVE money in your garden.
Final Thoughts
The Hori-hori knife can be an excellent addition to your garden tool collection. Its incredible versatility makes it a convenient tool for a wide variety of gardening chores and an excellent gift for gardeners. Aside from its garden application, it can also be an excellent tool for camping, hiking, fishing, and hunting.
All of the Japanese knives that were evaluated possessed a variety of positive qualities and characteristics. However, the Nisaku NJP650 Hori-Hori Weeding and Digging Knife is our Green Thumb Choice award winner.
It functions well and has many great features, such as a 7-inch blade, complete tang, and a stainless steel blade resistant to rust. It's an excellent choice and is offered at is very reasonable price range.