Top 10 Drip Irrigation System [Review & Buyer Guide]
Last Updated 6/27/2022
Drip irrigation system offers one of the most efficient irrigation methods that have been used for years. With the high demand for making work easier and maximizing output at home, manufacturers have made massive improvements to this irrigation system.
On the other hand, this poses a hectic task of finding the best drip irrigation system for gardeners.
Read on to get the most appropriate system for your garden and more in-depth insight into this topic.
Top 10 Drip Irrigation System
Green thumb Gardener occasionally links to product and/or services offered by vendors to assist you with all your gardening needs. Some of these may be affiliate links, meaning we earn a small commission if items are purchased. Check our terms here.
Best Drip Irrigation System Reviews
This is a high quality sustainable outdoor system that waters up to 12 plants. It has an automatic system thus does not require power or pumps to run. This makes it ideal for people in areas where power is rationed. Besides, it makes it cost-effective.
It is ergonomic, featuring an easy to install construction. Essentially, you only need a few minutes, and the whole system begins to work. Blumat also comes with easy to read instructions.
The multipurpose system is ideal for watering plants in a greenhouse, hanging cans, patio, raised beds, vegetable gardens, among others.
Exceptional to this sturdy construction is the ability to automatically control moisture. The system detects how moist the soil depends on the settings and will only water the specific plant as it begins to tumble dry. The ideal moisture level is, therefore, maintained. For this reason, plants cannot be over watered or under watered.
The irrigation kit is durable and is well-engineered by experts to ensure no water messes whatsoever. The gravity-fed system should not be used indoors as it could cause flooding if there is a run-away, may be caused by a pet or a kid, where there is unceasing water supply.
PROS
Automatic moisture control preventing overwatering or under watering
Efficient with no power, pumps, or timers required
It is affordable
It is easy to read instructions
CONS
The tubing cracks after a short period of exposure to the sun
Some customers complained of kinking after a while
CHECK CURRENT PRICE: Blumat TROPF Medium Deluxe Irrigation Kit (12 Pack)
---
This is an irrigation system in which convenience, durability, dependability and quality have all been achieved. It is designed for small farms, which are up to 15 rows.
Drip Tape Irrigation Kit for Small Farms is ergonomic. It comes with step-by-step instructions easy to understand. This allows you to set it up quickly. Where expansion is needed, everything about it is included in the manual.
More information about it is also available online.
The user-friendly design is very economical, featuring a water-saving construction. The irrigation drip allows you to make sure that water only flows where it is required.
Evaporation is also minimized as water drips near the roots of the plants. The system is, therefore, ideal even in areas where there is a water shortage. For this reason, the maintenance cost is meager.
The elegant construction is straightforward and affordable. However, this does not compromise its quality and efficiency as it works flawlessly in small farms. It is also very durable, and quality is 100% assured.
PROS
Convenient for both large scale farmers and small scale farmers
Requires no tools to connect it to the water source
Can be installed easily
CONS
Comes with a lot of parts which may take a longer time to complete setting up
CHECK CURRENT PRICE: Drip Tape Irrigation Kit for Small Farms
---
This is a premium quality design with an arsenal of standard parameters, which will surely leave you satisfied. The high-quality drip has been designed with very high technology to ensure that all the preliminary designs' problems are solved. It works best in an averagely sized area.
Inimitable to this modernized construction is pressure-compensating technology, ensuring that all plants are watered equally regardless of location. The design also has watering devices of three different types.
Drippers allow you to water individual plants. This implies that water only drips where the plant is. Micro-sprays and micro-bubbles allow one to water plants that are widely spaced.
Clogs are very common to drip systems. However, this comprehensive drip irrigation system with 108 kit pieces is clog-resistant as it is fitted with devices that prevent clogging. This, in turn, lowers the maintenance cost.
From the outside faucet, connections are made to solve the three common problems in drip irrigation systems; water backflow and sediments, which results in clogging and regulation of pressure.
The tubing is done professionally to ensure there are just a few tight turns. This warranties easy installation. The design is also very resistant to chemicals and algae, which are a significant threat to most drip irrigation systems.
Unique to this tubing is micro-porous technology. The tubing expands then shrinks, creating very tight connections. The probability of tubing coming off to cause flooding is zero. The whole system can be automated using a Rain Bird 1ZEHTMR timer for the hose end. The timer is, however, sold separately as it is not part of the package.
Rain Bird LNDDRIPKIT Drip Irrigation Watering Kit is highly dependable and affordable. Its durability goes unquestioned as it is manufactured by a renowned company for the manufacture of irrigation merchandise.
The construction has a very decent warranty and a fast responding customer care team, which is, needless to say, a mark of quality.
PROS
High performance
It is resistant to clogging
Lasts long
Employs micro-porous technology which prevents flooding
CONS
The micro-sprayers cover a small area
The plastic parts are very bridle
CHECK CURRENT PRICE: Rain Bird LNDDRIPKIT Drip Irrigation Watering Kit
---
BEGINNERS CHOICE
4- 25′ rows
Drip Alternative
Garden Row Snip-n-Drip Soaker System is a well-engineered irrigation system that is highly customizable. The elegant construction allows you to adjust the exact points at which you want the water to drip. This implies that water is only where it is needed.
Besides, one can plant different plants as it does not limit you with the water points' spacing. With this ideal system, water wastage is unheard of. Additionally, evaporation in this irrigation system is minimalized as water only drips near the plant's roots.
The exceptionally customizable system is easy to install and adjust. Apparently, one does not require any tools to set it up or adjust it other than scissors to cut the hoses into the required sizes.
Besides, it comes with clear instructions, and customer service is easy to reach.
The soaker hoses are held in place by staples. The staples are all the same purchased separately as they are not part of the package.
It has a pressure regulator that is easy to work with and works best at about 10 Pressure Safety Low (PSL). It is important to note that when the ideal pressure is exceeded, the end plugs may come off, causing flooding.
PROS
Highly customizable
Requires only a pair of scissors to set up
Comes with a pressure regulator
Prevents water wastage
CONS
May cause flooding if the pressure exceeds the required intensity
Constant cutting of the end tube in reviving it after coming off may shorten its lifespan
CHECK CURRENT PRICE: Garden Row Snip-n-Drip Soaker System
---
BEST CHOICE
Waterwell Irrigation System represents an efficient system that you can customize to apply water at your preferred points. The system comes with 100 inches drip line, 25 inches of garden hose, ground spikes, a pressure regulator, quick connectors and fittings.
These features provide a reliable watering for up to 4 25-inch rows.
You can also save water with the WaterWell irrigation kit. Its customization ability allows you to position the perforations near the plant, enabling you to apply water directly to your plants.
As a result, the plants receive enough water, reducing water wastage. It also discourages weed growth between the rows.
Moreover, you might find this irrigation kit an excellent option in preventing weed growth between the rows. The system directs water on the plant base as the ground between the plants remains dry. This discourages weed growth.
You can also obtain a timer separately to enable you to schedule watering sessions. This gives you an allowance to let the system do the work for you when you are away, saving your time and energy.
PROS
It is customizable
Minimizes weed growth
Easy to install
Prevents water wastage
CONS
You have to buy a timer separately
Some customers complained of weak distributor hose
CHECK CURRENT PRICE: WaterWell Drip Line Kit Irrigation
---
One of the most versatile drip irrigation systems, the Waterwise irrigation kit is ideal for watering potted plants, flower boxes, vegetable gardens, hanging baskets, trees, and herbs.
Watering has never been this easy. The kit comes with drippers to make it convenient for watering up to 30 containers. Alternatively, a single dripper can be used to water a landscape for every 1 Square foot.
The system also can use a single faucet to enable you to water up to 10 potted plants.
Moreover, the system contains vinyl tubing, drippers, nail clamps, support stakes, a faucet adapter, backflow prevention valve, barbed tees and crosses for swift and convenient watering.
Waterwise Drip Irrigation Kit also contains one of the high-quality materials and skillful crafting to give you years of excellent service. You don't have to drain water from the system during winter.
With a pair of scissors, you can easily set up the system and get your plants hydrated on the go.
PROS
Easy to set up by using only a pair of scissors.
Does not require you to drain water from the system in winter
High performance
Durable
CONS
Lacks end cap plug
Some customers complained of inconsistent watering.
CHECK CURRENT PRICE: WaterWise Drip Irrigation System
---
There are various types of irrigation systems, but nothing beats a practical, cost-effective automatic watering system. For instance, Raindrip has come up with one of the best automatic watering kits for those using containers and hanging baskets for planting.
The kit comes with everything needed to start getting your garden watered automatically.
You can easily customize Raindrip to match your plant design. Its 3 easy to follow installation steps make it excellent for anybody who could use a drip irrigation system.
Raindrip used high-quality materials to make this irrigation system durable. The linear, low-density polyethylene and UV inhibitors make Raindrip perfect weather-resistant. You may choose to bury it on the earth or set it on the surface in any weather.
Besides, this irrigation kit comes with a timer and supply tubing threaded like a garden hose to make it easy to hang it quickly before you begin using it.
Additionally, you can save up to 70% of water using this drip irrigation package while keeping your plants healthier each day. Thanks to its irrigation mechanism, that ensures that water is directly channeled to the plant root avoiding water loss through run-offs or evaporation. This also makes Raindrip R560DP suitable for drought-prone areas.
PROS
Easy to set up
Requires no tools
Have an easy to follow user guide
Lasts long
CONS
Not suitable for watering lawns or massive gardens
Requires a pressure regulator.
CHECK CURRENT PRICE: Raindrip R560DP Automatic Watering Kit
---
Drip Irrigation System 82ft 1/4″ Kit is a multipurpose drip irrigation system that is ideal for gardens, patio, lawn, greenhouses, flower beds, cans, vegetable gardens, among others.
With the Drip Irrigation system, flooding is totally eliminated; thus can be used both indoor and outdoor. It is made of high-quality Acrylonitrile butadiene styrene (ABS) plastic and rubber. The materials are ultra-safe as they do not affect the growing plants.
The 82ft ¼" kit is designed with a greenhouse in mind. Its resistance to chemicals is unequaled. It is also resistant to ultraviolet rays as the materials are anti-ultraviolet. The strong construction is engineered with the skill to stand any weather.
It can also be buried, adding to its expediency.
The drip irrigation kit saves up to 70% water as water only drips where the plant is. Additionally, evaporation is significantly minimized. All plants get equal amounts of water simultaneously, making it very easy to regulate.
Where various plants require different amounts of water, water spray modes can be adjusted. In this highly dependent design, switching from one mode to the other is also very easy.
The installation of this irrigation drip is a cinch. It does not require expertise to set up and to use. Furthermore, it comes with easy to read instructions. The instructions are also available online.
The ergonomic construction is highly automatic and will run perfectly without supervision. The quality is guaranteed as it comes with a decent warranty.
PROS
Prevents flooding
All-weather resistance, including chemicals and UV rays.
You can switch between the uniform water flow mode or customizable mode.
Saves time and energy
CONS
The further the distance from the faucet, the lower the pressure
Instructions are a little bit unclear
CHECK CURRENT PRICE: Drip Irrigation System 82ft 1/4″ Kit
---
[lasso ref="outerdo-drip-irrigation-kits-50ft-15m-plant-watering-kit-with-distribution-tubing-hose-adjustable-nozzles-mist-cooling-irrigation-system-automatic-irrigation-set-for-garden-greenhouse-patio-lawn" id="10882″ link_id="22033″]
This is a high-quality drip irrigation kit that delivers ultimate watering efficiency. It is skillfully made to ensure that no water is wasted whatsoever. Every plant gets just enough water as it allows you to choose a particular amount of water for individual plants.
The highly customizable construction, therefore, not only allows you to grow different types and sizes of plants but also allows you water only the plant that is drying off in case of water shortage.
Besides, it has two modes; columnar mode and foggy mode, where switching between the modes is stress-free.
In this ergonomic design, affordability, quality and ease of use have been fully achieved. As the name enacts, it has a hose that is 15 meters long. This makes it very opportune for the garden. It is multipurpose as it works flawlessly in watering plants in gardens, patio, potted fruits, vegetable gardens, raised gardens, among others.
The premium quality drip system that has been designed with proficiency to ensure that it serves you sufficiently for as long as you need it.
It is made of durable Acrylonitrile butadiene styrene (ABS) plastic to last long. All the materials are anti-ultraviolet, making it very safe.
PROS
Offers enough water to specific plants according to the need.
Easy to change between columnar mode and foggy mode.
It is versatile. You can use it in multiple areas.
Durable
CONS
Some customers complained of the end screw not fitting on to the faucet
Extreme heat causes the tubes to soften, causing them to pop out of the fittings.
CHECK CURRENT PRICE: OUTERDO Drip Irrigation Kits, 50ft
---
You might find Flantor Garden Irrigation kit your best choice if you have a limited budget. In spite of its affordable price, the kit comes with great features.
You can use this system in several places, right from watering your patio, greenhouse, lawn, and flowerbed in the backyard. You can also use it on hanging gardens efficiently.
The automatic drip irrigation system will keep your plants watered even when you are away. Just a few minutes, and you will fully set up your system without much hassle. This means you will save your time as well as energy.
You can also save your water, especially if you garden in an area where the resource is scarce water. Thanks to the high-quality materials and making that minimizes water loss. The system's capacity for allowance of individual nozzle adjustment makes it easy to let water into the soil according to the particular plant need. This also prevents water wastage.
Above all, the Flantor kit comes with all you need to install the full system. You also get easy to follow the user manual to ease the entire process. Once installed, you can simply turn the tap on at your own convenience.
PROS
The kit is affordable
It saves time and energy
It is versatile. It can be used in several places
Prevents water loss
CONS
Does not come with a timer
Reduces efficiency when more than 10 heads are installed on it
CHECK CURRENT PRICE: Flantor Garden Irrigation System
---
Choosing The Best Drip Irrigation System
Are you worried about how to choose your best drip irrigation system? Right, not all designs will work best for your garden. It is wise to try out the product before spending your money on it.
Alternatively, there are a few pointers to help you determine the drip irrigation kit best for you.
1. Essential Tools
Drip irrigation systems usually come with several parts and accessories. Although most of them are simple to install, some may require additional extra tools to install successfully.
It is important to go for the kits with all you need to install included in the package.
Additionally, it can be a plus if you find the one with a faucet adapter and a Teflon tape on top of the primary system parts. Teflon tape is crucial in preventing leaking.
2. Tubing Length
It is recommended to measure your garden before you purchase a drip irrigation kit.
Carefully determine the length of rows and their number and check on the tubing length before buying the equipment. The longer the tubing, the more efficient the system will be.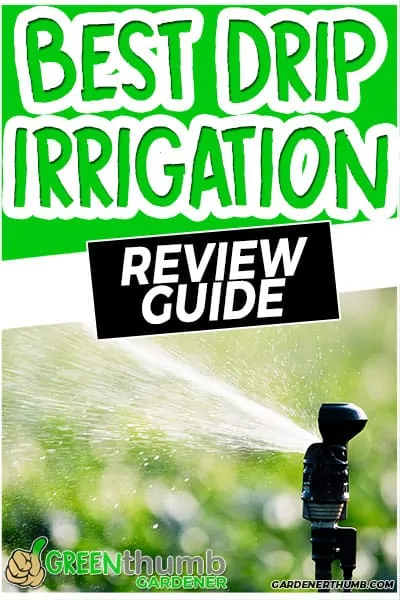 Also, take note of the distance of your garden from the water source. This will help you determine the length of system tubing suitable for you.
3. Timer
This is another significant factor you should look at if automatic watering matters to you. The timer will help you make the watering automatic even in your absence. It is responsible for ensuring your plants get hydrated at a specific time each day.
Some watering systems lack this device but give an allowance of fixing it after buying it separately. It is vital to check on this feature if the kit doesn't come with the timer.
4. Water Flow Type
Drip irrigation systems offer different choices for water flow. It is good to understand them before you buy one to avoid disappointments.
Below are the various options.
Automatic – Most manufacturers have turned towards this perspective. Some provide the timers as others give allowance for one for your own preference. Automated systems can amaze you in doing your work while you are away.
You are only required to set the time you will want to water your plants, and the system will do your work daily. This could be the best option for constant absentees and if you're going to save your time and energy.
Adjustable – An adjustable system is perfect for the garden, with plants having different water requirements. This could be a result of varying plant types in the same garden. The adjustable nozzle enables you to set them to determine the amount of water they should let out to the plants during irrigation.
Micro-sprinklers – You could probably be thinking about how a drip irrigation system can employ sprinklers in letting water into the plant roots. Assuredly, these micro-sprinklers work exceptionally in the system with high water pressure. They prevent the plants from being destroyed by the high pressure.
However, it is wise to determine the right time of watering to prevent your plants from being hurt by the sun.
Since this type of watering may leave water droplets on your plants' leaves for some time, it is recommended to water in the morning hours to prevent possible fungal diseases.
Dripper having constant flow – This type of water flow is best for plants with the same water requirement. It is also great for plants requiring a constant supply of water.
This system continuously allows water to flow through the drippers to make the soil around the plants constantly moist.
Self-compensating dripper – This system will work the same as the system with a dripper having constant flow in providing the same amount of water in each plant. However, this one requires a pipe with a length of at least 25 meters.
Benefits Of Using A Drip Irrigation System
1. Saves You Money
The system is considered the most cost-effective in ensuring the plants are hydrated appropriately. This is because of their ability to save up to 70 percent of water.
Its way of watering your plants entails directly letting water at the base of every plant to make the soil around the plant root moist.
2. Customizable
You can easily dictate the path through which the tubing should take and the nozzle position in most models. This allows you to reach your plants through the obstacles that could be present in your garden.
Various drip irrigation systems contain different ways of water flow to cater to your needs.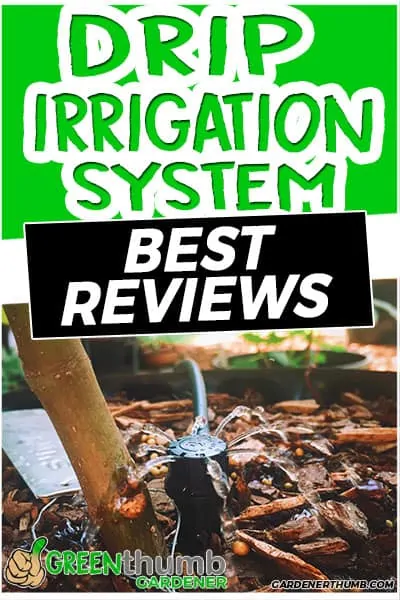 3. Prevents Fungal Infections
Fungal and some leave related diseases can be prevented using this irrigation system. This is because it applies water directly to the plant roots. This prevents water droplets from clogging on the leaves, which risks diseases and pest attacks to the plant.
4. Easy Installation And Usage
With a drip irrigation system, you don't need to alter your landscape. You can conveniently run the tubing through obstacles in your garden. You can also quickly set it up through the easy installation steps.
When it comes to operation, drip irrigation systems offer one of the swiftest and effective watering. After installation, you will only require turning the tap on and off to get your plants hydrated.
There are also automatic models that you will only need to set time and let the system do the work for you daily.
5. Curbs Weed Growth
Since the drip irrigation system distributes water around the plant area, zones between the rows stay dry. As a result, the weeds that could lookout to grow between the plants will be dehydrated, discouraging their growth.
Steps on How to Install A Drip Irrigation System
By now, you have learned a lot, and you probably have a clue about the kind of irrigation system you need. Before installing, ensure that all parts are delivered to you as indicated in the package.
Here are the steps to follow in your drip irrigation system installation.
1. Take Measurements
Measure the crop lots and make the markings on the pipelines. This applies to the unperforated pipes. They are great for customizing the tubing to feed the plants at the required intervals.
Some manufacturers make the perforations at 18 inches intervals and fix emitters. You need to ensure that your plant interval matches these perforations at the planting stage.
2. Connect Water Source
Start by attaching the filter to the pressure regulator. Join the hose swivel on to the pipe thread opening visible on the side of the filter.
It's good to check on the threads to ensure that you buy matching thread types. Then screw the whole parts.
If you are connecting the system to the house supply line, you should ensure that the water doesn't backwash. Some kits come with vacuum breakers for doing this job. If yours lacks one, you should get it and screw it to the pressure regulator.
3. Tubing Layout
After connecting the tubing onto the faucet, the next thing you will do is laying the tubing through your garden. Ensure the hose bib is long enough to cover all the plants.
To make it easy to operate with the tubing, you may lay it out to be softened by the heat of the sun or soak it in warm water.
Where the tubing demands a sharp angle, cut it, and fix it with a tee or elbow connector. Then install the ground streaks to keep your tubing firm on the ground. You can later cover the tubing with mulch.

4. Install the Connector
On the marked point on your tubing, make holes. The holes should be round and small, where the connectors can seal tightly. Press the barbed connectors into the holes.
You can add tubing to reach your dripper or the sprinkle location if they are not enough.
5. Watering Device Installation
Get a watering device of your choice and fix it at the watering points. There are several watering devices that you can obtain according to your needs.
A few of them include the drippers, bubblers, sprayers, soaker drip lines, and sprinklers.
6. Close off the Tubing Ends
Once you are done with fixing all required parts, turn on the tap for a few minutes to flush out all dirt. Then fold the end of the tubing and slide a loop of the end clamp around the folded tubing.
Download ​our FREE
Garden Hack Guide
Enter your email below and we will send you a guide to help you SAVE money in your garden.
Final Thoughts
By now, you could be having a clue about the best irrigation system for your garden. However, the Garden Row Snip-n-Drip Soaker System proves high efficiency, customizable, easy installation and outstanding parts.
It employs one of the best mechanisms in controlling the water flow using the pressure regulator. This is why this is my best choice.
You know what works best for you. You can go through this article again to get a more in-depth insight into finding the best drip irrigation system.
Above all, you have the opportunity to learn the reason why you need this remarkable system in your garden.
Related Questions
Are Drip Irrigation Systems Good?
Drip irrigation systems are one of the best methods you can use in watering your garden.
These systems boast of one of the most effective, water-saving, affordable, and easy to install and operate watering systems.
How Do I Choose A Drip Irrigation System?
The main thing to look at is the convenience and effectiveness of the system in your garden. For details, you can check the above on different factors to consider.
How Long Should You Run Your Drip Irrigation?
Since the pressure and the tubing diameter may vary, consider the emitters in determining the amount of water you are releasing to the plants. The amount of water you let out of the tubing will help you know how long you should run your system.
Which Is Better Soaker Hose Or Drip Irrigation?
A soaker hose could be cheaper, but water plants, as well as the areas between the plants which have wastewater and could encourage weed growth. On the other hand, drip irrigation precisely waters the plants at the root zone.