Best Garden Shovel Buying Guide
A quality garden shovel is a versatile tool and a must-have for digging, planting, removing weeds, and creating a fantastic new planter bed.
Having the best garden tool and equipment is essential so you can do your gardening task faster and more efficiently.
There are several types of shovels to choose from depending on the size, materials, type and price. Here is the list of the top garden shovel.
Best Garden Shovel
Green thumb Gardener occasionally links to product and/or services offered by vendors to assist you with all your gardening needs. Some of these may be affiliate links, meaning we earn a small commission if items are purchased. Check our terms here.
Top Garden Shovel Reviews
The Radius Garden 25202 Pro-Lite Carbon Steel Shovel is an award-winning modern shovel ideal for rocky and clay soil. It has a classic round point designed with a slightly cupped blade.
It has a fiberglass shaft and carbon steel blade measuring 9.5 by 11.25 inches (28.57 cm) and has an overall length of about 44.25 inches (112 cm). Its innovative blade design can relieve hand, arms, and wrist stress.
It's a must-have tool that has a nice smooth and solid handle. It also feels good, comfortable, and well-balanced.
PROS
It has an extra-wide and elevated forward step that is designed for safer digging.
It is a heavy-duty shovel made from a rugged carbon steel blade for added strength and durability that can handle tough soil
Low maintenance and only needs basic cleaning after each use
CONS
The width of the shovel is a little narrow, making it hard to use both feet as leverage to get in the dirt well
The blades design is a bit too curvy
The fiberglass shaft is light and easy to handle but may not be sturdy enough for heavy digging
CHECK CURRENT PRICE: Radius Garden 25202 Pro-Lite Carbon Steel Shovel
---
The Ashman Shovel is a multi-utility gardening shovel that is designed for transplanting, trenching, moving composting, and other multiple purposes.
It has a D handle grip with a durable handle with a 41 inches (1 m) long shaft. It has a 2.2-pound heavy-duty blade that can dig, scoop, cut, and dice through tough soil.
This versatile gardening tool has good ergonomics and comfortable to use. It has a D-shaped handle which makes it easy to handle and provides two-handed control. The shovel gets the work done and has amazing quality.
PROS
Its round blade and teardrop-shaped end shovel blades can penetrate the soil easily
Its hardened round blade is highly durable, strong, and sharp, making it easy to handle the hard ground and other common types of soil.
It is very efficient and can handle diverse shoveling needs in the garden
CONS
It is shorter than the average shovel and might be hard to use for some users
The fiberglass handle looks like it has a wooden core with a thin fiberglass shell
Can be a little heavy for some users
CHECK CURRENT PRICE: Ashman Round Shovel
---
The D Handle Shovel is an all-metal digging spade shovel with a rust-resistant design. It is a multi-utility shovel designed for transplanting, trenching, moving composting, and digging garden beds.
It is a 29.6-inch steel spade shovel with a round point and short handle ideal for use in dry areas with compact grounds.
Its small size is excellent for children, and its D-shaped grip makes it easy to handle the mini spade shovel.
PROS
Very useful and affordable
Its small size makes it light, handy, and great for small gardens
It has a one-piece and all-metal construction
CONS
It is not a full-size shovel and too small for some users
The shovel finish is painted and not baked, making it easily scratched
It can bend or break on its soldered joints
CHECK CURRENT PRICE: D Handle Shovel for Gardening
---
The Root Assassin One Shot Garden Shovel is a landscaping spade with a patented wing design that can let you carry more materials in a single scoop. Its durable 6 lbs blade with an all-steel construction will not bend or break and is ready for tough digging jobs.
It has a high-strength fiberglass handle that withstands rust and will not chip like an average shovel.
It has a lightweight and sturdy D-shaped grip made from high-strength aluminum that is comfortable and easy to hold. It is good at digging, removing dirt, sand, mud. or a trenching shovel
PROS
It has an extra-large footstep that can give you extra leverage and help you shovel deeper and more effortlessly.
It has a patented wing that can ensure more payload in one scoop making the work faster and more efficient.
Made from heavy-duty materials making it tough and sturdy
CONS
Can be a little heavy for some users, making it hard to use
The shovel handle can break easily and is not sturdy
The fiberglass shaft is light and easy to handle but may bend and break during regular use
CHECK CURRENT PRICE: Root Assassin One Shot Garden Shovel
---
The Roamwild Multi-Digger Garden Classic Round Point Shovel is a lightweight & reinforced fiberglass shovel with a unique dual soft AIR light Grip Technology.
Its modern-shaped cupped head has a large surface area for plates to move large amounts of materials faster. It works well in compacted soil, clay, and rocky soils.
It has an AIR light ergonomic handle and durable coated blades that offer an ultra-lightweight experience compared to a traditional shovel.
PROS
It has a root cutting edge that cuts through roots and sods easily
It is a lighter shovel and has a lightweight fiberglass shaft for easy handling and use
Made from UV stable and durable materials
CONS
Not that too lightweight as advertised
Short handle for close-range digging
Very reliable but is a little more expensive than an average shovel
CHECK CURRENT PRICE: Roamwild Multi-Digger Garden Classic Round Point Shovel
---
The 163118800 Thumb D-Handle Round Point Mini Shovel is only 26 inches (66 cm) long and 6 by 6 inches (15 cm) with an 8 inches (20 cm) long blade.
It is a great mini shovel that can be used for small jobs. It works well in loose soil. Its small size and narrow blade make it ideal for small gardens, tight spaces, and narrow trenches.
It has a D-shaped grip plastic handle for smooth and easy handling.
PROS
Great when you dig in tight spaces
It small and very portable and can be brought to a campsite or placed in the car trunk as an emergency shovel
Its well-built and can also be used for other purposes like using it as a beach shovel
CONS
It is not a full-size shovel and too small for some users
The edge can be sharp so be careful around small children
Not suitable for hard ground, rocky soil, and digging deep holes.
CHECK CURRENT PRICE: AMES Companies, The 163118800 Thumb D-Handle Round Point Mini Shovel
---
The Hooyman Shovel with Heavy Duty Construction features a new ergonomic non-slip H-grip that keeps a secure grip when wet. It has a custom serrated edge that is useful in scooping dirt with tough roots and harder ground.
It features oversized flanges on both sides of the blade. That can be used as added leverage. It is constructed using 1050MN steel, which ensures a solid performance.
PROS
It is made from a sturdy steel construction for added strength and durability that can handle the different types of soils, including hard-packed soil and rooty soils
Has a comfortable grip that ensures secure grip in wet environments
It has a limited lifetime warranty
CONS
Some users report it did not hold up after heavy-duty use
The carbon steel may rust when the coating wears off.
The fiberglass shaft is light and easy to handle but may not be sturdy enough for heavy digging
CHECK CURRENT PRICE: Hooyman Shovel with Heavy Duty Construction
---
What Makes For a Good Shovel?
A shovel is a tool used for digging, moving, and lifting materials such as soil, gravel, snow, coal, or ore.
The major components of a shovel are grip, handle, collar, step, blade, and tip. Each component is essential for the shovel to work effectively and efficiently.
1. Handle
It is the part of the shovel used to grasp or hold the shovel. Not all shovels have grips. The handle is usually connected to the shaft using rivets or other fastening materials. Handles provide extra leverage when lifting heavy loads.
There are three types of handles
Straight handle – not all shovels have handles, and some have straight handles, which means the user is holding the shovel's shaft when using the shovel.
D-Grip Handle – is one of the most common types of handle is the "D" shape handle. Most D-grip are attached to the shaft using rivets or fasteners and are prone to damage over time. Some makers of shovels combine the grip and shaft to make them more sturdy.
Crutch Handle – is also called a T-grip and is usually longer than a "D" grip. T-grips usually have grooves, so you position your finger correctly when holding them.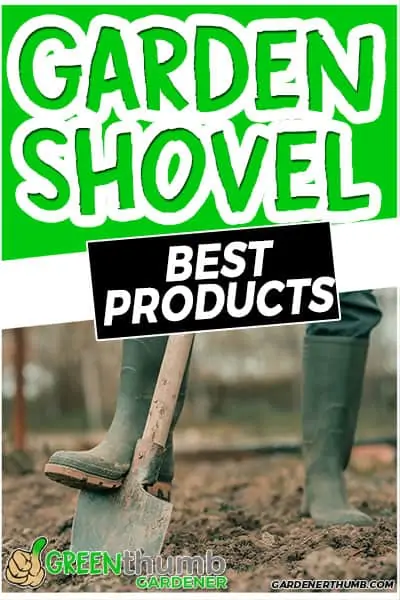 2. Shaft
This is the long pole connecting the handle with the blade of the shovel. Shafts are usually straight, but there are special shafts that are curved.
They can come in various sizes, lengths, and made from wood, metal, fiberglass, and plastic.
3. Step
This is the part of the shovel where the user can place their foot for added leverage and force, especially for compact or hard soil.
4. Blade
It is also called a scoop, it holds the materials being moved. The blade can come in many shapes and sizes. They can be square, round point, or tapered in shape.
Blades are usually made from aluminum, metal, or plastic. High-end blades are made from a sheet of steel.
Thicker blades can be made from a 14-gauge steel blade.
5. Tip
It is also called the cutting edge is used to cut through the clay, soil, sand, snow, and other materials.
What's the Difference between a Spade or a Shovel?
Many people interchange the terms "shovel" and "spade", but technically these tools look similar, but they have a different function.
In reality, there are many other similar garden tools such as scoops, trenching shovels, garden shovels, and other specialized shovels.
Digging tools are essential garden tools and knowing how to use them is very important.
Garden Shovel
Probably the most common digging tool is the garden shovel. It typically looks like another shovel for digging that has a handle and shaft.
It usually has a curved blade with a rounded point at the tip. The blade is typically concave to make it easier to hold and move soil around the garden.
It also has a step or collar where you can place your foot for extra push when you're dealing with hard garden soil.
Spade
Looks very similar to a shovel hence the confusion. But the main difference is that the garden spade has a flat edge blade. This is used for cutting through hard soil and roots.
Spades can also be used to carry materials around the garden because it shares a similar concave share to shovel. Similarly, you can put your foot on the step or collar to provide an extra push.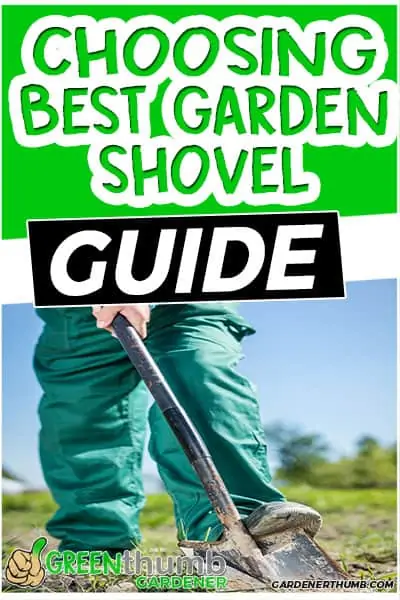 Garden Scoops
It is designed to move large piles of soils, leaves, dirt, gravel, mulch, and other garden materials. It has a large flat blade with sidewalls to keep the content within the scoop. It is not designed for digging but only to collect materials.
Snow Shovel
They mainly are designed for two functions, either to lift snow or for pushing snow. They have a very wide blade that curves upwards and has no sidewalls.
They can be made from metal and plastic and should be sturdy enough to withstand the snow they can scoop or push. Similar to a classic shovel with its blades attached to the shaft and the handles.
Trench Shovel
They look similar to the shovel with a handle and shaft. But they have long, narrow blades around 4 inches in width.
This makes the trenching shovel an ideal tool in digging a deep trench to dig drains or install irrigation systems.
Gardening trowel
It's a small and garden hand tool use for scooping, spreading, digging, or manipulating other garden materials. It is a much smaller version of a spade.
A garden trowel typically has a short wooden handle attached to the tiny blade. Their blades are often narrow with sharp with a sharp tip use for digging.
Things to consider before buying a Shovel
The shovel is one of the essential gardening tools readily available in local shops and online stores. It does not have complex parts like electronic equipment, but there are still some important things to consider before purchasing your shovel.
You don't want to end up buying one and then realizing it was not the right shovel for your garden needs.
We have listed a few things to consider when choosing the best shovel.
Blades
The blade is an essential component of a shovel, mainly because it does most of the work, like digging and carrying materials. So choosing the right type of blade is necessary.
When selecting the blade, you have to consider the many factors. Almost all digging shovels and garden spades are made from steel blades.
Steel blades are very durable and can withstand a lot of abuse, primarily if you use them in hard ground or rocky soil. There are two types of steel materials used in manufacturing the blade, the forged blades and stamped steel blades.
Forged blades are ultra-heavy-duty shovels and have a more durable construction. They have a thicker blade and forged in heated steel. Stamped steel is also sturdy, and it is usually machine-stamped from a thick steel sheet.
But forged steel is more rigid and one of the toughest shovels. So if you're looking for a shovel for heavy-duty use, choose a forged steel blade.
But of course, you have to pay an extra premium for the higher quality. If you are looking for a cheaper alternative for regular use, the machine-stamped blade will be your best option.
Some shovels are also made from stainless steel and aluminum like the snow shovels. They are usually lighter than their steel counterparts and ideal for light use.
Handle length and Materials
Shovel handles are usually made from wood, fiberglass, and steel. Traditional shovels usually used wooded handles.
Modern shovels used fiberglass due to its lightness and durability. But they are more expensive than wood handles.
Steel handles are heavy-duty and very durable. They cost almost the same as fiberglass handles but are heavier.
Shovel handles are usually 44-48 inches long. But there are shorter handles that are around 18 to 24 inches long.
Longer handles provide more leverage, especially in lifting heavy materials. But shorter handles work well in areas with limited space.
Grips
A general-purpose shovel usually has wooden grips attached to the handle. They are cheap and light but can cause blisters and can have wood splinters.
High-end shovels have additional protection such as foam, rubber, or plastic to protect the hands. Some even have a non-slip grip for a more secure and comfortable grip.
The most common type of grip is the D-shaped grip. It allows a more comfortable handling and better leverage when digging in compact or rugged soil.
But there are also T-shaped grips that work well if you need a twisting motion when using the shovel.
Shovel Weight
The total weight of the shovel will depend on the materials used in its construction. An all-steel shovel with an 18-gauge steel shaft would be heavier compared to a shovel with an aluminum or fiberglass shaft.
The total weight of the shovel makes a big difference when you work in your garden for a few hours. Shovels made from lightweight materials are easier to use and require less muscle strength to use.
But heavier shovels are very sturdy and can dig soil with ease.
Heavier shovels are a lot more durable compared to their lighter counterparts. But, they are typically more expensive.
Prior research is necessary when buying a new shovel. When choosing a shovel you have to consider the price, materials, weight, handle length, grips as well as your personal preference.
It has to fit your budget but at the same time can do the task in your garden. Read the product review in this article to help you find the right one.
Download ​our FREE
Garden Hack Guide
Enter your email below and we will send you a guide to help you SAVE money in your garden.
Final Thoughts
Choosing the right type of shovel is very important. . All the shovels reviewed in this article had many strong points and features.
But our Green Thumb Choice is the Radius Garden 25202 Pro-Lite Carbon Steel Shovel. It's modern, heavy-duty, and does its job efficiently. It has a reasonable price and good value for money shovel.
Related Questions
What are the different types of shovels?
Less expensive shovels generally have stamped steel blades, meaning the blade and attachment to the handle was machine-stamped from a sheet of steel.
What is a forged blade?
The most durable shovels have forged blades, meaning the blade started as a single piece of heated steel that was then hammered into shape.
What is a Trenching Shovel?
Trenching shovels have long narrow blades 4 inches is the most common size that come to a slight point.
How Long Do Garden Tools Handle?
Garden shovels, spades, and scoops usually have a handle between 44 and 48 inches long, which is a comfortable length for most gardeners.
What are the best tools for digging?
As a general rule, long-handled garden tools provide better leverage, are easier on the gardener's back, and are well suited to a wide range of digging tasks.
How do you use a shovel?
If we started from the top to the bottom, we would found the following: The grip The handle (it can be of different lengths) The collar (where the blade is connected to the handle)
The blade, which is typically made of metal, but in some cases, it can also be produced from plastic: The step is the flat portion at the top of the blade, and it enables you to push the shovel into the soil by using your foot and body weight, which is much easier than doing it with the strength of your arms.
What is the difference between a trenching shovel and drain spade shovel?
Drain spade shovel type has a narrow blade with a tip rounder than one on the trenching shovel.
What is a Scoop Shovel?
Scoop shovel is used for lifting and moving materials, but also for shoveling landscape materials like grain and mulch.
What is a Garden Shovel?
A typical garden shovel is an all-around tool with a rounded blade and slightly pointed tip.
What is the Blade Shovel?
The Blade Shovel The blade is the most important part of the shovel, and you have to pay special attention to its features if you want your tool to last for years.
What is the best type of shovel handle?
The basic rule of the thumb when thinking about the length of the shovel handle is: the longer, the better.
What are the features of a good shovel?
Here are the crucial ones we left out in the previous paragraphs: The build quality: This is determined by the materials used in construction but also by the way the handle is fixed to the blade, with the best way being the bolt.
How Much Does a Garden Snow shovel Cost?
Price: You can find different types and qualities of shovels for a price ranging from $10 to $50.