Best Grass Whip To Clear Weeds Fast
Last updated: 05/27/20
Your garden and lawn are two very important areas of your home which you must tend to and protect.
To do this you must have proper maintenance tools and one of them is a great grass whip to clear weeds fast – just in case your electric or push grass mowers don't fit the bill.
We also looked at a couple of sickles or a small version of grass whip that could be used for weeds or harvesting some of your wheat.
Check out our reviews below. You can also look further down for our buyer's guide
Green thumb Gardener occasionally links to product and/or services offered by vendors to assist you with all your gardening needs. Some of these may be affiliate links, meaning we earn a small commission if items are purchased. Check our terms here.
Top Grass Whip Reviews
A brief review of the Top 5 grass whip products are given below for the purpose of identifying the very best among them with supporting reasons given for making the final choice.
A brief description of the product, its pros and cons and enticing utility are used as bases for finding the winner.
This grass whip was designed for tough clearing and scrubbing all types of climbing vines, weeds and undergrowth.
It's sturdy make is softened by its black rubber 9" aluminum tube handle. It has a sharp 9" carbon steel straight edge hooked blade that provides powerful cuts and is very useful for horticulture activities.
Some other key features of this sickle:
Can cut bamboo & cuts vines like a knife through butter
Great for harvesting oats
Can clear weeds that invade woodland areas
Can be used to cut banana leaves off the trees
Effectively cuts branches of a rubber tree
Trims hedges, vines, and bonsai
PROS
Forged from SKS Steel
Good blade shape
CONS
Soft steel that dulls fast
Poor construction quality
CHECK CURRENT PRICE: Zenport Aluminum Handle K310 Brush Clearing Sickle
---
This is a double edged serrated blade whip forged from tempered steel that stays sharp with periodic sharpening.
A 30" shank provides extra reach and can be used in a swinging motion to the left and right leaving the double edged blade to do the rest.
Highly effective when used on grass
Can sustain damage from too much force
PROS
Serrated edges on both sides of the blade and also called a weed cutter
Able to chop and hack through thick ivy
Easy to sharpen as often as needed
Great product for removing tall weeds and grasses
It suits persons who are tall
CONS
Previous models claimed it was not sharp
Does not work well when wet
Unable to handle thick plants
CHECK CURRENT PRICE: AMES 2915300 Double Blade Weed Grass Cutter with Hardwood Handle, 30 Inch, Brown
---
The name aptly describes this whip as a grass and weeding sickle with an enhanced reach. It is part of a long line of similar gardening tools.
It is multi-purpose whip for cutting grass, branches, weeds and for edging lawns
Some other key features of this sickle:
Durable hardwood handle for grip during work
Ideal for cutting grass, branches, weeds
Provides extra reach for accessing hanging branches
The 2-foot handle makes it easy to reach back under trees and brush to clear the undergrowth.
Useful in gathering clover and dandelions for chicken and duck feed
Get rid of blackberries, ivy, and rough grasses
PROS
Forged from SKS Steel
Good blade shape
CONS
Soft steel that dulls fast
Poor construction quality
CHECK CURRENT PRICE: Nisaku NJP3210 7.5″ Extra-Length Grass and Weeding Sickle
---
This grass whip has been acclaimed as the best brass cutter mainly because it was crafted by hand.
It's also the perfect solution to noise, pollution, maintenance and chemical hazards and other reasons. There's no fuss or hassle; you just sharpen it and start whipping away!
Some other key features of the this grass whip:
The sharp blade makes the whip incise a very smooth cut
Long and short grasses are easily cut with one stroke.
No need to sharpen the blade for a few years.
Sturdy structural design is an added advantage
Puts no strain on the arms while clearing weeds due to perfect balance
The user always has a strong grip provided by the rubber covered handle.
PROS
Build quality is tops
A durable, very sharp blade
Simple to use
Can cut or trim bigger plants
Fantastic user experience
Balanced & Precision cutting
CONS
Once scratched the rod frame succumbs to rust
Rubber handle loses grip if damaged
CHECK CURRENT PRICE: Brushing Cutlass-The Most Elite Grass Whip
---
This version is another grass whip used to rid lawns, gardens and fence lines from unsightly weeds, tall grass and other objectionable growth.
It's very simple to operate needing neither electricity nor fossil fuel but the swinging motion and strength of your arms.
Some other key features of the this grass whip:
The perfect solution for ridding gardens of stem-less weeds and grass
Precision cutting is the hallmark of this cutter and not power cutting.
Ideal for cleaning parts of the lawn missed by your mower.
Sharp blades swing to a "to and fro" motion propelled by controlled pressure
The double-edged cutting blade must be used both ways
The serrated blades sharpen themselves during the cutting process and can't be manually sharpened.
The whip is able to go on cutting but the shaft can succumb to damage so avoiding stones during swings should be avoided to prevent damage.to the whip.
PROS
Ideal for getting rid of weeds and tall grass
Very simple and comfortable to use
Cutting long grass is not an issue for this whip
Precision cutting is its special hallmark
It's so light you'd never feel you were swinging something
It touts a serrated double-edged blade
CONS
The user usually has to bend over a little to make contact with the target
Its field of operation is limited to grass and weeds
Stemmed plants are too strong for cutting.
The saw-like blades can't be sharpened.
CHECK CURRENT PRICE: True Temper 2942600 Grass Whip
---
Best Grass Whips – Expert Buyer's Guide
What type of grass whip do you have in mind? Looking for an average whip, a good one, or the very best? Sometimes you just don't know what you want especially if you never owned one before.
We do our best to give you some tidbits of our expert gardening knowledge throughout the years.
We have owned so many tools to combat the evil weed or two.
Hopefully this will help you to select the best grass whip tool for you.
You should consider some benefits that you didn't even know.
Perhaps, you want to ensure the length of grass is reasonable in some parts of your yard. Maybe you want to harvest your wheat crops and need the right tool.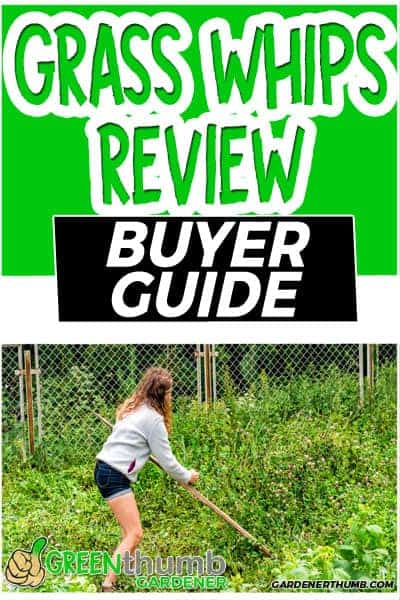 Why do you need a grass whip in the first place?
You know I saw my neighbor using his grass whip the other day and asked him why he prefered one. His answer, "Exercise"
While you don't want to get additional exercise, it certainly does come to mind that it takes some work to use grass whips.
Here are just a few reasons why someone would consider a grass whip.
Low Maintenance Tool Cost – There is pretty much zero cost to maintain your grass whip tools. There are no motors, no gas needed, no string to replace. In fact, my electric trimmer crapped out and now I have to wait for the part to replace it. Some trimmers can cost at least $50 to $100 to repair. A grass whip needs some sharpening after each season. Truthfully, I haven't sharpened my grass whips in a few years and they still does a good job as my weed wacker.
Green Friendly – Let's be honest. Using a string trimmer weed wacker probably doesn't consume that much gas. However, it does add up when considering all the carbon dioxide spewing devices for every other garden tool, so every bit of savings does help the environment. It is important to all do our part to help reduce carbon emissions.
Grass Whips are Portable – These blade tools take up little to no room in my garden shed. My string trimmer does take up more room plus I have to store the gas,oil, the string trimmer replacement spool,electric cords & any tool needed to repair or maintain.
No Power Necessary – You might already own a good electric string trimmer tool. You know how a pain it can be to pull out the electric extension cords and drag it around your yard. You may have an area where the cord doesn't reach. Grass whips don't require any cords, just your 2 feet.
Grass Whips are Silent – Some trimmers and gas powered grass trimmers can be extremely loud. A grass whip is nearly silent so you won't wake up your neighbors if you are an early bird yard maintainer.
Check out this video on just how great grass whip bladetools are:
String Trimmer Vs Grass Whip Blade Tools – Form or Function
First off, there is nothing against string trimmers here. We all love them and use them regularly. However, there are times where the grass whip is the best alternative.
Most string trimmers are a pain in the grass to change the spool.
Sure, there may be some high end models that are easier to change, but not all are created equally. My grass whip is always ready to go at a moment's notice. There really is no fussing with its blade to cut grass effectively.
I never really noticed the difference of how it cuts the grass until researching this article. It seems to cover much more area and distance that my string trimmer does.
Of course, you get to sweat with a good workout if you choose. You could also play it safe and pretend you are golfing.
It really is some workout when you start swinging this around and you need to cover a large area. My backyard is pretty deep and I am always afraid of using the string timer there because I don't always cut it regularly.
The grass whip does give me that added comfort that I don't get with the string trimmer while hacking away at the tall grass and weeds.
One still must consider their overall healthy and physical abilities if you plan on using a grass whip blade tool. For those that don't have much area to cover, you will find it a slightly healthy workout.
For areas that are larger, it does increase the necessary output of energy to get the job done.
Long Term Maintenance Things to Consider for Your Grass Whip
Owning a grass whip weed tool does have its advantages as we discussed above.
One of them is the light maintenance it takes to keep it whipping in your yard.
Most gardeners don't always consider the long term maintenance of each tool.
Normal maintenance should be a task that you tackle before or after each season.
Rust prevention – You can always apply a little WD-40 or some similar oil product to keep this whip tool in good condition
Blade sharpening – You can use a grinder or simple file tool to sharpen it carefully each season. This really depends on how much usage your weed whip tools get each season. My grass whips are still going strong after 3 seasons without any sharpening.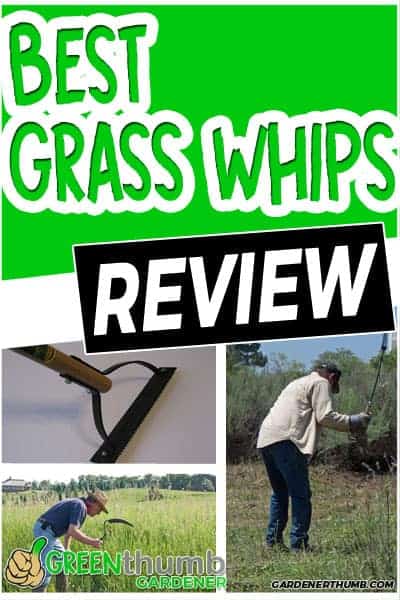 Handle restoration – A hardwood handle grass whip has some give, but if you hit one too many rocks, you may notice that it could crack. The metal and aluminum versions may need little bolts tightening.
Check out this video if you want to learn how to maintain them:
Awesome Features to Look for In a Grass Whip
When we attach standards to someone or something, which in this case is grass whips, it means we attach a certain quality, substance or characteristic to them.
When we say, they are awesome, it means they are exceptionally unique and therefore worthy of comment and admiration.
It really boils down to 4 major parts of the grass whip to consider:
Blade – This is probably the most important piece of a good grass whip tool. Most whips have a serrated blade that helps with precision cutting of the weeds and grasses. Your weed whip should also have the proper weight to give the tool the ultimate balance.
Handle – You don't want these tools to slip out of your hands. The overall grip should be considered when selecting the best one.
Shaft – You need balance and stability as you torque this tool. Some grass whips are made out of wood, metal, or some aluminum alloy.
Ferrule – This is the metal joint holding shaft and blade together. This connection point will have the most wear and tear on it because of the motion and inertia that it is subjected to.
Here are some key attributes we used to measure each of the grass whip components.
Quality – Each piece that goes into the design of a grass hip needs to be of high enough quality to withstand the rigors of this tool. The blade material should be made of a metal that can withstand moisture to prevent rust. The shaft should be able to withstand a few minor swings because let's face it, you may hit a rock or the ground sometimes. Having a ferrule that has some quality bolts should allow you to make some tuneups or at least should remain intact for quite some time.
Durability – The materials used should stand the test of time. You don't want to have to replace your grass whip each year after each season. You want to have one that can last through repeated use.
Balance – These whips are almost like a golf club. Not quite the same, but you are swinging into the grass for different purposes. You don't want an extremely heavy blade as your swing could be disrupted and it could mess with your aim and make you exhausted faster. This balance must be taken in mind in the design of the grass whip.
The Choice
Which grass whip would I select from the five grass whips discussed as being the best tools? It's a difficult task to pick the best as they all seem to fit the description.
There has to be only one winner and to make the right selection, I would use two criteria of innovation and durability. It was a toss up between the Ames Double Blade Cutter and the Brushing Cutlass.
I like the design, the durability (several years to sharpen the blade) I'm taken by the hand-made method and I'm super excited at the installed compass in the handle for safety.
Whatever weakness the Brushing Cutlass may have all these positives make up for it. I'd take it if I had much work, but my yard is more suited for the Ames Cutter.
Green thumb Gardener occasionally links to product and/or services offered by vendors to assist you with all your gardening needs. Some of these may be affiliate links, meaning we earn a small commission if items are purchased.
Want to Download a ​Garden Hack Guide​ for FREE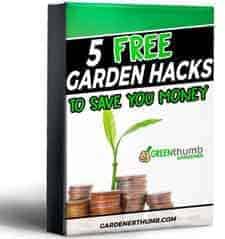 Enter your email below and we will send you a guide to help you SAVE money in your garden.
Final Thoughts
Everyone knows if you want a nice yard and garden that you need to find the right tools. One must uncover the best blade tool that works for your needs.
It is ok if you are unsure what to look for in a grass whip tool. Hopefully, you learned about the numerous benefits of grass whips.
These are times when we should rethink our position and our desires for better things especially when we face uncertainties.
I would certainly consider it a blessing if I could purchase one of the top grass whips tools to tend to my garden and lawn rather than purchase a lawnmower simply because I can better afford the former. What is your take?