Best Grow Light Controller For Your Grow Tent or Grow Room
​Last Updated ​7/27/20
With modern technology on the verge in the farming sector, humans have some significant responsibility to ensure a maximum harvest. If you have a grow tent or work in one, you will understand what I am talking about.
One of the most important conditions you should control effectively for optimum growth of your grow room plants is lighting.
For this reason, check out our precise guide on buying the best grow light controller.
Best Grow Light Controller
Green thumb Gardener occasionally links to product and/or services offered by vendors to assist you with all your gardening needs. Some of these may be affiliate links, meaning we earn a small commission if items are purchased. Check our terms here.
Grow Lig​ht Controller Reviews
Whenever you want a light controller in your room, it simply means you want your room temperature and humidity to be controlled effectively. Titans Controls has moved far and beyond to bring you the 8-light controller that you can rely on.
The light controller comes with a dual trigger cord set that keeps you in control of what you want out of your lighting schedules. This works hand in hand with an external wall timer to give the convenience of when you want to switch on your lights and when you want to switch them off.
It also allows you to use either 120 or 240 volts cords with its universal outlets. This is an outstanding feature that makes this controller useful for small grow rooms and large ones.
What impressed us?
The best thing about the Titans Control light controller is its ability to effectively operate a relatively large number of lights. A few light controllers you will find in the market meant for industrial-grade.
Its 8000 watts is enough to run up to 8 lights up to a maximum of 240 volts. If you have a smaller grow room, still this controller can work for you. You can use the 12o volts option.
PROS
Has a solid structure
Easy to install and operate
Accommodates more lights
It has 2 sets of power output. That is 120 volts and the 240 volts.
CONS
It does not control carbon dioxide
CHECK CURRENT PRICE: Titan Controls HGC702843 Professional Series
---
Do you have a high intensity discharge (HID) lamps? The LTL Controls has built this controller to help you control your lights effectively.
Its capability to run up to 4 lights equivalent to 1000 watts makes it a perfect choice for a small to medium grow room.
You are also not going to be limited with the set of power you can use in your grow tent. Thanks to the 120 volts or 240 volts power.
The package also comes with a 120 volts trigger cable that you can use with a 120 timing device.
What impressed us?
What impressed us in this product is its compatibility with high intensity discharge (HID) lights. With a few coins, you can get this unique controller for your set of 4 HID lights.
PROS
Compatible with high-intensity discharge (HID) lamps
Has a compact design
It is lightweight
CONS
Installation may be a challenge if you have no electrical wiring and circuits knowledge.
It has no extra functionality other than controlling lightning.
CHECK CURRENT PRICE: LTL Master 4 – Lighting Relay Controller
---
When you want an amazingly working grow light controller, but have a tight budget, you have an option in the TopoGrow lighting relay ballast.
The manufacturer has compiled the best features a grow light controller can have at a pocket-friendly price.
TopoGrow 4/8 gives you an option of either using 4000 watts or the 8000 watts. You also have an option of using either 120 volts or 240 volts power. This entirely depends on your needs.
What impressed us?
The best thing about TopoGrow 4/8 lighting controller is its industrial-grade quality making. It has precisely specified features of using the 4-light controller option or the 8-light controller option.
It also comes with a cable that you can plug into any standard 24-hour timer.
PROS
Has a pocket-friendly price
Has multiple outputs to accommodate several lights
It has been built to last
Cleary states guidelines on the use of either the 4-light or 8-light controller options
CONS
Installation can be challenging, requiring expert knowledge.
CHECK CURRENT PRICE: TopoGrow 4/8 Lighting Relay Ballast
---
This is another product for the Titan Controls. The company is skilled in producing high-quality light controllers you can always rely on.
This 8-light controller can control light equivalent to a massive 8000 watts. You may find this device a great option If you have more lights to take care of.
Just like most of its counterpart, the Titan Controls spartan series, works with an external timer to delay starting times.
What impressed us?
Apart from its ability to boast of industrial-grade status, this product has universal outlets for use with 120 volts and 240 volts cord sets.
The outlets are well labeled for convenience of use. It gives smooth control of setting up what you want in just a few minutes.
PROS
It is easy to use this device
Has a compact and sturdy design
You easily adjust light schedules with its dual trigger cord sets.
It can be used in both small and more significant grow rooms.
CONS
Does not control carbon dioxide
CHECK CURRENT PRICE: Titan Controls 8-Light Controller, 240V – Spartan Series
---
Hydro plus grow light controllers can be perfect for you if you have a small to medium grow tent. The 4-light controller supports a maximum of 1000 watts per outlet. At 50 amperes and 120 volts, your device is totally in control of your grow room lighting.
Made, tested, and approved to work in various environments, you will enjoy the outcomes of temperature and humidity control in your grow room. With a dual trigger cord set, you will effectively set light schedules according to your grow room requirements.
In the world of grow light controllers, you will either find a built-in timer or an external 24-hour timer. With the hydro plus 4-light controller, you will find a trigger cable that you can use in plugging into a 34-hour timer.
What impressed us?
A few of the appealing features most people look at in a product is the ability to last long. The hydro plus grow light controller is no different.
This electrical device has a robust casing, protecting the inner components from physical damage. You will probably enjoy the service of this device for longer.
PROS
It is durable
Allows you to change the lighting schedule easily
Comes with a lengthy trigger cable that you can plug into an external timer
CONS
It limits you to 120 volts output only.
CHECK CURRENT PRICE: Hydro Plus 4-Light Grow Light Controller
---
Yet another light controller from Titan Controls, the Classic Series Saturn 5, has been built to provide multiple functions in your grow room. Titan Controls has dominated the market of lighting controllers for years.
Their continuous manufacturing of quality controllers has made their name under this category.
Classic Series Saturn 5 features different functions to ensure that you control various conditions in your grow room. This controller comes with an in-built timer responsible for carbon dioxide enrichment.
Besides controlling lighting, this digital device is designed to regulate carbon dioxide, temperature, humidity, and timer. With its remote sensor, using this controller is amazingly easy.
What impressed us?
What really impressed us in this controller is its 15 feet remote sensor. It is a unique feature that you can use to operate your device from meters away.
PROS
Can control carbon dioxide
Regulates the amount of temperature and humidity
Easy to use
Allows for minimum or maximum data-logging for temperature and humidity
CHECK CURRENT PRICE: Titan Controls HGC702851 Classic Series Saturn 5
---
From the DL Wholesale comes this magnificent controller. The LTL Master Relay controller is perfect for a larger grow room.
If you have several lights in your grow room, you will not need to have several lighting controllers with complicated wiring.
LTL masters 16-light ensures your safety and convenience in the grow room. It is capable of distributing power to its 4, 30 amp control banks. With its ease of use, you can turn on or off any of the banks.
What impressed us?
The best thing about LTL Master is its ability to control power flow within its system. The controller is designed with 2 delay timers.
These are crucial in allowing each bank to fire at their own time, avoiding too much amperage at once.
PROS
Great for mega grow room with 16-light control capability
Safe and convenient
Has in-built timers
You can run the 16 light or 8 light independently
CHECK CURRENT PRICE: ​LTL Master 16 Light Hydroponic Grow Room Ballast Relay Controller
---
What to Consider Before Buying A Grow Room Controller
There are several manufacturers of grow room controllers out there marketing their products. You will always hear how good each one of them is. But is each of these products right for your grow tent?
Definitely, you need to have your own preferences as much as you should know what to look at in a grow room controller.
Look at these factors before ordering one.
1.| Durability
You probably need a device that will serve you for long.
Grow room controller being a long-term investment, ensure that you buy the one built to last.
Some come with an enclosure for protecting the internal parts.
2.| Ease of Use
The convenience of the use of a particular grow room controller matters. You do not want to buy a controller that will take you centuries to learn how to operate.
A controller with a simple design can save you time, energy, and money.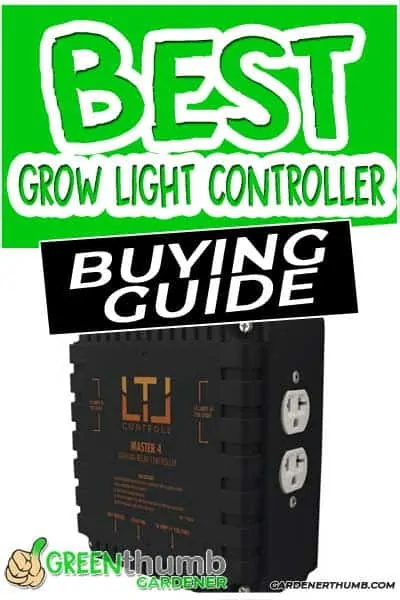 3.| ​DISPLAY
It has already taken your efforts to set up your grow room. Acquiring a simple to read controller can be of great benefit.
Go for controllers well labeled to avoid mistakes when operating.
4.| ​ALARM SYSTEM
This is another crucial aspect you should look at, in a grow room controller before making your purchase.
The alarm should be available and loud enough to notify you immediately of the temperature changes beyond your selected threshold.
Frequently Asked Questions
Do I need a grow room controller?
A grow room controller is essential in any grow room if you are serious with your farming. This device will help you monitor the aspects that are essential to your plant health.
Grow lights, moisture, heat, carbon dioxide, among other elements, should be kept in check at all times for optimum growth.​
Why Should I Keep The Temperature Under Control?
The level of temperature affects the level of humidity in the grow room.
If the temperature exceeds the required level, it will lead to faster movement of air holding more water molecules.
​If the opposite happens to the temperature, the air particles will move slower, holding fewer water molecules.
Both extremes affect the humidity. As a result, plant growth is affected negatively.
What Are The Repercussions Of Uncontrolled Humidity?
Excess humidity prevents your plants from taking in carbon dioxide. This will result in the blocking of the process of photosynthesis.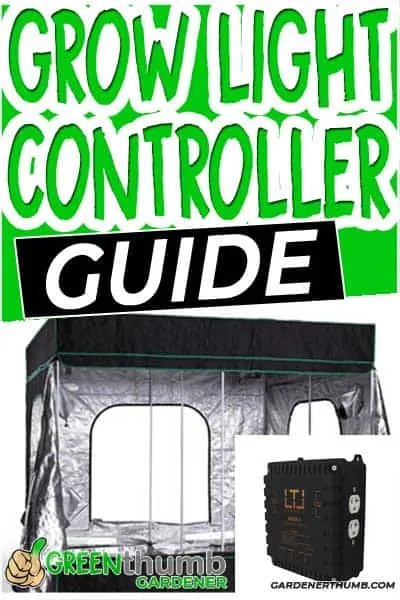 As a result, your plants may start rotting. This situation may eventually lead to the death of your plants. If they are lucky to escape death, they will yield slowly
Download ​our FREE
Garden Hack Guide
Enter your email below and we will send you a guide to help you SAVE money in your garden.
Final Thoughts
Now you can tell the best product of your own preference. It is a work made more accessible with our compiled list of the best grow light controllers.
Above all, you can check at our guide to narrow down to the one product that well meets your needs.
For instance, our top choice is the Titan Controls Classic Series Saturn 5. We have chosen this product because of its outstanding features.
This controller is capable of controlling carbon dioxide, temperature, and humidity above controlling lights. It also comes with a sensor remote for ease of use.
Besides, it is made in a compact and sturdy design, promising an extended period of use.