Cheapest LED Grow Lights | Bang For Your Buck
​Last Updated 07/26/20
LEDs have now become a better alternative to the traditional grow lights. This is because they usually emit the cleanest & most effective light rays, are energy-efficient, and also long lasting.
You might have scoured the web for the cheapest you can purchase for your farm. Don't worry!
In this article are some of the cheapest LED grow lights you can find in the market.
Cheapest LED Grow Lights
Green thumb Gardener occasionally links to product and/or services offered by vendors to assist you with all your gardening needs. Some of these may be affiliate links, meaning we earn a small commission if items are purchased. Check our terms here.
Cheapest LED Grow Light Reviews
Your plants need natural lights to be able to thrive properly. Without the natural lights they'd naturally absorb if grown outdoors, they might not be able to photosynthesize well enough. Therefore, they run deficient on the essential nutrients they'd invariably need to grow strong and healthy.
However, with a grow light like the Agrobrite Floor LED Plant Lamp, which can perfectly mimic the natural light your plants need to manufacture their foods, your plants will be safe. They'd be able to develop properly and, at the end of the day, when they're ready for harvest, offer you huge yields.
It's energy-efficient bulbs are fully capable of producing wide-coverage, full-spectrum and targeted natural daylight that your plants will be able to use for optimal growth.
Agrobrite Floor LED Plant Lamp is a portable floor-standing lamp with a long and flexible goose neck that can be easily adjusted to serve both your short and tall plants.
The wide, heavy base completes the lamp's construction and gives it a sturdy and balanced foothold. So, you really don't have to worry about it falling.
What impressed us?
Agrobrite Floor LED Plant Lamp doesn't occupy too much space. It is also easy to operate; it comes with an inline toggle switch which you can use to turn the lights on and off.
PROS
Versatile; can also serve as a reading lamp
Easily adjustable gooseneck for tall plants
Floor-standing lamp with a wide, heavy base for strong and sturdy support
Does take too much space
Efficient bulbs that offer wide-spectrum light similar to natural sunlight
CONS
Stands too tall for sprouting plants.
Cannot be used for a wide growing range
CHECK CURRENT PRICE: Agrobrite Floor LED Plant Lamp
---
Are you a first-timer or a small indoor gardener looking for a portable, easily movable grow lamp to grow your veggies and fruits? Then, Bamboo Mini LED Grow Light Garden would be the perfect choice for you.
This interesting looking grow light can be fitted anywhere you want, whether on your table or under your counter. It is compact and can even be hung on the wall; just in case you don't have enough space in your house to place them.
An interesting feature of the Bamboo Mini LED Grow Light Garden is the attractive build. This lamp looks just like home furniture and will blend perfectly well with your home décor.
What impressed us?
This compact lamp does not only accentuate the beauty of your home, it also offers high-output, bright lights with a coverage wide enough to serve your plants with the rays they need to flourish.
The lamp emits just the exact amount of light your plants need without you having to adjust the lamp's height every time.
PROS
Compact. Can be fitted anywhere
Can be hung on a wall
Can be easily assembled
An elegant design that blends well with your home décor
High-output lights with a balanced brightness for your plants
Sustainable frame and strong build
CONS
May not be able to accommodate tall plants
Requires assemblage
CHECK CURRENT PRICE: Bamboo Mini LED Grow Light Garden
---
Bloom Plus LED Grow Light is just the right option for you if you actually want a lamp that can adequately provide your plants with all their lighting needs.
It is a highly efficient grow light with Samsung 2835 diodes that provides high-quality light and helps you to save on electricity costs. The lamp uses only 90W of power, which is about 50% lesser than the operating power of traditional grow lights.
The light Bloom Plus LED Grow Light produces is a perfect imitation of the sunlight your plants would naturally receive outdoors. It'd provide all the lighting needs of your plants through all the growing stages, right from flowering until the time of harvest.
With this efficient lamp, you'd be guaranteed faster growing seasons with bigger harvest yields.
What impressed us?
Bloom Plus LED Grow Light has a unique design that includes a large heatsink to help regulate the temperature in your grow area. It also has a fanless design and works on low noise.
PROS
Has Samsung diodes for low energy consumption
Effective heat sink for stable grow room temperature
Easy to assemble
Operates silently
Emits full-spectrum light for faster and stronger plant growth
Dimmable
Water-resistant
CONS
No effective fanning system to properly dissipate heat
Only good for small-scale farming
CHECK CURRENT PRICE: Bloom Plus LED Grow Light BP1000
---
Looking for a grow lamp for all plant growth seasons? King Plus 1500W Double Chips LED Grow Light is just what you need.
This amazingly designed lamp can produce a perfectly balanced coverage of PAR and Lumen to feed your plants with all their planting requirements.
King Plus 1500W Double Chips LED Grow Light has a two switch feature to ensure you have the best coverage for your plants. The Veg/Bloom provides proper lighting throughout all the growth stages and ultimately increases harvest yields.
The Veg switch feature, on one hand, can be used to sprout your veggies, tomatoes, fruits, and so on. On the other hand, the Bloom switch is the most appropriate option to choose from the growing stage up until the flowering period.
What impressed us?
If you'd like to fruit your plants and make them grow bigger. You can as well as the two switch features—that is, VEG/BLOOM.
Growing indoors with this advanced lamp guarantees the full-spectrum and optimal coverage your plants would alternatively be able to absorb from natural light.
PROS
Multiple heatsinks
High-speed mute fans
Aluminum radiators.
Two switch feature that can be used together or individually for optimal plant growth through all growth stages
Full-spectrum
CONS
Should not be looked at directly with the naked eyes as it can damage it
Using on the full range can burn your plants
CHECK CURRENT PRICE: ​King Plus 1500W Double Chips LED Grow Light
---
A good indoor gardener should be able to grow with the absolute confidence that their plants would be able to grow under all the necessary conditions for big and healthy growth.
And, this is why you'd need a grow light, like the Uoiuxc 1000Watt LED grow lights, to provide the proper lighting needs your plants will invariably need throughout all their growing stages.
With this perfectly engineered lamp, you'd be guaranteed of higher harvest yields—a lot more than what you might be used to with your regular grow lights—and less energy consumption.
What impressed us?
Uoiuxc 1000Watt LED grow lights have no noisy fan and are made with large, solid aluminum heat sinks for effective heat dissipation.
Your plants would be happy you purchased this lamp. It produces complete full-spectrum that your plants will definitely enjoy salvaging to manufacture their foods.
PROS
Uses Samsung LM301B diodes that offer full-spectrum to evenly serve your plants their light needs
Noiseless
Great for all plant growth stages
Helps stimulate plants' growth
Helps save on energy costs
Can be used throughout a growing season
CONS
Has no special cooling system to reduce the heat it may produce.
Needs to be assembled
CHECK CURRENT PRICE: 1000 watt Led Grow Light with Samsung LM301B
---
BOOVALUE 60W 72 LED Lamp is one of the cheapest lamps you'd find in the market that has virtually all the features you may be looking for in an indoor grow lamp.
This advanced grow lamp helps your plants with photosynthesis and also speeds up their growth. You might even start noticing the effects on your plants after a short while.
BOOVALUE 60W 72 LED Lamp does not only provide your plants with "sunlight", it also helps prevent your plants from drying up or dying.
This wonderful lamp comes with 3 switch modes: red light, blue light, and a combination of both, which can be used when your plants are fruiting and almost ready for harvest.
The complete full-spectrum it produces perfectly matches all the necessary requirements for growing your veggies, tomatoes, flowers, and also lengthens their growing period.
What impressed us?
It also has dimmable light, between 20%–100%, which means the brightness can be adjusted to limit the light that's directly served to all your plants.
Another of the most interesting features of BOOVALUE 60W 72 LED Lamp is the three-timing modes—3, 9 & 12—that allows you to easily control the amount of light provided to your beautiful plants.
PROS
Easily adjustable
Three timing modes for easy control
Dimmable
Full-spectrum
CONS
Only good for use on a limited growing area
CHECK CURRENT PRICE: BOOVALUE 60W 72 LED Lamp
---
Updayday LED Grow Light is another highly affordable grow lamp option you can also purchase.
It has all the features you might be looking for in a grow lamp. Talk about an easily programmable in-built timer that can be set to adequately serve the lights to your plants while you're away or while you're busy with other important things.
Updayday LED Grow Light offers a fuller spectrum. The bulbs are bright enough; they emit all the essential lighting features your plants will need to thrive properly until the time of harvest.
What impressed us?
What's quite so fascinating about this lamp is its easily adjustable LED lighting angle that allows you to easily adjust the irradiation range and the amount of light directly provided to your plants.
The angle can either be adjusted upwards or downwards depending on what you want to serve your plants.
PROS
Easily adjustable angle for adequate light coverage
Full-spectrum output that offers all the lighting requirements plants need to photosynthesize properly
Waterproof
Built-in programmable timer for easy control
CONS
Looking directly into the lights should be avoided
Might be a bit difficult to assemble and hang
CHECK CURRENT PRICE: LED Grow Light 1000W Full Spectrum Indoor Plants LED
---
Benefits Of LED Grow Lights
Over the past few years, the LED (Light-emitting diode) technology has continued to grow in popularity.
This continued rise in fame can only be ascribed to the enormous benefits these futuristic lights seem to offer to many users, especially indoor growers, all over the world.
LED grow lights offer maximum spectrum and coverage that can greatly facilitate the growth of your plants such that you're able to regularly produce high yields at the end of each growing period.
Below are some of the reasons you should be using LED grow lights in place of the traditional ones you might have in your garden at the moment.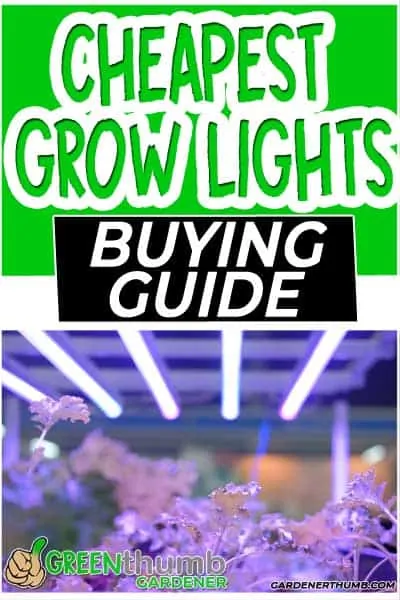 1.| Full Spectrum Lighting
The balanced spectrum of light LED grow lamps can significantly stimulate the growth of your veggies, fruits, and flowers.
LEDs offer just what your plants need to grow, brilliant natural lights that can help your plants to seamlessly manufacture their foods and nutrients.
2.| Save On Electricity
LED grow lights are incredibly energy-efficient. They are usually more efficient and would ordinarily consume about 60% less energy than conventional lights.
LEDs offer what is called "directional rays," which means that, unlike the traditional variants, they would not produce excess heat.
3.| Targeted Wavelength
LED grow lights give growers every opportunity to regulate and target the illumination it produces for proper use.
Unlike the traditional grow lights, your LED grow lights will be able to provide exactly what your plants need without allowing any lights to escape or be wasted.
This way, your plants will be able to directly absorb just the perfect ray light they'd need to photosynthesize and grow properly.
4.| Stimulated Plant Growth
One thing you should expect with the use of LED grow lights is rapid and increased yield rates. LEDs are an imitation of natural sunlight that your plants would normally receive if grown outdoors.
They offer a balanced range of rays your plants would invariably need for maximum growth. When you grow with LEDs, you should expect multiple harvests in one growing season.
5.| Healthier & Richer Produce
Using LED lights in your garden will allow you to regularly harvest healthy and rich plants that you can comfortably consume.
Unlike the conventional grow light types, LEDs do not produce extreme heat or offer counterproductive rays—like the Ultraviolet [UV] and Infrared [IR]—which can cause your plants to easily burn.
6.| Less Plant Dehydration
You always have enough water and energy to provide them throughout their growing period for healthier and maximum growth.
LED grow lamps usually have a cool operating system that ensures the temperature in your grow area is constantly regulated.
You might even not need to install any extra cooling system. The low heat operating mode of LED lighting systems may not really affect your grow area temperature as much as the traditional lights can do.
7.| Last Longer
Because of the low heat production rate of LEDs, they have an extended lifespan of about 50,000 hours (can last you for about 6–7 years). This reduces the cost of repairs and replacements you might have to spend with the use of traditional lights.
8.| Environmentally Friendly
Genuine LED lights are not made using materials, like mercury, that you can find in some traditional lights, which is why they're regulated by RoHS (Restricted Hazardous Substances Directive) They can be recycled and would not cause great harm to our environment.
How To Choose The Best LED Grow Lights
Choosing the best LED lamps comes with some special requirements or know-how, which I will be providing you with under this section.
These tips would help you on your next LED grow light purchase.
They'd also help you to make a purchase for what you need exactly for your farm and not what you might be forced to abandon later on.
What Type Of Plant Are You Growing?
If you're reading this, then it means you have already made a good decision on the kind of plants you'd like to grow.
However, the next thing you might want to do before purchasing your LED grow light would be to find out about the growing requirements of your plant(s) of choice.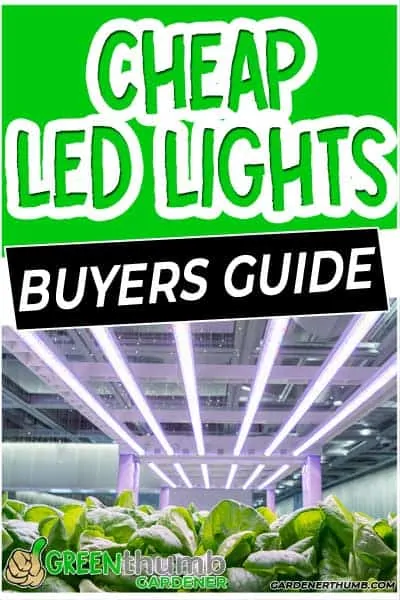 What are their needs? Under what conditions will they be able to thrive better?
LED lights usually possess different features that you'd want to research before making your eventual purchase.
These unique attributes can affect your plants' life differently or cause them to react to certain conditions in different ways.
Determine The Plant Quantity And Grow Space
How many plants would you love to grow? That would be your next point of call.
This helps you to decide on your growing space and the amount of light you'd have to provide for your plants.
You're not going to be using the grow lamps to light your home but to provide your plants with the rays they'd invariably need to grow.
Find Genuinely Durable LEDs
LED lights are a futuristic invention, no doubt about that. They make it possible for you to be able to grow your veggies, fruits, flowers, and so on, without so much stress.
So, when purchasing your LED grow light, you would want to make sure to buy one of great quality. Make sure the construction is highly durable.
Consider The PAR
PAR (Photosynthetically Active Radiation) is the measurement of LED light emissions that usually falls between the 400–700nm photosynthetic range.
In essence, PAR refers to the measurement of the amount of light or wavelengths your plants will be able to use for photosynthesis.
This measurement is quite important when choosing your grow lamps because it allows you to know the amount of light your plants will be receiving every day through to when they're ready for harvest.
So, when checking for the PAR value of the LED grow lights you'd like to purchase, make sure the light has an evenly distributed PAR. This is to ensure your plants are properly served sufficient lighting throughout their growing season.
Usually, the PAR value of LED grow lights vary depending on the maker/brand or the model. Some may have higher or lower PAR values depending on the intensity and coverage of the light.
High PAR values do not necessarily mean the LED bulbs are going to be better or brighter.
The intensity of the PAR value of any of the lamps you choose for your farm should always depend on the type of plant you're growing, as well as the size of the growing area.
Ensure It Has An Efficient Cooling System
Even though most LED grow lamps don't emit excess heat like the traditional lights, it's best that you check if they have an efficient cooling system to dissipate the heat they might produce overtime after a long time.
LEDs, especially when they are used for more than 14 hours, tend to overheat without a proper cooling system in place.
As you already know, excess heat can be quite dangerous to your plants; it can burn them and cause them to die eventually if care is not taken.
Look For Programmable Grow Lights
There are a lot of LED grow light manufacturers in the market and this makes it extremely difficult for anyone to be able to purchase just the perfect one they need for their farm.
This is why it is more advisable to grow lights that are programmable. Programmable grow lights make it a lot easier for you to be able to control the light itself, the intensity it produces, and do a lot more.
You can even easily set a simple schedule for when you want the lights to go on/off, or when you want the brightness to dim.
This programmability ensures your plants are able to properly absorb the right amount of light, nothing more, nothing less!
Download ​our FREE
Garden Hack Guide
Enter your email below and we will send you a guide to help you SAVE money in your garden.
Final Thoughts
It might be rather impossible to be a successful indoor gardener without an amazingly efficient LED grow light to provide all your plants with their lighting needs.
This is why I have recommended the cheapest products you can go for to save your hard-earned money.
For me, the ​​Agrobrite Floor LED Plant Lamp is the best among this interesting list. This is mainly because ​it is easy to use and ​has adjustable angle features.
You, also, can make your own choice immediately to start enjoying the best of the LED technology features these products have to offer.