Best Grow Tent Oscillating Fan Buyer's Guide
​Last Updated 9/20/20
You could be looking for an oscillating fan to put up in your newly set up grow tent, or you want to replace one, and you are wondering how you are going to find the best.
Right, we know the joy of getting the best product for your money. That is why we have brought you this ​grow tent oscillating fans buyer's product guide for you.
Green thumb Gardener occasionally links to product and/or services offered by vendors to assist you with all your gardening needs. Some of these may be affiliate links, meaning we earn a small commission if items are purchased. Check our terms here.
Grow Tent Oscillating Fan Reviews
Comfort Zone Oscillating Pedestal Fan is one of the most affordable grow tent fans in the market. Despite their cost, they still rank among the top in offering excellent oscillating performance.
The fan is capable of distributing active air across a wide area.Comfort Zone 16-inch Oscillating Pedestal Fan is one of the best oscillating fans you can get for your grow room. Th​is grow tent fan comes with great features that ensure you get maximum performance.
It comes with 3-speed settings. This includes high, medium, and low, which works great in eliminating still air as well as improving transpiration rates effectively.
​This one also comes with a tripod base having collapsible legs and adjustable heights for convenience. You can easily adjust the height between 41 inches and 47 inches.
You can also tilt ​this one up to an angle of 75 degrees. The grow tent fan is made to achieve the oscillation your grow tent requires. Its ability to distribute air across a wider area is excellent for keeping the air circulation high in your grow tent at optimum levels.
Above all, it is easy and safe to work with this fan for your plants. It features a reliable push-button convenient for turning it on or off and changing the fan speeds.
The Comfort Zone fan also features metal grills that cover the fan blades to keep you safe as well as the plants from being damaged in case of an accident.
If you dislike noise whenever you are working in your tent, this could be your one of your ideal fans. ​It keeps noice down fairly well.
It is ​stable, minimizing the chances of falling when it is in operation. Its base contains four stands stretching out up to 17.25 inches in width.
The fan covers a broader area. This reduces the cost you have to incur to get new fans or to move around to ensure the uniform circulation of air throughout the tent.
You can ​easily direct the flow of air within your tent ​using its tilting ability. This is even great for avoiding tilting the whole fan, which may cause accidents.
It offers maximum safety with its metal covering the fan blades.
PROS
Comfort Zone 16-inch Oscillating Pedestal Fan is made of durable materials
You can adjust its speed easily using the 3-speed options
This fan is also an affordable price. You don't need to break the bank to get an excellent performing oscillating fan for your plants.
CONS
Some users complained of a few operation issues such as low power and moving of the power and speed adjustment button when oscillating.
CHECK CURRENT PRICE: Comfort Zone Oscillating Pedestal Fan
---
What makes ​Hydrofarm 8 Inch Clip on ​Fan unique is its specialized clip design. The study clip clamp can be attached on to the grow tent poles to provide quick even ventilation for your grow tent plants.
The clip can be attached to a pole of diameter between 0.59 and 1 inch. Above all, the clip is designed to cling firmly onto the pole preventing the fan from sliding down.
The ​Hydrofarm Fan is a quiet and secure unit. ​1.5 pounds fan measures 8.5 by 8.25 by ​6.75 inches. It ​has an output power of ​7.5w watts.
With this clip mount fan, you direct the airflow in any direction you want by using the shaking rod. You will be sure of a more extensive coverage with its 90 degrees horizontal and 120 degrees vertical range oscillation.
​If you are looking for a study fan and one with a compact design, the ​Hydrofarm can be ​the ​right option for your grow tent plants.
It is designed to offer efficient airflow to keep your grow tent temperature and humidity at an optimum level for longer.
PROS
​Versatile ​-provides easy control with its shake rod to offer wider oscillation angles.
The fan operates quietly.
It also offers safety for the user and the plants. ​
Its design resists it from slipping down the pole when in operation. ​
CONS
​Electrical connections start having issues with stopping abruptly after some time of use.
CHECK CURRENT PRICE: ​Hydrofarm HORF8 Active Air 7.5W Ultra Quiet Brushless, 8″ Clip on Fan
---
SECRET JARDIN Monkey Fan is another grow tent fan in our list. The best thing about this item is its robust construction. Its engine is made of 100 percent copper with no alloys.
This feature promises a more extended period of keeping your grow tent cool for your plants. Its blades, as well as the cover too, are durable. You might find this fan useful in keeping the temperature, and the humidity in your grow tent at optimum levels.
This study fan measures 12 by 8 by 8 inches and a weight of 5 pounds. It can be attached to a pole in your grow tent with its strong clips mount.
Check out on where you want airflow in your grow tent to be directed and fix your fan easily on a pole in your grow tent. It can fit 0.63 inches to 0.83 inches poles.
The package comes with 2 monkey fans at an affordable price. You can attach them at different points in your grow tent to maintain air circulation well.
With the 16 watts power, SECRET JARDIN Monkey Fan can adequately cover a large area in your tent.
If you are looking for a budget-friendly fan for your grow tent plants, this fan can be your excellent fit. Its 16 watts power output is friendly. You can also assemble it conveniently without the need to find an expert.
PROS
​Lightweight – easy to reposition in grow tent​
​Easy to assemble
​Very easy to Use
The adjustable clips are great for mounting on poles of different diameters ranging between 0.63 and 0.83 inches.
​Affordable grow tent fan​ for your plants
CONS
This fan does not oscillate. However, you can easily reposition them.
Its 16 watts power output may not be enough for the needs of some tents.
CHECK CURRENT PRICE: SECRET JARDIN Monkey Fan 16W Fits 0.63″ – 0.83″ Inch Grow Tent Poles – 2 Pack
---
The Genesis 6-inch Clip Convertible Table-Top & Clip Fan comes with great features. The best thing we found about this fan is its dual base feature. You can use the clip base to attach it on to a pole in your grow room and keep it cool.
You can use its flat base option to put it on a table or on the ground to enjoy the cool breeze air from this fan. This also makes it an excellent choice to use in your grow room for your plants, or in your house to keep it cool.
Enjoy a quiet environment with the Genesis fan. The fan is designed to operate quietly. If you want to use it in the dorm, office, or your own house, it will create no interruption when running.
It comes with two speed settings (high and low). You can adjust easily and maintain a quiet environment in either of the speed options.
Another amazing feature of this fan that most want is the adjustable head. This feature allows you to customize the direction of the air​ in your grow room.
It also allows you to achieve ​coverage well. The lightweight fan measures 5 by 6 by 10 inches so it works well in small tents
Besides, the Genesis fan's convertible base is strong and sturdy to help direct the airflow in the desired location. The small clamp mount is reliable, keeping the fan firmly attached to the pole preventing it from slipping.
PROS
Operates quietly
​Easy to setup
The clip is capable of accommodating poles of different thicknesses. It can perfectly fit poles of 1.06 inches to 1.65 inches thick.
​Pocket friendly. If you have a little cash to use on grow tent oscillating fans, this could be one of the best options.
CONS
There were some complaints about the flat base. When in operation, the fan may slide if not positioned on a rough surface.
Some users also complained about the Oscillation capabilities of this fan. They claimed that the fan does not oscillate evenly.
CHECK CURRENT PRICE: Genesis 6-Inch Clip Convertible Table-Top & Clip Fan Two Quiet Speeds – Ideal For The Home, Office, Dorm, More White
---
This is another grow tent oscillating fan ​performs well. The best thing with the product is its speed and oscillation control. The 2 pull chains hang from the fan for easy access and adjustment of speed and oscillation.
Different from the products we have reviewed, The Hydrofarm Active Air Fan can be mounted easily onto the wall. The product weighs 7.8 pounds with a measurement of 17.8 by 5.4 by 23.2 inches. You will find 2 fans in this package.
If you are looking for a higher output fan, you might find this fan desirable. It produces an output of 55 watts. This high power puts this fan in a position to circulate air over a larger area.
It also contains 3 speed settings (high, medium, low). You can choose to adjust between the low, medium, or high-speed settings according to the level of temperature and humidity of your grow tent.
Besides, The Hydrofarm Active Air Fan features a 90 degrees oscillation angle. This makes it possible to customize your fan to direct the airflow on your area of interest easily.
It also operates quietly, distributing air throughout your grow tent to keep it quiet and cool.
PROS
Enough power and a 90-degrees oscillation for more extensive coverage​
The 3-speed fan settings offer you an option to adjust it to match the needs of your grow tent
​​Mount​s to the wall. It will take a few minutes installing before you begin enjoying the breeze and reducing the high grow room temperatures.
It can work well with most hydrofarm products such as Autopilot carbon dioxide generators and Autopilot Desktop carbon dioxide Monitor with Memory and Data Storage.
CONS
It is more expensive compared to its counterparts
Some parts fail to work after some time of use
CHECK CURRENT PRICE: Hydrofarm Active Air ACF16 Wall Mount Fan, 16 Inch
---
This is another oscillating fan from VIVOSUN. The best thing about this item is its versatility. Unique from most fans, VIVOSSUN 2 PACK 16 inch Wall Mount Oscillating Fan can be easily mounted onto the wall in the grow tent, greenhouses, and in your house.
​This fan effectively circulates air in these places to keep high temperature and humidity ​down.
The fan unit measures 18.7 by 18.1 by 16 inches. ​This one comes with 2 products in the package.
​The VIVOSUN fan works ​well with its 3-speed setting (high, medium, low) giving you​ room to customize​. ​This fan product ​can oscillate air in a broader area in your tent.
Thanks to ​the fan's adjustable head that can offer 80 degrees oscillating angle. The fan head can also tilt vertically in a 60 degrees range without much effort.
Unlike most oscillating fans, this fan product is ​well made to prioritize quality. Its parts are skillfully built to offer a long-lasting product.
For instance, the blades are well-balanced, which helps in effectively shooting air throughout the areas directed at it. On the other hand, the motor also is well built, complementing each other with the oscillation mechanisms to run quietly while circulating the air.
Lastly but not least, VIVOSUN 2 PACK 16 inch Wall Mount Oscillating Fan comes with pull cords. You can use them conveniently in controlling the speed and oscillation control settings.
PROS
Covers a broader area with its fully adjustable control features. You can adjust the fan horizontally up to 80 degrees and vertically up to 60 degrees
Easy to install this fan at your place. ​
Easy to use with its pull chains
CONS
​Outer casing ​can develop sliding issues. However, you can minimize this issue by tightly fixing the parts when assembling them.
The 60 degrees angle also begins to have issues with tilting with time.
Expensive price compared to most oscillating fans
CHECK CURRENT PRICE: VIVOSUN 2 PACK 16 inch Wall Mount Oscillating Fan W/80 Degree Oscillation, 3 Speed Settings, Adjustable Tilt, Quiet Operation (ETL Certified, White)
---
Another product in our list of ​oscillating fan review is the Comfort Zone CZ16WR 16-inch Quiet 3-Speed Wall Mount Fan. It comes with several amazing features.
One thing that caught our eye is the control feature that automatically keeps your fan run or at sleep mode. You can use the remote or the well-labeled control panel to set up these modes.
This one feature works best in keeping the grow tent fans to last longer. Mainly for automatically breaking the operations and resuming after sometimes in your absence. You can also decide how long the fan will go into sleep mode before getting back to normal.
The unit can be customized to run under 3-speed options. That is the low, medium, and high. Besides this, you can also use either the buttons on the control panel or use your remote.
Unlike most fans, the Comfort Zone, as the name suggests, gives you a room to use your fan from your comfort. The wall-mounted fan measures 17.7 by 7.6 by 17.3 inches.
The fan may help by its wide area of cooling throughout your grow room. Its adjustable head can tilt to 90 degrees to keep a more extensive area cool with even distribution of air.
Above all, The Comfort Zone CZ16WR 16-inch Quiet 3-Speed Wall Mount Fan ensures your safety as it operates. The sturdy covers keep the blades from damaging the crops or injuring you in case of an accident.
PROS
​The timer is excellent at setting the time in which your fan usually works, and the time it can go into sleep mode.
The fan comes with one remote. You can either opt to use it or use the control panel positioned in front of your fan.
Easy to install & use
Ensures the safety of use with the sturdy blade enclosures
Covers a wide area due to its adjustable head.
Affordable. With its low costs, you can still enjoy its excellent performance for a more extended period.
CONS
​Some users complained of noise from this fan. You can always expect some noise, especially at high speed, when it comes to the most powerful fans for air circulation.
CHECK CURRENT PRICE: Comfort Zone CZ16WR 16-inch Quiet 3-Speed Wall Mount Fan with Remote Control, Timer and Adjustable Tilt, White
---
Finding the Best ​Oscillating Fan For Your Grow Tent
Every grow tent oscillating fan is made differently by various manufacturers. This is because every manufacturer focuses more on certain features to help than others.
It can be a hassle getting down on researching for the best of this product over several websites.
You can also kill a lot of time trying to find ​an oscillating fan if you go straight to your local store.
How then are you going to find the ​right oscillating fan for ​grow tents to circulate air?​
We will give you a few pointers to help you determine what the ​an oscillating fans entail.
Furthermore, you will find it easier to relate to what you ​want in the best oscillating fan for your grow tent.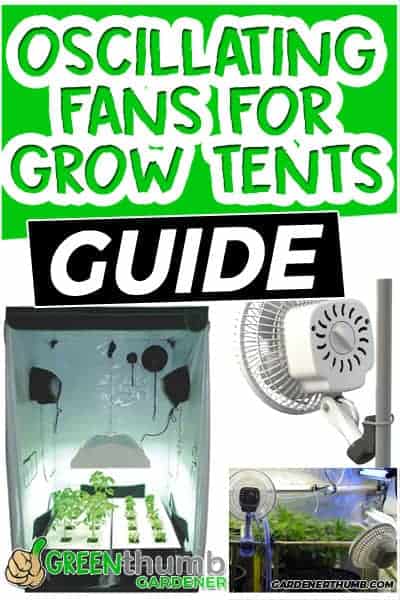 Consider These Factors Before You Purchase Your Fan
Oscillating Fan Materials
Materials used in building the best oscillating fans are crucial in determining its durability. With the difference in materials used by different manufacturers in making fans, it is important to check on the oscillating fans created with the most durable materials.
If you are doubtful of these materials, you can check on the global marks of quality.
Speed Settings
Fans with variable speed settings are best in effectively controlling the airflow in the grow room. These fans for grow tents give you an allowance to customize your fan to meet the needs of your grow room.
Most oscillating fans​ contain low, medium, and high settings. You can go for those with a control knob or pull chain control.
Grow Tent Size
If you have a bigger grow tent, you would consider getting a fan that will match your needs. Don't mistake the size of your grow tent with the size of the fan.
What matters is the strength of a fan. If you have such a big grow tent, you may consider going for a powerful oscillating fan to circulate the air.
Fan Noise
In most cases, the most powerful oscillating fans for grow tents tend to have the loudest noise. If you don't like noisy fans, you may consider getting several fans in your grow tent. Since you know your fan's purpose, it will be wise to make the right decision according to your grow​ tent needs in circulating air.
Price of The Fan
The best oscillating fans for grow tents overall will always cost more. But you can get your favorite fan to do your job within the category of your money. Always look out for the most rewarding features when you don't have all the cash to get the most expensive fan.
Oscillating Angles
​One may find it rewarding if you go for an adjustable tilt fan. Some ​have an adjustable tilt from 90 degrees ​to 360 degrees. This can help maximize the movement of active air in every direction of your grow tent.
You could also be interested in directing active air in ​one particular direction; the​ adjustable tilt feature​ is great at helping you achieve your goal for growing.
Installation
The installation comes down to the specific mounting options by every fan. The common options include standing and wall-mounted.
With these mounting options, ​one can consider the ease of installing each when it comes to the nature of your grow room.
Oscillating Fans Take Care of These Issues
Control the Grow Tent's Temperature and Humidity
Some crops like pot plants & mushrooms will do well under a certain level of temperature and humidity. The same applies when you do ​mushroom & plant growing under in a tent.
The ventilation the fan will provide in the grow tent is vital in keeping the temperature and the humidity at desirable levels.
Even Air Circulation
The regular flow of active air throughout the grow tent is essential for the best results. You are interested in getting maximum returns from your grow tent fans.
Crops will take in carbon dioxide and release oxygen during the day and do the opposite at night.
An oscillating fan & adjustable tilt will help move these active air gases around the grow tents to obtain an even distribution of these gases.
This helps you achieve maximum growth potential in a small area with the right product used.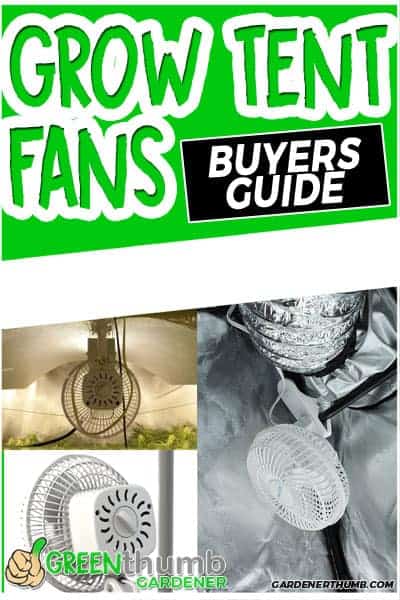 Control Mold and Fungus
A grow tent fan can be an excellent control measure for mold and fungus growth in your tent. In most cases, mildew and fungus grow in a warmer and humid environment.
With a superb regulation of these conditions in the room, mold and fungus will not get a room for growth.
Prevent Pests and Disease In Your Grow Tent
You also need a grow tent oscillating fan to combat pests and diseases. The even distribution of air in the grow tent keeps ​it ventilated, discouraging the pest attack of your plants.
One thing you want to consider is that most pests like a warmer environment. Keeping your grow tent's temperature optimal will prevent the pest invasion of your plants.
Download ​our FREE
Garden Hack Guide
Enter your email below and we will send you a guide to help you SAVE money in your garden.
Frequently Asked Questions
How long should I run the fan in my grow tent?
You should run your grow tent fans for 15 minutes every hour. This can vary in the early stages after installing it. ​It depends on the internal condition of your grow tent that you want. ​ You can the oscillating fan until the temperature and humidity reach the optimal level for your plants.
How will I know the right fan for my grow tent?
There are factors to consider when you need a grow tent fan that will meet the needs of your grow room plants. One of the main things you ​wan to look at in a grow tent fan is the length of ​active air or airflow per minute a particular fan can move and the area it can cover.
If you have a larger room, you may consider getting the most powerful fans for grow tents that can exchange the air in your tent 3 to 5 times per minute.
Can I use my grow tent oscillating fan for my household purpose?
It depends on the reason you bought the grow tent fan in the first place and the base type. Some grow tents fans are specifically meant for ​exclusive usage ​for growing.
However, if you can install the fan correctly in your house, there is nothing that can hold you back from using it there.
The quiet grow tent fans with a flat base or can be mounted on to the wall are great for both the grow tent use and household use.