Best Grow Tents for Mushrooms
Last updated 05/29/21
Getting everything in place before kick-starting your mushroom farming is very important.
Providing the appropriate environment your mushrooms can thrive in is among those things you should consider first.
Growing mushrooms in a grow tent might be a great option for you.
In this article are some of the best grow tents for mushrooms you might want to consider. We give you the details you need to get started with mushroom fruiting.
Best Grow Tents for Mushrooms
Green thumb Gardener occasionally links to product and/or services offered by vendors to assist you with all your gardening needs. Some of these may be affiliate links, meaning we earn a small commission if items are purchased. Check our terms here.
Top Growing Tent For Mushrooms
This indoor grow tent can be the perfect choice for starters who have just decided to start growing mushrooms. Mainly because it is a perfect portable tent structure for small room starters. A must have tent for anyone new to mushroom farming.
This tent can also be a great choice for experienced mushroom farmers alike. This is because, unlike many other tents, this model could also offer easy access to your mushrooms as they grow. It makes it easy for you to access and properly tend your babies as you'd prefer to do.
If you're not going to be cultivating too many mushrooms, VIVOSUN 24″x24″x36″ Reflective Grow Tent might be the best choice to go for.
VIVOSUN 24″x24″x36″ Mylar Grow Tent is also quite sturdy and durable. It should last you for some time if you're not doing any heavy type of farming.
For an experienced farmer who would prefer to grow more mushrooms, VIVOSUN 24″x24″x36 Mylar Hydroponic Grow Tent is not the grow tent you'd need to go for. It doesn't provide enough room for large mushroom farming.
People have however complained about the zipper not functioning properly as it should.
Another complaint is the tightness. It's not as tight as the producers paint it to be. It significantly leaks light and may not be tight enough to provide the temperature needed for a large mushroom farming.
The build of the low intake slot for ducting at the top of the grow tent also makes it pretty difficult to process adequate ventilation within the grow tent. The observation window is also suffice to peek in when needed
PROS
It is small and portable
It is strong and stable
It has a quality canvas that keeps light in
Allows for proper reflection that your mushrooms may need within the grow tent
It is more affordable when compared to other grow tents
CONS
Some lights may still leak out through the canvas
It offers limited space
The light blocks may tend to fray easily.
CHECK CURRENT PRICE: VIVOSUN 24″x 24″x 36″ Mylar Grow Tent
---
For its size, VIVOSUN 48″x 48″x 80″ Mylar Hydroponic Grow Tent, is a pretty lightweight material. It's relatively portable and can be easily moved around, maybe when you need to relocate or reorganize.
It is also quite spacious. It has more capacity for your planting pots or trays, with a height of 11″ for more mushrooms. It would be easy to fit other equipment inside the tent such as a grow light, inline fan
VIVOSUN 48″x 48″x 80″ Reflective Mylar Hydroponic Grow Tent is not overly expensive too. A perfect fit for someone looking for a large affordable grow tent.
Having trouble observing your mushrooms? Then, you might consider this grow tent. It provides easy access with its observation window to your fungi fruits to peep a look at your beautiful fruits.
One thing you might find particularly amazing about this grow tent is the way it can significantly boost your efficiency as a farmer. The capacity it offers and the easy access makes it a suitable choice for any kind of farming process.
One of the downsides of VIVOSUN 48″x48″x80″ Mylar Hydroponic Grow Tent is its thin fabrics. They are not that strong and may start to leak light after a while. But if you're going to be growing in a completely dark room, then this might not be a serious problem for you.
Buyers of this inside growing tent have also complained about the product's zipper malfunctioning.
The bad stitching some buyers complained about is another turnoff.
PROS
This growing tent is pretty affordable
A more spacious growing tent
An inside tent that is quite durable, sturdy, and well-balanced
A perfect growing tent to boost your farming efficiency
The tent cover fabrics are quality and tear-resistant
It has a window through which you can observe your mushrooms
CONS
The window may not be easy to peep through because of their height
The canvass still let out some light
You might encounter some problems with the zipper
CHECK CURRENT PRICE: VIVOSUN 48″x 48″x 80″ Mylar Hydroponic Grow Tent
---
Zazzy Tent is another wonderful indoor Hydroponic grow tent you can use for your mushroom farming.
This is another brand for beginners with its comfortable size and height. They can be mounted anywhere in your home, even in your kitchen.
When used with proper ventilation, Zazzy tent could afford larger growth, with an assurance of multiple harvest year in, year out.
If you're looking for something that will last you for a while, Zazzy Tent might be the perfect option for you. Its metal poles can be highly durable. The fabric can also be rip-resistant.
However, this product is not entirely lightproof. It might begin to leak light after some time. The light blinds tend to fray easily causing a considerable amount of light to escape out of the grow tent.
Also as the light blocks fray, they tangle with the zipper as time goes and cause it to malfunction over time.
Zazzy Tent does not also allow easy access per se, especially when you check or observe how they're doing.
Aside from these disadvantages, Zazzy Tent is a perfect indoor grow tent for people looking to grow with limited capacity.
PROS
It is portable and a perfect option for indoor starters
It has a comfortable height and size
Reflective mylar on the walls inside the tent
It has a removable floor tray
It is also tear-proof
CONS
Window is a little difficult to see through to check your mushrooms
Some light may unavoidably escape from the indoor grow tent
CHECK CURRENT PRICE: Zazzy Tent for Plants Indoor, 48″X24″X60″ Grow Tent for Hydroponics Indoor Growing
---
Do you prefer to grow mushrooms without any limitations?
Yes, it can be done!
With VIVOSUN 120″x 120″ x 80″ Mylar Hydroponic Grow Tent, you can fulfill your dreams of becoming the largest mushroom tender.
VIVOSUN 120″x 120″x 80″ Mylar Hydroponic Grow Tent is large enough to occupy more than one variety of mushroom. Whether you grow Oysters, Morel or Shiitake, this product is best for multiple mushrooms cultivation.
Not only is it quite large, but it also has a strong and durable frame and fabric that makes it a reliable choice for long term use.
One thing that makes this product particularly fascinating, despite its high cost, is its double view window system.
The windows also have an upgraded design that makes it easier for you to observe and monitor the growth of your plants. You don't have to stretch your neck or stand on a small stool to see how your mushroom or plants growing are going within the grow tent.
Need a better ventilation system?
Then, VIVOSUN 120″x 120″ x 80″ Mylar Hydroponic Grow Tent might be the right option for you. It provides super-efficient ventilation that your mushrooms would invariably need to fruit with it's the integrated ventilation system.
However, the zippers are rather too stretched that they let out some light. The whole cover could also be made thicker.
If you're a beginner and, you might drop this product and go for another smaller type because VIVOSUN 120″x 120″ x 80″ Mylar Hydroponic Grow Tent offers the space that might seem too overwhelming to starters.
VIVOSUN 120″x 120″ x 80″ Mylar Hydroponic Grow Tent is also totally safe and easy to use.
PROS
For its size, it's surprisingly lightweight
It offers better ventilation
It has a larger space
It is totally safe and easy to use
CONS
It is quite expensive
It can be too big for beginners
It also lets out some lights
CHECK CURRENT PRICE: VIVOSUN 120″ x 120″ x 80″ Mylar Hydroponic Grow Tenter Garden
---
Looking to grow mushrooms but don't have the budget to cover for a mushroom grow tent?
Never worry! TopoLite Indoor is a relatively cheap grow tent that can offer all you want with just a low budget. You can still say money in two ways by purchasing this tent and growing your mushrooms on your own.
TopoLite Indoor tent is a quite stable growing tent for mushroom or plant growing. It's plastic poles make the whole tent set up more stable than usual.
It has heavy-duty covers and zippers that keep your grow light inside the tent every time.
The plastic frame does not make the grow tent stable alone, it keeps the inside of your tent away from excess heat and moisture that may ultimately affect your mushrooms if left unchecked.
That's not all you stand to enjoy. TopoLite Indoor tent has effective mesh covering that allows for more ventilation with the grow tent.
If you want to really enjoy this low-budget grow tent, you might want to avoid placing too much weight on the frame. The pipes are not entirely as strong metal alternatives can break easily.
You might want to be careful with the tent cover and zipper as they seem to wear out sooner than expected.
PROS
It is convenient for limited mushrooms farming
It has well-balanced plastic tent frames that keep intense heat and moisture away
A quite affordable tent
This tent has great mesh covering that enhances effective ventilation
CONS
The plastic pipes that make up the tent frame can break easily
It has limited space
CHECK CURRENT PRICE: TopoLite Indoor Grow Tent Hydroponic (Many Sizes)
---
Why Choose Grow Tents To Grow Mushrooms?
You probably know by now that providing the right environment in which your mushrooms can grow properly is highly important.
Well, mushrooms can easily grow hydroponically.
And, one of the best ways you can grow them hydroponically might be to purchase a high-quality grow tent.
One that provides your beautiful mushrooms with the sufficient air circulation, temperature and humidity they need to thrive and mature well, just the way you'd love them to.
Normally, a grow tent can be a pretty useful medium for growing plants.
For any type of farming you might be considering, grow tents could provide you with the portable interior you may need to facilitate the growth of your plants.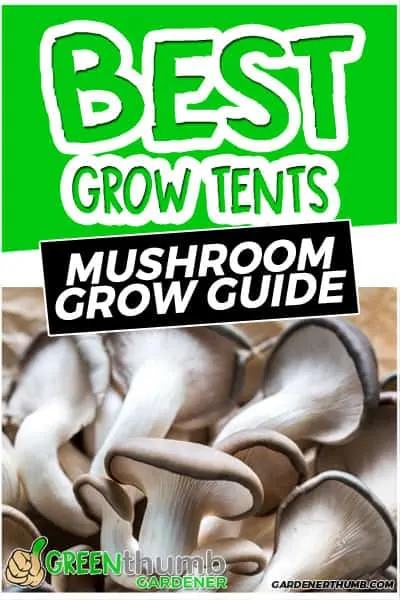 They can offer your mushrooms with other interesting benefits; such as keeping pests away and providing your mushrooms with just the right amount of lighting they need.
Check out this video for some good growing tips from a mushroom grower:
Indoor Mushroom Growing Conditions
You might consider some of these conditions before going ahead with your farming. They're important for you to understand so you easily provide your mushrooms just the appropriate environment to fruit well, like they should, for a bountiful harvest.
Space: Ensure the space is large enough for them to fruit properly. It might be a lot more difficult for them to grow well if your mushrooms are fighting for space and trying to survive.

A grow tent affords this space, so go for the one that has just the right space for the quantity you'd like to grow.
Temperature: The temperature in which your mushrooms grow is another factor to seriously consider. Don't let the temperature be too low or high for them to handle.

With a grow tent, you can easily control the temperature. However, be careful not to go overboard or below the expected level they'd need to sit and fruit well too.
Light: Many people believe mushrooms are best growing in complete darkness. They're wrong. Even those mushrooms don't need a grow light like plants.

The lights especially aid the indoor temperature and humidity they'd need to thrive properly in their artificial environment.
Moisture: Mushrooms thrive on moisture to survive. In their natural habitat, mushrooms rely on damp hosts to be able to fruit well.

Even though mushrooms grow better in cool environments, they do not, however, need too much water to thrive well. So, avoid over saturating them with water.
How To Choose The Top Growing Tent For Mushrooms?
When choosing a grow tent to use for your mushroom farming, there are certain things you have to consider before tapping that "buy" button.
If you want to make sure you have a successful growing process, you might want to look out for these grow tent attributes before finally making your purchase.
Sturdy and durable: Make sure the grow tent you're going for is sturdy and lasting.
Ensure the grow tent you purchase has strong fabric that is completely rip-resistant.
This keeps pests away and any other thing that can negatively affect your mushrooms.
Proper lighting: Many people believe mushrooms are best growing in the dark because, unlike plants, they do not need sunlight to process their food.
However, they still need some light to survive. So, whenever you're buying, check that your grow tent has the grow lights of great quality that would be able to provide just the right spectrum your mushrooms might need for optimal growth and yields.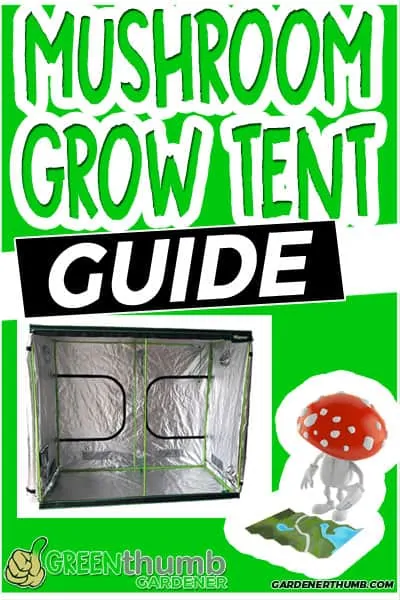 Proper ventilation and air circulation: make sure there's adequate air exchange in your grow tent. A stable supply of fresh air is needed for the successful mushroom growing. Without the effective circulation of air within the grow tent, your mushrooms might not get to fruit properly as they should.
Maintained humidity level: grow tents can provide enough of the humidity your mushrooms may need to survive. But, you can never be sure. Ensure the grow tent you're going for offers just the right level of humidity your mushrooms would need for excellent fruiting in the long run.
Light Proof/Heat Resistant: mushrooms do not need direct exposure to sunlight like plants. This is because they don't have chlorophyll or undergo photosynthesis to manufacture their own nutrients like plants. Although mushrooms do need light to grow, exposing them to intense light especially from sun rays could be damaging to their growth and the reproductive process.
Adequate temperature: Ensure the grow tent provides the adequate temperature they need for growth.
What Are The Advantages Of Mushroom Grow Tents?
Pros Of A Grow Tent
Portable: Mushroom grow tents are portable and very versatile. They can be easily erected anywhere you place them and can be easily moved from one place to another with minimal stress.
There are different size options you can choose from, depending on the number of mushrooms grow bags you need.
Grow tents can be good for every stage of growth, they make every stage you have to grow through less difficult than they seem.
Easy to use: An indoor mushroom grow tent is pretty easy to use. For a new grower, they might be the best option for your first mushroom gardening. They offer you room as well as ease.
The grow tent can be erected without much stress. Basically, they make mushroom farming much easier by eliminating the stress one might face with dealing with annoying pests, parasites, and others. Most have an observation window to allow you to easily check your fruiting.
Energy-efficient: Mushroom grow tents could be completely energy efficient. They could also be light proof.
Pest Control: Since they are sealed, it'd be helluva difficult for pests to come near your mushrooms.
More Yield: A grow tent can aid in increasing more yields at the end of the day. They can provide you with just the right environment and room you need to grow more mushrooms. The grow tent can also prevent your mushrooms from pests and other external factors that may affect them. You can get to also harvest multiple times within your home.
Safe: A grow tent can be really hygienic to use.
Green thumb Gardener occasionally links to product and/or services offered by vendors to assist you with all your gardening needs. Some of these may be affiliate links, meaning we earn a small commission if items are purchased.
How To Grow Delicious Mushrooms At Home

Grow Your Own Organic Gourmet Mushrooms For Beginners

Learn how to pick a strong mushroom strain for the best results
Learn several of the best grow methods and choose the right one for you
Setup your grow room the right way
Over 7 hours of video instruction from an expert mycologist with over 15 years of experience
Cons Of A Grow Tent
Restrictive in size: Grow tents can be restrictive in size. There are not many sizes to satisfy all growing types. So you might have to go for one of the limited sizes that the products would have to offer.
Limited capacity: They may also not be able to provide the room you may need if you have a ton of mushroom grow bags. But for mushroom farming, they should be pretty sufficient. They're also pretty much the same shape, rectangular. You won't be able to get maybe a triangular or circular mushroom grow tent that you may prefer.
Accessibility: Because of their limited depth, grow tents may not also be able to offer easy access to your fruits. Especially those very far away. Movement within the grow tent might also be difficult too.
Quite expensive: Grow tents are quite on the high side and shouldn't be purchased if you don't plan on using them for their purpose.
The high cost of maintenance: They can also be pretty expensive to maintain. You might need to get professional cleaning assistance to get the fabrics cleaned for you every now and then and this could be a bit too expensive.
Many grow tents may also not have the particular pods for ventilation. You might have to get technical help to be able to make the required pods for the ventilation your mushroom would need for growth.
How To Assemble A Mushroom Grow Tent?
Assembling a grow tent is a pretty basic skill you need to learn to be able to easily arrange it yourself without stress yourself or having to call for help.
The building process for setting up a grow tent can be pretty much the same for virtually all brands with only slight differences here and there in the make-up.
Steps To Assemble
Below are some simple steps you can follow:
Step 1: First, decide on the exact location you'd like to place the indoor grow tent. You might also need to measure up the room to know how you can easily and quickly set it up once and for all.
Step 2: Assemble the frame of the growing tent by joining the metal or plastic (PVC) poles together and hanging the bars. Most brands usually number theirs to make it dry easy for their buyers to easily assemble by just following the numbering.
Step 3: Once you're done with that, you can then spread out and clip or attach the removable floor to the poles.
Step 4: Unzip all the zippers on your indoor grow tent and cover the frame with the fabric.
Step 5: Drag and stretch the fabric to make sure you have it covering the frame properly.
And there you have it, your grow tent is ready!
You can follow the product manual to fix the other add-ons (like the grow lights, carbon filters, CO2 controller, safety scan, and so on) that may come with the product itself.
However, if you find it extra challenging to assemble, you can always ask for help from others.
A larger grow tent may require extra hands or time to arrange properly. So, don't be too shy to ask for the help you might need to build your grow room.
What Are The Steps to Growing Your Mushrooms In A Grow Tent?
This is not meant to be an extensive mushroom growing guide, but here are the some high level steps you need to be aware of.
After setting up your new grow tents, the next thing to do would be to design your growing area.
Make sure to put into consideration the conditions in which your mushrooms will be able to grow better as we've discussed earlier.
Growing mushrooms requires adequate humidity, temperature, moisture, air exchange, proper lighting, and low carbon dioxide supply.
Basic Steps To Grow
Also when designing your grow room, make sure that your grow area is designed for efficiency purposes and not to your personal taste or style.
Yes, it is good to make your grow area a bit fashionable, however, do not let that impede on your primary purpose for farming.
Clean the area and materials you're going to use.
Set up all the materials and mediums you'd like to use. Make sure adequate provision of everything they'd need for growth is made too.
Measure and fill your mediums with the materials you'd be using for the farming
Fill your grow bags or any other medium you might be using, with the compost-spawn mixture.
Start the incubation process by providing them adequate temperature for two to three weeks.
Spray regularly with water to moisturize. Don't forget not to over spray. A dedicated humidifier is a piece of equipment to consider.
Continue until the fruits begin to appear and are ready to harvest. When they're ready for harvest, you'll notice the cap fully above the ground and somewhat separate from the stem.
Green thumb Gardener occasionally links to product and/or services offered by vendors to assist you with all your gardening needs. Some of these may be affiliate links, meaning we earn a small commission if items are purchased.
Want to Download a ​Garden Hack Guide​ for FREE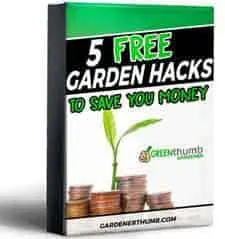 Enter your email below and we will send you a guide to help you SAVE money in your garden.
Final Thoughts
VIVOSUN 48″x48″x80″ Mylar Hydroponic Grow Tent would be winner for the best mushrooms grow tent.
This tent is great in so many ways.
VIVOSUN 48″x48″x80″ Mylar Hydroponic Grow Tent provides the perfect environment to grow mushrooms. It has a spacious room for large farming.
That's not all, it allows for enhanced mushroom farming than the other products on the lists.
VIVOSUN 48″x48″x80″ Mylar Hydroponic Grow Tent invariably keeps the moisture, temperature, and ventilation level intact in your tent.
Inside the tent includes reflective mylar to provide adequate lighting to your mushrooms.
It is safe, easy to use, and easy to set up.