Do Pepper Plants Need Cages?
Last updated: 05/19/22
I have always loved planting peppers in my garden, especially during the summer season. Pepper plants can come in a variety of colors, sizes, shapes, heat intensities, and flavors of peppers.
My favorites are the sweet and mild bell pepper varieties, although I love using hot peppers once in a while.
Having a pepper garden is very practical. Aside from the fresh ripe peppers available anytime, the colorful peppers are also pleasing to look at in the garden.
The pepper plant is sturdy and has relatively shallow root systems that grow close to the soil's surface. When pepper plants are full of plump peppers, their branches tend to bend and break, especially during strong winds.
So it's essential to support them by using a stake or cages.
Green thumb Gardener occasionally links to product and/or services offered by vendors to assist you with all your gardening needs. Some of these may be affiliate links, meaning we earn a small commission if items are purchased.
Want to Download a ​Garden Hack Guide​ for FREE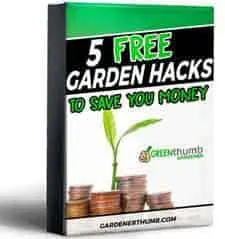 Enter your email below and we will send you a guide to help you SAVE money in your garden.
Do Pepper Plants Need Cages?
Peppers plants would generally need support such as a cage or stake to prevent their branches from breaking. It all depends on the variety you planted and the height of the pepper plant.
Depends on the plant's size and height
For larger pepper varieties such as bell peppers, it is highly recommended to use a cage. Its stems and branches can get damaged during strong winds due to the weight of its fruits and fall to the ground. Smaller ones like banana peppers may only need a stake.
Pepper plants that are 16-18 inches tall will need a stake, which is usually made of wood, to support their stems.
Taller plants that are more than 24 inches will require more substantial support like a cage, similar to tomato cages to support their stem, branches, and fruits.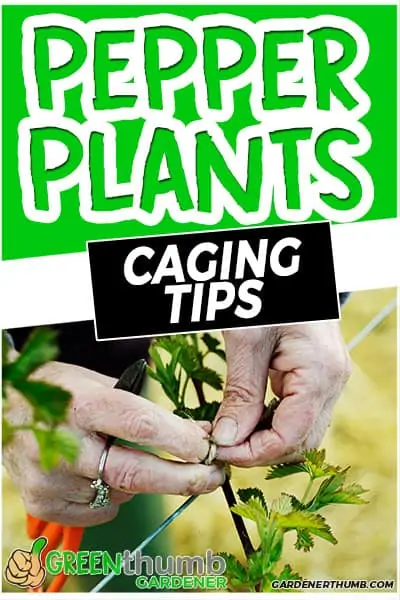 Different Ways To Support Pepper Plants
There are a variety of ways you can do to support the pepper plant. Some are relatively easy to make while others may take a bit more work; here are some pepper support systems:
Wood, Metal or Plastic Stakes
One of the simplest ways to support pepper plants is by using stakes made of wood, bamboo, metal, or plastics. You can make stakes in a relatively short time using the materials available in the garden or your home.
Stakes are a great practical and cheap way of supporting your entire pepper crop.
Metal, Plastic or Wood Cages
Cages are another excellent alternative to support pepper plants. Constructing cages can use everyday materials such as wood, metal, or plastics.
You can use existing wire tomato cages use in planting tomatoes or make homemade pepper cages.
The most common type of wire tomato cages is made of metal wire-mesh fencing. But if you have an old poultry fencing made of chicken wire, it can be recycled into a makeshift pepper cage.
You might need multiple tomato cages to cover all your pepper plants and protect their fresh branches.
Netting and Rope
Another practical alternative for pepper plant support is using netting. Although it can provide less firm support than pepper staking and cage.
It is an excellent choice if you have lots of pepper plants placed in one row. It is easy to set up, and all you have to make sure of is that the plant branches are tied to the netting.
Similar to netting, a rope is very useful in growing pepper plants in a long row. The rope is attached horizontally to at least two supporting posts or pillars.
Another set of ropes is tied to the horizontal ropes and hanged over the pepper plants. The vertical ropes will then be attached to 8-12 inches stakes.
These vertical ropes can be wrapped around the pepper plant's stems to support heavy wind and the pepper fruits' weight.
Trellises
A trellis is a frame of latticework that is used to support or screen plants. Trellis creates a lovely view with its interweaving design and excellent in supporting pepper plants from strong winds and light.
A trellis provides an attractive backdrop to your different types of pepper. Trellises can be a little more expensive compared to other pepper support systems.
How To Stake Peppers
Placing stakes in pepper plants is not mandatory and your plant will still grow normally, but it can bring many advantages.
Pepper supports systems like stakes, which help the plants when they are laden with fruits. It prevents its stems from bending and crawling to the ground which will make them susceptible to pepper plant diseases.
How to Properly Use Stakes
Using a 4 feet stake is recommended, and make sure at least 8-12 inches of the stake is buried below the soil to add stability. The remaining part, which is around 3 feet tall, is placed above the ground.
Stakes should be placed early in the season to support the growing pepper plants at their early stages of development. Just make sure the stakes are not placed too close to the roots in order not to damage them.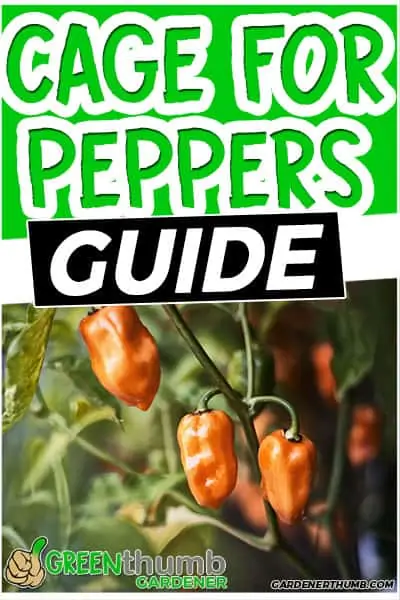 Use twine to tie the stems about an inch to the stakes to provide support so that they will not bend and fall to the soil. As the pepper plant grows, make sure you adjust the twines to give the stems enough space to grow and expand.
Make sure to occasionally check the stakes if they are still firmly planted on the ground. The stakes will protect the plants from wind, mainly because the pepper plant's roots are shallow.
Using a Cage For Staking Peppers
A cage is a very reliable way of supporting your pepper plant, and it is cost-efficient since you can use your extra tomato cages.
There is no need to tie the pepper plant's stems, which means saving time and effort. However, since the plants are cage inside, it can be sometimes difficult to pull weeds, add fertilizers and harvest the pepper fruits.
But a cage can be handy in keeping domestic and wild animals away from your plants. Pepper plants most often bunch up inside an enclosure which provides needed shade and protects other parts of the plant from sun damage.
Planting peppers can be very rewarding, especially when you already see the fruits of your labor. Pepper support systems are a great way of improving the quality of your harvest.
But it should be coupled with other things such as the proper pruning and proper use of fertilizers. Pepper plants need watering because of their shallow roots, but they should also be provided with rich, well-draining soil to maintain good health.
Proper soil temperature is also essential, and fabric ground cover can maintain a healthy soil temperature for the pepper plants.
Download ​our FREE
Garden Hack Guide
Enter your email below and we will send you a guide to help you SAVE money in your garden.
Related Questions
Do jalapenos need cages?
Yes, Jalapapenos need cages to help support the plant, especially when yielding large amounts of fruit. Jalapenos around twelve to sixteen inches apart and two-three feet apart between rows for best results.
Do pepper plants like sun or shade?
Pepper plants need sunlight at least 6-8 hours a day. Full sunlight can bring out the best flavor and performance from the pepper plant.
Do pepper plants do well in pots?
Pepper plants can grow well in pots but avoid disturbing the roots when transferring them to a bigger pot. The new container should have enough space for the new roots to grow.