10 Easy To Grow Vegetables For First Time Gardener
Last updated: 01/22/21
Have you ever wanted to grow your very own vegetables, but feel intimidated by the process. I can give you a rundown of 10 easy to grow vegetables for a first time gardener.
Remember, as a new gardener, maintaining a rather large vegetable garden requires an overwhelming level of commitment.
So my advice to you is to start small and add on a little by little, before expanding your garden.
Green thumb Gardener occasionally links to product and/or services offered by vendors to assist you with all your gardening needs. Some of these may be affiliate links, meaning we earn a small commission if items are purchased.
Want to Download a ​Garden Hack Guide​ for FREE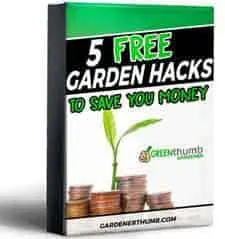 Enter your email below and we will send you a guide to help you SAVE money in your garden.
Listen to this post on the Green thumb Gardener Podcast
Subscribe to the Green Thumb Gardener Podcast on iTunes, Spotify, Or Google Podcast HERE
10 Easy Vegetables To Grow For Garden Newbies
The vegetables explained below are easy to grow and are regarded as beginner friendly.
Listen to this post on the Green thumb Gardener Podcast
1. Beetroot
Boltardy is a popular species of beet roots. It is the best root variety if you want to sow early and plant cool-season crops.
The beets plant generally likes soil without much acidity. The soil needs to be soft and free of clay and sand.
It should be planted in an open sunny environment, but it can also tolerate in part shade.
Till the soil and plant your seedlings, it is that simple. Care for the seeds by watering daily until it begins to sprout leaves.
Thin out your seedlings in preparation for harvesting, and make sure to look out for birds and weeds. It does not produce premature flowering stems, which makes it good for a first time gardener.
2. Lettuce
Salad Leaves such as argula and oak-leaf lettuce are sown and harvested on a cut-and-come-again basis or a continual harvest. Don't buy lettuce plants, you can easily start them from lettuce seeds
This means you don't have to care too much for the plant, and you can reap a lot from a single plant.
Salad leaves are capable of growing even in poor soil. It is advisable to improve the moisture content of the soil.
You can do this by adding well-rotted organic matter to the soil, to reduce the risk of the leaves turning bitter.
Want to know more about how to grow salad leaves. Check out this guide here.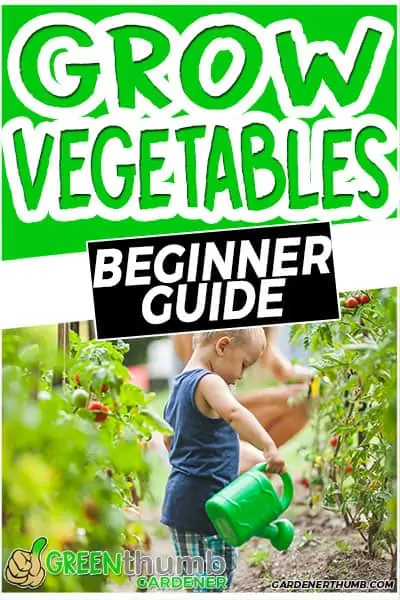 3. Bush Tomato Plant
Bush Tomato is a variety of tomato plants that is easier to grow than indeterminate varieties.
This is because, unlike its counterpart, it doesn't require supporting and its side shoots don't need pricking out. It typically is one of the shorter plants of tomatoes, yet can still be productive plants.
Bush tomatoes are the best choice for a beginner gardener. These tomatoes grow very well in a pot or hanging basket, either outdoors or in a greenhouse.
For a better understanding, check out my video below.
4. Zucchini Squash
As a first-time gardener, you must consider growing a productive plant like zucchini squash. To grow this veggie, you will require a decent amount of space as it is one of the larger plants to grow.
However, this plant does not require a great deal of patience before it can be harvested. The maturity rate of this veggie happens in mere hours, after a fruit sets on the plant.
5. Pea Plants
Peas can easily be grown, especially if you choose a compact variety that does not require staking.
Peas are the cool season versions of beans that can be planted just before the last spring frost. Don't be fooled though, they taste much sweeter & are much tender than green beans.
Peas can even be grown using a container.
Its young tip can be trimmed off and used in salads which are a tasty treat, they are also followed by flowers and pods.
To grow peas, you basically just need to plant the seeds in a well manured shallow trench and cover it up.
6. Radishes
Radishes are every gardener's variation of a wonder plant. They grow very fast and take about 21 days until harvest after they are planted.
It is best that you do not leave them in your garden for too long, in order for them to maintain their crisp and mild nature. Having a hint of radish in your salad dishes can make for the perfect breakfast.
So, I'll advise you to find new recipes on how to make use of this fast-growing wonder productive plant. Grab yourself some radish seeds to plant in the cool weather seasons.
7. Miners' Lettuce
Miners' Lettuce is typically grown in colder environments because of how easy it is to grow. It has a similar taste to spinach and is a healthy addition to your salad.
You basically plant the seedlings in such a way that encourages them to put on growth.
Maintain a spacing of 10cm in rows and 20cm apart from one another. Remember to water well.
You can cover the plant to protect it during the cold climates.
8. Basil
As are all herbs, basil is rather very easy to grow. It is also among the most popular herbs. Combined with how well it beautifies the garden, it also smells and tastes nice.
It has a rather high sensitivity to very low temperatures. Know your area's frost dates & only plant it when the temperature is warm or above 50 degrees to prevent it from freezing and wildering.
Like most herbs, it can be planted using a container, although, it will require regular watering.
9. Potatoes
Potatoes a beginner-friendly vegetable. All you need to do is, plant them in a well-watered area and harvest them in about 8 weeks.
The germination period includes the appearance of leaves on the steam, these leaves should be covered using soil when they first appear.
This process is known as "Earthing up".
Potatoes planted in the early season are expected to be harvested before the hot, humid weather causes potato blight.
Check out the video below for an easy way to grow potatoes.
10. Chilli 'Cayenne' Pepper Plants
Chillies pepper plants grow better when they are planted in a container and placed on a window sill, or in an environment that is warm. These peppers love the summer heat and require about 5-6 hours of sunlight per day.
Its growth requirements are very similar to that of the bush tomatoes because it doesn't require a stake as well. It also produces several harvests from a single crop up until winter comes in autumn.
Follow the link to know more about how to plant Chilli cayenne.
11 Tips To Help You Get Started
You might are rather new to gardening, there are some important elements needed to achieve a successful garden.
These insights will help you drastically level up & improve your gardening skills. Follow these useful tips for beginners, and you will be satisfied with the results.
1. Use A Good Plot For Your Garden
To start a garden, you first need to get the location right. It should be a location within your range and sight.
If the garden is in a location within your reach, you will be more inclined to spend more time in it.
2. Don't Shade Your Garden
Plants need lots of sunlight to grow and as such, this aspect should not be ignored.
Most plants such as herbs, fruits, vegetables, and even a flower, need sunlight for at least 6 hours.
Generally, you want your garden to be located in an area where the sun can easily gain direct contact with it.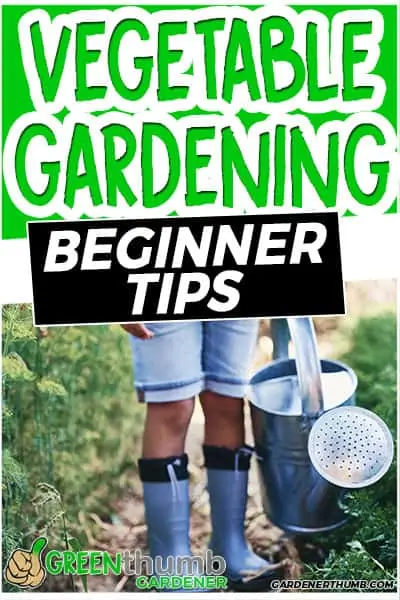 At most, you can have a partial shade over your garden for plants that don't require direct sunlight.
3. Keep Water Within Your Range
Water is a source of life, and as such plants require it to start, keep, and continue their life.
You generally want the source of water to be within arms reach to reduce stress.
You can tell if your plants need watering by pushing your finger about an inch into the soil. If it's dry, that means it needs watering.
4. Start With A Good Soil
It is best to start with a trustworthy and Moist Well Drained Soil rich in nutrients and a well-defined texture when you start a garden.
As such, I advise that you invest in one. Doing this will help you save costs in the future.
5. Consider Using Containers
Consider making use of containers if you don't much in the garden.
Vegetables, herbs, flowers, berries, shrubs, and fruit trees can be grown using container gardening.
Containers are well formulated to help the plant thrive, and it also protects against over and under-watering.
6. Choose The Right Plants
It is important to understand the nature and specifications of the plants you want to grow.
This means growing climate-specific plants in areas that best fit their requirements.
For instance, if your plant likes the sun, grow it in a sunny area, if it is heat-tolerant, grow it in a warm climate. The same should be done for plants that enjoy the cold weather.
7. Find Your Comfort Zone
Discovering your comfort zone can help you to choose the best plants that fit your style.
No matter how good a gardener you are, if you don't feel comfortable growing a plant, odds are that plant won't give you the results you require.
8. Discover Your Hardiness Zone
The zone number or Hardiness Zone, let's you know the type of plants that will grow best in your climate.
If your zone number is high, that means your climate is warm or the temperature is high.
If a plant that requires cold weather or climate is planted in a hot climate, such a plant will not grow in any way.
Check out our chart and some more tips on when to plant here.
9. Learn The Best Time To Plant Your Seeds
If you plant seeds too early or late in a season, that can prove costly to your garden.
You always want to know when it is best to grow your crops, in order not to kill them as a result of premature planting.
10. Add Some Mulch
Mulching soil involves using a porous material to cover the bare garden, in order to improve the condition of the soil underneath.
Doing this will reduce weed growth by blocking the sun, and it will also reduce the amount of moisture lost through evaporation.
Mulching can be done using straws, pine straws, shredded leaves, or any available material.
11. Always Feed Your Plants
Having good soil in your garden is not enough, you constantly need to boost the soil's nutritional value by feeding or fertilizing it.
This is important because the soil tends to lose its nutrients due to plant growth.
An extra piece of information is to have ready every basic tool you need to make your Gardening easy.
It is all about your preferences.
Download ​our FREE
Garden Hack Guide
Enter your email below and we will send you a guide to help you SAVE money in your garden.
Final Thoughts
As a first time gardener, you need to start small and expand your skills at a steady rate. Rome was not built in a day, nor can you instantly transform into a highly skilled gardener in a day.
Gardening is really fun once you become well acquainted with it. As a beginner gardener, you should find growing an easy to plant vegetable very exciting.
It teaches you a lot, and the reward is an encouragement to reap more of its benefits.