How To Prune Parsley & Promote More Growth
Last updated: 07/02/21
Maybe you started a new passion – growing your own herbs and vegetables. I've had a couple of failures in the past, but that was due to lack of knowledge. One of the easiest herbs you can grow that will last you all season is fresh parsley.
With just a little care and knowledge, you can produce parsley that you can use in your cooking that will last all season long. Whether you're growing them in an herb garden or in individual pots, parsley plants are easy to grow and prune.
You can even grow a small pot of parsley in your kitchen for easily accessible herbs that you can harvest while you cook.
Green thumb Gardener occasionally links to product and/or services offered by vendors to assist you with all your gardening needs. Some of these may be affiliate links, meaning we earn a small commission if items are purchased.
Want to Download a ​Garden Hack Guide​ for FREE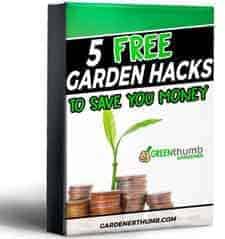 Enter your email below and we will send you a guide to help you SAVE money in your garden.
Time Your Trimming | When to Prune Parsley?
So you've been growing your parsley, that you've either started by seed or young plant, but you need know know how to keep your foliage looking fresh and keep growing new leaves, the answer to that is pruning.
How to you know when to prune? When will your parsley be at it's full flavor?
Let me help you with that.
Parsley is a biennial herb, meaning that it will grow for two years before it goes to seed in the right environment. Having said that, most people treat it as an annual and start fresh each spring.
It is completely up to you whether you want to keep your plants as an annual or keep it for a second year.
Parsley is one of the fastest-growing herbs and regular pruning is very important to maintain new growth. After pruning, it will reach it's full growth again after two to three weeks. So you'll be pruning frequently.
Remember that new growth comes from underneath, toward the center of the plant, so by frequent pruning, you are encouraging new growth that won't be overcrowded and can get adequate sunlight.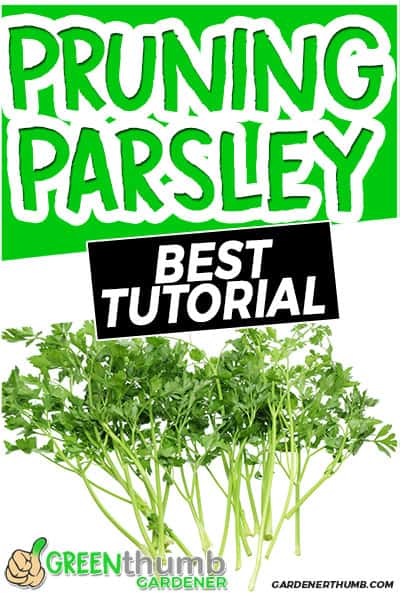 Keep in mind that an overcrowded plant can create a humid environment for the new growth and lead to fungal pathogens that can spread throughout your plant. This is important to remember. If that happens to you, you might want to start over with some fresh starts. Keep up on your pruning or you may be upset with yourself.
Parsley is at its full flavor when the stems are about six inches tall and have the bright green color. So that is a great time to harvest your parsley and use it in some yummy food. Two other options to store for future at this point include drying your parsley or you can even freeze it. This way you can use your extra parsley all year round and you'll never have to buy it in the grocery store.
One thing you want to do is to check for any yellowing leaves. Leaves with bright colors are the most flavorful. You want to cut the yellowing leaves back first. I would check for yellowing leaves at every week or two. Just toss the yellowing leaves because they will not have to the freshest flavor. You want beautiful green foliage for the best flavor.
Check out this video to see to prune parsley.
Best Way on How to Prune Parsley
Frequent trimming keeps your plants the healthiest. Now that you know when to prune your parsley, what is the best way to prune it?
There are two ways to prune any type of herbs. You can pinch it off with your fingers or use a sharp pair of pruning shears or kitchen shears. You do not want to tear it off. By cutting or pinching versus tearing your plant, it keeps the stalks healthiest for new growth.
Always leave 1/2 to 2/3 of the leafy stems. This will preserve the plant and allow for new growth.
Start with the outer stems and work your way toward the center of the plant. Remember the outer part is the oldest part of the plant so you want to prune that section first. This will help you encourage your new growth.
Make sure you don't just pinch off the leaves, even though this is what most people use, even though the stems have lots to good flavor to them. If you don't take part of the stem, then the stem will dry out and won't regrow and you want your plant to keep growing all season long. If you do just pinch off a leaf, it will dry in just a few days, so go ahead and trim that stem down.
Frequent trimming also helps to keep the plant from going to seed. If the plant goes to seed, then the leaves will start to die back and you will not have a good harvest and your goal is to produce lots of parsley for cooking and to store for the winter months. Check if your plant needs to be pruned every couple of weeks.
Parsley Growing Tips For More Growth
Keep your plant adequately watered and happy! Dry and dropping plants are not good. Well maintained growth of parsley produces good plants.
It's also just as important not to over water your plants. Flooded soil is not healthy for any plants so be sure to have well draining soil both if you're growing in the grown or in pots.
Make sure your parsley is planted in moist, well-turned soil. Parsely can be grown in either full sun or partial shade.
Make sure you prune the outer leaves often to encourage that new growth. The growth means that your plant is healthy and thriving. You want a nice green color to your leaves.
While most people consider parsley to be annual plants, if you chose to do biennial planting, you will see flower buds or flower stalk at the end of the second year and you can harvest the parsley seeds for the next year's planting.
Should you see any buds during your first year, make your that you pinch them off so you will continue to grow the plants for the second season. That way, it won't seed too soon and continue come back the next year.
Ways To Use Fresh Parsley After You Harvest Them
Here's the yummy part, how to use all those sprigs of parsley that you've been harvesting. The days of just using parsely as a garnish on your plate is gone.
Parsley is so versatile and a popular herb and there are so many ways to use it.
Once you start experimenting with parley, I'm sure you'll find many ways to incorporated in your favorite dishes.
Most people use the just leaves and that is what would stores well. Did you know that you can also use the entire stem in your dishes and they are packed with flavor? Go ahead and try some in some of your favorite dishes.
Did you know that parsely is packed with vitamin C and has more that your glass of orange juice? Throw some in your smoothy.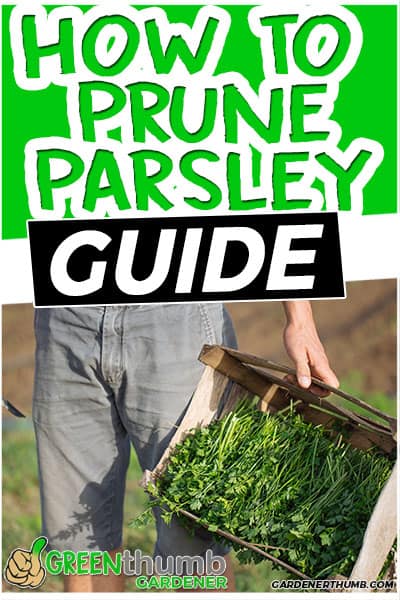 Throw some parsley in while you're cooking up some portibello mushrooms to go with your steak and add some extra flavor.
Don't forget to use it in your favorite Italian dishes. Toss some in with your oregano, basil and other herbs in your spaghetti sauce. Even if you don't make your sauces from scratch, throwing some fresh herbs in your jarred sauce will bring out some much more flavor.
Garnish fresh fish dishes with some parsley and other herbs that will add more flavor to your meal.
Parsley is also great in pesto. You can make a basil and parsley pesto that would be delicious on top of some pasta.
Stores your parsley in a tight container or you can freeze them in ice cube trays with a little water or even some oil oil.
Download ​our FREE
Garden Hack Guide
Enter your email below and we will send you a guide to help you SAVE money in your garden.
Final Thoughts
No matter the method of composting you may choose and with the correct steps, you will end up with eco-friendly manure.
I have shared everything you need to know from my experience and extra research on how to make compost step by step to help you do it exceptionally at home.
Keep the crucial points in mind and make good use of leftover and old logs in your compound to produce the best natural fertilizer.