Best Insecticide for Vegetable Garden
Last Updated 09/16/20
Insects can be the most annoying pests if nothing is done to prevent their infestation. This is why you'd need the best insecticide for a vegetable garden to actively protect your plants from the seriously destructive tiny little monsters.
In this article are some of the best insecticides you can use. Let's dig right into a review of the products.
Scroll down further to check out our buyer's guide.
Best Insecticide For Vegetable Garden
Green thumb Gardener occasionally links to product and/or services offered by vendors to assist you with all your gardening needs. Some of these may be affiliate links, meaning we earn a small commission if items are purchased. Check our terms here.
Insecticide For Vegetable Garden Reviews
Neem Oil Spray is one of the insecticide products that's made with the popular neem oil, an immensely powerful substance extracted from seeds of the neem trees (Azadirachta indica) commonly found in and around the dry forests of South and Southeast Asia.
Neem Oil Spray is an easy-to-use broad-spectrum insecticide spray designed to control different types of insects; aphids, whiteflies, bugs, mites, and a lot of other sap-sucking insects with the sole intent to feed on your veggies and kill gardener's dream of harvesting them in large quantities.
This product doesn't only work on insects alone, you can also use it in controlling any type of fungal disease that may develop on your plants.
Neem Oil, upon contact with the deadly insects, can kill their young ones and disrupts the hormonal systems of the old and stubborn. It does this by reducing their ability to reproduce—well until they are significantly reduced and/or completely eradicated from your garden.
I mentioned earlier that Neem Oil Spray is easy to use… Well, yes! This is because you do not need to transfer into a spray bottle or mix to use. Once it's delivered to you from your buyer, you can apply immediately to your garden, right from the bottle.
Even though this product is fully organic, it can also be quite toxic to your plants when used excessively.
Keeping how you use the spray in check will not only eradicate the insects but also allow you to grow the healthiest veggies for your consumption.
PROS
Made using the organic yet powerful neem oil
Easy to use
Kills some insects, especially the young ones, immediately upon contact
Has a multipurpose effect. It controls insects, mites, and fungi diseases, as well
CONS
Can only be used in a limited growing area.
Residual effects may not last long. Has to be applied multiple times for lasting effects.
Avoid contact with your body.
CHECK CURRENT PRICE: Neem Oil Spray
---
Trifecta Natural Insecticide is another handy pest control tool that you can use against those annoying insects ravaging your vegetable garden.
Trifecta Natural Insecticide is all-natural. It's made from a number of strong essential oils (like peppermint oils, garlic oils, and clove oils), and broken down into nano-sized quantities to guarantee effective results after application.
This product is a great tool for eliminating insects, mites, and other devilish tiny pests you might have in your garden. Trifecta Natural Insecticide, like Neem Oil Spray, can also be used to prevent mold, powdery mildew, and any other fungal and parasitic diseases that your plants can be suffering from.
Trifecta can be used on all plant types, which is why they're practically perfect for use in your vegetable garden.
What this Insecticide does is to strengthen the defense system of your plants to fight the pests and diseases that may be threatening them.
To use this product, properly mix with water and spray over all the affected areas.
You might want to avoid over spraying this product on your plants, too. Excess use can significantly damage your plants.
PROS
Ready to use.
Fully organic and safe for use in your vegetable garden
Small, portable, and great for indoor farmers with limited farming space
Can be used on virtually all plant types
CONS
Overuse can affect plants adversely
Has to be applied continuously
CHECK CURRENT PRICE: Trifecta Crop Control Ready to Use Maximum Strength Natural Insecticide
---
One of the reasons people fear using insecticides on their garden plants is because they contain powerful ingredients that can kill the beneficial insects, like bees (responsible for pollinating tomatoes and your other delicious vegetables) and ladybugs (pest eating insects), on their farm.
However, Organic Lab Garden Spray is a bee-friendly insecticide. It can kill other insects like mites, aphids, whiteflies, and worms and leave your bees alone to do their pollination job.
It can have lasting effects on those evil insects trying to oust you from your farm.
Like the previously reviewed products, Organic Lab Garden Spray is also a 3-in-1 pest control tool. It's capable of destroying insects, mites, and fungi species.
Organic Lab Garden Spray is OMRI (Organic Materials Review Institute) listed for organic use and EPA (Environmental Protection Agency) exempted. It's said to pose no risks to the environment and can be used on a number of plant types.
PROS
A nature-safe product for use on your vegetables
Can have lasting effects on pests after use.
OMRI Listed & EPA Exempted.
A 3-in-1 pest control tool.
CONS
Has a strong offensive odor
Overuse has the potential of completely killing your plants
CHECK CURRENT PRICE: Organic Laboratories 100-021 Lab QT Organocide 3-in-1 Garden Spray
---
Neem Bliss is another neem-based insecticide that you can use on your vegetable garden to hit those sap-sucking little pests with the strapping blow they can never survive.
Neem oil is one of the insecticide materials scientists highly recommend for use in vegetable gardens. This is because it's organic, virtually non-toxic, and highly effective in killing the insects that might develop on your farm.
Neem oil's active ingredient is azadirachtin, a highly-effective substance that can kill immature insects upon contact. This substance also interferes with the hormonal system of the insects and causes them not to be able to feed well and lay eggs as they should.
Neem Bliss, unlike Neem Oil Spray, is a unique brand of insecticide that contains 100% cold-pressed neem oil and is free of toxic chemicals that heighten its level of toxicity
PROS
This product is OMRI listed for organic use.
Made with 100% neem oil. No chemical additives.
Effective in reducing non-beneficial insect infestations.
CONS
Requires continuous application for effective eradication pests on your farm
Has an intolerable smell
Avoid contact with skin
CHECK CURRENT PRICE: Organic Neem Bliss 100% Pure Cold Pressed Neem Seed Oil
---
AgroMagen Natural Insecticide is another wonderful pest control tool you can use.
This product has been designed, specifically, to effect two actions after application on your plants. First, it creates a shiny protective layer to form a sort of defense against pests for the plants.
This can last up to seven days and can be highly effective in reducing high insect-like pests infestations.
Second, this special insecticide contains a strong chemical that works in keeping insects far away from your garden.
This insecticide has been confirmed to be less toxic than milk. It is made up of naturally sourced food-grade ingredients that immediately kills insects on contact.
AgroMagen Natural Insecticide is OMRI listed safe for use. The product is eco-friendly, too.
PROS
Less toxic
Contains all-natural food-grade ingredients
Kills insects on contact
Safe for beneficial insects in your garden
Repels insects effectively
CONS
Residual effects not so long lasting
Has to be used multiple times for effective pests elimination
CHECK CURRENT PRICE: AgroMagen (GS420), GrowSafe Bio-Pesticide, Natural Insecticide
---
If protecting the earth is your thing, then Earth's Alley Insect Control Spray will help you in your cause.
It does the job of repelling insects such as spider mites, aphids, and the dreaded white flies. This insecticide spray will also control mealybugs, leaf rollers, and scale.
It is safe and will not harm your plants while using it as its main ingredient is Rosemary oil, so you can have some comfort in that.
It even smells much better than some other natural products out there.
PROS
Smells amazing
Contains all-natural food-grade ingredients
Organic Garden Certified
Safe for beneficial insects in your garden
CONS
Must be applied in early morning or evening times
Must reapply after rain
CHECK CURRENT PRICE: Earth's Ally Insect Control Spray
---
This insecticide is not organic, but it is relatively safe around humans and pets once it is dry. It really packs a punch against aphids and spider mites.
It is an insecticidal soap that has spinosad. Spinosad is a substance made by a soil bacterium that is effective at controlling some insects.
It is formulated as a mixture of two chemicals called spinosyn A and spinosyn D. Some insects that it is effective against include thrips, leafminers, spider mites, mosquitoes, ants, fruit flies and others.
It is safe to use on vegetables, fruits, nuts, berries, greenhouse plants and ornamentals.
PROS
Less toxic
Safe for pets once dry
Kills insects on contact
Also kills powdery mildew
CONS
Must be careful applying it
CHECK CURRENT PRICE: Bonide® Insecticidal Super Soap Ready to Use Sprayn
---
[lasso ref="monterey-lg6150-garden-insect-spray-insecticide-pesticide-with-spinosad-concentrate-16-oz" id="10813″ link_id="21271″]
Monterey Garden insect Spray is a fast acting insecticide that is also odorless. It has a variety of insects that it controls.
Some of them include caterpillars, leafminers, codling moth, tent caterpillars, gypsy moth, trips, borers, and fire ants.
This is a spray application insecticide that can be used in a hand-held or backpack sprayer for ease of use.
Perfect option for fruiting trees to help control some tip-boring larvae and can help suppress fruit flies.
PROS
Easy Application
Organic Safe
Safe for pets
CONS
May need more than one application
Results vary with controlling certain types of ants
CHECK CURRENT PRICE: Monterey LG6150 Garden Insect Spray
---
Bayer Advanced vegetable and garden insecticide is definitely my go to for controlling Japanese beetles that get out of control each year. It really is one of the only options that really works.
That being said, it really controls a boat load of insects for your edible plants. It is safe to use up until the day of harvest, but really give your edible plants a good washing.
This really is the last option if you don't have any safer insecticides to use. Be aware that it is not safe for bees, so avoid it on blooming plants.
PROS
Dry within 1 hour
Kills insects on contact
Repels insects effectively
CONS
Not for use on corn
Not bee safe
CHECK CURRENT PRICE: Bayer Advanced 701521 Vegetable and Garden Insect Spray Concentrate
---
Here is another go to when nothing seems to work. This is my go to during that crucial time frame when growing squash in the early spring.
We only apply this very early on before any blooming stage along with some other techniques to keep our squash from being devoured when the borders hatch.
It is applied as dust, so you also need an applicator to apply it evenly. You can use the can as a shaker, but it does better using the applicator. Sevin is a powerful insecticide that also rids your vegetable plants of over 65 pests.
Just be aware that it is not bee safe when applied on flowering plants, so try to avoid dusting any budding plants.
PROS
Go to for Squash Borers
Repels insects effectively
Kills over 65 insect pests
CONS
Must be reapplied after rain
Not bee safe
CHECK CURRENT PRICE: Sevin Ready-to-Use 5% Dust 3 Pack
---
Scotts Bug B gon insecticide is definitely a more recognized conventional product. It does a fair job at controlling bugs, but is my least favorite product of these 12.
Typically, you can find this spray everywhere as Scotts is a big brand product, but it doesn't find its way into our garden.
However, it does work and does the job. This might be a solution that would be a third option if all organic options did not control well.
We have a problem with leaf miners sometimes and this would help if we did not get neem oil down in time. Don't count it out, but just don't rely on this exclusively if you try to be more organic.
PROS
Control over 100 insect pests
Kills insects almost instantly
Less residue smell that other conventional insect sprays
Repels insects effectively
CONS
Not bee safe
Sprayer is not great quality
CHECK CURRENT PRICE: Scotts Company 1600710 Bug B Gon Garden Insect Killer
---
Fertilome triple action insecticide is also a useful fungicide and miticide. You can use this on edible plants as well as roses, flowers, and shrubs that need some insect control.
The triple action does its job by flushing insect pests out of hiding and into direct contact with spray residues.
Some of the insects that it controls include aphids, spider mites, scale, mealybugs, weevils, tent caterpillars, whiteflies, & many others.
Iti is a concentrate so you can use this in many applicators like hand-pump sprayers or back sprayers if you have a lot of ground to cover.
PROS
Very quick control
Reapply only every 14 days
Complete Control
Can be used up to day of harvest
CHECK CURRENT PRICE: Fertilome Triple Action: Insecticide, Fungicide and Miticide – 1/2 Pint
---
How to Choose The Best Insecticides for Vegetable Garden?
Insecticides can be one of the most effective tools to use in preventing and removing annoying non-beneficial insects from your garden.
However, by their formation, these things can also be toxic as well, especially to the beautiful veggies you grow.
These insecticides, if proper care is not taken to minimize the risks they pose, can affect not only your plants but the surrounding environment, too.
This is why you need to take your time to choose the most effective product and most suitable one you can find for your vegetables.
Unfortunately, there are too many brands of insecticides out there now, and this makes it a lot more difficult for indoor gardeners, like you, to choose the most suitable type with the appropriate specifications and direction of use for your winning vegetables.
Well, that's why I'm here to help with all the information you'd need on these insecticides to make the right decision.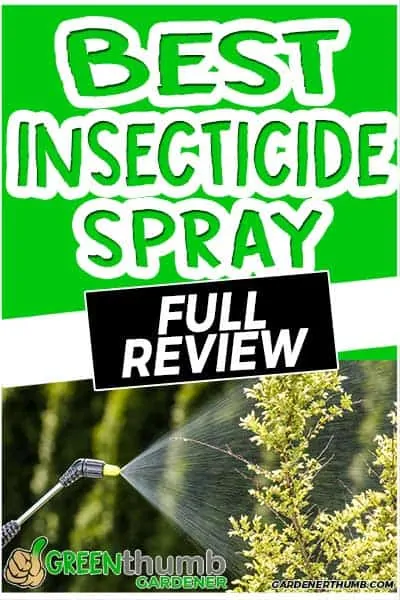 Below are some of the boxes you can check before selecting an insecticide for your vegetable garden:
1. Identify the insect type: there are a lot of different insects that ravage plants and destroy farmers' hopes. Knowing the particular type in your garden and what they are capable of will help to choose the best insecticide you can use to kill them all.
2. Type of plant grown: the type of plant you grow can also determine the type of insecticide you might choose for your garden.
Since you're growing veggies, you might want to be careful about the contents of your insecticide. Going for safe and less toxic substances will prevent any sort of chemical damage on your plants as well as on your growing area.
3. Make a decision on how much you can tolerate: some insects like spider mites, aphids, worms, et cetera, can be a bit difficult to eradicate from a deeply infested farm. Even with the most effective product, it can take longer than expected for your plants to be saved from those unrepentant fluid-sucking monsters.
So, find out how much these things have penetrated into your garden and also make a decision on the measure of their activities you can tolerate before going ahead to make a purchase.
4. Treatment area: the treatment area in your garden is also another thing to consider before going for any insecticide at all. You want to know how deeply infested your farm is before applying any insecticide on it.
5. Research about insecticides and their ingredients: before you even go for any insecticides in the market, you must be sure it doesn't contain any toxic chemicals that will damage your plants after single or repeated use.
This is why you'd want to research the type of ingredients that generally make up insecticides; the toxic and less toxic, for you to be able to make the best decision.
Things to Look Out For When Purchasing an Insecticide for Your Vegetable Garden
When next you're purchasing an insecticide for your garden, here are a few details you might want to look out for in them before finally going ahead to make a payment.
Organic vs Chemical? – It's Not What You Think
The ingredients used in making insecticides can either be organic or chemical, depending on the concentration of materials or content.
The choice you make might depend on such factors as the size of your farm, the level of infestation, the type of plants you're growing, etc., just as mentioned earlier in the previous section of this article.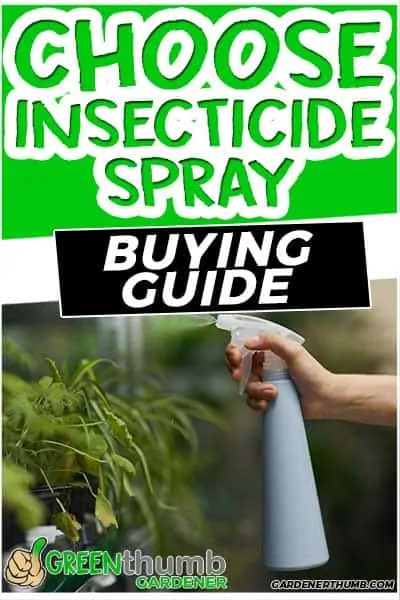 Organic
Organic insecticides are chiefly made with natural materials derived from plants, bacteria, and minerals. These types might be more appropriate for vegetable farms because they contain a reduced amount of chemical substances that can negatively affect the structure of your plants.
The organic insecticides are usually safer than the chemical-based products and can also harm the insect-like pests you might already have in your garden.
The organic insecticides have limited residual activity after they've been applied, meaning that they may not last as long as the chemical-based variants and/or cause any serious damage like the synthetic alternatives.
Organic products would usually require multiple re-applications for you to be able to keep the pests fully under control.
Chemical Alternatives
Chemical-based insecticides, on the other hand, as the name suggests, are made using the concentrated chemicals that are designed to kill pests and limit their reproduction rate.
However, on the downside, organic products can be a lot more expensive than the chemical-based ones. The synthetic insecticides are cheaper and way more effective on insects.
Broad-spectrum or Pest-targeted?
The broad-spectrum products are usually designed to kill all types of pests and would be the perfect option if you have more than one evil pest in your garden.
However, vegetables are usually infected by only a few types of insects, which means the pest-targeted insecticides are the most appropriate choice for you if you'd like to specifically target the tiny enemies you might have in your garden.
Using pest-targeted insecticides can also maximize the effectiveness of the insect, and, in addition, minimize the collateral damage they can have on your plants after application.
Duration of Application
Not all types of insects can be killed upon contact when you use some types of insecticides, which is why many of them are made for continuous use until you're sure the population of the destructive pests on your garden has been significantly reduced.
Some other insecticides are stronger and can effectively kill insects at any stage of their life cycle, even after one-time use. However, these insecticides can be highly toxic and would have to be applied on your farm in extremely small quantities to avoid the adverse effects they can have.
Understanding the duration of application can also help you to know if the insecticide you eventually choose will be safe to use in your garden after a long usage period.
Type of Insecticide Substance
The kind of substance insecticides are made of is also one of the things to look out for when purchasing one for the little beasts threatening your growing veggies.
Whether liquid, powder or granular, the choice you make, at the end of the day, should depend on the type of vegetable you're growing.
Usually, all the types you're open to can deliver the action you want in different ways.
Liquids are fast-acting if you want to kill the pests on contact, while granular and powdered insecticides can be wonderful options for difficult pests that can take time to reduce in population.
What Are The Benefits of Using Insecticides for Vegetable Garden?
At times, insect-like pests can seem unavoidable in a garden. The best way to prevent them from deeply infesting your garden might be to first apply the most convenient insecticides that will effectively repel and protect your farm.
By using the best insecticide, you can ensure the healthy growth of your tomatoes, carrots, cabbages, and so on, without ever worrying about the damages the insects, you seem not to be able to totally rid off your garden, are capable of bringing about in your garden.
The use of insecticides can, alternatively, increase your vegetable production. As an indoor farmer, you want to ensure you make the most out of your limited garden without having to worry about these threatening insects.
But, with insecticides, you can tremendously increase your yields after every planting period.

Using the Insecticides in Your Vegetable Garden?
To ensure the insecticide you use on your garden works effectively, as you'd want it to, there are a few things you might want to do prior to, during, and after usage.
Following the proper procedure for applying insecticides will ensure your body and plants are safe from the adverse effects the constituents of these insecticides have on your plants.
Before Application
Read product labels properly for precautions and other necessary information you'd need.
Use your protective gear (gloves, masks, etc.,) to prevent the absorption of toxic chemicals into your body.
Following available instructions, mix the insecticide with water, and/or other recommended substances.
While Applying
Mix the quantity you need alone.
Spray insecticides directly on the affected area in your garden.
Do not over spray your plant chemicals as it can negatively affect the growth of your veggies.
Make sure to use all. No leftovers.
After Use
Clean the personal protective equipment you used.
Store original insecticide (not the diluted one) in a cool, safe space for next use.
Download ​our FREE
Garden Hack Guide
Enter your email below and we will send you a guide to help you SAVE money in your garden.
Final Thoughts
Insects can be a valuable part of our garden system, especially when you think of the huge roles bees and ladybugs play in the growth and protection of our veggies.
However, there are also other insects, dangerous sap-sucking little devils, who are capable of completely destroying our beautiful gardens.
But, you're not going to allow them to win!
Now that you know the things to do and the products to purchase in the market, you can now deal these pests with the same destructive blow your plants have been suffering from so far.
So, good luck and have fun doing that!