Best Tow Behind Sprayer Reviews & Guide
Last updated: 01/26/21
Are you wondering how to make your landscape attractive? Well, it takes skill and deliberate effort.
Still, you may be unable to achieve much without the best tow behind equipment. In this article, we'll show you all there's to know about choosing the best tow behind sprayer.
Let's dig into the best tow behind sprayer!
Best Tow Behind Prayer
Green thumb Gardener occasionally links to product and/or services offered by vendors to assist you with all your gardening needs. Some of these may be affiliate links, meaning we earn a small commission if items are purchased. Check our terms here.
Tow Behind Sprayer Reviews
If you require specific spot sprayer and broad coverage gardening, this tow behind sprayer is perhaps a great choice. This is because it's both a broadcast and spot sprayer tow behind.
This tow-behind sprayer has the 12V open-flow pump that guarantees you 100% work-cycle. You can work as long as you need without worrying that your yard sprayer will overheat.
Another great feature to look for in most tow behind sprayers is if it has super-thick walls that are ultraviolet resistant and suitable for nearly all pesticides. This one does which is why it makes the list of best tow behind tow sprayers.
Its tanks also have marks imprinted on its body that allows you to monitor your fluid level. You also enjoy a big lid that allows you to refill the container easily.
This tow sprayer then gives you total control of its right and left nozzles. This allows you to easily navigate tight spaces such as property boundaries, among others.
This broadcast and spot sprayer also comes with a remote switch that ensures convenient use.
CONS
Even when shut off, sometimes, its valve leaks.
Some parts of it are made of plastics and can break easily.
It might come off as expensive.
CHECK CURRENT PRICE: NorthStar Tow-Behind Trailer Boom Broadcast and Spot Sprayer – 31-Gallon Capacity, 2.2 GPM, 12 Volt DC
---
In case you loved our first pick but want something smaller, the NorthStar 282780 fits perfectly. It has all the perks of the NorthStar 282785, except the tank capacity.
Still, it has a reasonable tank capacity – 21 gallons – that ensures you don't need to make several refills when spraying.
More, you get an output flow of 2.2 gallons-per-minute and up to 70 PSI. As such, regardless of the area size, you can get the job done quickly.
It is also designed to last five times longer than other sprayers. As such, you're assured of durability and longevity with it.
This broadcast and spot sprayer also comes with foldable arms, removable wheels and axle, and a detachable tow boom. It is a great option as an herbicide and pesticide sprayer or for organic remediation.
PROS
This tow behind has an extra thick tank wall with resistance to ultraviolet radiation.
This boom broadcast and spot sprayer is suitable for all kinds of pesticides or herbicides.
It has a microswitch (Honeywell) that ensures increased efficiency and durability.
It allows monitoring of the fluid level.
It has a bottom drain that allows fast drainage.
CONS
It's quite complicated to assemble
Sometimes, its valve leaks although shut off.
It has plastic components that may break easily.
CHECK CURRENT PRICE: NorthStar Tow-Behind Trailer Boom Broadcast and Spot Sprayer – 21-Gallon Capacity, 2.2 GPM, 12 Volt DC
---
Whether it's for a large property or your organic garden, this 25 gallon tow behind and spot sprayer is an excellent option.
This boom broadcast and spot sprayer has a 12V pump cast with a steel frame that ensures your purchase is durable.
This tow-behind sprayer also comes with a hand wand that can spray as much as 30 feet. And this very crucial as I realized when I tried to reach every nook and cranny of my garden.
This tow sprayer has an identifiable marking to reflect the volume of your content. And this is great because it helps you mix your chemicals with water. You can also easily monitor how much liquid you have dispersed.
This 25 gallon tow behind and spot sprayer has an inbuilt drainage system that allows you to empty the large capacity tank conveniently. It then provides a durable pneumatic wheel that ensures you can navigate any terrain comfortably. A solid choice as one of the best tow behind sprayers.
PROS
It has a reasonably large tank capacity.
It has a lengthy product warranty – 3 years.
It has an extendable hose – up to 15 feet.
It has a 15-inch wand that ensures efficient spot spraying & spray pattern.
This tow-behind sprayer comes with a universal hitch that allows it to connect to all trucks regardless of its model.
CONS
It comes with a coiled hose that makes spraying less convenient.
It is quite complicated to assemble this herbicide and pesticide sprayer.
CHECK CURRENT PRICE: Agri-Fab 45-0293 25-Gallon 12-Volt Professional Tow Sprayer
---
Whether it's to prevent pests and weeds or to fertilize your gardens, this sprayer is suitable for uneven and rough terrains. This is thanks to its 10 inches flat tires designed for all territories.
It has a long-lasting 12-volt pump, and it's designed with polyethylene. And this ensures that it is resistant to corrosion.
If you extend its boom tube, you get a back spray with almost 7 feet of coverage. This was very useful when I had to cover a large area in a short time.
Another nice feature is that this sprayer comes with a power switch that allows you to conserve your battery when it's not in use.
PROS
This boom broadcast and spot sprayer is reasonably affordable.
It comes with a step-by-step guide for construction.
It has a hand wand that can reach as far as 30 feet.
This tow-behind sprayer comes with a universal hitch that guarantees compatibility with ATV and other brands.
It has a drain strategically located in its poly tank to remove liquid residue easily.
It has a 3-year warranty duration.
CONS
It has a small tank capacity.
It has had several complaints about poor mechanical design.
It has a short sprayer hose.
CHECK CURRENT PRICE: Agri-Fab 45-0292 15 Gallon Tow Sprayer, White & Black
---
If you have a small surface area, this tow-behind broadcast and spot sprayer might be the best fit due to its small size and reasonable price. I find this even cooler because it saves space.
It's also both a spot and a broadcast sprayer. Hence, if you need to spray a large area or a single plant, you have no problem.
Another cool feature is its UV-resistant tank that ensures its durability. It's also made of materials that are resistant to chemicals. As such, pesticides or herbicides will not harm it.
It's also compatible with a garden tractor and ATV. Hence, you have a better range of options.
This sprayer also has a wide opening that ensures you can easily refill. You'll love this because it means you don't get to waste expensive chemicals.
More, it comes with a convenient drain at its bottom. This rolls in as a top choice for one of the best tow behind sprayers.
PROS
It is reasonably affordable considering its features.
It comes with a step-by-step guide that makes it easy to construct.
It has a spray nozzle that can be easily adjusted.
It can work efficiently with majorly all pesticides.
It allows effective monitoring of the tank contents.
It has 10-inch tires that will enable easy towing.
CONS
It has a small tank capacity.
It comes with a short warranty duration.
It has a short sprayer hose.
CHECK CURRENT PRICE: Ironton Tow-Behind Trailer Broadcast and Spot Sprayer – 13-Gallon Capacity, 1 GPM, 12 Volt DC
---
The TCT25 is made of heavy plastic and has two nozzles that can cover over 7 feet per spray. As we already know, this means less time when spraying.
This is coupled with a 15-inch hose that's suitable if you want to spray a specific site.
Thanks to its large tank size, you can also cover almost 2 acres with a single fill. So, you can avoid my earlier troubles of multiple refills.
It also has a boom that you can detach when you're not using it. This way, you can maintain the sprayer better.
It also has a drain plug that you can pull anytime to empty the content of its container.
PROS
It has a reasonably large tank capacity.
It's usually already fully assembled.
It's sturdy and can expertly navigate rough terrains.
Its sprayer pump is steadily fastened to an anti-vibration cushion.
It can be conveniently attached to a tractor.
CONS
It comes with plastic tires that do not hold air.
It doesn't allow adjustment of its real nozzle's output pressure.
This product has a short warranty – 90 days.
It's less convenient as it doesn't have a hook for its hose and hand wand.
CHECK CURRENT PRICE: Precision Products TCT25 Tow Behind and Spot Sprayer, 12-Volt, 25-Gallon
---
What is a Tow Behind Sprayer?
Whether it's a garden, farmland, or a large lawn, you need to nurture and protect it.
You'll need to water it regularly and provide a regular dose of pesticides, among others.
I know this can be quite hectic. However, having to do this manually is a total turnoff.
This is where a tow behind sprayer pops in.
It's equipment that disperses water and other chemicals on farmlands and gardens. All you need to do is attach it to a vehicle, drive it around comfortably and spray your plants.
It also comes in different sizes and models. (You can see above in our tow-behind sprayer reviews & buying guide).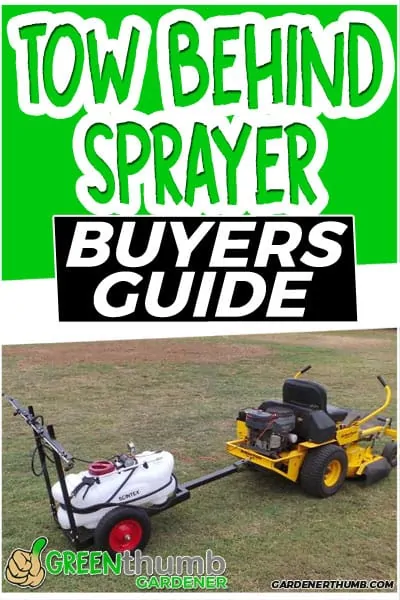 Why You Should Use a Tow Behind Sprayer
Picture yourself carrying a small spray gun and trying to water a vast field. That's stressful, right?
Well, I was in the same place a few years back when I decided to impress my friend with a well-gardened backyard & lawn. I used a backpack sprayer and tried to cover a tremendous site.
As it turned out, I spent long hours spraying the garden & lawn, and I was still unable to cover it.
I then realized that I had it all wrong. And that a larger tow-behind sprayer would have helped me cover the lawn quickly.
That's the beauty of tow behind sprayers. It ensures you can spray – and in record time, large areas with little or no hassle.
Things to Consider When Picking a Tow Behind Sprayer
Although using a tow behind sprayer comes with cool benefits, not just any sprayer does the trick for your lawn.
I once bought a tow-behind sprayer with a small tank when working on a vast field. It was very stressful as I had to refill over and over.
So, you see, you have got to pick rightly.
However, this may be confusing due to the number of available models and types.
Still, there's nothing to be disturbed about. I've researched the crucial things you'll need to consider.
1.| Tank Capacity
This is how much pesticide, water, or herbicide your sprayer can retain at a time.
In choosing, you'll need to consider the area you intend to apply the tow-behind sprayer too. You'll typically need a larger tank capacity for a larger area.
Check how many acres your sprayer can cover from its guidelines. Regardless, here's a rough guide.
| Tank Capacity | Area it Covers |
| --- | --- |
| 13-20 gallons | 1 – 1.5 acres |
| 20-30 gallons | 1.5 – 2 acres |
| More Than 30 Gallons | 2 acres and above |
Then, calculate the size of the poly tank you'll need for your land. You can then pick a container that fits your needs.
In case you aren't so sure of the size of your land, choose a 15 gallons tank capacity if it's for residential use.
However, if it's for commercial use, pick a container with at least 100 gallons capacity.
2.| Tank Material
This is the constituent element of the tank. And it is highly significant, especially if you intend you use it for herbicides or pesticides on your lawn.
This is because these chemicals might react with the tank material and damage your sprayer.
Ensure you look out for sprayers made of stainless steel as it provides increased durability.
However, nothing that good comes cheap. You might have to pay more for tanks made with stainless steel.
3.| Sprayer Pressure
This is measured in pounds per square inch (PSI), and it shows how effective your sprayer is. For instance, low pressure means a poor distribution of your pesticide or herbicide. So, make sure you get a sprayer with at least 60 PSI and a good size hose length..
4.| Spray Width
This is how much area of your lawn your sprayer can cover. And it usually ranges from 40″ to 120″.
You need to look out for sprayers with high width as a wider width means you can conserve time.
More, you might need a different nozzle size for various chemicals. (I'll discuss the best-fitted nozzle for different chemicals later on).
So, ensure you look out for a sprayer with an adjustable nozzle. This way, you can customize the nose according to your needs. Having a good tow-behind broadcast and spot sprayer with this feature will help with options to cover.
5.| Tires
You'll most likely not be using a sprayer on a tarred and smooth road. Hence, you'll need great tires that are durable and provide stability.
You should consider sprayers with all-terrain tires, run-flat tires, or all-season tires to accommodate your lawn or area.
6.| Hitch
This is how you connect the sprayer to a vehicle. And you don't want to buy a sprayer only to find out it's not compatible with your vehicle or ATV.
As such, pick a sprayer with a universal hitch. This way, you don't have to worry about compatibility.
Just to be sure, check the manufacturer's page and confirm your vehicle is compatible.
7.| Landscape
Making a choice depends on the nature of the scene you want to spray and the environment's conditions.
For instance, if your terrain is uneven or diversified, a boomless sprayer might be more suitable.
On the other hand, you might want to pick a boom sprayer if you're working on a field and want better coverage. A boom sprayer also works better in a windy environment.
Types of Spray Nozzles
Depending on the chemical you intend to spray, you might need a specific nozzle type to ensure effective spraying. Here's a quick guide.
Fungicides:
A nozzle with a hollow cone structure and pressure between 40-100 PSI should work great. This will, in turn, reduce the size of the droplet but ensure better penetration.
Insecticides:
To effectively disperse insecticides, use a hollow cone nozzle. However, you might want to check out the manufacturer's recommendation.
Glyphosate:
Glyphosate is most effective when it's dispersed in small droplets. As such, pick a flat fan nozzle.
Dicamba:
This chemical thrives when dispersed in large droplets. So, following its manufacturer's recommendations, use a flood type nozzle.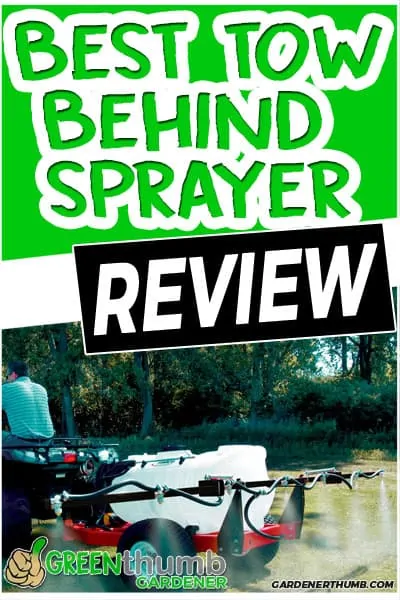 Herbicides:
Herbicides work excellently when dispersed in small droplets with complete coverage. As such, use a flat fan nozzle.
Broadcast Sprayer vs. Spot Sprayer
Broadcast sprayers and spot sprayers may appear confusing, especially if you're new to gardening.
I felt the same way when I started gardening myself. Luckily, it's very straightforward and merely appears confusing.
Broadcast tow behind sprayers are ones that cater to a wide area lawn with one spray. If you want to spray a vast area in record time, then it comes in handy.
On the other hand, a spot sprayer caters to a smaller area – usually, a spot. It delivers a concentrated quantity to a selected place.
So, if you decide to use sprayers on a particular plant or tree, you'll need a spot sprayer or you will need a separate pump.
However, some tow-behind sprayers can act as both broadcast and spot sprayer. So, you only need to make one purchase to enjoy both capabilities. (I recommend you go for a sprayer that supports both functions to cover your spot spraying needs).
Using A Tow-Behind Sprayer For Organic Gardening
For those into organic gardening, you might wonder if the tow-behind broadcast and spot sprayer is of any use. After all, you don't meddle with synthetics like pesticides and fertilizers.
The answer is simple: pull behind sprayer also comes in handy as you maintain balance with your natural ecosystem.
You can use it to discharge organic fertilizers or other manure tea. Don't forget; you still need to water your plants.
How to Maintain Your Tow Behind Sprayer
Even after picking one of the best tow behind sprayers, you'll still need to maintain it to keep your sprayer in prime condition.
Here are a few things you should do to ensure this.
You'll need to ensure that there are no cracks in the hose or any loose fittings in your tow sprayer. Always check out for holes and loose joints before you fill up your tanks.
Also, filters and spray tips may get clogged at times. You'll need to always clean them up with soapy water.
In case they are extremely clogged, pick up a toothbrush or a small wooden stick, and remove the dirt. (Don't use metals).
You may be exhausted when you're done spraying. I get that. I'm usually exhausted too.
Still, once you finish spraying, ensure you flush your tubes with water.
With this, you can remove chemical residues from your hoses and avoid damage.
Also, if you keep using your tow sprayer at full capacity, it's more likely to breakdown faster. As such, avoid using pull behind sprayers at full capacity every time.
Finally, once you finish spraying, don't forget to release your tow behind sprayers system pressure.
Other Relevant Tools
A tow behind sprayer isn't the only equipment you'll need to enjoy a seamless gardening experience.
They include:
Lawn sweeper
Broadcast spreader
Pull behind dethatcher
Pull behind lawn roller
Lawn aerator
Tow behind dump cart
Download ​our FREE
Garden Hack Guide
Enter your email below and we will send you a guide to help you SAVE money in your garden.
Final Thoughts
Among these sprayers, my preferred pick is the NorthStar 28275 tow behind tower sprayer.
This is because it comes with a large tank size, high GPM, and wide spray width. Even more, it allows easy navigation in tight spaces.
However, if you're looking to get a smaller tank with great functions, you might want to consider the NorthStar 282270 or Agri-Fab 45-092.
Nonetheless, all these tow behind sprayers are great and should bring ease and convenience to your gardening expedition.
To make the most of a two behind sprayer, ensure you consider your site size and landscape before choosing one. You can then look out for sprayers with features that meet your needs.
And then, you can subscribe to convenient gardening just like I did. Choosing one of the best tow behind sprayers should be much easier with the information you know have.