Best Grow Tent Heater
Which one of you would love to grow fresh vegetables that you can harvest even during a blizzard. To achieve this, there is a need to take full control over the indoor garden.
This involves temperature control with using the best grow tent heater you can find. Plants such as vegetables need heat if it is expected to grow in a cold location such as a basement, detached greenhouse or an unheated garage.
Best Grow Tent Heater
Green thumb Gardener occasionally links to product and/or services offered by vendors to assist you with all your gardening needs. Some of these may be affiliate links, meaning we earn a small commission if items are purchased. Check our terms here.
Review of the Best Grow Tent Heaters
We spent some time pouring through some options for you and gathered as much data as we could to locate the best heaters for your grow tent.
We want to caution you that most of these heaters are made for dry conditions, so a high humid plant would need to exercise caution. Good thing tomatoes and so other medicinal herbs don't require much humidity.
Here are our top picks for the best heater that one can use for a grow tent.
The Honeywell Surround Fan Forced Heater is a small grow heating unit that fits into a small room but gives out a great deal of heat. It is fully designed with a safety feature that can automatically turn the heater off.
The grow tent heater comes with an adjustable thermostat and two heat settings.
It helps to increase the gardener's comfort while supplementing the home heating needs.
The grow tent heater does not require much electricity to operate, making it more energy-efficient and a better option for energy savingIt comes with a basic space heater and a 360-degree tip-over switch. Another unique thing about this product is that it will not dig a hole in your pocket since it's inexpensive
PROS
It provides a 360-degree all-round warmth
Portable for small to medium-sized rooms
The heater is easy to use with its enhanced safety features to protect you from harm while making use of it
It comes with an overheat protection and easy-grab feature that is beneficial to the gardener
The Honeywell portable heater is designed to improve heating & energy savings in homes, bedroom, or office
CONS
The grow tent heater cannot run for a long duration and suitable for a small space
It comes with just two settings
CHECK CURRENT PRICE: Honeywell HHF370B 360 Degree Surround Fan Forced Heater
---
The Andily compact heater is an adjustable and comfort control thermostat. The heater helps to bring a spring-like warmth to your vegetables.
The heater comes with an adjustable comfort control Thermostat. It comes with three different settings that are beneficial to your plant needs.
It is designed with an easy-grip handle for effective usage. It comes with power indicators light to help you know when the heater is plugged in. The heater automatically shuts down when any part of the heater overheat.
The Tip-over switch shuts off when tipped forward or backward. It comes with multiple levels of safety for comfort and peace of mind. Great for use in your greenhouse
PROS
It is designed with an advance PTC ceramic heating element and quick heat technology for faster and more efficient heating than the traditional heaters
The heater maximizes heat output for long-lasting usage
The heater provides you with the needed warmth and comfort
The heater comes fully assembled and easy to use
A compact sized product and light weighted
CONS
The heater cannot be placed on the wall
It comes with a short coil
CHECK CURRENT PRICE: Andily Compact Portable Ceramic Space Heater
---
The Vornado VMH600 steel heater is the flagship of the Vornado's family of steel heaters. It gives one the joy of comfort and efficiency to complement your style.
The heater comes with an automatic climate control unit that senses how much heat will be needed to maintain the given temperature of the vegetable garden
It can heat a small to medium-sized room as a result of the vortex air circulation unit.
An advance 2-stage safety unit which includes a cool-touch exterior and tip-over protection that is beneficial to the farmer
It comes with adjustable thermostats, a convenient carry handle and the product is budget-friendly. The product comes with a 5-years guarantee that is supported by a responsive customer service team
PROS
A metal inlet grill that is designed to keep dust and your finger at bay
Cozy comfort plus peace of mind
It is pre-assembled with no needed installation
A cool-touch exterior even when the heater is operating on a high heat
Two LED displays that are needed for cross-room viewing
CONS
Careful to not set close to objects
Permanent red light
Noisy-fan heater
CHECK CURRENT PRICE: Vornado VMH600 Whole Room Stainless Steel Heater
---
The space heater is oil-filled radiator heaters that are suitable for an indoor tent. It is designed to give plants and users a warm and cozy atmosphere.
It comes with an efficient heat dissipation technique suitable to warm the grow tent for the plant. It also has an ultra-portable design that allows you to move the heater to any of the grow tents to keep the plants (vegetable) nice and healthy.
The space heater comes with an advanced ECO mode that will help to save you money and slash your electric bills.
The heater allows you to set the oil heater on or off, control the temperature with the help of your remote control
PROS
It comes with a digital thermostat and a clear screen to allow you to determine the best temperature for your garden and plant
The heater comes with three different heating modes (600W, 900W, and 1500W)
It comes with an advanced Therma convection heating system to efficiently heat the surrounding air of the tent.
Easy to set-up and use with little or no fuss
A LED display remote control unit
It turns off automatically when tipped over accidentally by pests or the gardener.
CONS
Concerns with melting and exploding
Comes with a one-year warranty
Noisy fan-driven heater
CHECK CURRENT PRICE: Space Heater, 1500W Oil Filled Radiator Heaters
---
The DeLonghi EW7507EB oil filled radiator comes with different functionalities that any hydroponic heater will require. It's a great one for energy saving due to its automatic temperature regulation.
The heater comes with a hassle-free remote control making it a perfect heater for small and medium-sized tents or rooms
It's designed with a safety feature that makes it safe to touch and an automatic thermal cutoff feature
It comes with a permanently sealed oil reservoir to prevent leak and it is constructed with steel making it durable and rust-proof
Another unique benefit of this tent heater is the digital display and thermostat unit that helps you to determine the ideal temperature
PROS
It comes with three different settings suitable for your type of heat
It can run for 8 hours straight for each mode
It comes with an auto shut off feature
Heats a room within the size of 10×10
Great on budget
CONS
The heater is heavier than most other heaters in the market
It does not come with any specific temp setting
No timer
CHECK CURRENT PRICE: DeLonghi EW7507EB Oil Filled Radiator Grow Tent Heater
---
This is an electric infrared heater for both your indoor or outdoor heating. It is great for your grow tent.
It comes with a cutting edge technology such as an infrared heater that can be mounted on the wall horizontally
It provides a soothing heating experience for your plant and provides a more natural heat than other outdated bar and gas heaters. The heater also comes with a safety switch that can stop when it mistakenly tips over
PROS
It can be mounted outside without any overhead cover and can stand up to dust, rain, snow, or sleet.
It comes with a nifty remote, auto-safety switch, and an auto-off timer
Innovative home and grow tent heater in the market
The Veito Blade runs with almost no noise.
CONS
It comes with a continuous red glow
Instructions are poorly written
The heater bulb is very fragile.
CHECK CURRENT PRICE: Veito Blade Wall Mount Patio Heater
---
This is an energy-saving oil-filled radiator designed to heat your tent or room within a few minutes efficiently. It is suitable for warm and comfortable plant growth.
Designed in a way to enable you to adjust the power and temperature according to the plants need
It comes with an overheating and tip-over protection feature to protect the safety of the plant with a noise-free design
The heater oil is kept in a sealed space to prevent leakage and the high-density steels make this oil heater good in heating conductivity
The heater is neat and easy to store and it's UL and ETL certified for safer use
It saves cost by providing energy saving and constant heat. Another thing that you need to note about this heater is that it comes with three different modes to choose from(600W, 900W, and 1500W)
PROS
A fast and efficient heating system that is suitable for a medium or large room/tent
The heater comes with four universal wheels to help it moves around easily
Suitable for a cold winter
The heater allows you to adjust the oil-filled heater temperature according to the plant need and heating area
Easy and lightweight for quick storage
CONS
2-year warranty
Not advisable for a small grow room or tent
CHECK CURRENT PRICE: COSTWAY Oil Filled Heater
---
Benefits of an Indoor Heater for Your Grow Tent
An indoor heater's ideal temperature for a vegetable garden range from 18C to 25C, or it can also range from 65F to 77F. A warmer environment of 20C to 30C or 70F to 85F is ideal during the vegetable phase.
The absence of a natural growing condition and very low temperatures can lead to unhealthy vegetables from a lack of flower blooming, photosynthesis, and or seed germination.
Here are some of the benefits of making use of a grow tent heater
It helps to stabilize optimal plant growth.
A grow tent heater helps gardeners to overcome the challenges that come with unpredictable temperature changes.
A grow tent heater is a lifesaver if you are located in a cooler climate.
Grow tent heater helps to maintain a constant temperature mostly when LEDs are involved.
A grow tent or rooms with no heating source can use a heater to create a good growth environment.
Useful when enough light is not entering the room
The heater is beneficial when the grow room is in a separate building with no furnace.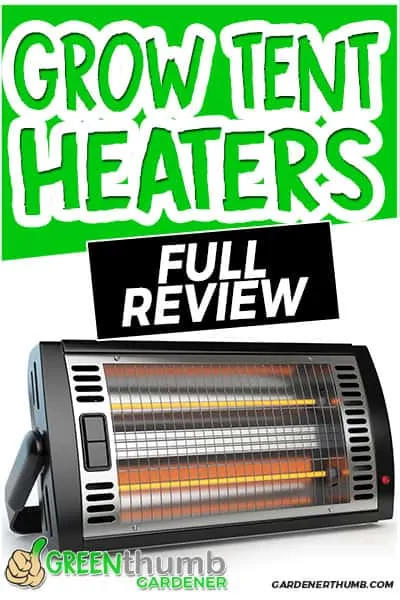 Characteristics of the Best Grow Tent Heater
To shop for a good grow tent heater for your indoor garden, some basic characteristics are important for one to look-out for. To buy the best grow tent heater, you need to research the types of heater, heating accessories, features, and other benefits.
The following horticulture features will be of immense help when investing in a tent heater
1. Power Consumption
Getting a heater that does not consume much power is one of the basic features to look out for when buying. The rating of power is measured in watts, and this directly affects your energy bills.
It is therefore essential to purchase an energy-efficient heater that can generate enough heat without poking holes in your pocket.
2. Size of the Growth Operation
The size of the heater is interlinked with the size of your grow tent or room. Take a good measurement of the room to help you to calculate the heat distribution need before buying
3. Temperature Regulation
In growing healthy vegetables, the key to achieving a regulated temp is precision and meticulousness. Investing in the right grow room heater, a digital temperature calibration reader is important.
Check for a heater that comes with thermal fuses and thermistors. These help to prevent electric surges
4. Heating Method
Ask yourself if you will need a stationary heater or fan that dispense heat waves.
5. Auto Timer
Some heaters automatically turn-off when heated-up. This is a useful safety feature for most growers and gardeners using a grow tent or room.
6. Safety Features
For gardeners who need a premium quality heater, make sure that the brand comes with a user manual that will help you understand how to use the heater. Some heaters also turn off automatically when tipped over to avoid any issues.
7. Additional Features
You can check for additional features before making a purchase. Some of these features include inbuilt safety features, auto-time settings for specified time durations.
You can also check out for heaters with cool construction materials since it makes for a durable product.
Types of Grow Tent Heaters
Different types of grow heaters exist in the market for different uses. Therefore, it is important to understand the different types of grow heaters that exist in the market since not all the types are compatible with your grow room.
Some of these heaters that a lot of gardeners make use of include
1. Electric Heater
The electric heater converts electrical energy to heat. It gathers electricity through the resistors instead of from its environment before converting it out as heat energy.
2. Ceramic Heater
The ceramic heater is suitable for small spaces and rooms. It is a perfect option for a small area or space. It generates heat through a heating process of ceramic.
3. Hydronic Heater
This is one of the best types of heater that any gardener can use in the grow room and at home. The hydroponic grow tent heater heats the water and passes it through closed pipes to your grow space.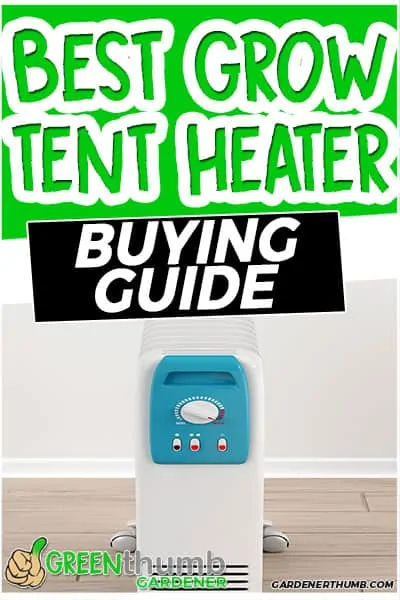 4. Duct Fan
This is also known as an inline fan, and used in heating up the grow room. It is suitable for individuals wishing to save space.
The good thing about this type of heater is that most of the modern products designed nowadays are mostly multi-purpose (Heating and Cooling)
5. Oil Filled Radiator Heater
This type of heater also requires electricity to run effectively but still requires oil. It works by using oil as its reservoir. This oil acts as a heating agent when it flows around the cavities of the heater.
6. Propane Heater
The propane gas heaters are ideal for larger rooms or grow tents. It is easy to install and comes with a low maintenance cost.
The shortcoming of this type of heater is that the absence of venting emissions from the heater can be harmful to the plants.
Download ​our FREE
Garden Hack Guide
Enter your email below and we will send you a guide to help you SAVE money in your garden.
Final Thoughts
This review on the best grow tent heaters has given you a better understanding when you are looking for a good heater for your vegetable garden. Grow tent heaters play an important role in most grow rooms, which is true when growing in the winter.
Plethoras of choices have been reviewed, but the Space Heater, 1500W Oil Filled Radiator Heaters, get the big Green thumb for a heater.
The Space heater is an ideal choice for your vegetable gardening needs due to its efficient heat dissipation technique suitable to warm the grow tent for the plant and an advanced ECO mode that will help to save you money and slash your electric bills.
Related Questions
What is the best type of heater that should be used in a grow room?
The type of heater to be used should be dependent on the size of the room and how long you want the heater to go.
Some individuals wish to run theirs for a specific time while others may want to run it all day when the environment is too drastic for the plant to handle.
What is the best way to heat-up a grow tent?
The best way to heat up a grow tent is to do that either in the tent or outside the tent. This is dependent on the size of the tent.
For a smaller tent, we recommend that you warm the room around the tent while making use of a fan to cycle the air into the grow tent if more heat is required—this helps protect your plants from dying.
For a bigger room or tent, you should use it inside if you still have room for your vegetable.
What am I expected to do if my grow tent is bigger than average?
When using a bigger than average room or a separate building for heat, you can try out a couple of oil-filled space heaters within the different parts of your grow space.